The BGN News Archive
August 14, 2017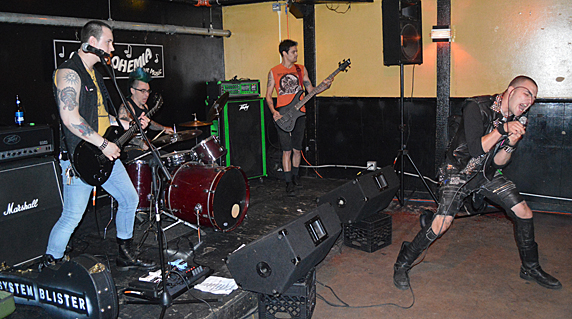 System Blister
Photo: Blowfish
We took advantage of another Sunday late afternoon show at the Midway. Loser's Circle were having a welcome back show after their tour...which they lived through despite fears to the contrary.
The opening act was Coffin Salesman. This is the new project by Aria Rad who used to be in the Radicals; it's Rad on guitar, Ryan Coomey on accordion and another person hitting a box for percussion. Even the hard rock maven Slimedog is making an exception with this acoustic act because the lyrics make the grade. I would too.
Coffin Salesman
Photo: Blowfish
Aria's persona on stage is a button down nerd. He's not folk but a little beatnik creeps in. His songs carry a lot of lyrics and that's where you get your interest. People I talked to later all had favorite lines that they repeated. Mine was, "you're far too young to have all these dead friends." That's in Don't Ask Alice. He's doing what Jay Allen did a few years ago which is to supply a low key acoustic set that fits in with a punk bill. It's a viable niche. The originator of that would be Patrick Fitzgerald with Safety Pin in My Heart.
Coffin Salesman have a new album; Disappearing Acts –check it out here on Bandcamp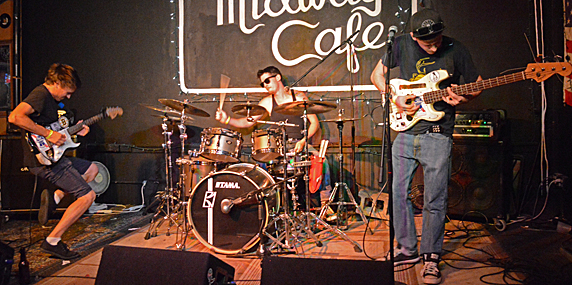 Blame it on Whitman
Photo: Blowfish
Things got noisy real quick with Blame it on Whitman. We saw their debut here in July when the Loser's Circle were leaving on tour. They put out pop with rough edges and above average harmonies. They all are solid players.
Add to that an exciting stage presence. All this and they are very young too. A lot of the elements are similar to early Neighborhoods. This is just the beginning for Blame it on Whitman. We'll see how they develop. Even right now they have a fun set of tunes.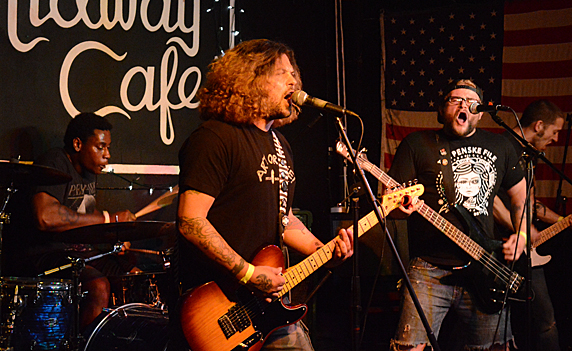 Chanticlear
Photo: Blowfish
We have wanted to hear Chanticlear again after seeing them last May. They actually have a long history but were new to us. They had some new members in the group and sounded even better this time. The new drummer was a standout and to us seemed well rehearsed as he was leading the group in the fast segues.
They played Hello, I'm a Bastard that we heard last time. It had memorable hard hitting lyrics about being a father. They added another killer new song called Watching You Watch Me Die.
It was a longer song which was welcome because we wanted that choice chorus to repeat a few times. Both of those songs have melodies that give the lyrics added power. It's one of the things they do and what we love them for. Joey Riot's singing is also contributing to that effect. Meanwhile they just rock hard.
Listen to Haverhill. It's nice and short 1:25 and even here there's a little extra in the vocal line that makes it.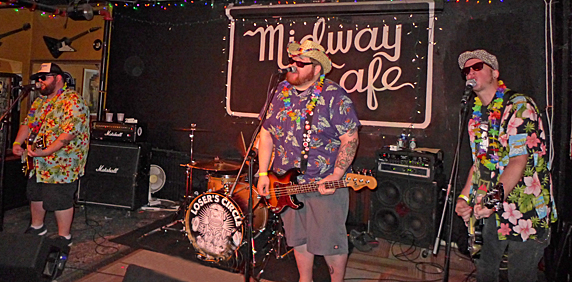 Loser's Circle
Photo: Blowfish
Loser's Circle joked that they would die on tour but something worse happened: they went Hawaiian! They presented themselves on stage wearing Hawaiian shirts and yelling "Aloha!".
What the hell happened to them? Nothing that hurt the music thank goodness. Like a lot of bands that go on tour they tightened up and upped their game. They had extra energy and concentrated power. They took drummer Matt (II) on tour because Matt (I) couldn't make it but for this show Matt (I) donned a guitar (and Hawaiian shirt) and gave extra support.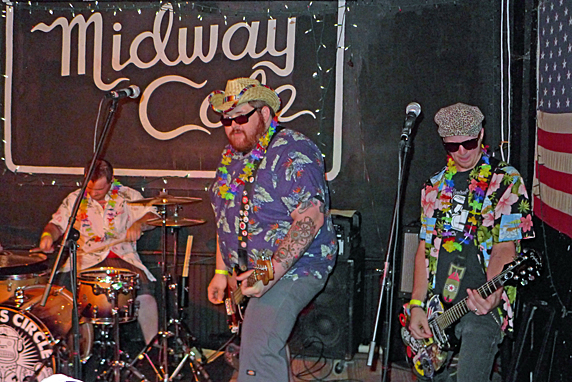 Loser's Circle
Photo: Blowfish
Since they left we've been able to digest their album. The familiarity with the songs made the performance resonate even more. They have a string of punk pop songs that make a worthy set.
The front room of the Midway was all full up with well-wishers who know and love them.

It was a cheery ending to another comfortable Midway Sunday.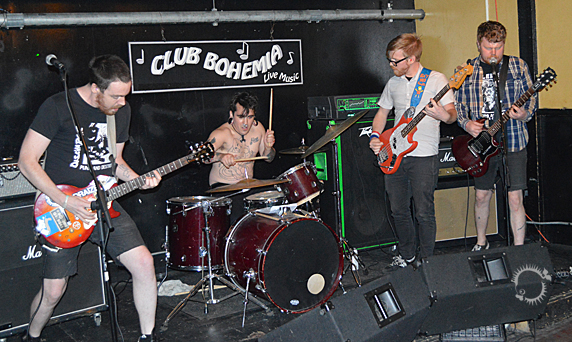 Hospital Beds
Photo: Blowfish
We searched out the Thursday show at Cantab looking for Hospital Beds. At O'Brien's the group was great but the drummer Tan's performance stuck in our minds. It was hard to explain but he was hunched over the drums playing super busy driving the group every second.
At the Cantab it was a repeat but even better. The group seemed more rehearsed and the songs more coherent. Tan was just wild. He was so fast and energetic he was like a force of nature, impossible to ignore. We want to say he IS the group but that's not true, the songs are hard hitting punk and the rest of the group delivers too. They would have to, Tan would just run over you sonically if you didn't kick ass every minute! It was a fun set to see as well as hear. Check them out in the video below.
The three other bands on the bill were all Hardcore/punks with studded jackets and mohawks. The audience was all studded up too. They gave the Hospital Beds a good response.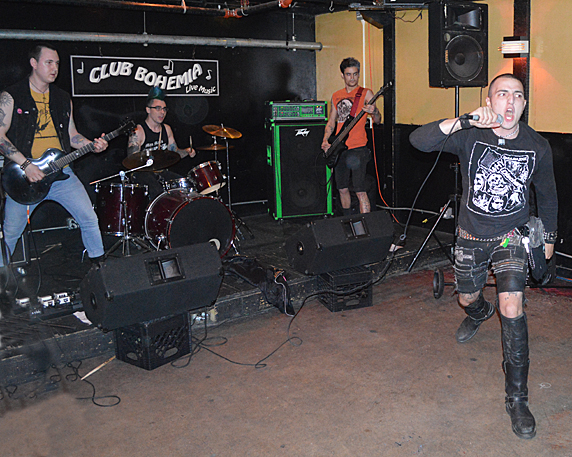 System Blister
Photo: Blowfish
The next band was System Blister. The lead singer planted himself just in front of the stage and was all over the place as he put out the lyrics at the top of his lungs. The band was rough and hard behind him pushing out the short songs. The drummer was actually busy like Tan. These guys took their punk serious!! The lead singer left an impression with his dramatic stage presence. See the video above.

The Digs
Photo: Blowfish
We glommed on to The Digs early because lead man Jeff's uncle was Matthew MacKenzie of Reddy Teddy. They turned out to be a very interesting band. They had the confidence to play what they wanted regardless of labels. What they ended up with was something they claimed was "Too punk for rock, too rock for punk".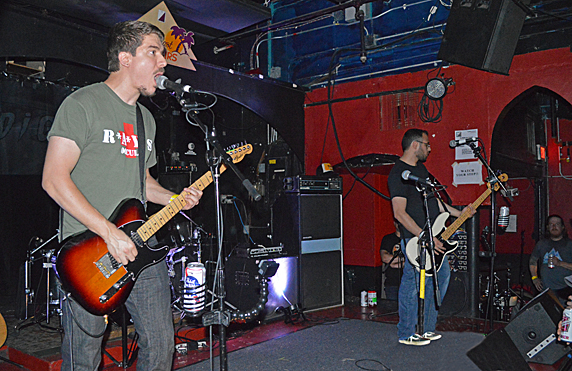 The Digs
Photo: Blowfish
They had a few years with an album, an E.P. and a Rumble appearance in 2016. At the Middle East up on Friday they called it quits. Jeff's career is taking him out of the Boston area.

They had a club full of well-wishers to mark the final show. They seemed tighter than ever and harder than we remember them from last time. The songwriting earmarks were all there, like the inclination to use more chords than you would expect. Their biggest success to us was where the songs married melody to words in a lilt that was unique to them. We will miss that and we know we're not getting that from anyone else anytime soon. And Jeff had the ability to nail a phrase and make it memorable like the "And I'm so damned tired" line in Gunslinger. There are a few times where he did that in that last show.
The drummer Steve was versatile enough to go wherever the songs did. He was able to go loud but to scale down and put detail in the soft sections. We were listening to Andrew on bass specifically because we know he does interesting lines and sure enough they were so interesting we would have loved a 'rewind' option at points. And we know there is no 'rewind' in any sense at this point. Jeff is right in moving on with his life and we get to hear Andrew in the Runouts at least.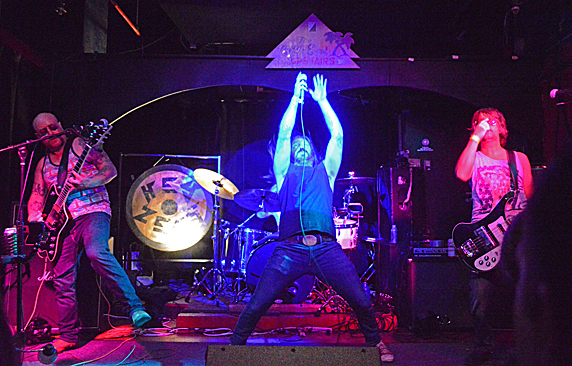 Hey Zeus
Photo: Blowfish
We also took in Hey Zeus who did their over the top show. It's all the glory and pageantry of 70s metal. The strutting, posing and jump kicks are on overload. It's metal as opera. The music is spot on and unrelenting as is the stage antics. And it starts and ends with a gong. Unadulterated fun, and if you love metal, you'll love it even more.
It was Abbey Lounge fever at Sally O Brien's on Saturday August 5 as John Keegan got into the middle of The Coffin Lids reunion. For his report and photos click below.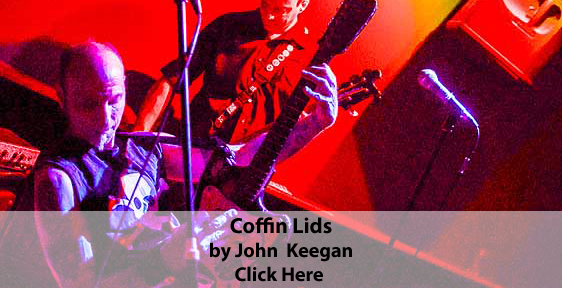 ---
And in other news ....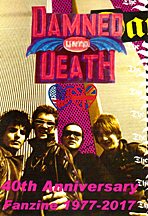 The BGN interview of The Damned which was originally in issue #11 1977 has been reprinted in a new Damned fanzine called Damned Unto Death that celebrated the Damned's 40th Anniversary. It even looks like an old fanzine of the era. Lots of early Damned info in there besides. It was lovingly put together with lots of work by Carrie Felter and Kevin Shepherd over in London. How do you get it? Don't know. We think it's only available in the UK and maybe Europe. But there is a Damned Unto Death facebook page...and ...Lucky for you our Damned interview is online http://www.bostongroupienews.com/BGNDamnedInterview.htm
Times sure have changed when you can scrape in dough with Punk crap for sale.... Now there is punk rock beer via the 25 Anniversary of punk band MXPX and some brewery: "Celebrating 25 years of loud, fast, left-coast punk rawk, MXPX and Silver City Brewery, both from Bremerton, Washington, have joined forces to commemorate the band's anniversary milestone with an exclusive, signature beer. Named after the band's 2007 hit, "Secret Weapon" more here
Hey, what about a Joey Ramone plush doll for your collection? They got one at Funko.com We think he needs longer legs...and what about the other guys??
The Chet's Last Call doc is moving forward- go here to check out the trailer and maybe part with a few bucks to help it move along and come to fruition...
---
Here's some good shows coming up .....
August 14 (Monday) The Silver Mirrors, Spo, Scotty & The Gang at Great Scott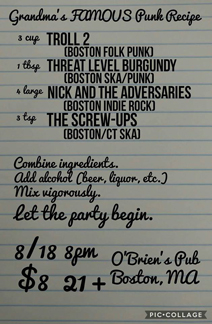 August 15 (Tuesday) No Time, Concrete Elite (tx), Savageheads, Cinderblock and Piss Dogs at Ralph's in Worcester.
August 16 (Wednesday) Rock DJ Carter Alan, author of The Decibel Diaries: A Journey Through Rock in 50 Concerts, will do a reading and book signing at the Quincy Historical Society at 7 p.m. (8 Adams Street, Quincy, MA 02169
August 16 (Wednesday) You People (Album Release) w/ E at Great Scott
August 16 (Wednesday) Salem Wolves, North by North and Day Grazer at O Brien's
August 19 (Saturday) Ocelot Records Presents: The Tenafly Vipers, Bucky Harris, A Minor Revolution, The `88 Rangers at O'Brien's
August 19 (Saturday) American Burn, Devil On Horseback, Burnt Village, War Graves at The Midway
August 19 (Saturday) Screw Cart, Musclecah, Broken Toys, Mongorellis at Koto /Salem
And further out we have....
August 22 (Tuesday) OI!! - Rixe (France), The Brass, Bombers, Security and The Stance at The Middle East Up
August 22 (Tuesday) The Legendary Flamin' Groovies w/ Muck & The Mires & The Downbeat 5 are at Ralph's in Worcester you can get tix here
August 22 (Tuesday) A Bunch Of Jerks Album Release Show with special guests: Offworld, DnA's Evolution, Endation at The Midway
August 24 (Thursday) The Surfrajettes, Tsunami of Sound and The Beachcombovers are at Regent Theater in Arlington (FB page)
August 25 (Friday) Eyehategod and The Cro-Mags at The Middle East Up (FB page)
August 25 (Friday) Mercury on Mars, Psychic Dog,The Runouts, Corner Soul at The Midway
August 25 (Friday) Billy Connors Project, Club Linehan A Go Go, Corolla De Ville at The Spotlight Tavern/Beverly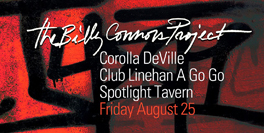 August 25 (Friday) Ladymob, Swivel, Skeleton Beats and Fossy Jaw are at Koto in Salem
August 25 (Friday) When Particles Collide and Petty Morals at Fury's Publick House in Dover NH
August 26 (Saturday) The Guilloteenagers, Four Point Restraint and After the Blackout are at The Cantab's Club Bohemia
August 26 (Saturday) Trusty Sidekick, Jason Bennett & The Filthy Muskets, Richie Parsons, Matt Trainor at The Midway
August 26 (Saturday) Jess Collins and Chrissy V. from Petty Morals will be taking over the music situation at the Shanty w/ Jim Healey & Set Fire. Solo stuff, duets, acoustic, etc...perhaps a few others, will be joining the fold for some round robin-ing! Starts at 8PM
August 27 (Sunday) Stop Calling Me Frank, State of The Union, The New Frustrations, The Only Things at The Midway -matinee show 4-8PM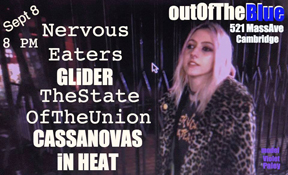 August 27 (Sunday) Brian Young's A.C.C.F.T.R. featuring Casanovas in Heat! 91.5 WMFO 1-4PM
September 1 (Friday) Silver Screams, The Runouts and Crimespree at Koto in Salem
September 7 (Thursday) Teenage Bottlerocket, OC45 and MakeWar at The Middle East
September 7 (Thursday) Thrust Club, Burnt VIllage, Psychic Dog and Cook Bag at O'Brien's
September 8 (Friday) The Nervous Eaters and Glider , State of the Union and Casanovas in Heat at Out of the Blue Gallery Central Sq. here's the FB page to get updates.
September 9 (Saturday) The Stigmatics are on A Crash Course for the Ravers on WMFO 91.5 from 1-4PM
September 9 (Saturday) The Gala, Future Carnivores, Stars Like Ours and Courters at O'Brien's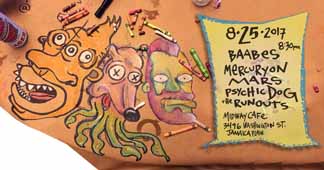 September 10 (Sunday) A Giant Dog, The Dazies, Boston Cream at O'Brien's
September 10 (Sunday) GBH and The Casualties at The Brighton Music Hall
September 11 (Monday) Roky Erickson at the Brighton Music Hall. WOW!! Get yer tix here.
September 15 (Frirday) Cold Expectations, Justine and the Unclean, Ten Dollar Mistake at The Tavern at the End of the World - FB page
September 16 (Saturday) Boston vs Tokyo Rock n Roll Showdown with Muck And The Mires, The Fadeaways (from Japan), Mellvins (from Japan), Jittery Jack at O'Brien's Pub
September 16 (Saturday) Big Giant, Greg Allen's Fringe Religion, The Melatonins at The Midway - 4PM matinee show
September 16 (Saturday) Chameleons VOX At the Middle East Also on the bill: Soft Kill , Way Out and The Milling Gowns FB Page
September 18 (Monday) The Dictators NYC (aka Manitoba NYC) are at The Middle East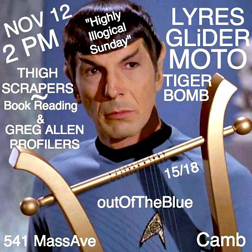 September 18 (Monday) Duck & Cover and the Quiggs are at Once with a fake version of The Dead Boys...no Stiv no Jimmy Zero -how can you call that the Dead Boys?? sad.
September 20 (Wednesday) X doing their 40th Anniversary Tour- at the Brighton Music Hall
September 20 (Wednesday) Kris Rodgers and Soraia are At O'Briens
September 22 (Friday) The Go Set, Beantown Boozehounds, The Pint Killers, The Disquiets at O'Brien's
September 22 (Friday) The Ataris and The Queers at The Middle East - this is an early show- 6PM -10Pm
September 22 (Friday) The Hi-End, Corin Ashley, Modern Day Idols, The Curtis Mayflower at the Midway
September 22 (Friday) The Bushwick Hotel, Petty Morals, The Fellowship of Feeding Wolves are at The Middle East Up
September 24 (Sunday) The Grommets, Uncle Spudd, Kermit's Finger, The New Frustrations, Sewer Buddies at The Midway - 4PM Matinee show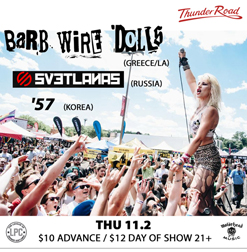 September 28 (Thursday) Stiff Little Fingers are doing their 40th Anniversary tour they have Death by Unga Bunga opening for them - at the Brighton Music Hall
September 29 (Friday) Il Mostro, Silver Screams, BDSX and The Von Traps at O'Brien's
October 8 (Sunday) Petty Morals are having a Ballroom Blitz at Once Ballroom with a Flea Market and Art Show -also on the bill Muck & The Mires, The Dazies and Lady Pill (set times and more are on the FB page) It's 2PM- 8PM
October 13 (Friday) Silver Screams, Idle Pilot, Black Cheers and Psychic Dog at Koto/Salem
November 3 (Friday) The Woggles, Muck and the Mires, Stupidity, Andrea Gillis Band at The Middle East Up
November 4 (Saturday) Human Sexual Response at HOB
November 9 (Thursday) The Proletariat at ONCE Ballroom w/ Siege and Black Beach
November 10 (Friday) CH3 (Channel 3), The FUs, Silver Screams, Fast Times Punk at The Middle East Up - 8-Midnight show tix here
November 10 (Friday) The Proletariat are at Narrows Center for the Arts w/ Black Beach in Fall River, MA (FB page for info)
November 11 (Saturday) Hasselfest #9 this year has Pere Ubu and a ton of other bands at Once- get the info on the FB page here.

CONTACT US AT....misslynbgn@yahoo.com -Send us your gig listings, your news and anything else ya got!! You want your CD reviewed?? Contact us for that too.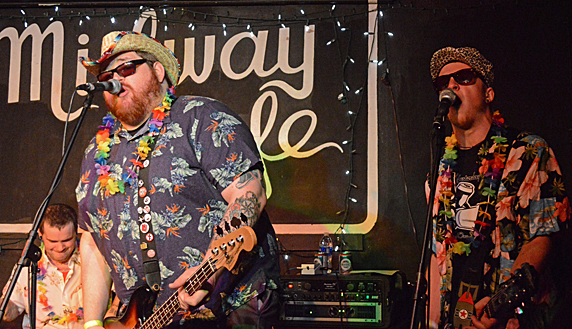 Loser's Circle
Photo: Blowfish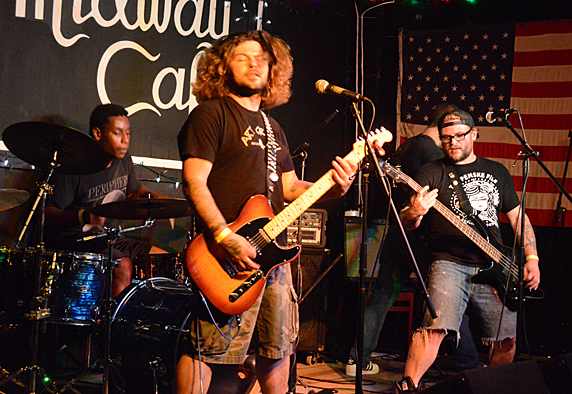 Chanticlear
Photo: Blowfish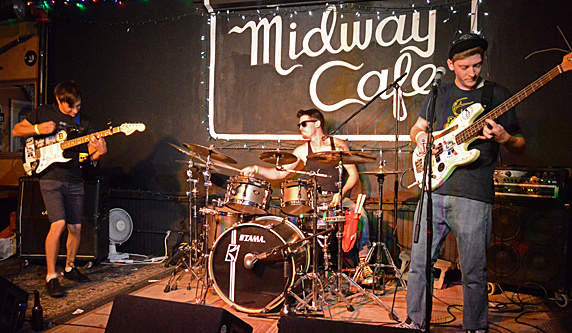 Revilers
Photo: Blowfish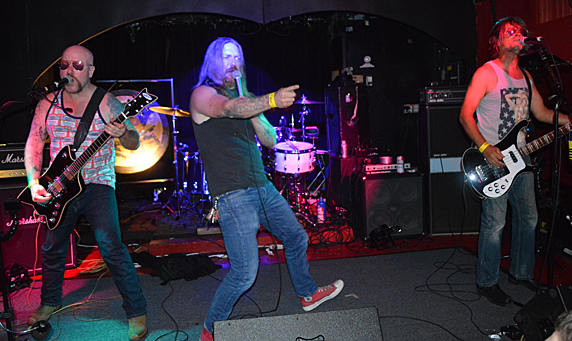 Hey Zeus
Photo: Blowfish
The Digs - a final toast.
Photo: Blowfish