The BGN News Archive
August 15, 2011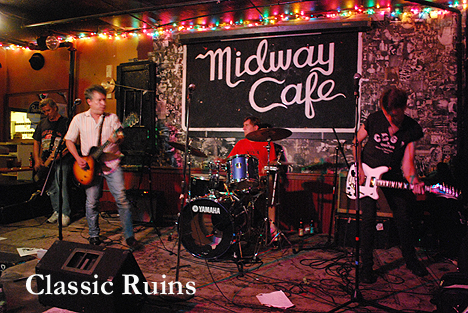 We went out to Frank Rowe's ... birthday bash this past Saturday. What a great night.... we arrived to Chris Parcellin and Lenny Scoletta who are still working on their doc Boys From Nowhere: The Story of Boston's Garage Punk Uprising interviewing Rick Harte in front of Doyle's...Outside the Midway loads of people were hanging out....so of course we had to stop and socialize for quite sometime...so unfortunately we missed Lenny Lashley. But when we did get inside - it was packed and Sourpuss was just about to play.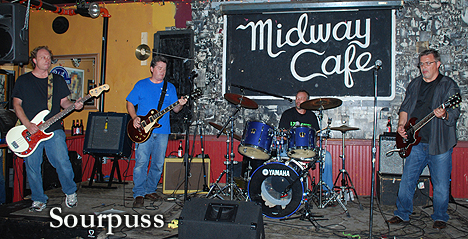 You have to be impressed to see Jerry Lehane on stage with Jack Hickey. Together they pump out a garage heavy sound with some swampy overtones. They played a Zeppelin tune to begin and then later played Time is Tight by Booker T and the MG's and they handle those diverse genres pretty well. One keeps one eye and both ears on Jack to hear what he's doing which turned out to be diverse also and he sang one song which was a treat. Jerry Lehane deserves more credit for the songs he's come up with. He doesn't go for the obvious in subject matter and the lyrics are memorable and quotable once anyone names a title. A Sourpuss CD would be welcome.
After that The Dogmatics got up to so a set....it was great to see them in such a small cub....as always I thoroughly enjoyed watching Peter O'Halloran make his crazy faces through the whole set. Some photographer should do a series of close ups of him on stage!! The band sounded great of course!!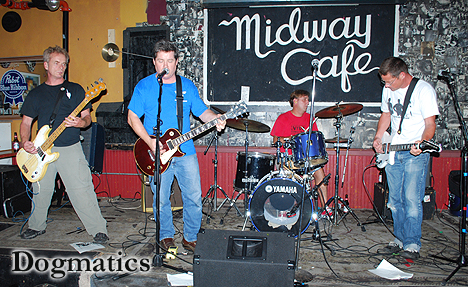 Next up was Classic Ruins. Frank is 60! As Johnny Angel says, "After the nuclear holocaust it's cockroaches and Frank Rowe." He does seem indestructible having been around since the beginning of Boston punk in 1975 and pretty much been playing gigs consistently through the years. He's one of the great personalities which he takes whole scale on stage with dry wit and with scads of stories featuring other musicians. We just love this guy.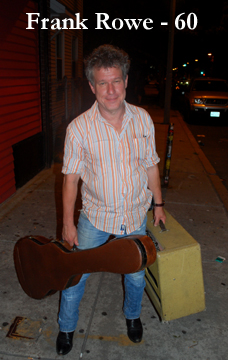 All this is in addition to what we really care about - the songs. Frank's compositions have become classic Boston punk fare. His witty, sardonic, whimsical and just plain funny lyrics are of the highest order. Musically he constructs a heavy bottomed structure fastened with classic melodic hooks - they just never fail. No matter how many times you hear them you want to hear them again and that's been good for Frank because he has a solid block of songs that he plays over and over and it never gets old.
You can't fault us for getting a little misty. Frank has been a great friend from the beginning along with Denise who we lost a few years ago and miss so much. We think of Frank and we think of this whole thing we have gone through since 1975. A scene that has given us so much and Frank's been a big part of that. We really do celebrate Frank on this big threshold of 60 and wish him so many more (and gigs too).

AND on this past Saturday it was actually Eric Law's birthday so everyone out there who hasn't yet, wish him a good one! !!
on Sunday, the 21st, 11AM - 5PM the Rock'n'Roll Yard Sale in Union Square, Somerville in August Some of New England's best Record Sellers will be joined by excellent Vintage and DIY Handmade Vendors, making for a unique shopping experience where attendees will find great one-of-a-kind items available nowhere else. There will be all sorts of Music-Related Items including many different formats of Vinyl Records, CDs, Cassettes + 8-Track Tapes. there will also likely be Music + Audio Gear plus rare Music Magazines, Silk Screened Posters + Promotional Items. There will also be lots of classy Vintage + Re-Fashioned Clothing + Accessories in addition to lots of amazing Local DIY Crafts. We are in some really tough economic times these days, but the DIY Movement is growing and artists and creative businesspeople are taking to events like this to find an audience for what they do. This is a perfect way to support DIY & Independent Small Businesses! And the reason it is on a Sunday this year is so it can be open for longer hours than on a Saturday!!

At the Midway - Frank Rowe's B-day

| | |
| --- | --- |
| | |
And on August 26th another Birthday Bash, this one for Nancy Neon is a great night at the Cantab - the line up now consists of Port Charles Quintet and Classic Ruins, Sticky Business AND James Straight and The Wide Stance!! Excellent!!
But ooooooooooo, lookie here...also on the 26th, just down the street at the Middle East (down) is the Lucky Lady Burlesque Show along with Lenny Lashley and friends...should be quite an entertaining event....
And on Saturday August 27th @ the Dillboy V.F.W. Post in in Davis Square , Cadillac Heart is doing a show with Girl on Top. This show is actually going to be The Rayboy Fernandes Going Away Party!!! He's moving to the land of WKRP...yup Cincinnati.
up north in New Hampshire there's gonna be a killer show comes September 3rd at Milly's Tavern in Manchester, NH
The southern kings of Destructo Rock Antiseen make their first EVER appearance in New Hamshire!! The Jabbers(that's GG Allin's original band to you!), Meatsaw and the mighty Caught Flies!! As they are saying: This show will eat yer babies!!!

Hey remember Digney Fignus and The Girl with the Curious Hand ??? Well he's at Johnny D's Sept 9th!! His sound now is Americana roots type New Orleans sounding stuff...
Hey stay in touch huh? ...Email us click click click