The BGN News Archive
August 20, 2018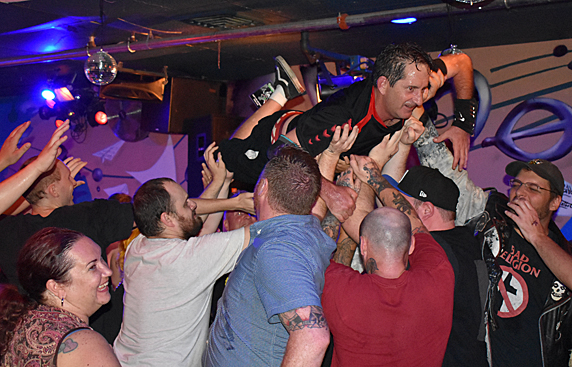 Chris Doherty gets a lift at the C Note
Photo:Blowfish
---
We had a lot of hope for the Friday show at the C Note. It was a South Shore gig with a strong punk line up including legends The Dogmatics and Gang Green. It turned out that it fulfilled all expectations. Very importantly the club was full. The South Shore contingent had come out.
We saw Springa outside the club. He was the special guest for the evening. You know things are going to be lively with Springa's in the mix.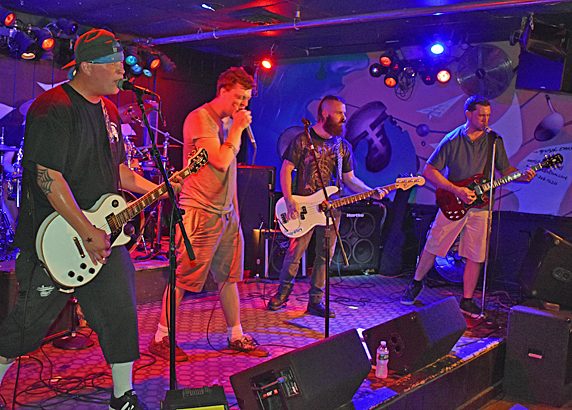 Worm
Photo:Blowfish
We missed Hardwired and were especially bummed because they are a Hull band. We came in on Worm. That's Mikke Worm's band. He put the night together. Check out our interview here if you haven't.
Worm sounds like old school punk, and hey, what do we like? They even have a song called "Straight Ahead Punk". Mikke has strong views on social issues and that lends a force to the songs he sings. The group trades off on singing and guitar playing which we like, it changes things just enough to be interesting. Worm on ReverbNation.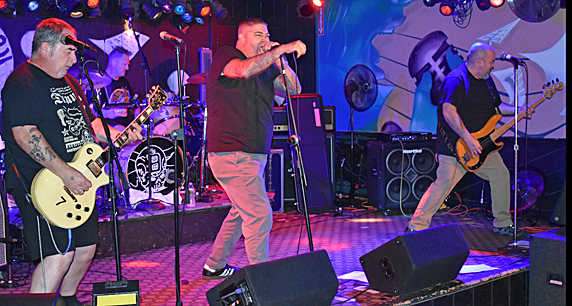 Antibodies
Photo:Blowfish
The Antibodies made a big impression on us when we first saw them at the Midway in June of 2013. The only problem is that they don't do many shows (that we come across, at least). We love that they do it simple. Often the title of the song is 80% of the lyrics. They just deliver it with attitude and it works.
The singer was born to be the front man in a punk band. He looks commanding and his voice is convincing when he spews out, "Fuck you, fuck you, fuck you, whaaaaaa!" The name of that song is... "Fuck You." "In My Eyes" and "Oi to Your Mother" were two songs that were memorable. They had a song called "Blacked Out" that has a sledge hammer chorus. They had T-Bone as guest singer who they said helped write the song. It was a highlight of the set. Antibodies songs on Myspace.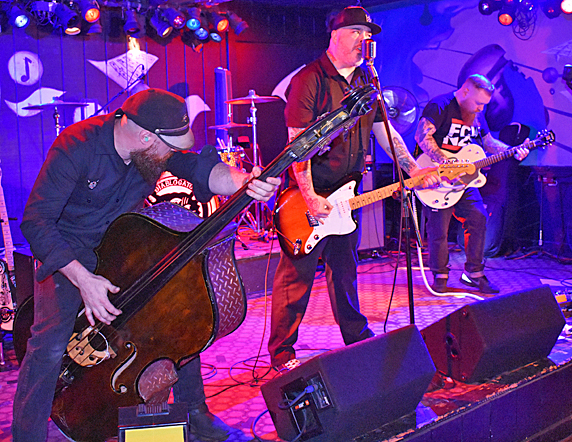 Diablogato
Photo:Blowfish
Diablogato never puts in a bad set and they didn't this night either. It seems to us that they don't get near enough the attention that they deserve. Their rockabilly mixed with punk and all sorts of other influences had an immediate appeal. We've seen them on all sorts of bills and they always fit in like they did on this night of all straight punk. The stand-up bass player is a show unto himself as he crawls, sits and generally makes himself at home on top of the instrument. The guitarist is up there with Miss Amy Griffin as far as rockabilly riffage is concerned.
Their songs evoked southern and western locals and had a noirish atmosphere to them. They are one of these bands you want to tell everyone to see because they are unique and rock like hell.
He held back, but it was finally time for Springa to get into the show. He gave a spirited intro to The Dogmatics and he jumped on stage several times during the set to encourage the crowd more.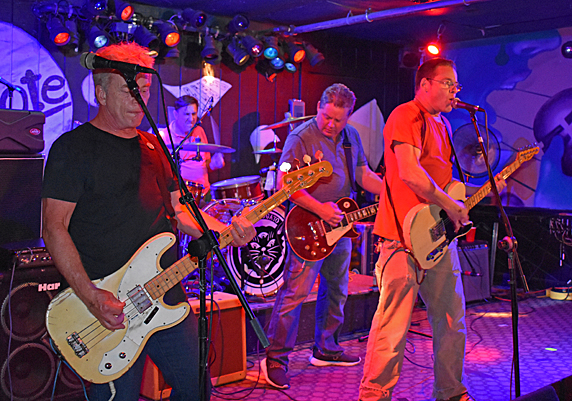 Dogmatics
Photo:Blowfish
The Dogmatics have made their mark and actually define a whole era of Boston punk – the Thayer St period. They played their songs that now have a life of their own. To hear the band play them now is something all new and old fans should take advantage of.
Some of the origins of the songs go way back before punk. "Teenage Lament" takes from Dion's "Teenager in Love" from 1959 and in the beginning of "Hardcore Rules" you can hear an old folk song from probably a hundred years ago. Maybe that's what makes their songs seem timeless.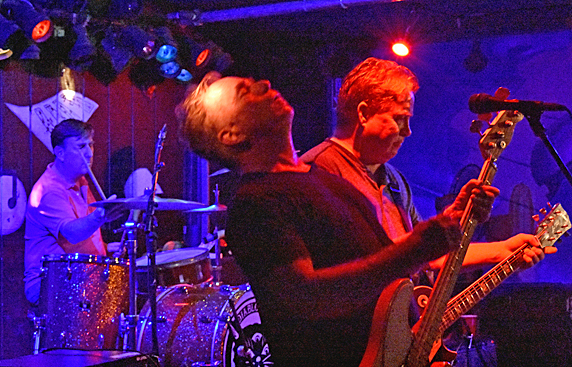 Dogmatics
Photo:Blowfish
We melted when they played "Thayer St". That area now has expensive condos and stores. When they sang the song, you imagined being back in that messy alleyway and in those huge lofts with a party going on every other day. A lot of their songs were like that. They had a weight of memory with them. To those that heard them back in the day they have that quality but if you just heard them at the C Note for the first time they are songs that stand without the history.
They played, "Drinking By the Pool", "Sister Serena", " Good Looking Girls", "King Sized Cigarette" and "Gimme The Shakes". They played cover of DMZ's "Ball Me Out". They ended the set with "Pussy Whipped" but got some encores after that.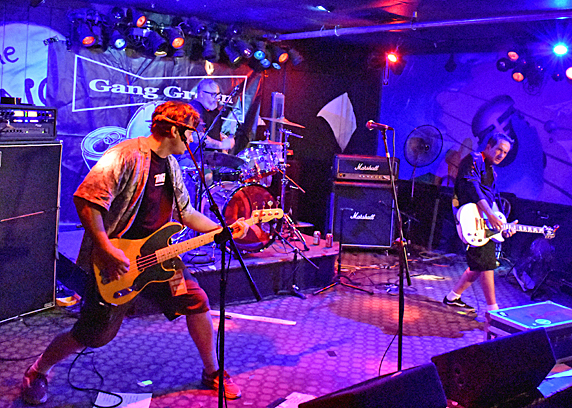 Gang Green
Photo:Blowfish
That was four bands and time for Gang Green. Chris Doherty is the only original member now, he has a bass/drum backup from his band in Ohio.It's the same set up as the Father's Too Reunion show at the Baseball Tavern. Chris himself was like a force of nature on stage. He wielded his guitar in an offhanded manner, not unlike Johnny Thunder at times. He had a searing tone and threw in hot red riffs with ease. His personality is what pushes everything. Time hasn't diminished that.
The first song was "Another Wasted Night". A lot of the songs were the same as the set at Baseball Tavern along with the classic Boston Punk covers that Springa came out to sing. They started with "Ain't Nothing But A House Party" then also did "Better Off Dead", "No Place Like Home" , "All Kindsa Girls", and "Knock Me Down". It was a generous set.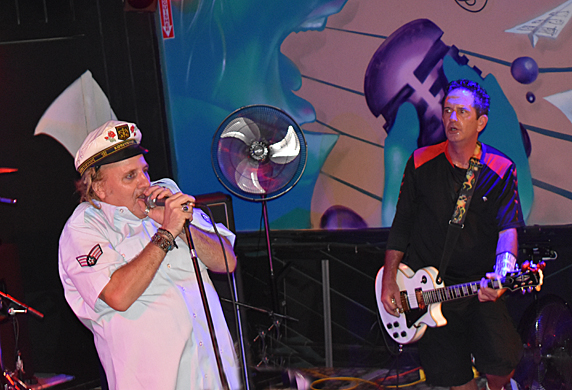 Springa and Chris
Photo:Blowfish
The set was getting looser as it went along. By the time Springa started singing it was indeed, "nothing but a house party". It was as if they had made their musical point and now it was time to have fun, and it was. Things were totally unhinged by the time Gang Green's statement of policy, "Alcohol" was played. To top that they went with the Beastie Boys "Fight For Your Right To Party". It was Springa and Chris both getting loose and it was something to see. They milked the song for a while because neither they nor the audience wanted it to stop.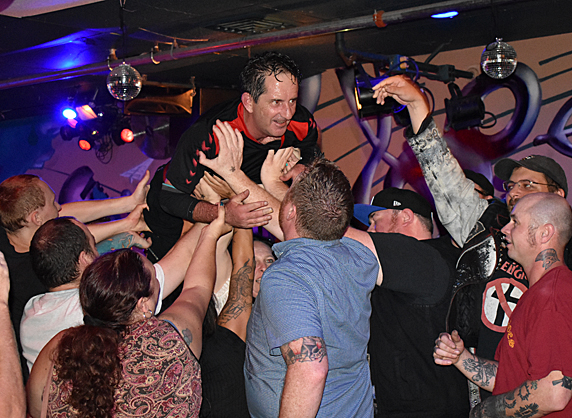 Victory
Photo:Blowfish
At the end the audience carried Chris overhead from the stage to the bar (It was like the way they carry a winning surfer from the water to the podium so his feet never touch the sand) and into the arms of a woman! Photo
Now that's how to do it, South Shore punks!
The Fathers Too night and this gig show what a Chris Doherty/Gang Green show is like. Chris won the 1986 Rumble because he could ignite a crowd then. He's still doing it. Chris posted on Facebook: "Had a fun fun fun fun fun fun fun fun night. Got to see a lot of old friends. It was great. We drove 1800 miles round trip to play for one hour. Well worth it."
That was one great punk show. Congrats to Mikke Worm. He had a vision and it came to life. Hopefully others will see this and be inspired.
On August 30 it's another showcase at the C Note – the 2018 6th Annual Rat Beach Party with an insane list of bands over the course of four days.
More photos from the C Note below the show listings
Arthur Freedman got to the Brighton Music Hall for Agent Orange on Wednesday and came back with the photos below.
Agent Orange Brighton Music Hall 8/15/2018

| | |
| --- | --- |
| | |
| | |
---
And in other news ....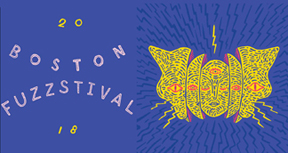 The 6th annual Boston Fuzzstival is taking place from Sept 27-29 at venues in Cambridge and Somerville. Fuzzstival is a celebration of local and regional music. This year's Fuzzstival lineup includes Lina Tullgren, The Monsieurs, Rick from Pile, Oompa, Bong Wish, Carinae, Lady Pills and so many more! The ONCE Somerville and Lilypad lineups have been announced with more to come! Follow Illegally Blind on Facebook for the latest info and your first chance to buy tickets.
Terry Kitchen is doing a concert on Saturday September 8 at the Dedham Sq. Coffeehouse. Terry was in Loose Ties (who lost to Gang Green in that 1986 Rumble) and wrote the best book with a Boston rock scene backdrop called Next Big Thing (review on our Book page ). He also plays "Knocking on Heaven's Door" on Dylanology which is the latest Low Budget Records release. The usual crew is on that like Mr. Curt and The Hummingbird Syndicate.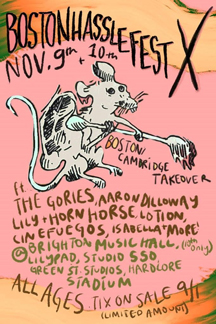 Hassle Fest 10 / Boston's Underground Music & Art Festival Nov 9 and 10 All ages is music from the fringes. You can catch people doing acts that defy convention and that would be the point. This year the venues are Brighton Music Hall (10th ONLY), Lilypad, Studio 550, Green Street Studios, Hardcore Stadium & more TBA.The Gories are the name group that is headlining but the groups that sticks out to us is Minibeast, we love those guys, and Andy California who fits this fest like a glove. There's a ton of bands- find all the info here: HassleFest
Once has released a statement this week that updated their situation: "We've also been thinking about you as we fix up the joint a little, work on some creature comforts, and make it all sparkle so you have the best times when you're here." They're going to have a grand opening on Sept 16: "There will be music and drinks and food and photography and more music and more drinks. It's gonna kick ass!!" Upcoming dates at Once: 9.22 – 1st Annual ONCE FEST - An all-day and night festival of more than 10 local bands alternating sets in the Ballroom and Lounge. 9.28 & 9.29 – 2018 Boston Fuzzstival, 11/02 Roky Erikson. Sounds like all is well and they will be back to business in September!! That's great!
Keep Safe Boston has produced a local compilation which includes Gene Dante, Watts, Parlour Bells, Psychic Dogs, Baabes, Walter Sickert & The Army of Broken Toys and Rick Berlin. The profits go toward gun safety. Keep Safe Boston's mission is, "… goodwill, compassion, and music to give voice, raise awareness, build community." You can get it here.
---
Here's some good shows coming up this week.....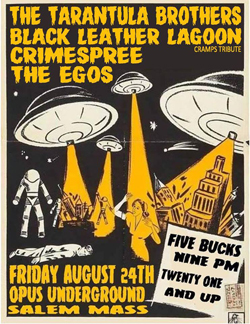 August 21 (Tuesday) Mike Oregano, Coffin Salesman, Chandler Cross, KCUF, Gregg Perry at Tavern at the End of the World
August 24 (Friday) Actor|Observer (Record Release) w/ Long Time at Great Scott
August 24 (Friday) Tarantula Brothers, Black Leather Lagoon (members of The Gala US), The Egos at KOTO Salem FB page
August 24 (Friday) Lyres, Glider, Pop Gun, Knock Ups at Koto in Salem
August 25 (Saturday) Jittery Jack & Miss Amy return to Atwoods 4-6PM
August 25 (Saturday) Silver Screams, The Black Cheers, EVERT, Grand at the Midway for a matinee show 4-8PM FB page
August 25 (Saturday) Stop Calling Me Frank, Hi-End, The Stigmatics at Club Boho at The Cantab
August 25 (Saturday) Mercury on Mars, The Dark Wheels, Cornersoul, State of the Union at UnchARTed in Lowell.
August 26 (Sunday) Sunday Matinee with Reason To Fight, Abductors, BFC, Pint Killers at the Midway 4-8PM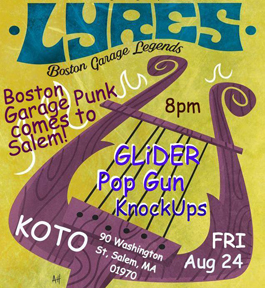 August 26 (Sunday) Roy Sludge at Sally O'Brien's FREE 6-8:30PM
August 26 (Sunday) Punkcake Art and Maker Market at Ralph's Diner Worcester. 12-5 FB page for info
And further out we have...
August 28 (Tuesday) In The Whale, Tied To A Bear, Blood Built Empire at O'Brien's Pub
August 29 (Wednesday) FAVL (from Italy), Brix N' Mortar, The Martians, Union Boys at Opus in Salem
August 30th to September 2nd 6th Annual Rat Beach Party The C-Note on Nantasket Beach! More info to come later!!
August 31 (Friday) Battery Bridge, Elle Zee, Corrola DeVille, Screw Cart and Fat Randy at Club Bohemia
August 31 (Friday) Petty Morals & When Particles Collide at The Plough
August 31 (Friday) MATB, After The Blackout, Time Out Timmy, Color Killer, Cook Bag at Beatnik's in Worcester
September 1 (Saturday) He's BACK!!! Keytar Bear (all healed up from his motocycle accident) with Tsunami of Sound, A Bunch of Jerks and Last Ones at Sally O'Brien's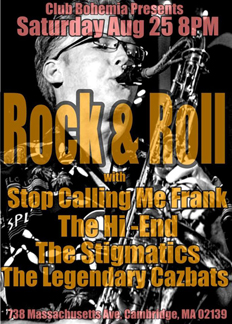 September 2 (Sunday) Banshee, Funeral Cone, Feedbag, Time Out Timmy, Sewer Buddies day show 4PM- at The Midway
September 2 (Sunday) Ajda the Turkish Queen Band and American Echoes at Atwood's -10Pm

September 2 (Sunday) Beware the Dangers of Ghost Scorpion!, Le Yikes Surf Club, Little Troublemakers, Black Beach at O'Brien's
September 4 (Tuesday) Evil Engines, Gasko, State Of The Union at O'Brien's
September 4 (Tuesday) The False Pretenses - A Tribute to The Pretenders (on Chrissie Hynde's Birthday) at Plough & Stars, Cambridge. Feathuring: Andrea Gillis, Chris Cote, Melissa Gibbs, Charles Hansen, John Sheeran, Jim Janota. 9PM start
September 8 (Saturday) Color Killer will be on A Crash Course for the Ravers WMFO 91.5 1-4PM FB page
September 8 (Saturday) Mobina Galore, New Warden, Stray Bullets, Lucky United, MOTO at The Midway - 4-8PM early show
September 8 (Saturday) Richard Mirsky's CD Release Party at the Midway (night show)
September 8 (Saturday) The Queers on a boat!! doing the Rock On! Concert Cruise FB page for tix etc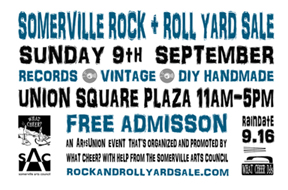 September 8 (Saturday) Muck and The Mires debut music from their new release Muckus Maximus
September 9 (Sunday) Somerville Rock + Roll Yard Sale 11AM-5PM Union Square Somerville. Check out their website for vendors and musicians.
September 9 (Sunday) The Queers, The Prozacs, CityState, Color Killer, Wretched Hive at the Waterfront Tavern Holyoke MA FB page doors at 7Pm
September 9 (Sunday) Punks For Pets 2018 w Special Guest Mobina Galore at The News Cafe Pawtuckeet RI FB page
September 10 (Monday) Aneurysm, Tongue Party, Knock Over City, Forktie at O'Brien's
September 11 (Tuesday) Killing Joke on their 40th Anniversary Tour at the Paradise FB page
September 11 (Tuesday) Cheetah Chrome's new "Dead Boys", The Ghost Wolves, Midnight Creeps, The Worried at Alchemy in Provi RI. The Midnight Creeps!!! so glad they are back!!!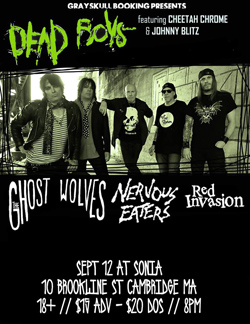 September 12 (Wednesday) Cheetah Chrome's new "Dead Boys", The Ghost Wolves - added to the bill- The Nervous Eaters and the reformed Red Invasion!! at Sonia. This is one of only two shows Red Invasion will be doing. FB page
September 13 (Thursday) MC50 presents Kick Out The Jams - The 50th Anniversary Tour - whoa!! This is Wayne Kramer celebrating the 50th Anniversary of the MC5...with special guests!! At the Paradise. FB page
September 13 (Thursday) Carinae, Stuyedeyed, Zip-Tie Handcuffs at O'Brien's
September 13 (Thursday) Fall-Fest 5 Day 1: featuring The Avengers! also on the bill - Silver Screams, Boot Rot, City Problems and a bunch more bands. It's at Alchemy. Music starts at 8PM Here's the FB page
September 13 (Thursday) Hudson Falcons, Genuine Rust, Sonic Libido and more TBA at This is an ALL AGES Matinee! at Thirsty First: Tavern & Grill, Lowell.
September 14 (Friday) Illegally Blind presents: Way Out, Russian Baths, Black Beach, House of Harm at O'Brien's
September 14 (Friday) Ten Dollar Mistake, Cold Expectations, The Melatonins at the Tavern at the End of the World
September 14 (Friday) Records Collecting Dust II Film Premiere at Regent Theatre in Arlington: it "focuses on the East Coast cities of Boston, New York and Washington DC, and includes in depth interviews with twenty eight highly influential people from the 1980's hardcore punk rock music scene." Including- Bob Cenci (jerry's kids) and John Sox (The FU's) as well as Ian MacKaye of Minor Threat/Fugazi, John Joseph of Cro-Mags, Dave Smalley of DYS/Dag Nasty, Amy Pickering of Dischord Records, John Sox of FU's, Walter Schreifels of Gorilla Biscuits/Quicksand, Roger Miret of Agnostic Front and Clif Croce of The Freeze." FB page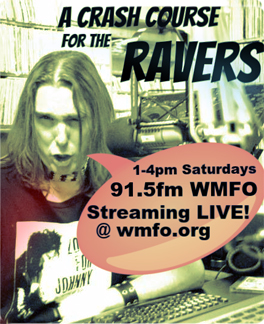 September 15 (Saturday) State of the Union will be on Brian Young's A Crash Course for the Ravers on WMFO 91.5 1-4PM
September 15 (Saturday) The Hideout, In The Meantime, DNZL at O'Brien's
September 16 (Sunday) Black Market Flea by Boston Hassle & Ignore Rock n Roll Heroes - we went in June and it is awesome!!Lots of great vendors. Check it out folks!! 12-6PM FB page for info
September 16 (Sunday) LOCAL Focus: a celebration and sale of boston rock photography And Bob Colby's Goodbye Party and Rock Extravaganza, 20+ of Boston's music photographers, spanning four decades of Boston music photography, will each display two prints in the Ballroom at ONCE. 2pm - 10pm FB event page
September 18 (Tuesday) ALL AGES MATINEE- 1-6PM : Hudson Falcons, Genuine Rust, Sonic Libido, Losers Circle at the Thirsty First Tavern in Lowell.
September 21 (Friday) Von Traps, Some Kind of Nightmare, Ray's Occult, Live Nude Girls at Club Boho
September 21 (Friday) Thalia Zedek Band album release party with special guests Sleepyhead at The Midway
September 22 (Saturday) The Knock Ups, Titans of Industry, Sweetcreem, MIDI Myers at The Midway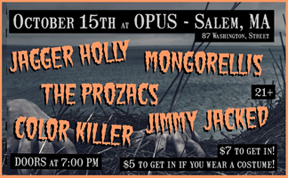 September 22 (Saturday) The Dogmatics, The Dents, HEAP at Cafe Nine in New Haven CT
September 23 (Sunday) The McGunks, Quiggs, Port City Saints, The Martians do a Sunday day show at the Midway 4PM
September 23 (Sunday) FEAR Plus Special Guests at the Middle East Down- Tix are $25...but maybe you'll want to shell out $125 for ameet and greet and early entry. Please!!
September 28 (Friday) State of the Union's CD release party at the Midway with The Gala, Gene Dante and The Hi-End. We heard some of that material and it is awesome!!! FB event page
September 28 (Friday) Have Nots, Lenny Lashley's Gang of One, Cuidado, Blood Stained Brindle at The Middle East Up
September 28 (Friday) Stop Calling Me Frank, Soraia, Hambone Skinny & The Connection at Sally O'Brien's
September 28 (Friday) When Particles Collilde, Dirty Dottys, Bloom at O'Brien's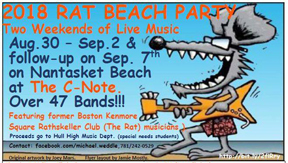 September 28 (Friday) Shiny Beasts, Tiger Bomb at the Plough
October 5 (Friday) Kid Gulliver, The Hi-End, The Stigmatics at The Jeanie Johnston Pub in JP
October 8 (Monday) Loser's Circle, Coffin Salesman, Voice of Addiction, Cook Bag at Charlie's Kitchen
October 12 (Friday) Salem Horror Fest After Party with Diablogato, Gray Bouchard and the Dedications and Petty Morals at Opus in Salem
October 14 (Sunday) Punkcake's Halloween Market with lots of cool vendors and music by The Evil Streaks, The Demon Seeds, Coffin Salesman at Ralph's Diner 12-5PM FB page for more info
October 14 (Sunday) Jagger Holly, MATB, The Prozacs, Mongorellis, Color Killer at Beatnik's in Worcester.
October 15 (Monday) Jagger Holly, Mongorellis, The Prozacs, Jimmy Jacked, Color Killer at Opus Salem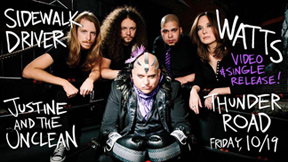 October 15 (Monday)- October 18- Thursday Jonathan Richman at the Middle East Up.
October 17 (Wednesday) The Damned are back and at The Paradise.
October 18 (Thursday) The Proletariat, Savageheads, Silver Screams at Sonia
October 18 (Thursday) Sidewalk Driver, Watts, Justine and the Unclean at Thunder Road
October 20 (Saturday) Nervous Eaters, Indonesian Junk, Duck & Cover at the Middle East Up
October 20 (Saturday) Stop Calling Me Frank, Crunchtime, The Jiblantos and The Black Souls at The Midway for a 4PM matinee.
October 27 (Saturday) Lyres, GLiDER, the modifierS at The Middle East Up- Early show doors at 6:30PM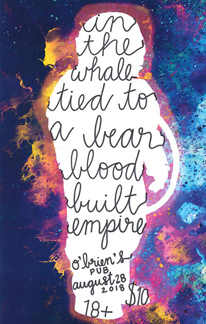 October 27 (Saturday) The Descendents w/ Teenage Bottlerocket at The Palladium in Worcester FB page for tix etc
November 2 (Friday) Roky Erikson at Once. Tix here.
November 10 (Saturday) The FUs, GLiDER, Classic Ruins and Screw Cart at Club Boho @ The Cantab. This is show 1 in a series called The Rosebud Rocks...remembering and celebrating our beloved Rosebud in Davis Square that was sold 4 years ago.
November 17 (Saturday) Post Punk 1977-87 Cover Night at Sally O'Brien's - 3 super groups will be covering songs from 1977-87. (punk, new wave, synth pop etc)
The groups are: Chuck Ferreira, Josh Pickering & friends, Duncan Wilder Johnson & friends, and Anthony Kaczynski & friends. FB event page
December 1 (Saturday) the second and final Red Invasion show - with Funeral Cone and Brix N' Mortar and one more TBA. @ The Middle East Upstairs
CONTACT US AT....misslynbgn@yahoo.com Send us your gig listings, your news and anything else ya got!! You want your CD reviewed?? Contact us for that too.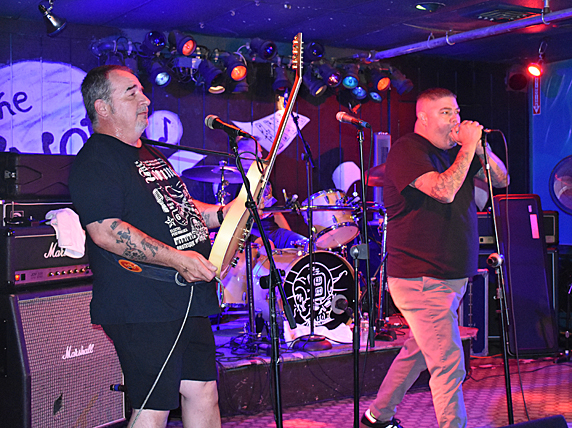 Antibodies
Photo:Blowfish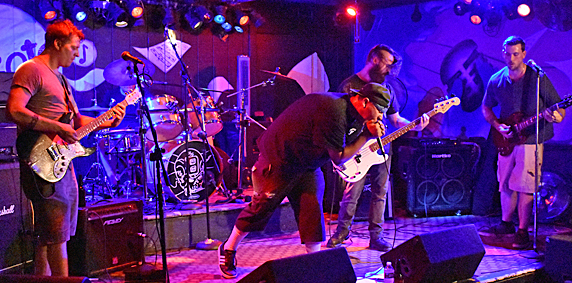 Worm
Photo:Blowfish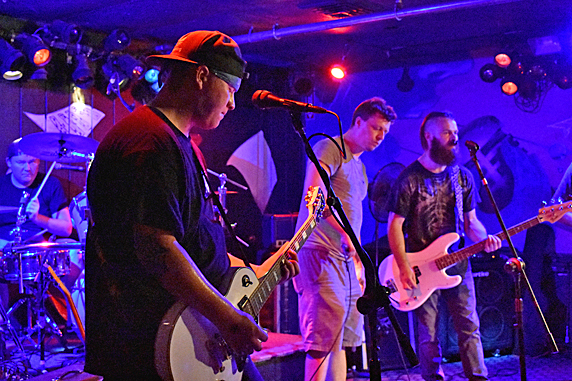 Worm
Photo: Blowfish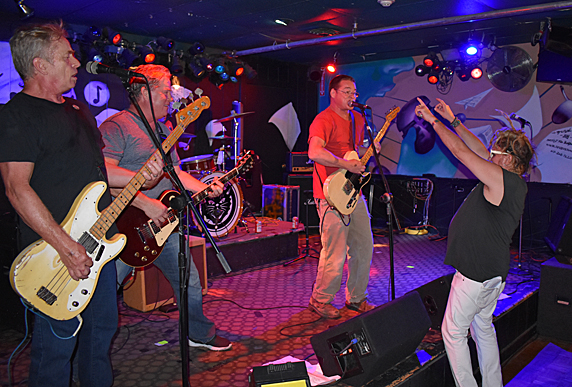 Dogmatics and Springa
Photo:Blowfish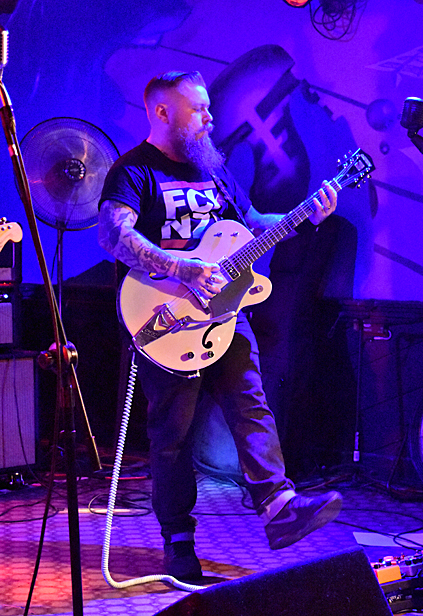 Diablogato
Photo:Blowfish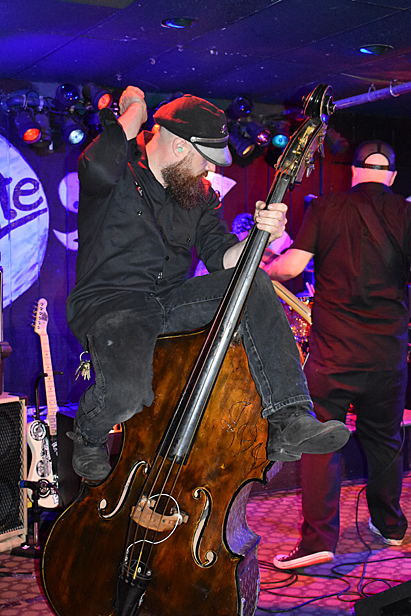 Diablogato
Photo:Blowfish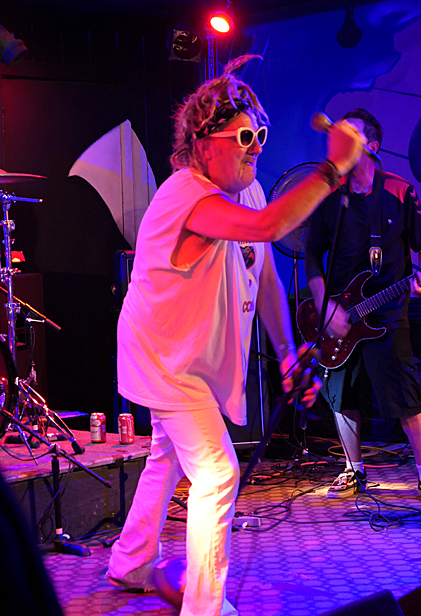 Springa
Photo:Blowfish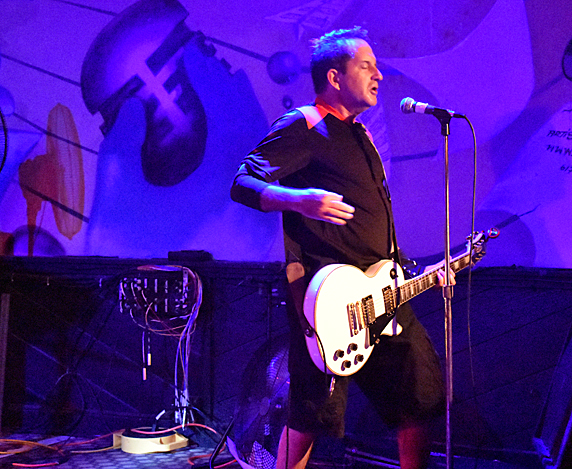 Chris Doherty
Photo:Blowfish