The BGN News Archive
August 21, 2017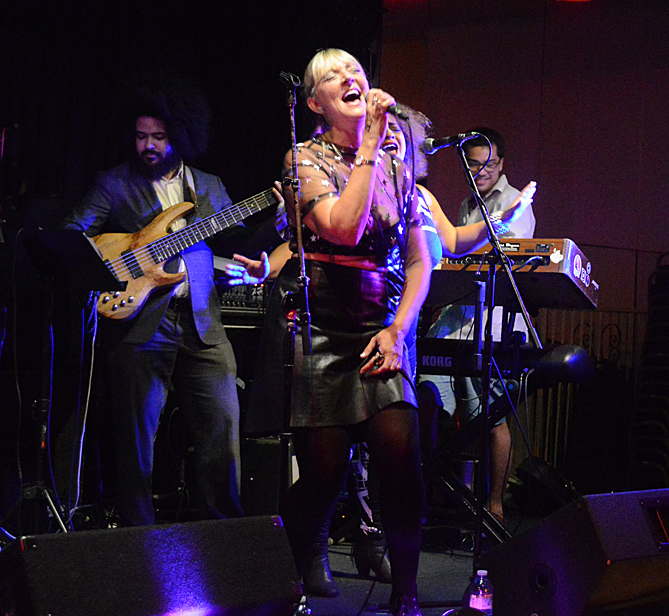 Kingdom of Love
Photo: Blowfish
After we uploaded the BGN last Sunday we took time to hit Bob Colby's 65 Birthday show at Once. We had the good fortune to walk in on The Kingdom of Love's set. The stage seemed full with this large group. At the helm was Linda Viens. She's been gifted with one of the best voices in Boston music. In addition they had two more singers which added up to quite a hit of vocal power. The band were all polished players. Combined, they did a rocking Suffragette City. Linda also has a genial stage presence that adds to the show.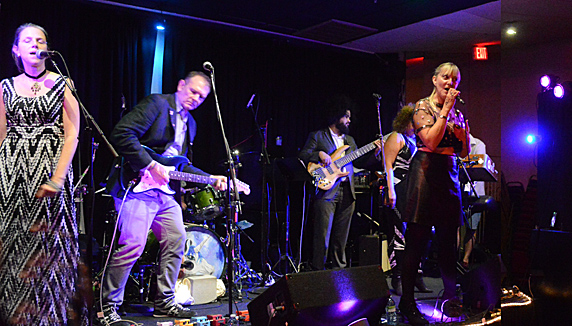 Kingdom of Love
Photo: Blowfish
Up next were two duos that illustrated a vein of music Bob has centered on. They both take chances with all the conventions. In Land of Enchantment they're switching instruments. They ended up with flute and drums at one point, not an obvious combination. The vocals were smooth and ethereal as were Dyr Faser's.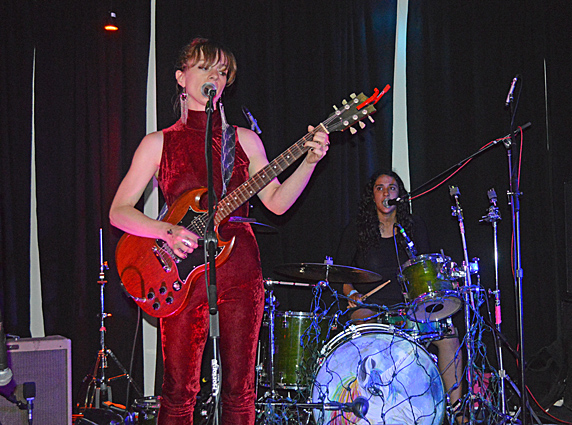 Land of Enchantment
Photo: Blowfish


Dyr Faser had some electronic backing as they tried to seduce you with subtle melodies. There's lots of reward for those that open up to these groups.

A few days after his birthday show Bob Colby tripped and fell. He has a nasty black eye. He says he's alright. Whew! Get better soon Bob!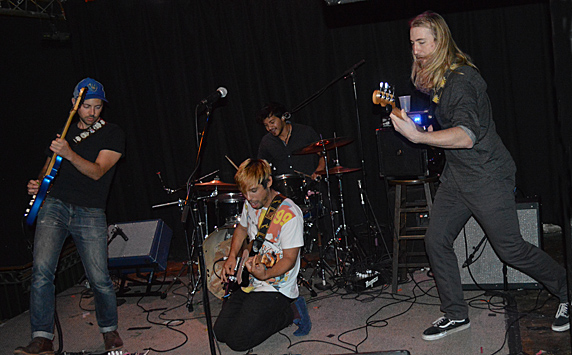 Silver Mirrors
Photo: Blowfish
Monday was a chance to catch Silver Mirrors at Great Scott's. Silver Mirrors are still struggling to get attention. Punk took some inspiration from garage rock and the Silver Mirrors embrace it whole heartedly. Everything sounds sixties-ish. They even throw in some proto funk.
They did a few songs where they sing in falsetto which makes you wonder where that is coming from. They have a ballad in there too. We find them interesting.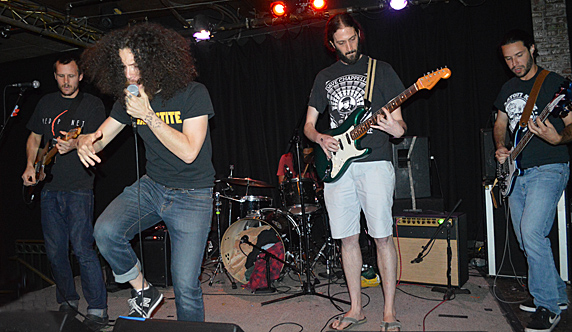 Spo
Photo: Blowfish
Before them was Spo a band with Dave Crespo whose name gets thrown around a lot. He's connected with WEMF, WAAF and has his hands in a lot of projects. Here he's lead singer and is comfortable on stage talking up a storm and delivering the songs with lots of commentary before, after and during the song. They did material that was satiric and made points about the current times. Check out the Facebook Spo page.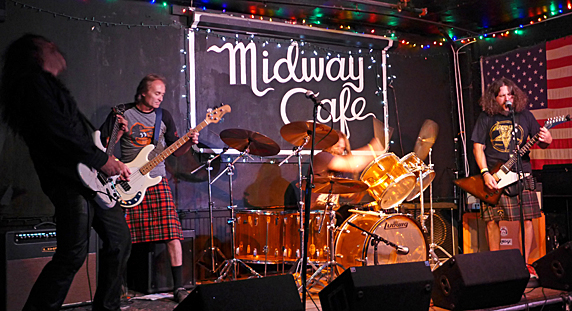 Burnt Village
Photo: Blowfish
The object on Saturday was to check out War Graves who seemed punk. But we missed them by the time we got to the afternoon show at the Midway. Burnt Village took the stage. We saw them almost a year ago . With them it's a traditional metal approach. Most material is riff based. The shred solos are short and those riffs are fast.
The best song was one written about Lemmy called Everything Louder than Everything Else. The thing that really made it for us was the drummer who was a whirlwind of drumsticks. He made the drums seem like a Mac Truck bearing down on you. He did the same thing last time.
The singer and bass player were wearing KILTS…..why? Not explained but we know Highland would love it.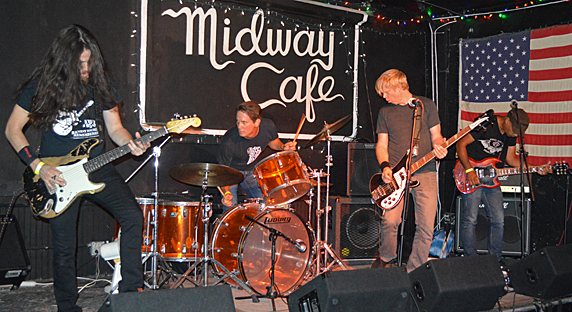 Devil on Horseback
Photo: Blowfish


We have been fuzzy about Devil on Horseback mainly because the time we saw them they were doing a Halloween set as the Buzzcocks. In reality they are a metal band. They had some set up problems and did a shorter set than they wanted but lost no time in pumping out the tunes. We're always looking for the punk but it's getting hard not to be exposed to the increasing number of metal acts like this Midway gig.
---
And in other news ....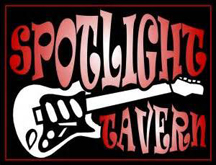 The Spotlight Tavern in Beverly is closing. Or actually has closed...abruptly... and is for sale! It was reported first lots of posts on Facebook but quickly picked up by Vanyaland. (click for full story)
That's a big loss for the North Shore. Up there the clubs don't seem to last a long time. The Spotlight had about a three year run. Early on there was that notable occasion where the club canceled a dream gig with the Nervous Eaters, Willie Loco, and the Real Kids. That was in November of 2014. We went on about it at the time here at the BGN . After that things seemed to straighten out.
There is a fundraising effort for the help who are out of a job.
We have featured Black Beach often in our club wanderings. They just pre-released a song from the upcoming Play Loud, Die Vol II and it's a good representation of what they do live. It's primal pounding, simple riffs and a vocal screaming bloody hell on top. Check it out here.

We don't know if the Road to Ruane movie is ever coming out but they have been slowly adding Billy Ruane's videos to a YouTube home. There are Lyres, Morphine and Charlie Chesterman vids in there.
The Globe reported (8/4/17) that the Rockin' & Roastin' Café started by Joey Kramer of Aerosmith has closed. We went there and it had quality food as well as the coffee that Kramer made. It had loads of Kramer/Aerosmith memorabilia. Well, bye bye now.
CD Review: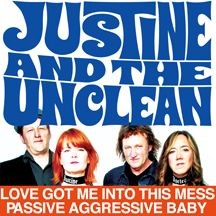 Justine and the Unclean are a relatively new group. The single just released by Rum Bar is punky and insanely catchy, and that's both sides. It reminds one of those singles that came out back in the day and you had no idea who it was but you had to get it. If you were lucky it had a cool sleeve.
The voice is just distinctive enough that once you hear it you'll ID all future efforts. It's simple sounding but there's craft there. It's punk smart.
We listened to Love Got Me Into This Mess so many times we were afraid to spoil it by trying Passive Aggressive Baby, but it was the same deal. It was multiple replays and getting a laugh out of the singer complaining about their passive aggressive sweetheart.
And get the lineup of the group!!: Justine Covault, Janet Egan King, Charles Hansen and Jim Janota.
And it was recorded by David Minehan at Woolly Mammoth Sound – I mean?!
Can the forthcoming album be all like this?
---
Here's some good shows coming up .....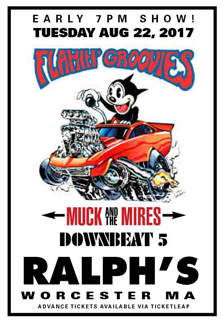 August 22 (Tuesday) OI!! - Rixe (France), The Brass, Bombers, Security and The Stance at The Middle East Up
August 22 (Tuesday) The Legendary Flamin' Groovies w/ Muck & The Mires & The Downbeat 5 are at Ralph's in Worcester you can get tix here
August 22 (Tuesday) A Bunch Of Jerks Album Release Show with special guests: Offworld, DnA's Evolution, Endation at The Midway
August 24 (Thursday) The Surfrajettes, Tsunami of Sound and The Beachcombovers are at Regent Theater in Arlington (FB page)
August 25 (Friday) Eyehategod and The Cro-Mags at The Middle East Up (FB page)
August 25 (Friday) Mercury on Mars, Psychic Dog,The Runouts, Corner Soul at The Midway
August 25 (Friday) Billy Connors Project, Club Linehan A Go Go, Corolla De Ville at The Spotlight Tavern/Beverly
August 25 (Friday) Ladymob, Swivel, Skeleton Beats and Fossy Jaw are at Koto in Salem
August 25 (Friday) When Particles Collide and Petty Morals at Fury's Publick House in Dover NH
August 26 (Saturday) Brian Young's A.C.C.F.T.R. featuring Casanovas in Heat! 91.5 WMFO 1-4PM
August 26 (Saturday) The Guilloteenagers, Four Point Restraint and After the Blackout are at The Cantab's Club Bohemia
August 26 (Saturday) Trusty Sidekick, Jason Bennett & The Filthy Muskets, Richie Parsons, Matt Trainor at The Midway
August 26 (Saturday) Jess Collins and Chrissy V. from Petty Morals will be taking over the music situation at the Shanty w/ Jim Healey & Set Fire. Solo stuff, duets, acoustic, etc...perhaps a few others, will be joining the fold for some round robin-ing! Starts at 8PM
August 27 (Sunday) Stop Calling Me Frank, State of The Union, The New Frustrations, The Only Things at The Midway -matinee show 4-8PM
And further out we have....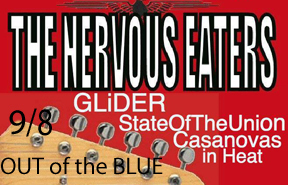 September 1 (Friday) Silver Screams, The Runouts and Crimespree at Koto in Salem
September 7 (Thursday) Teenage Bottlerocket, OC45 and MakeWar at The Middle East
September 7 (Thursday) Thrust Club, Burnt VIllage, Psychic Dog and Cook Bag at O'Brien's
September 8 (Friday) The Nervous Eaters and Glider , State of the Union and Casanovas in Heat at Out of the Blue Gallery Central Sq. here's the FB page to get updates.
September 9 (Saturday) The Stigmatics are on A Crash Course for the Ravers on WMFO 91.5 from 1-4PM
September 9 (Saturday) The Gala, Future Carnivores, Stars Like Ours and Courters at O'Brien's
September 10 (Sunday) A Giant Dog, The Dazies, Boston Cream at O'Brien's
September 10 (Sunday) GBH and The Casualties at The Brighton Music Hall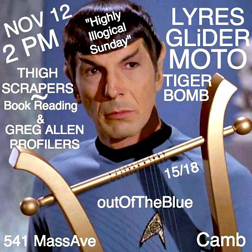 September 11 (Monday) Roky Erickson at the Brighton Music Hall. WOW!! Get yer tix here.
September 15 (Frirday) Cold Expectations, Justine and the Unclean, Ten Dollar Mistake at The Tavern at the End of the World - FB page
September 16 (Saturday) Boston vs Tokyo Rock n Roll Showdown with Muck And The Mires, The Fadeaways (from Japan), Mellvins (from Japan), Jittery Jack at O'Brien's Pub
September 16 (Saturday) Big Giant, Greg Allen's Fringe Religion, The Melatonins at The Midway - 4PM matinee show
September 16 (Saturday) Chameleons VOX At the Middle East Also on the bill: Soft Kill , Way Out and The Milling Gowns FB Page
September 18 (Monday) The Dictators NYC (aka Manitoba NYC) are at The Middle East
September 18 (Monday) Duck & Cover and the Quiggs are at Once with a fake version of The Dead Boys...no Stiv no Jimmy Zero -how can you call that the Dead Boys?? sad.
September 20 (Wednesday) X doing their 40th Anniversary Tour- at the Brighton Music Hall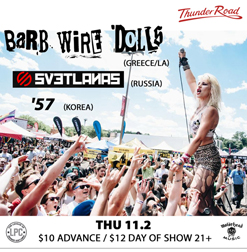 September 20 (Wednesday) Kris Rodgers and Soraia are At O'Briens
September 22 (Friday) The Go Set, Beantown Boozehounds, The Pint Killers, The Disquiets at O'Brien's
September 22 (Friday) The Ataris and The Queers at The Middle East - this is an early show- 6PM -10Pm
September 22 (Friday) The Hi-End, Corin Ashley, Modern Day Idols, The Curtis Mayflower at the Midway
September 22 (Friday) The Bushwick Hotel, Petty Morals, The Fellowship of Feeding Wolves are at The Middle East Up
September 23 (Saturday) The Hummingbird Syndicate are at The C Note in Hull.
September 24 (Sunday) The Grommets, Uncle Spudd, Kermit's Finger, The New Frustrations, Sewer Buddies at The Midway - 4PM Matinee show
September 25 (Monday) Loser's Circle, Mongorellis, the Scutches, and Blame It On Whitman @ PA's FB page

September 28 (Thursday) Stiff Little Fingers are doing their 40th Anniversary tour they have Death by Unga Bunga opening for them - at the Brighton Music Hall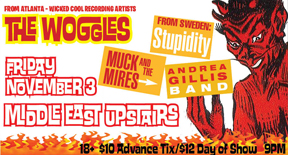 September 29 (Friday) Il Mostro, Silver Screams, BDSX and The Von Traps at O'Brien's
October 8 (Sunday) Petty Morals are having a Ballroom Blitz at Once Ballroom with a Flea Market and Art Show -also on the bill Muck & The Mires, The Dazies and Lady Pill (set times and more are on the FB page) It's 2PM- 8PM
October 13 (Friday) Silver Screams, Idle Pilot, Black Cheers and Psychic Dog at Koto/Salem
November 3 (Friday) The Woggles, Muck and the Mires, Stupidity, Andrea Gillis Band at The Middle East Up
November 4 (Saturday) Human Sexual Response at HOB
November 9 (Thursday) The Proletariat at ONCE Ballroom w/ Siege and Black Beach
November 10 (Friday) CH3 (Channel 3), The FUs, Silver Screams, Fast Times Punk at The Middle East Up - 8-Midnight show tix here
November 10 (Friday) The Proletariat are at Narrows Center for the Arts w/ Black Beach in Fall River, MA (FB page for info)
November 11 (Saturday) Hasselfest #9 this year has Pere Ubu and a ton of other bands at Once- get the info on the FB page here.

CONTACT US AT....misslynbgn@yahoo.com -Send us your gig listings, your news and anything else ya got!! You want your CD reviewed?? Contact us for that too.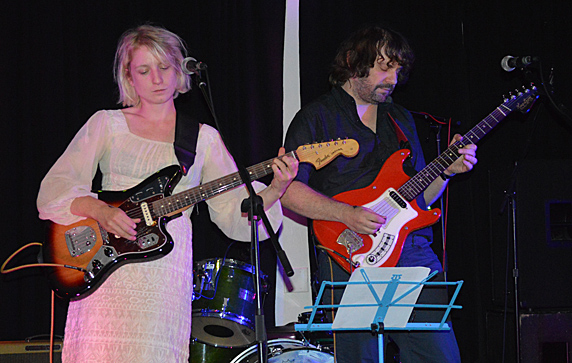 Dyr Fazer
Photo: Blowfish
Burnt Village
Photo: Blowfish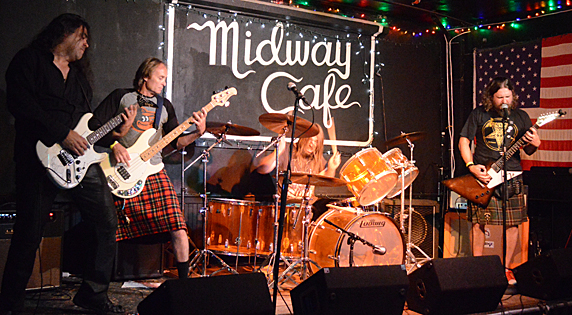 Burnt Village
Photo: Blowfish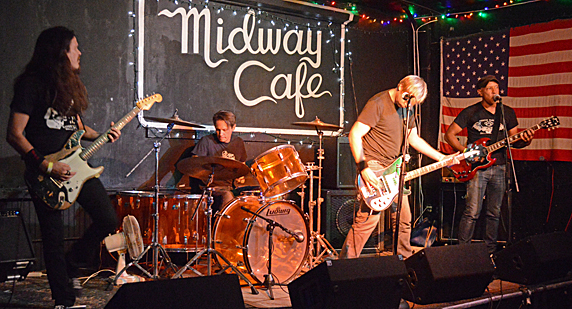 Devil on Horseback
Photo: Blowfish