The BGN News Archive
August 25, 2008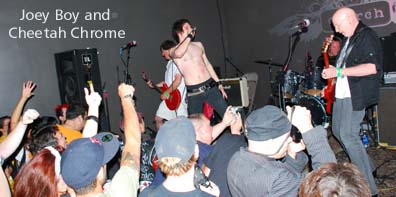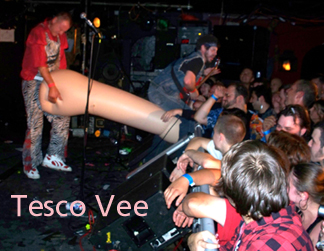 What a weekend it was my friends, The Unnatural Axe 30th Anniversary Party and Lawless Records' record release of "Ruling The World From The Back Seat" Record Release Party. ….three incredible nights of awesome music….we will have a full account of each night within the week for you but I can tell you each night was truly awesome and I think I am now in love with Tesco Vee; The Meatmen were beyond incredibly entertaining and I was laughing so much that my jaw started hurting. It was really one of the best sets I have seen in ages!! And Tesco looks like a punk rock Rutger Hauer gone insane like the "skin job" Roy Batty in Blade Runner! oh yeah!! And that was after a super excellent set by The Queers with my of my other faves; Wimpy Rutherford singing lead…whew!!
The energy level for the whole night on Saturday was just through the freaking roof and they had the air conditioning on; miracle of miracles!!!
Friday was a fun night! Joey Boy of Red Invasion was out of control nervous the whole night which always makes for good entertainment and he got up and did two songs with Cheetah Chrome and The Axe which always makes for even better entertainment. Seeing Wiilie Alexander and The Boom Boom Band again was great and they did a really good set, and the general consensus is that Mr. Loosigian is one killer guitar player…whew!! The Italian bands on Friday and Saturday were great too. And when the Barton brothers get together for the Outlets the power on stage is up ten-fold! There's so much to rave about…you'll have to check back for our pages of photos and commentary…

Pictures - Unnatural Axe Anniversary - Day One - Click Here.
Now to end the month;
This Wednesday August 27th, The Murder are at The Abbey and they have their new CD Release available!! Then we got: Buried In Leather at The Abbey this Friday, August 29th And Saturday, August 30th at TT, The Bear's in Central Sq Cambridge: Sexpod, Thalia Zedek and The Poison Arrows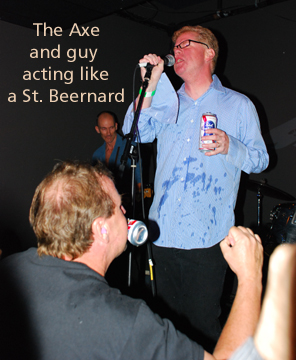 OK, now on to ...September, it starts out with a great weekend right off the bat:
Friday September 5th at The Alchemist is the Late Risers Re Do- Late Risers throw a party again to celebrate 20 years of Late Risers Club!! There's screenings of Jan Crocker's fabulous old punk videos and a showing of Marissa Acosta's awesome Late Risers Documentary as well as the LRC DJ's spinnin' discs: Albert O, Joanie Lindstrom and Mark Flynn, oh and CHEAP $2 Pabst Blue Ribbon (the LRC is truly sorry for that unfortunate change on the Pabst)!!
And if you can't make it over to JP that night The Plough & Stars has The Swinedells on Saturday the 5th!!
Saturday September 6th:
1) 3-7pm is the Somerville Rock and Roll Yard Sale!! It's an outdoor sale in Union Square Somerville , you'll want to check out the goods I am sure!!
2) after that you can go to the Middle East for Magic Christian (members of Blondie, Flaming Groovies, Plimsouls), Muck and The Mires, Parallel Project, Fox Pass
and then Sunday, September 7th, an early and all ages show 6PM! at Harper's Ferry with Deadly Sins, Mark Lind & The Unloved and Asher.
And mark your calendars for this: The 20th Anniversary Show of My Life with the Thrill Kill Cult at the Middle East down on September 25th…..
Oh and ya know I got some news while I was out and about …I am very happy to announce that The Mess me Ups may very well be showing up at a club near you again soon!! That is great news!! They are looking for some unsuspecting victim to be the new drummer…once that's done..yeah baby…and The Jabbers should be playing out again soon too! After a bit of hiatus the guys are gonna start practicing in a couple weeks and should be out soon!!
So we'll talk to ya again next week and write us with something you got to say , ok? Miss Lyn.