The BGN News Archive
August 26, 2013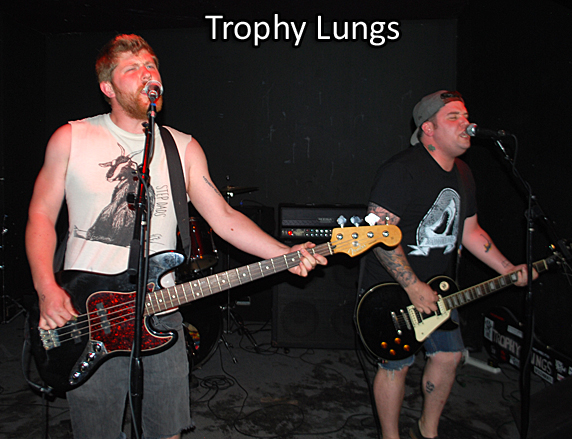 Miss Lyn being up country I decided to hit another Saturday day gig. This time at O'Briens which often has a barbeque going at the same time and they did this time but I never saw it. I missed out there.
Not a big crowd, there never seems to be at these things but the people who are there are a nice group and love their music. They all have a nice vibe. This was a bill of mostly punk pop groups.
I walked in on The Poison Ivy League. Their twist is a small synth in addition to the trio core. I thought the synth lines added a lot. The overall mix was muddy which hurt the performance. The next group was muddy too so it was the set up. Their recordings put them in a good light.
The New Wardens, a trio, had that same problem with the mix which was especially bad for them because the guitarist looked like he was doing lots of good moves and he just could not be heard. It was all bass. They come off much better again on the recordings.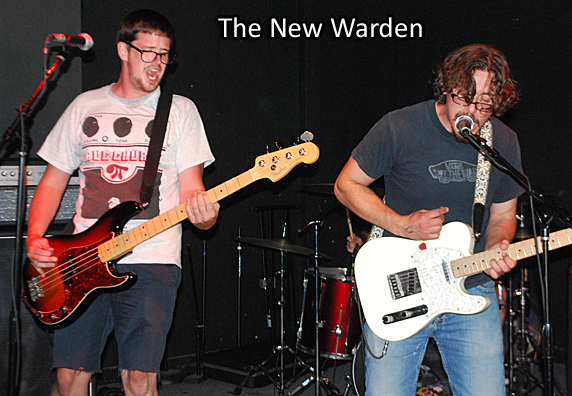 Trophy Lungs came out bounding with energy and overcame all sound problems with just blasting it out. They would not be denied. Prominent vocals by the bassist and guitarist push every song along. They had all the qualities on the Pop Punk checklist but burst though all thoughts of formula with fresh energy and positive pop effervescence. They had a comfortable presence on stage throwing out compliments and funny barbs. Their bandcamp page says that members are from different previous groups, none of which I know. They only have one song on a comp now but have a CD coming out soon.
I left but there were three more groups to come and THEN another set of bands to play starting at 8 pm too. Good for you O'Briens. The Midway and The Middle East does the same thing on Saturdays. I realize that a good time for family fun but for us die hard punk music fans Saturday afternoon is a good hit.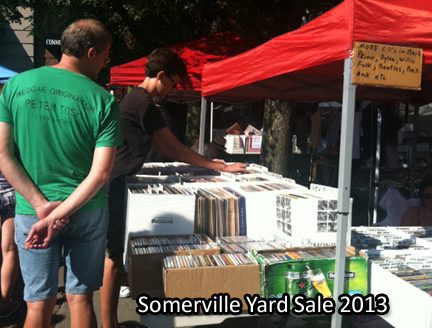 Miss Lyn came back to the city and headed over to hipster central; Union Square Somerville for the Rock n Roll Yard Sale. Lots of vinyl, CD.s and tapes and turntables even as well as books, vintage clothes and DIY vendor- there was a cool looking vendor called Tot Rox selling Sex Pistols dresses for little girls and all kinds of Punk baby stuff. Pretty funny.
Hey here's the BIG news though: The Live at the Rat CD is now available for purchase from QRST's...go get your very own!! Talk about the way back machine and a bunch of awesome memiories!!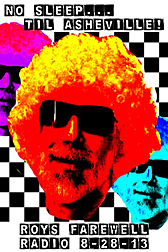 Boston's own David Minehan is playing guitar in The Replacements . The next show is in Chicago on September 15th The Pixies open for them!! The 3rd show is in Denver on Sept 21. Gotta luv it!! Congrats David!! Hey this
Weds Aug 28th is a Benefit Show for the Lets Go To The Rat movie....at Johnny D's ...show starts at 7:30
But wait- WHAT?? Roy Rubenstien is moving to Asheville NC!!! So bid him a fond adieu at his going away party at Radio on Weds, Aug 28th!! Amy Prohaska is putting it together and so far she's got My Own Worst Enemy, Corin Ashley, The Vivs and Kevin Stevenson providing the music for the night...
And this Friday (8/30) The Queers are at Church (with The Dwarves)
and there's a great show at Radio UP with Ragged Old Flag, The Scars and Radiator Rattlers....
Also on 8/30 The Monsieurs are having a "Tape Release Party" at O'Brien's with The Thick Shakes, Radio Control and Psychic Yardsale...
and the A Crash Course for The Ravers show we've been waiting for: James Straight & The Wide Stance are on (WMFO 91.5 FM) from 1-4PM this very Saturday (8/31) ....and as The Reverend Joe Fagan says: "This is web streamed folks so you can tune in on your smarty pants phone from where ever you are!"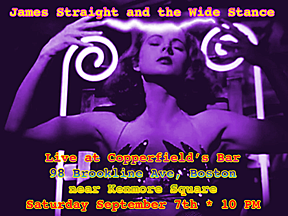 and in the evening - (7PM-11PM) there's a very special show at the Middle East up with Continental, Duck & Cover and The Scrapes...
Richie Parsons is getting visited by his friends in Italy again and luck for us they also are in great bands and play gigs in town when they are here...Sunday Sept 1 at Radio Giuda will be headlining also on the bill The Kurt Baker Band and The Legendary Rockin' Prophets and Dan Garrison...
There are a LOT of good shows on Saturday, Sept 7th:
First off in the afternoon there's the 3rd Annual JP Music Festival 12-7 PM at Pinebank field (Perkins Street at the Jamaicaway) and its FREE!! They have more than 25 musicians, bands, ensembles, and orchestras with members who live or work in JP, two stages with non-stop live music, lots of food trucks + carts, activities for kids (Blowfish would rather be in a dark club right Blowie ? Hey me too!!!) and artist + festival merch for sale....sounds great!! Then in the evening there's......
at Club Bohemia at the Cantab down - The FU's, Psycho, Insult & Oblivion...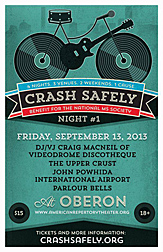 Saturday 9/7 Middle East Down - what a great line up!! Its Barrence Whitfield and The Savages LP Release show with Mucky Myers...ooops I mean - Muck & The Mires, The Downbeat 5 and Jittery Jack!! Excellent!
Also on 9/7 James Straight & The Wide Stance return to Copperfield's on Brookline Ave in Boston... Check out our write up and pics from the last time they played there - its actually a great place to see these guys!
AND 9/7 on the North Shore you got Terry Brenner bringing you Two Saints!! (who are AWESOME!!) and Black Fortress of Opium (and more TBA)
Also on Sept 7 Plumerai is playing at O'Briens with The Veldt, The Dazzling Dooms, The Dying Falls and Violet Machine.
After 9/7 comes 9/8 and that starts a whole week of TT's 40th Anniversary Celebration!!
Sunday Sept 8: Permafrost, Sarah Rabdau & Self Employed Assassins, Eldridge Rodriguez
Monday Sept 9: The Grownup Noise, The Shods, The Life Electric
Tuesday Sept 10: Raging Teens, OldJack, Roy Sludge, Matt Heaton and the Electric Heaters, Comanchero
Wednesday Sept 11: They're gonna have a Dance Party
Thursday Sept 12: Robin Lane, Jules Verdone, The Bristols, Jenny Dee & The Deelinquents, Thalia Zedek Band, Ruby Rose Fox, Davina Yannetty, Sophia Cacciola and Michael J. Epstein
Friday Sept 13: The Gravel Pit, The Sheila Divine, The Field Effect, Corin Ashley, Kenny Chambers of Moving Targets, Emergency Music
And Saturday - WOW!!: The Classic Ruins, O Positive, Three Colors, The Dogmatics, Reid Paley, Randy Black and the Heathcroppers, Willie Alexander, Mike the Considerate and the Interns
Bob Colby's Cantab Second Thursday show is coming up on Sept 12th...he's excited to have psych bands this time around: So Sol, Jeff Beam, The Free ways and The Moontowers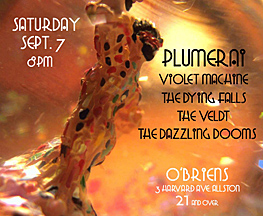 Pere Ubu is at Brighton Music Hall Saturday, September 14th!!!
To raise money to help research MS the Crash Safely benefit shows are taking place over 4 nights in September : Sept. 13 at Oberon in Harvard Square - DJ/VJ Craig MacNeil of Videodrome Discotheque, The Upper Crust, John Powhida International Airport and Parlour Bells
Friday Sept 14 at The Davis Square Theater Somerville - The Nickel & Dime Band, Township, The Duckbills (members of the Figgs), Mount Peru and Tsunami of Sound
The Next weekend Sept 20 & 21 are at The Midway... Friday 9/20 Titanics, Corin Ashley, The Unholy III, The Phil Aiken Army and Lenny Lashley's Gang of One
Saturday 9/21 - Sidewalk Driver, Gene Dante and The Future Starlets, My Own Worst Enemy, The I Want You, & Cotton Candy
another Awesome show alert!!:9/21 Upstart Fest 2013 - The Northeast's Biggest and Best Punk Rock Party will be at the Middle East Down with Koffin Kats, Hudson Falcons, Turbo AC's, Two Fisted Law, American Pinup, New Red Scare, Svetlanas (U.S.S.R.), Cry Havoc, The Old Edison and OC45 - DOORS AT 5PM!!!
If you are not in Boston don't despair....this show is touring and may be coming to a city near you check out their website!
Also on the 21st - At Radio is a celebration of Joan Jett's Birthday!! So its Ladies of the 80's cover songs night...
The Rat Reunion Beach Party
9/14 & 15 At The Red Parrot , Nantasket Beach in Hull September 14th (Saturday noon to 6 pm) -- Rat Musicians Cookout/Small Jam!, September 14th (Saturday 6 pm to close) -- Red Parrot (Beach Bar) Rat Jam! , Sunday, September 15th (noon to close) -- The Main Event -- Rat Veteran Bands in All Rooms of The Red Parrot!
So far the band list is as follows Slow Children, The Beachcombovers, The Boize, The Derangers, Cindy Daley, formerly of Lovelace, Liz Borden, JetSet, The GraveDancers , State of The Union, The Workers (w/ Sev Grossman, David McClean!), The Kenne Highland Clan, FoxPass, Red House, Tsunami of Sound, Heavy Weddle & Sweet Release - and the list continues to grow!
There's a special show on Monday September 30th at Charlie's Kitchen with Unnatural Axe, Kepi Ghoulie and special guests all the way from Italy: Miss Chain and The Broken Heels......Then on October 1 at the Beachcomer in Quincy ...Kepi Ghoulie, Miss Chain and The Broken Heels (Italy)...Richie Parsons 10 Song Set...coupla covers...all new original material.
11th Annual Ponderosa Stomp is this October 3, 5 and 5 at The Rock n Bowl in New Orleans check out their site for a list of performers etc....
October 12th -WAS going to be Cal Cali's Rat Reunion - but he's moving it because of Spit Reunion #2!!! On October 12th At Bill's Bar on Landsowne St.....DJs will include Tony V, Paul V and Steven Strick and music so far will be by Robin Lane and Lizzie Borden & The Axes..get info timeline and buy tix at their website
And really far in advance we're letting you know about John Surette's punk opera Tomorrow The World will be performed live at the Middle East, Saturday Dec 14.
Joanie Lindstrom went down south and spent time in Charleston. Check out the page.....Joanie's Charleston Vacation.
EMAIL US AT.......misslynbgn@yahoo.com
Past postings of this news page are in the BGN ARCHIVES