The BGN News Archive
August 27, 2012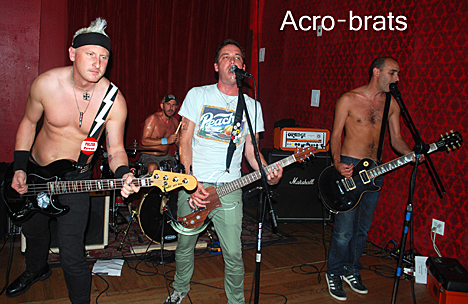 We hit Radio on Friday for the chance to see one of our faves - Acro-brats. Blowfish gives us a tale of the evening there:
First we caught a fiery set by Cocked n' Loaded. They have been doing their thing for a few years now. Their 'thing' is an unruly onslaught of 70's style metal. They build a wall with two Les Paul's through Marshalls. Then they "unleash the Kraken" http://www.youtube.com/watch?v=h5NliHNSroE in the form of their lead singer. He's quite a sight and he puts on quite a show. He was wearing an orange "Let's Party" shirt but that didn't last long before he ripped it off to displayed his tattooed mass. He spent half his time in the audience and delivered the goods in every song. The tunes are pretty good with a few repetitive choruses that were catchy. The tandem leads are a seventies hallmark and they play them with glee. It's a definite throwback but I enjoyed it loads.
Tonight the Acro-brats are looser than other times we have seen them but they still have all the elements we like. I like the way they are pushing back some of the boundaries of punk both melodically and rhythmically. For instance one song begins with a very odd rhythm akin to the Doors "Touch Me". Another songs begins with an almost acapella section. These are not things you expect in the context of their punkier set. A highlight of the set is "Hey, Medusa" which is one catchy song, I could listen to that for hours at a stretch. They say they are recording an EP worth of material now that will be released by November. I feel like they should be doing something to get more attention but I don't know what that would be…I don't know everything.
Here's stuff that's coming up and worthy:
We were super impressed by Young Adults when we saw them. They have a gig at TT's on Thursday August 30.
This coming weekend also has some good stuff at The Plough n Stars! Friday (aug 31st) Drew Townsend is t=here with his band The Derangers...playing their spaghetti western sound again after a long haitus.
Then on Saturday Sept 1 the fabulous Roy Sludge Trio is at The Plough....and that starts off a crazy busy September that has loads of great stuff happening:
Sunday Sept 2 there's supposedly two Lurking Corpses shows....neither, according to Big Daddy Slug, have been cancelled:
They are at The Midway with Kilslug and The F.U.'s but they are also supposed to be at Church with Psycho and Fresh Kill- It looks like they gop on early (9PM) at Church then race over to the Midway to do a set there as well.
Monday Sept 3rd, Unnatural Axe will be making their ONLY Boston appearance for 2012 at Radio on September 2nd and to make it even more special Richie Parsons is bringing over a band called Guida…from Rome…here's their song "Number 10"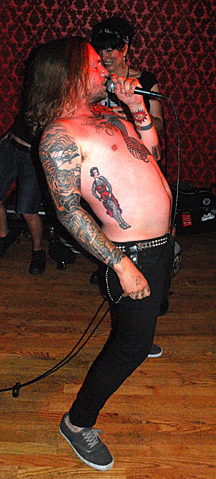 I guess those Axe guys never rest coz the very next night Tuesday Sept 4th Tommy White's band The Beachcombovers are at Club Noir at the Charles Hotel in Harvard Square - Brother Cleve has been brewing up a scene there and its brilliant; it's 6 to 9 PM, great for the after work crowd Admission is free! Club Noir is located in the Charles Hotel Courtyard and the band will be performing as part of Brother Cleve's Tiki Tuesday series. Here's a video from one of The Combovers latest shows downstairs at the Cantab

Saturday, September 8th sees the next installment of One Night Band. A great idea...the web site explains... Founded by Boston Band Crush and launched in 2009, One Night Band is a day-long music experiment in which 40 selected Boston musicians are randomly shuffled into bands of five on a Saturday morning. These newly formed bands must prepare a four-song set (including one cover) to play that night in front of an audience at legendary Cambridge rock club the Middle East.

Friday, September 14 The Woggles do their thing and it should be wild in the small space of The Plough and Stars. Muck and The Mires are also there that night!
And at Radio on the 14th there's a good line up with The 360's, Pop Gun, A Terrible Beauty, Cooling Towers

Then there's two excellent nights coming up at Radio later in September:

Friday, Sept 21st is the WMBR 35th Anniversary Party. There will be a backing band with various singers from around town who are going to cover bands like the Diodes, Stiff Little Fingers, The Boys, etc. plus another cover band (the aforementioned Cocked n' Loaded) doing heavier stuff like Motorhead and Turbo Negro. On the air that week they will be playing one decade of punk each half hour. Downstairs Artie Friedman will screen old local videos and perhaps a screening of the LRC documentary. Cover charge is only $5.

then on Saturday the 22nd there's a killer show celebrating Joan Jett's Birthday with The Dirty Truckers, Tijuana Sweetheart, Gene Dante, The Other Girls and Cradle to the Grave, The Acro-Brats….doing all Joan Jett all night long - excellent!!

Wednesday Sept 26 - Afghan Wigs at HOB…I love those guys!!

And Thursday Sept 27, at The Lizard Lounge, Tony Savarino -guitarman extraordinaire- is having a Record Release Party for his new disc: Guitaresque…..this CD was produced by Barry Marshall! Sounds like a pretty amazing combo to me! Tony will also have a stellar belly dancer in the house that night as well!

And into that weekend there's a two night Crash Safely Benefit at The Davis Square Theater (not the Somerville Theater but down the street from it!) Friday 9/28 has The Unholy 3, The Dirty Truckers, The Gentlemen, Jenny Dee and the Deelinquents and The Phil Aiken Army.
Saturday 9/29 has The Upper Crust, Sidewalk Driver, TRiPLE THiCK, Thick Shake sand Cotton Candy- that sounds like a totally fun night!! And a worthy cause my friends- help fight MS!! And you can buy your tix here!

Thee Cuban Heels are at Toad on the 29th too...its just a short walk from Davis to Porter to check them out too! and its FREE!

Rayboy, from Cincinnati now, wanted to say hello to everyone on the scene and that he misses Boston. He is now n a band called Rhythm Jones that play Rock and Soul and blues. He also just finished producing an album by a rapper managed by Wu Tang. It's coming out on the Universal/Motownmajor label. I asked about punk venues and he said basically there isn't any.

There is a Reducers tribute CD in the works and the Dogmatics have a cut....Black Plastic Shoes It's a rip roaring slice of Dogmatics - fantastic.

Better Than Something is a movie about Jay Reatard. It's showing at the Museum of Fine Arts.... Show times are: Thursday, August 30: 8pm,Friday, August 31: 8pm, Saturday, September 1: 1pm, Sunday, September 2: 1:10pm,

We also wanted to note that Solomon Gruberger, who was in The Afrika Korps with Kenne Highland and Ken Kaiser passed away recently...here's an excerpt from his obituary from Eddie Flowers for Gulcher Records:

Solomon was among the early rock fanzine people in the 1970s, starting his own zine O. Rextasy in 1973. That same year, he and his younger brother Jay met Ken Highland, who visited them in Brooklyn from Upstate New York. The three of them began the living-room band O. Rex, a lengthy relationship that culminated in the 1976 release of their one 7" record: "My Head's In '73"/"Califawnia Gurls"/"Suzi." Proto-punk in its rawest form, Solomon's nonchalant attitude towards recording also made them unintentional pioneers of lo-fi punktitude.
O. Rex led to the Afrkia Korps in 1977, with the Grubergers and Highland being joined by members of the Slickee Boys and other musicians. They released Music To Kill By, one of the earliest US DIY Punk full-length LPs, played a couple of live shows, and went their separate ways. The group reunited in 1987 for God It's Them Again! on New Rose Records in France.
Solomon and brother Jay also continued recording in the 80s, with some of the results released last year by Rerun Records. Jay was killed in a car accident in 1993.
Personally, I met Solomon in early 1976 while traveling around the East Coast with Ken Highland after we recorded the first Gizmos EP. I got to play drums with O. Rex on that trip, and was thrilled when some of those recordings surfaced on their My Head's In '73! double-CD a few years back. I also wrote reviews for Solomon's O. Rextasy fanzine.
He will be missed.
--Eddie Flowers

SOLOMON GRUBERGER DISCOGRAPHY:
O. Rex / "My Head's In '73" b/w "Califawnia Gurls"/"Suzi" maxi-single (Oral Records, 1976)
Afrika Korps / Music To Kill By LP (Iron Cross/Dacoit, 1977)
Afrika Korps / Got It's Them Again 12" EP (New Rose, France, 1987)
Afrika Korps / Music To Kill By CD (Gulcher, 2001)
Afrika Korps / Music To Kill By LP (with bonus 7" EP) (Hate/Vulcher, Italy, 2002)
Afrika Korps / Live At Cantone's CD (Gulcher, 2002)
O. Rex / My Head's In '73! Double-CD (Gulcher, 2010)
The Gruberger Brothers / Greetings From Reading, PA LP (Rerun, 2011)

EMAIL US AT…….misslynbgn@yahoo.com