The BGN News Archive
August 28, 2017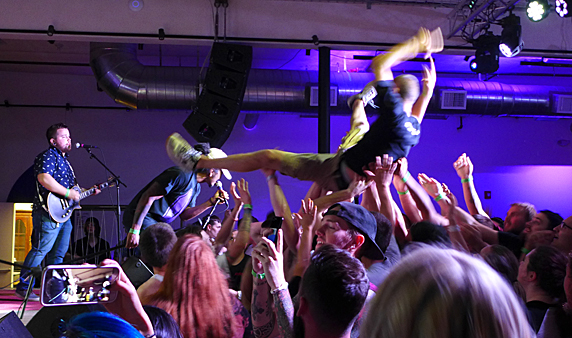 Bleacher Days
Photo: Blowfish
We took a chance and hit O'Brien's on Tuesday. Sticker Shock describe themselves as punk/garage but they were fast and hardcore sounding. It's been a while since we heard a real fast band and they filled that need. Rather than a "one, two, three, four" from the drummer he clicked his drumsticks together with 64th notes and the band was off to the races. You can catch that in the video below.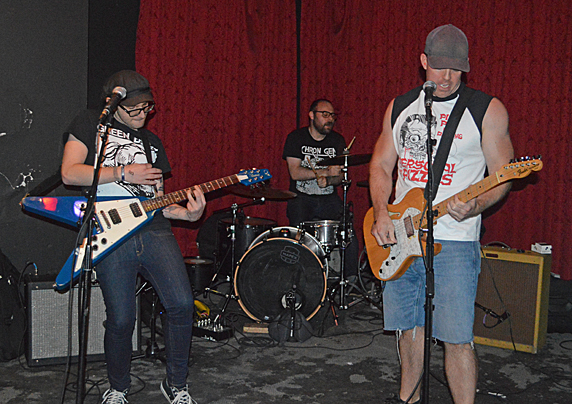 Sticker Shock
Photo: Blowfish
They did as good a job as can be done without a bass, but with this music you need a bass for the full power. Their Bandcamp page https://stickershock.bandcamp.com/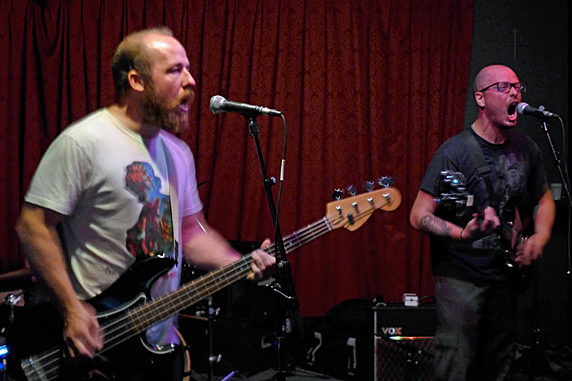 Needles//Pins
Photo: Blowfish
Eric Law showed up. He was interested in the next band Needles//Pins from Vancouver. It took them a few songs to warm up. After that every song hit its mark. The main singer has a raspy voice that he fills with emotion to amp up the songs. He reminded us of the singer for Stiff Little Fingers. Eric thought the band sounded like Husker Du and we did...just a bit. The singing along with the group attack commanded attention. Catch the chorus of the song in the middle video below where he sings "It's all the same". That's what he was doing to all the songs. There was such a good stretch of notable songs that when it was over you felt like you had just heard a set you would remember for a long while.
We haven't digested their new album yet but a quick listen revealed it has elements of the live set. You can catch that distinctive voice there. It would have been better to be familiar with some of their songs. Well, we will next time...they are a group to catch again. Check 'em out here. You can check them out here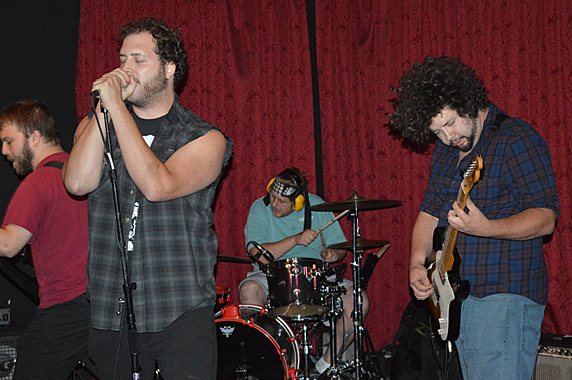 The Natty D's
Photo: Blowfish
We wanted to see Carissa Johnson on Thursday at O'Brien's. She was listed as going on first which seemed odd ....yup the bill was listed in reverse order. Because of that we caught The Natural Disasters. When they got on stage they declared that their new name was now The Natty D's.
There weren't many people in the club and zero energy in the room but The Natty D's put rock in the place. We could easily imagine them in a full club on a weekend night as they worked up the crowd. At O'Brien's, even as they played to the void, they kept the stage energy up and put on a worthy show. The bass player was impressive; he had a thick sound tweaked with effects and he was nibble-fingered. It felt like he could carry a group sound with just a drummer's help. They played Gang Green's Alcohol – that's the first video above.

We haven't hit a lot of shows at Sonia since it's been going. Nothing like the amount of shows we used to go to when that spot was TT's. We did go on Saturday, there was a line up of 5 rocking bands.
They were all new to us...but not to the crowd. The place was eventually packed by the time the last band played at this 5 pm to 9 pm show. The show was put on by the Keynote Company. We didn't know about them but they book a lot of shows.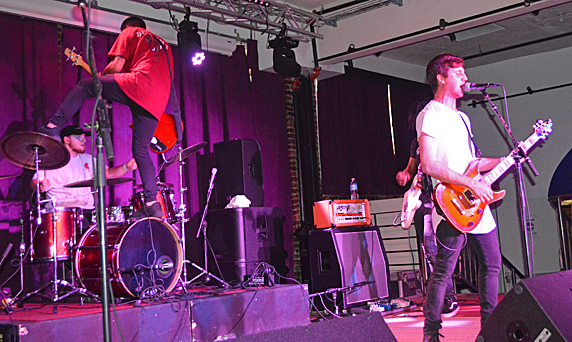 In Good Nature
Photo: Blowfish
We just caught a few songs by In Good Nature but liked the bright pop punk a lot. They were a young band who played and sang well and they were good natured!!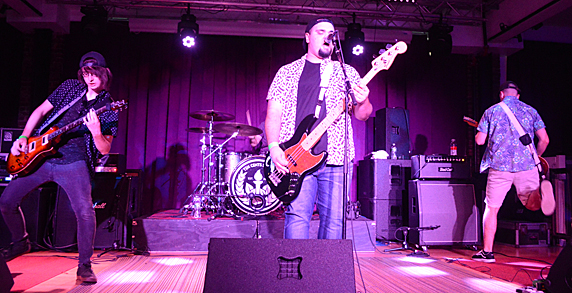 Ten Cents Short
Photo: Blowfish
Ten Cents Short (they should team up with Ten Dollar Mistake) were pop punk with some emo thrown in. The band had punch to their sound and strong main vocals. They were rewarded with some moshing from a small but psyched crowd. When the background vocals were added to the mix it was a really engaging sound. You could see the people singing along on the floor. They are from Somerset, MA. You don't hear a lot of bands coming out of there. They did a good job on their video too. Check it out here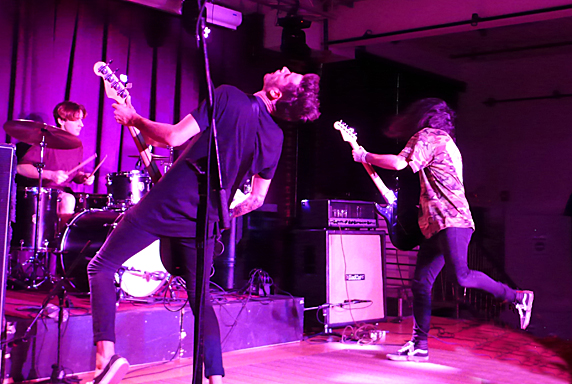 Degrader
Photo: Blowfish
With two sets of sunny pop punk under our belts we were initially stunned by the onslaught of Degrader. They are metal/hardcore. They came out blasting with a growling thunderous overall sound.....then the bass player would madly swing his bass around his body which seemed....movie-like, not like anything you see in real life. He continued to do it all during the set; see the middle video below. Just wild and kind of dangerous adding to the feel of the set. The audience was fine with the switch of genre and were moshing and singing along.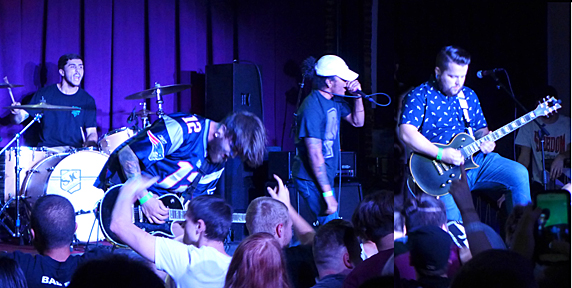 Bleacher Days
Photo: Blowfish
As Bleacher Days was scheduled to play people started pouring in and the place got packed to its fullest. This was their CD release party. These guys have a following. How did this group from Avon do that? The lead singer had been bounding all over the place and moshing to the earlier groups. He even did a somersault at one point. Still, he had plenty of energy left for the set, no problem.
Their first song was Once Again which begins with the same chords as Do Ya by the Move but goes elsewhere after that.
The crowd was jammed in the front and it was an active mosh pit with mucho stage diving. There was a lot of fun being had. It was a topper to the whole good feeling show.
So this bill was showcasing new bands to us, putting out good rock, and drawing a crowd. We go to a lot of shows and there are times where the audience is a dozen people so it was revealing to see this other corner of the local rock world. How do we get these people out to more shows in town??
---
And in other news ....
Joe Fagan has been doing shows with Highway Chapel for a while, but this is the first time he's recorded something for all of us to hear. He rocks out on Nobody's Cryin' ….check it out here. And luckily for all of us he's playing at Sally O'Brien's on September 9th!

Another night of Rock'n'Roll Trivia brought to you by Rocker Zine is comin' up on at Once. See below for more info
Mon Sept 4 is the 3rd Annual DO617 Allston Christmas show at the Brighton Music Hall. It's primarily for students and well, anyone in Allston...and anyone else too. All you have to do is RSVP to DO617 here. On the bill: Marcela Cruz, Latrell James, Magen Tracy & The Missed Connections, Elephants, and Glass Half Empty.

The movie L7: Pretend We're Dead is at the Arlington Theatre Thurs, 9/14 & Fri, 9/15. Here's the FB page It's an "all-access journey into the 1990's grunge movement that took the world by storm and the band that helped define it as the genre of a generation." Read more about it here. You can grab tix here.


Vanyaland has a great interview/article on Ralph Fatello's roll in surf music in Boston punk. DO read it here. How awesome is that?? How awesome is he?? And see that BGN button logo above? Ralph designed that too!!

Our Damned interview got us another mention. This time in The Damned:The Chaos Years – An Unofficial Biography by Barry Hutchinson. Our mention is just two paragraphs and the Rat gig itself a paragraph. The book is packed with info in its 396 pages. It covers their career from the beginning untill 1995. Damned fans will love this book.You can grab it On Amazon.
We suggest you check out PostPunk.com. There's lots of great stuff to read about there. You can check out the trailer for the Morrissey biopic England Is Mine coming out soon there.
---
Here's some good shows coming up .....
August 28 (Monday) Its another Taco Monday Mess Around at Once- this week we have Jay Allen, Justine Covault, Tom Baker and...Lee Harrington from The Neigborhoods and drummer Scott Pittman (The Shods, Frank Morey, Sugar Blood Jinx, Aquanutz), among others,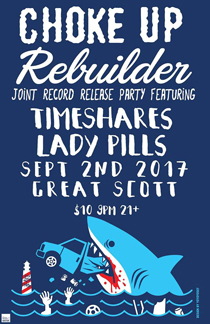 September 1 (Friday) Silver Screams, The Runouts and Crimespree at Koto in Salem
September 7 (Thursday) Teenage Bottlerocket, OC45 and MakeWar at The Middle East
September 7 (Thursday) Thrust Club, Burnt VIllage, Psychic Dog and Cook Bag at O'Brien's
September 8 (Friday) The Nervous Eaters and Glider , State of the Union and Casanovas in Heat at Out of the Blue Gallery Central Sq. here's the FB page to get updates.
September 9 (Saturday) Starlabfest 8 Starlabfest VIII will be taking place at the Somerville Arts Council's outdoor ARTFarm location at 10 Poplar St. just outside of Union Square. There will be beer, wine and cider, as well as FREE BBQ (including vegan/veggie options) from Scott Brothers New American Meat Co. Also, a flea market will be on site curated by High Energy. THE ARTISTS: PAUL COLLINS & THE DAZIES, LYRES, BLACK BEACH, LAIKA'S ORBIT, ME IN CAPRIS, JOJO & THE ANGRY GIRLS, BUNDLES, BOSTON CREAM, JEFF ROWE. INFO
September 9 (Saturday) The Stigmatics are on A Crash Course for the Ravers on WMFO 91.5 from 1-4PM
September 9 (Saturday) The Gala, Future Carnivores, Stars Like Ours and Courters at O'Brien's
September 9 (Saturday) Highway Chapel at Sally OBrien's
September 9 (Saturday) Charlie Don't Surf at McGann's Pub down in North Station area. FB page
September 10 (Sunday) A Giant Dog, The Dazies, Boston Cream at O'Brien's
September 10 (Sunday) GBH and The Casualties at The Brighton Music Hall
And further out we have....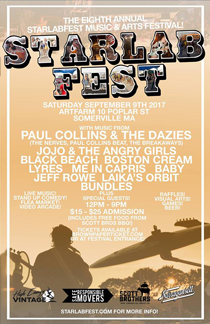 September 11 (Monday) Roky Erickson at the Brighton Music Hall. WOW!! Get yer tix here.
September 11 (Monday) Rocker Zine's Rock'n'Roll Trivia at Once (Taco Monday too! YUM) FB page here for more info
September 15 (Friday) Cold Expectations, Justine and the Unclean, Ten Dollar Mistake at The Tavern at the End of the World - FB page
September 15 (Friday) Boston vs Tokyo Rock n Roll Showdown with Muck And The Mires, The Fadeaways (from Japan), Mellvins (from Japan), Jittery Jack at O'Brien's Pub
September 16 (Saturday) Big Giant, Greg Allen's Fringe Religion, The Melatonins at The Midway - 4PM matinee show
September 16 (Saturday) Chameleons VOX At the Middle East Also on the bill: Soft Kill , Way Out and The Milling Gowns FB Page
September 18 (Monday) The Dictators NYC (aka Manitoba NYC) are at The Middle East
September 18 (Monday) Duck & Cover and the Quiggs are at Once with a fake version of The Dead Boys...no Stiv no Jimmy Zero -how can you call that the Dead Boys?? sad.
September 20 (Wednesday) X doing their 40th Anniversary Tour- at the Brighton Music Hall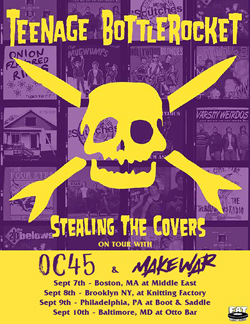 September 20 (Wednesday) Kris Rodgers and Soraia are At O'Briens
September 20 (Wednesday) a super-special Rockabilly edition of Primitive Sounds with host DJ Easy Ed will be spinning with three top DJs from out of town: James (Los Angeles), El Dedo (Phoenix) and Skeets (Montreal)....All 45s... All Killer, no Filler!- its at Brass Union in Union Square Somerville. Starts at 8PM
September 21 (Thursday) Mailman Carl, Dead Trains, Hambone Skinny, Natty D's, The Appleyards at Club Bohemia
September 22 (Friday) The Go Set, Beantown Boozehounds, The Pint Killers, The Disquiets at O'Brien's
September 22 (Friday) The Ataris and The Queers at The Middle East - this is an early show- 6PM -10Pm
September 22 (Friday) The Hi-End, Corin Ashley, Modern Day Idols, The Curtis Mayflower at the Midway
September 22 (Friday) The Bushwick Hotel, Petty Morals, The Fellowship of Feeding Wolves are at The Middle East Up
September 22, 23 & 24 (Friday-Sunday) The 5th Annual Rat Beach Party is at The C Note in Hull. FB page here. Lotta bands!! The Black Souls, Hummingbird Syndicate, Greg Allen & The Fringe Religion, Highway Chapel etc.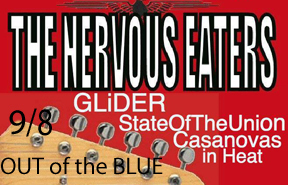 September 24 (Sunday) The Grommets, Uncle Spudd, Kermit's Finger, The New Frustrations, Sewer Buddies at The Midway - 4PM Matinee show
September 25 (Monday) Loser's Circle, Mongorellis, the Scutches, and Blame It On Whitman @ PA's FB page
September 28 (Thursday) Stiff Little Fingers are doing their 40th Anniversary tour they have Death by Unga Bunga opening for them - at the Brighton Music Hall
September 29 (Friday) Il Mostro, Silver Screams, BDSX and The Von Traps at O'Brien's
September 29 (Friday) Brian Young's ACCFTR A Crash Course for the Ravers featuring A Tribute to Thunders with Simon Ritt! 1-4PM WMFO 95.1
October 8 (Sunday) Petty Morals are having a Ballroom Blitz at Once Ballroom with a Flea Market and Art Show -also on the bill Muck & The Mires, The Dazies and Lady Pill (set times and more are on the FB page) It's 2PM- 8PM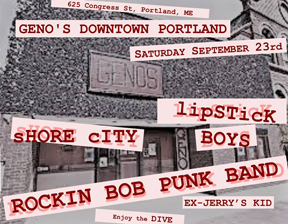 October 13 (Friday) Silver Screams, Idle Pilot, Black Cheers and Psychic Dog at Koto/Salem
November 3 (Friday) The Woggles, Muck and the Mires, Stupidity, Andrea Gillis Band at The Middle East Up
November 4 (Saturday) Human Sexual Response at HOB
November 9 (Thursday) The Proletariat at ONCE Ballroom w/ Siege and Black Beach
November 10 (Friday) CH3 (Channel 3), The FUs, Silver Screams, Fast Times Punk at The Middle East Up - 8-Midnight show tix here Read about CH3 here. there's links for tix etc too
November 10 (Friday) The Proletariat are at Narrows Center for the Arts w/ Black Beach in Fall River, MA (FB page for info)
November 11 (Saturday) Hasselfest #9 this year has Pere Ubu and a ton of other bands at Once- get the info on the FB page here.

CONTACT US AT....misslynbgn@yahoo.com -Send us your gig listings, your news and anything else ya got!! You want your CD reviewed?? Contact us for that too.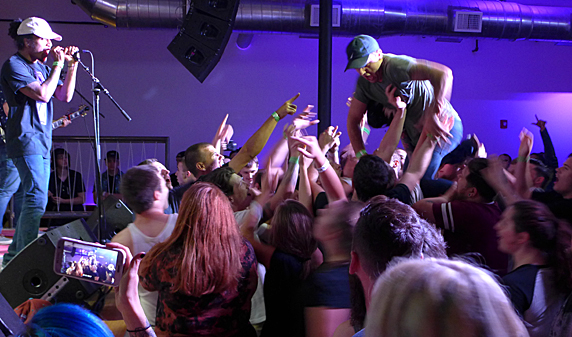 Bleacher Days
Photo: Blowfish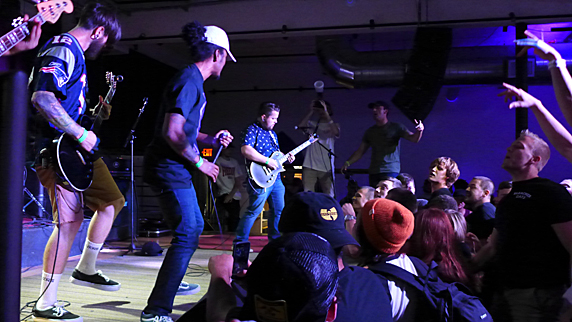 Bleacher Days
Photo: Blowfish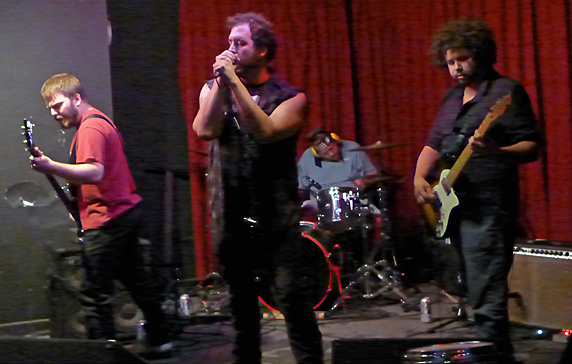 Natty D's
Photo: Blowfish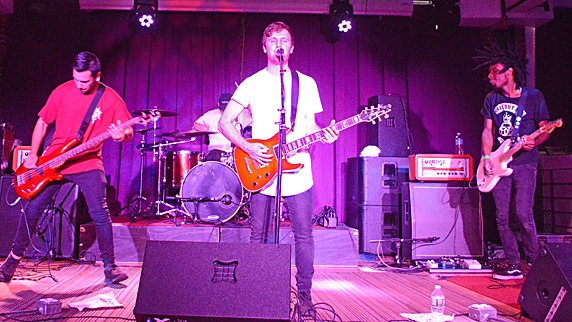 In Good Nature
Photo: Blowfish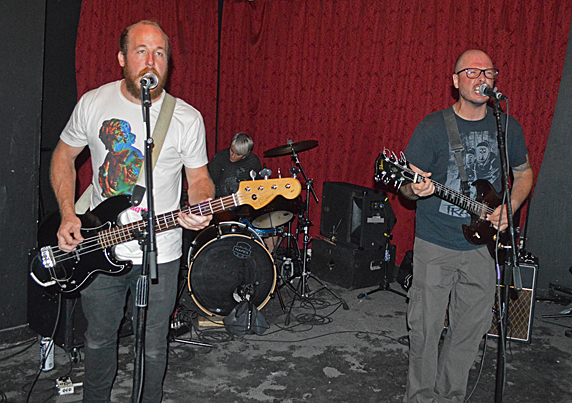 Needles//Pins
Photo: Blowfish
Ten Cents Short
Photo: Blowfish