The BGN News Archive
August 30, 2010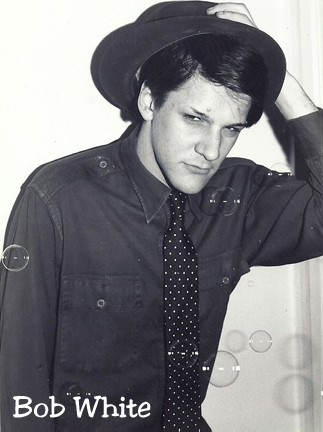 OK NOW I feel like my life history is crumbling away.....I have lost...WE have lost and absolutely important piece of Boston...
Bob White has gone....he took himself away.
Now he can party with the likes of Giroux, be refined and down and dirty at the same time.....I first met Bob White when he was something like 16. He walked into the Rat, sidled up to me and Pam Greene and said "So where the cool place to hang out in Boston?" Leave to Bob to know instinctively to find the coolest place anywhere!! Bob was such a memorable character, so brilliant, amazing to talk to, so knowledge about almost anything, an opinionated and cocky bastard, and always cutting right to the bone and pulling no punches but as everyone has mentioned on Bob's Facebook page he was a tortured soul, he never could find the right balance....though he made many attempts....something always led him astray.
Of course you cannot talk about Bob without giving him credit for being one of THE fashion plates of Boston...I mean his looks were legendary!!
Bob White....One of THE most memorable people I have ever met. I was so happy to see him back in Boston a couple years ago...and I am SO sad he has excused himself from it all for good....damn.....
But we do go on.... so here we go... here's some good news: Twisted Village in Harvard Sq. that just closed a few weeks ago is going to reopen as a.....wait for it....record store. Not any record store but Armageddon Records from Providence, RI. They have a store stacked to the rafters down there and have contributed to the scene there by booking shows. They will be a big plus to the Boston scene we imagine....cool!
So what's coming up huh?....
This Wednesday is that crazy Cockabilly Records Tour The Middle East up Featuring: Viva Le Vox, Jason and the Punknecks, Guitar Bomb, The Holy Roller Sideshow, Hickry Hawkins with The Squidling Bros. Circus Sideshow and Live Burlesque!... just wish they had a local band on the roster as well!...
This Thursday we have an excellent bill of Boston bands at TT's with Jason Bennett & The Resistance, Razors In The Night, Kickstarts, The Scars
Then on Saturday Sept 4 there's the Middle East Up Punk Matinée - Blanks '77, Blood Stained Brindle, Ashers, Side Effects and The Spats - for an ALL AGES Show at 1PM. .. AND you can then get in downstairs for the Far from Finished CD Release party also with The Have Nots, Burning Streets and Lenny Lashley.....what a great day! ....
Port Charles Quintet is at TT's on Thursday Sept 16…these guys are SOOO worth checking out....they are on a roll these days!!...
Saturday Sept 18th Nancy Neon moves her shows to The Midway in JP with The Varmints, Pandemics and Hixx.....
and in Somerville, at Precinct on the same night there's Fox Pass, The Doom Buggies, Leon Rich and The Liz Borden Band....
Near the end of September on Sunday the 26th the original line-up of Thalia Zedek band Come is at TT's and early show at 10:45....so that's Thalia, Chris Brokaw, Arthur Johnson and Sean O'Brien....and that should be a great show.