The BGN News Archive
September 2, 2013
It was another good week in rock. It's been a music filled summer right up to Labor Day. This week Blowfish went out for some Wednesday action.
Amy Prohaska set up a goodbye gig at Radio for Roy Rubinstein who is heading for Ashville for some easy living. I've been there and there are lots of good reasons to live there. They have plenty of music. Traveling pop and punk acts play there. The climate can't be beat and it's cheaper, meaning cheaper than here, to live.
Radio down seemed not so bad this time. There was a good amount of friendly people there for a Wednesday. A bunch of acoustic acts played. My fave is Corin Ashley who did his quality pop songs. Roy has done his share of booking (Rosebud lately) and even started his own POP Festival that ran for several years. That was one of his great ideas. He'll be missed. He says he's renting, so if things don't work out he could be back. Good luck, Roy.
That wasn't all Wednesday had to give. I shot down the street to Davis Sq. where there was a fund raiser for the Let's Go To The Rat movie. It was called Rat Tales but as Andy found out there was a film out dealing with actual rats that had that title. Outside Johnny D's I find Kenne Highland, Mark from the Schemers and Michael Weddle who is the man behind the Rat Beach Party show coming up later this month.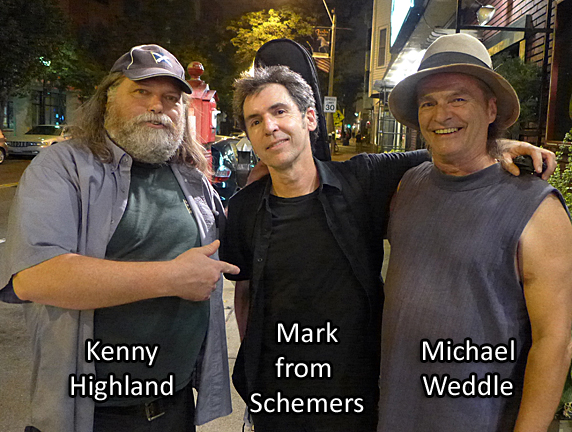 Inside the crowd was small but very enthusiastic. I got there just for the last act so I don't know how the whole night went. Men and Volts were playing and I'm so glad I got to see them. They have trod their own path and have had their difficulties. At this point they don't seem as far out there at all - most of the time. They had an instrumental called Molly that was unconventional but beautiful. Their guitarist is a gem. He plays clean and melodic or clean and angular and always with good tone and control.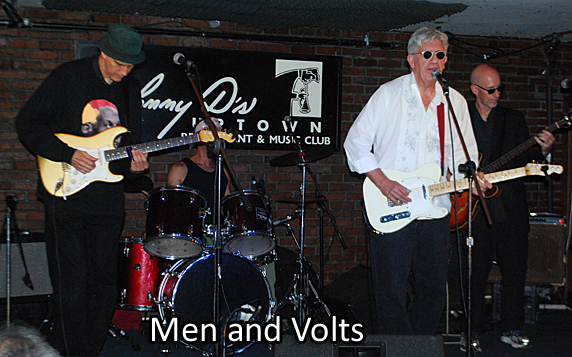 I hope Andy made some money on this. He's trying hard to get his film financed. These things aren't easy. We know that.
Afterwards I talked to Weddle who is a man full of ideas and they all sound plausible and you can see how that is driving the Rat Beach Party. Even before it's happened he's saying that this looks like it might be an annual thing. He says he's talked to the merchants down there and they are thinking since Marshfield has its Fair and Scituate has its Festival maybe Nantasket can have this Music Beach Party - sounds perfect to me. That would get people down there right after Labor Day when they usually are leaving.
A year ago Richie Parsons brought Giuda to Boston and despite a knife fight in front of the band, which I never can seem to get the details of, they were a big hit.
Sunday we got another chance to see them. There was a good sized and enthusiastic crowd at Radio this holiday weekend and they stayed for Giuda and were cheering them on so they were the main draw of the bill.
There were lots of local rock scene notables in the crowd too, among them Brother Cleve (Bob Toomey) who is going to back Richie in his Beachcomber gig on October 1st. I hope that's not a secret because it's another reason to go. Bob's life and career is a book waiting to be written.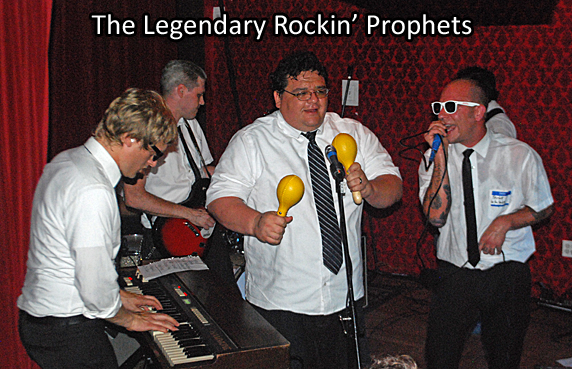 We entered the club hearing the very loud Legendary Rockin' Prophets. They all wore white shirts and ties and I couldn't figure that out but somewhere on the internet I see them tagged as Mormon garage rock, which I think is humorous. They did have the garage thing down and the lead singer was all over the place, as in on top of the speakers, writhing on the floor, traversing a small wooden beam....Very entertaining.
Next up is one of my faves Kurt Baker who we have seen a few times but has played many more times in town and is known to all pop fans. His love of pop is matched by his songwriting skills and his performances. This night I see he has an entirely new band. This band is a different beast than his previous ones. These guys just pound out the riffs always accenting the beat. It's a powerhouse sound but I thought a lot of the pop got steamrolled in the process. The vocals should have been just a bit louder also. But it wasn't bad at all - just different. The songs were there and it was a rockin' time. They end by doing the Dictators "Stay With Me" a perfect match to their playing style and it was a winner. Some in the audience were singing the chorus even after the band stopped playing. I never heard that before.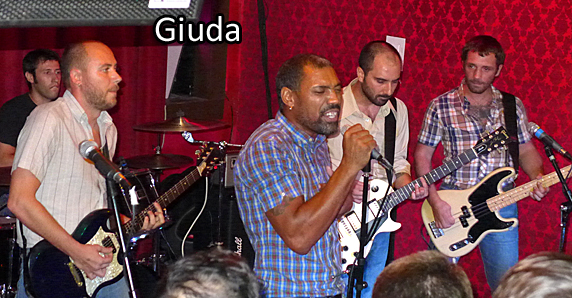 Now it was Giuda the band everyone was waiting for. They were greeted like heroes right from the beginning. They played in a retro 70's style with lots of glam type riffs while not camping it up like others. They were something a little different. The crowd ate it up.
All in all it was a very high energy night, especially compared to downstairs which this night was practically empty except for a bearded hipster doing way off key rockabilly karaoke to an audience of two girls in 50's pouf skirts.....go figure.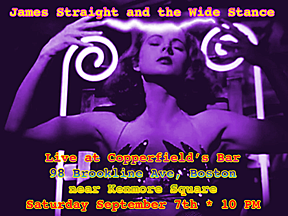 The Rat Man, Jimmy Harold, was in the hospital but is home now and recuperating as far as we know.Best of luck Jimmy!!!
Mary Lou Lord had a nasty fall and was in the hospital. She wrote...(via Bob Colby) :
"Hey everyone...Just a short update since I'm not too keen on typing right now, etc. Well, it's been 10 days since I took the plunge that caused me (such a dipshit) to fall of my stupid fire escape breaking my hip, arm, pelvis and leg. I'm quickly mending and the people here at this swinging joint of a hospital are awesome. I'll tell you much more about this entire ordeal at a later time. Just wanted to thank everyone for their support and kind words. It is clear now that I will never make Cirque Du Soleil nor become a flying Wallenda...But that's cool. Thanks again everyone. Xo"
And to make it three, Billy Rath is in the hospital. We hope he recoups and gets out soon!!
Here's some stuff coming up - there's TONS of great shows!!:
Muck and The Mires open for The Yardbirds (!!!) Thursday, September 12th at the Regent Theater...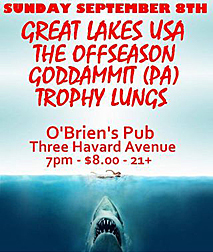 Boston's own David Minehan is playing guitar in The Replacements . The next show is in Chicago on September 15th The Pixies open for them!! The 3rd show is in Denver on Sept 21. Gotta luv it!! Congrats David!! Here's an article plus a video of Dave on stage for the Toronto Replacements show.
And Watts opened for Cheap Trick Aug 25 - here's a viddy of them at the show
OH it's a busy weekend coming up especially Saturday - SOOO many choices! Saturday, Sept 7th:
First off in the afternoon there's the 3rd Annual JP Music Festival 12-7 PM at Pinebank field (Perkins Street at the Jamaicaway) and its FREE!! They have more than 25 musicians, bands, ensembles, and orchestras with members who live or work in JP, two stages with non-stop live music, lots of food trucks + carts, activities for kids (Blowfish would rather be in a dark club right Blowie ? Hey me too!!!) and artist + festival merch for sale....sounds great!! Then in the evening there's......
at Club Bohemia at the Cantab down - The FU's, Psycho, Insult & Oblivion...
Saturday 9/7 Middle East Down - what a great line up!! Its Barrence Whitfield and The Savages LP Release show with Mucky Myers...ooops I mean - Muck & The Mires, The Downbeat 5 and Jittery Jack!! Excellent!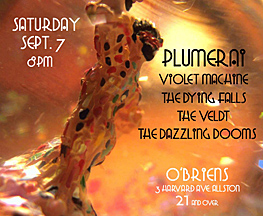 Also on 9/7 James Straight & The Wide Stance return to Copperfield's on Brookline Ave in Boston... Check out our write up and pics from the last time they played there - its actually a great place to see these guys!
AND 9/7 on the North Shore you got Terry Brenner bringing you Two Saints!! (who are AWESOME!!) and Black Fortress of Opium (and more TBA)
Also on Sept 7 Plumerai is playing at O'Briens with The Veldt, The Dazzling Dooms; The Dying Falls and Violet Machine.
After 9/7 comes 9/8 and that starts a whole week of TT's 40th Anniversary Celebration!!
Sunday Sept 8: Permafrost, Sarah Rabdau & Self Employed Assassins, Eldridge Rodriguez
Monday Sept 9: The Grownup Noise, The Shods, The Life Electric
Tuesday Sept 10: Raging Teens, OldJack, Roy Sludge, Matt Heaton and the Electric Heaters, Comanchero
Wednesday Sept 11: They're gonna have a Dance Party
Thursday Sept 12: Robin Lane, Jules Verdone, The Bristols, Jenny Dee & The Deelinquents, Thalia Zedek Band, Ruby Rose Fox, Davina Yannetty, Sophia Cacciola and Michael J. Epstein
Friday Sept 13: The Gravel Pit, The Sheila Divine, The Field Effect, Corin Ashley, Kenny Chambers of Moving Targets, Emergency Music
And Saturday - WOW!!: The Classic Ruins, O Positive, Three Colors, The Dogmatics, Reid Paley, Randy Black and the Heathcroppers, Willie Alexander, Mike the Considerate and the Interns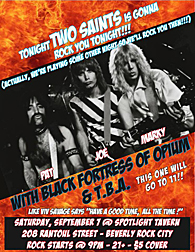 Bob Colby's Cantab Second Thursday show is coming up on Sept 12th...he's excited to have psych bands this time around: So Sol, Jeff Beam, The Free ways and The Moontowers
Pere Ubu is at Brighton Music Hall Saturday, September 14th!!!
To raise money to help research MS the Crash Safely benefit shows are taking place over 4 nights in September : Sept. 13 at Oberon in Harvard Square - DJ/VJ Craig MacNeil of Videodrome Discotheque, The Upper Crust, John Powhida International Airport and Parlour Bells
Friday Sept 14 at The Davis Square Theater Somerville - The Nickel & Dime Band, Township, The Duckbills (members of the Figgs), Mount Peru and Tsunami of Sound
The Next weekend Sept 20 & 21 are at The Midway... Friday 9/20 Titanics, Corin Ashley, The Unholy III, The Phil Aiken Army and Lenny Lashley's Gang of One
Saturday 9/21 - Sidewalk Driver, Gene Dante and The Future Starlets, My Own Worst Enemy, The I Want You, & Cotton Candy
another Awesome show alert!!:9/21 Upstart Fest 2013 - The Northeast's Biggest and Best Punk Rock Party will be at the Middle East Down with Koffin Kats, Hudson Falcons, Turbo AC's, Two Fisted Law, American Pinup, New Red Scare, Svetlanas (U.S.S.R.), Cry Havoc, The Old Edison and OC45 - DOORS AT 5PM!!!
If you are not in Boston don't despair...this show is touring and may be coming to a city near you check out their website!
Also on the 21st - At Radio is a celebration of Joan Jett's Birthday!! So its Ladies of the 80's cover songs night...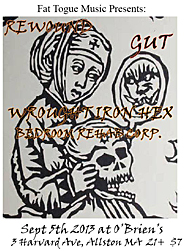 The Rat Reunion Beach Party
9/14 & 15 At The Red Parrot , Nantasket Beach in Hull September 14th (Saturday noon to 6 pm) -- Rat Musicians Cookout/Small Jam!, September 14th (Saturday 6 pm to close) -- Red Parrot (Beach Bar) Rat Jam! , Sunday, September 15th (noon to close) -- The Main Event -- Rat Veteran Bands in All Rooms of The Red Parrot!
So far the band list is as follows Slow Children, The Beachcombovers, The Boize, The Derangers, Cindy Daley, formerly of Lovelace, Liz Borden, JetSet, The GraveDancers , State of The Union, The Workers (w/ Sev Grossman, David McClean!), The Kenne Highland Clan, FoxPass, Red House, Tsunami of Sound, Heavy Weddle & Sweet Release - and the list continues to grow!
Saturday September 28th Cal Cali brings us The Nervous Eaters (YAY!!) along with the Bob Cenci Cal Cali Duo (and other tba) at the Midway
There's a special show on Tuesday October 1st at The Beachcomber in Quincy with Richie Parson doing a special solo gig!! with Brother Cleve on guitar, and Kepi Ghoulie and special guests all the way from Italy: Miss Chain and The Broken Heels...Richie says he has loads of new material they'll be performing!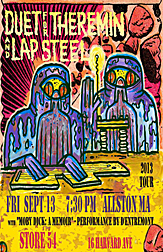 11th Annual Ponderosa Stomp is this October 3, 5 and 5 at The Rock n Bowl in New Orleans check out their site for a list of performers etc....

Terry Brenner has put together a great show up in Salem...The Smithereens (!!!) with Pop Gun and Gyro Lula at the Old Town Hall in Salem Tix are 35 buckaroos my friends...and its an early show with doors at 6PM.

October 12th -WAS going to be Cal Cali's Rat Reunion - but he's moving it because of Spit Reunion #2!!! On October 12th At Bill's Bar on Landsowne St.....DJs will include Tony V, Paul V and Steven Strick and music so far will be by Robin Lane and Lizzie Borden & The Axes..get info timeline and buy tix at their website

Also on October 12th is The Boston Boozehounds Reunion Show at the Middle East Up along with Reno Divorce and Loser's Circle

And really far in advance we're letting you know about John Surette's punk opera Tomorrow The World will be performed live at the Middle East, Saturday Dec 14.

Don't forget that The Live at the Rat CD is now available for purchase from QRST's...go get your very own!! Talk about the way back machine and a bunch of awesome memiories!!

EMAIL US AT.......misslynbgn@yahoo.com

Past postings of this news page are in the BGN ARCHIVES