The BGN News Archive
September 3, 2018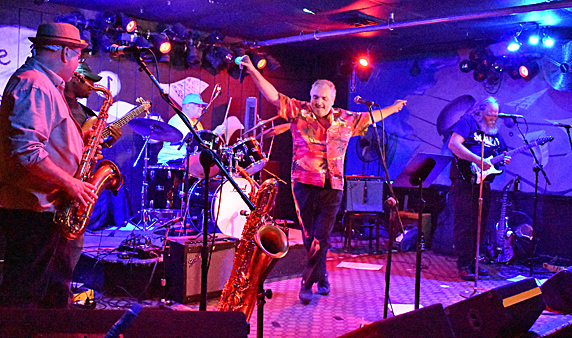 The Count's Love and Flame at the C Note
Photo: Blowfish
---
A while back we picked up the True Places album by Tied To A Bear. Even though we've seen them a few times and liked them we were still impressed how good the album was. They were playing O'Brien's last Tuesday, so there we went.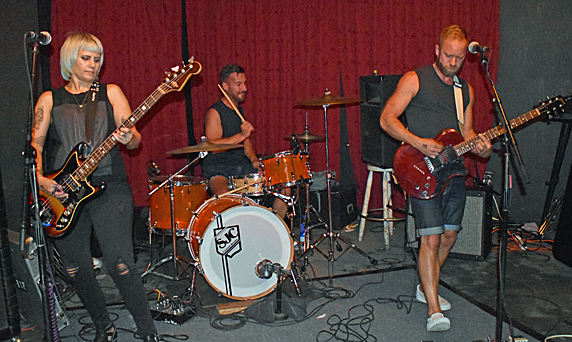 Blood Built Empire
Photo: Blowfish
Another band we've seen a few times, Blood Built Empire was opening. We just caught a few songs but they still had the apocalyptic rage that has marked their material since they began a year ago. They borrow some metal riffs to base their songs but put their own spin on it. They reminded us of Silver Screams in that way. The singer sang in a Mark E. Smith way, sort of a declarative lilt, that made you listen closer to the lyrics which were worth catching. Their Bandcamp page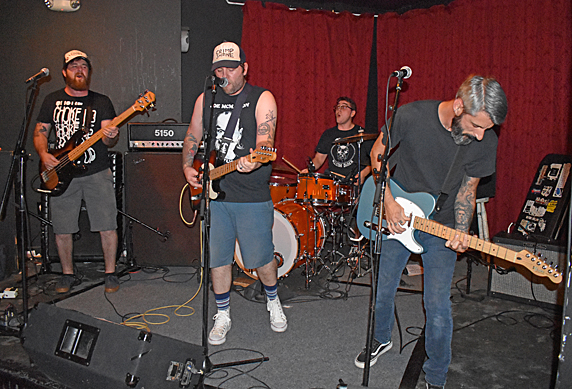 Tied To A Bear
Photo: Blowfish
We liked Tied To A Bear when we saw them before, but giving a good listen to their album True Places made us want to catch them again. There are songs on there that we played over and over so we wanted to hear those live. At O'Brien's the band came crashing out of the gate full of energy. They blasted three songs out without stopping. The last one is the video below.
They were punk with a little emo in the singing. And the singing was often three voices which gave the chorus lines their power, which was helped with the audience joining in. Almost all their songs had fast tempos and were sung urgently. They only half slowed down for one or two for a change of pace. The drummer plays very busy. It's a constant barrage that gives a rushed feeling. The group is very tight.
It's another band with so much talent that we think they should be getting more attention.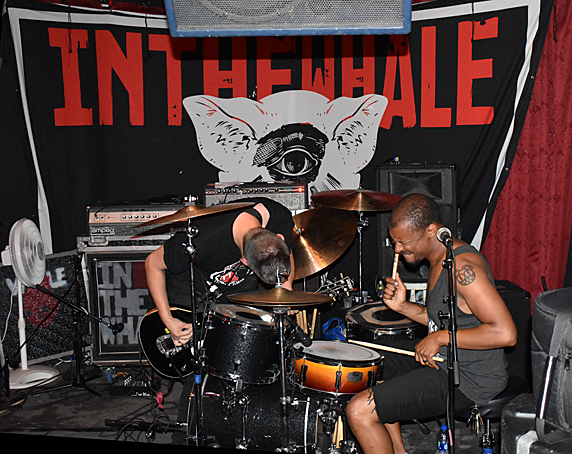 In The Whale
Photo: Blowfish
In The Whale are a duo from Denver. It's a drummer and guitarist. The drummer set up sort of sideways on the stage with the bass drum pointing away from the audience. That seemed strange but didn't matter in the end. Like a lot of duos they make enough music on stage that you don't notice the loss of the bass. The singer would go over to the drums and stick his head in the drums, like the photo above, as if to really get into the beat.
The singer had a powerful midrange voice that helped carry the day. Along with just singing he would wail, scream or stutter to vary the attack. The songs all had something about them that caught the ear. Check out LA on their website that is pretty catchy almost from the very beginning. They seem to be two smart guys who know exactly what they're doing.
That was a fine bill for a Tuesday night. Not the first time that has happened at O'Brien's either!!
As we reported last week the Club Bohemia is closing and as of right now…it's dead. Saturday was the last day. We went over on Friday. We walked in and saw Arthur Freedman recording up front and Bob Colby beside him; two guys that have been on the scene from the very beginning.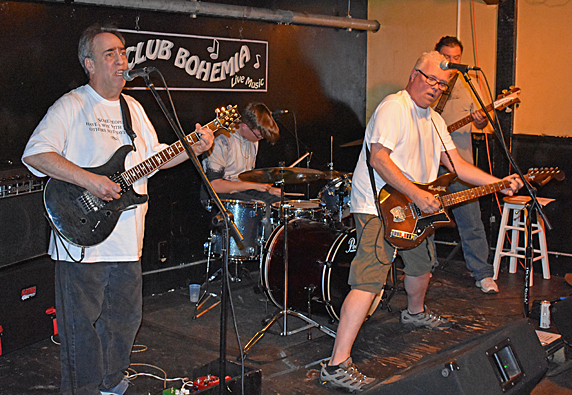 Battery Bridge
Photo: Blowfish
On stage was Battery Bridge. We couldn't find anything about them on line but there on stage was Rich Mirsky of Hixx. Rich is in so many groups you just can't keep up with it! We only saw two songs. Rich is an accomplished guitarist and plays with an easy touch. He can play across all genres. He just came out with a CD this week and we talk about that below.
We got to talk to Mickey Bliss for a while. He explained that the longtime owner is getting older and the day to day management of the club is now by his son and he's changing things. He wants to simplify and make it one club with one admission and all the same music rather than the two, sort of separate clubs, on two floors as it is now. Mickey IS willing to move the Club Bohemia to another club if that opportunity presents itself.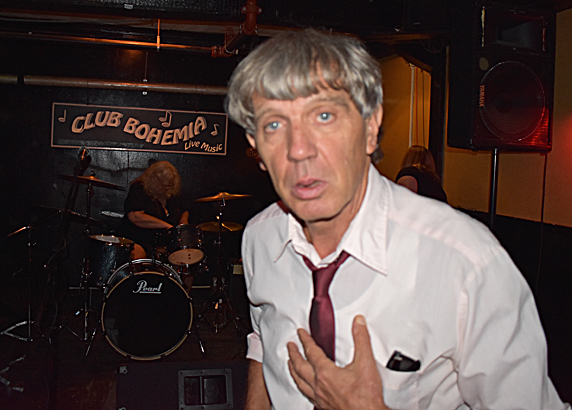 Mickey Bliss
Photo: Blowfish
He's been doing this for 25 years. The club is going to use his PA so he will be working a few weeks as the club transitions. (The next night at the C Note someone said that the Count may try to book some Club Bohemia nights as one-off shows at some clubs.) Mickey says that knowing the end was near gave him an even greater appreciation of what he was doing. Just think of all the nights Mickey has put in during this run. Amazing!! The number of bands that have benefited from the Club Bohemia is staggering. Right now we can hope he finds another club. Mickey was then off to doing what he always does; setting up the next band.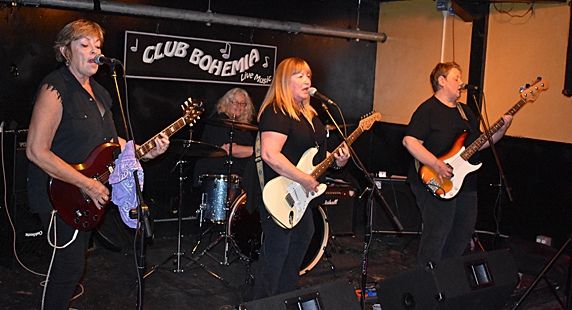 Corolla DeVille
Photo: Blowfish
And that band was Corolla DeVille. They've been a band since 2006 and they exude an assurance from all those years of playing. Their North Shore background was in every note. There have been many bands with a North Shore pedigree that have made Boston punk what it is. They played two songs by Phil Haynen from the Dawgs who passed away in 2009. One of those songs is "Telephone" which is one of the three songs on the band's web page. They mentioned that those songs came from an ongoing project. So, we can expect a Phil Haynen tribute album?
They also covered the Real Kids' "My Baby's Book". All their own material lived up to those forerunners. A lot of it was mid-tempo with a solid beat. The guitarist has a tone with much character. She did a lot with a few notes. There were times when it was just two notes that made the riff that worked. That's genius! They had three voices singing most of the time and always in tune. That's never easy. They had amps on the small side and they did the job just fine. Corolla DeVille is a band you just love to love.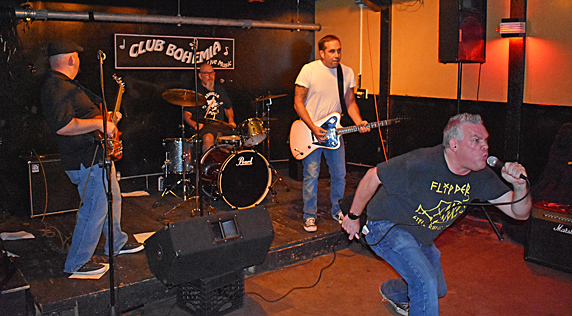 Screwcart
Photo: Blowfish
If Corolla DeVille had an amiable air, then Screw Cart had a menacing mien. That's their thing. We saw them in July and this set was much like that one, down to the final song being "I Walked With A Zombie". Their music was also so unlike Corolla DeVille's that it made it even more dramatic and dark in comparison. Mark Kennedy has an undeniable dark presence. You can feel it even in the photos. The band does their work with the lead guitarist supplying full time soloing. It didn't come across as just mindless noodling. There was a pointed intent to all the playing. We've seen Screw Cart three or four times but they never have been on a bill with like-minded groups. They should shoot for that. Their Bandcamp page.
It was saying something that the crowd at Club Bohemia gave each of the groups on this diverse bill full attention and enthusiastic response.
It's the end of the summer and that also means the Rat Beach Party down at the C Note. We went on Saturday to catch the Count do his thing with Love and Flame.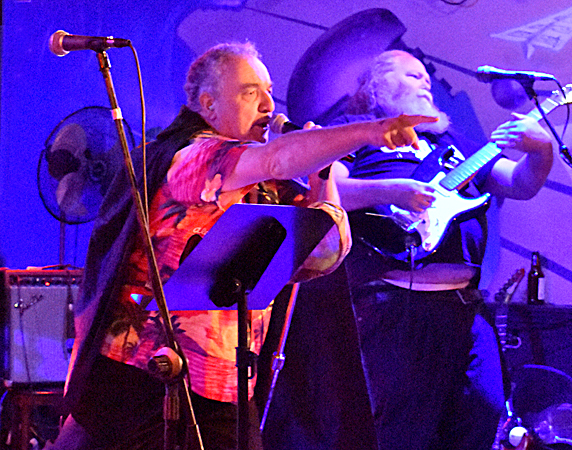 Love and Flame
Photo:Blowfish
This iteration had Robin Baltimore on drums. He was the drummer 40 years ago when the group played the Paradise and Rat. Robin defies Mother Nature herself by having more energy now then back in the day. Also in the band is John Keegan on two different saxes. That thick sax sound gives everything in the Count's repertoire a new twist.
The Count has always taken his inspiration from the NY Dolls and Velvet Underground. The group did a fast "Pills" from Bo Diddly via the NY Dolls. Hey then did an expanded Sister Ray by the Velvets that morphed into Jumping Jack Flash. We figure that came from a jam idea by guitarist Kenne Highland who can end up on any other song in rock history if given the solo space. Sometime in the night the "Third Rock From the Sun" riff by Hendrix ended up in another song jam, soon followed by "Cat Scratch Fever". What's going on in that head?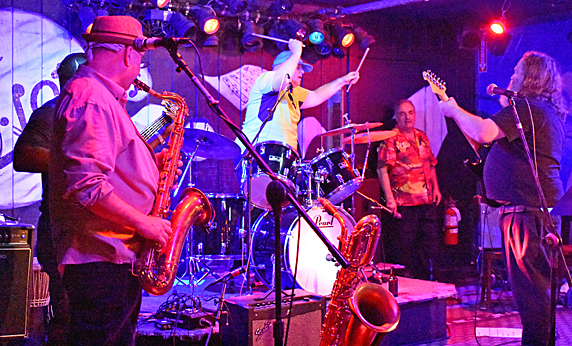 Love and Flame
Photo: Blowfish
Lady Caroline had her moment with "Summertime" which actually became a dialog between her and Kenne who tapped into the James Gurly/Cheap Thrills intro riff and used it as a motif to do some uncharacteristically restrained playing. It was a nice moment!
The Count is never too restrained. He was running around stage a lot and told one story about recording with Jimmy Miller (producer: Exile on Main Street) that gave an insight into how that producer might have worked with the Stones. It was all typical Count; loose and a little crazy with some real rock history in the mix.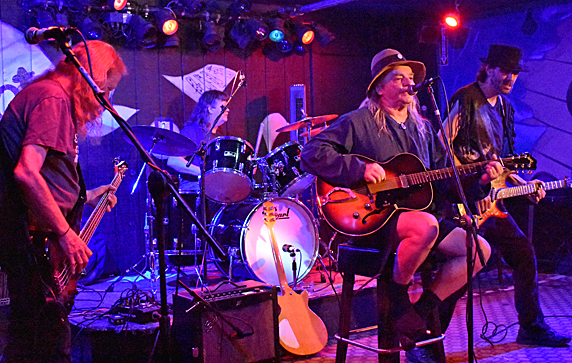 Climate Change
Photo:Blowfish
Michael Weddle has put on this Rat Beach Party for six years now. Money made from it goes to a fund that supplies musical instruments to schools. Michael also has his own band – Climate Change. As the name suggests he's concerned about the environment and lots of other social issues. As luck would have it, his band had a lot of technical problems. Once they got going Michael played with an acoustic guitar, but beside him is Matt Gilbert who was all about electric guitar. The riffs came down like Niagara Falls and they were all good. It was not mindless playing; everything is musically solid and structured.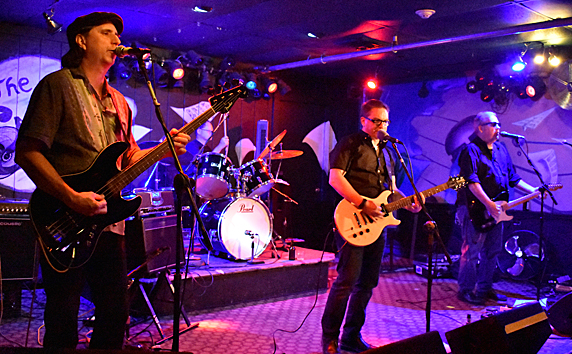 Crunchtime
Photo:Blowfish
Next was another band we have liked since their beginning; Crunchtime. They played garage punk. It was a smart punk which was appropriately snotty and a little geeky. They sing about their "Retro Girl" or maybe about people "Hipper Than Me". They had a song about getting unemployed that complained, "I've been outsourced". All the lyrics hit the right attitude. They put crunch in their guitar sound as well as their name. The whole package is perfect.
They're playing around so you can catch them. They've released a few songs. We wait for the album we hope is coming.
We left the C Note then but more groups were playing as they would on Sunday too. The C Note has had some good shows lately and we hope that continues.
More band photos below the show listings
---
And in other news ....
Joseph Satar of the Middle East has retired from managing the club amidst allegations of sexual improprieties. No one person has been identified or made charges but there have been charges on social media. It was a story that hit radio (WBUR, WBZ) and news outlets (Globe, Vanyaland). Some bands have been refusing to play the club because of the controversy. We hope that by Joseph retiring the issue has been dealt with as of now. Though after years of knowing Joseph we are sad to see him go.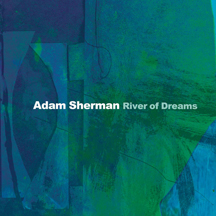 Adam Sherman of the Billy Connors Project has a new solo album River of Dreams out now. It's on Bandcamp now. It does have a dreamy quality but he kicks it up a bit in "So Good", a song we heard at the last BCP show. Adam's a superb songwriter and that along with his enticing voice keep you nailed from beginning to end. The end song is actually "Knockdown Day", the song that makes us weak in the knees.
Mikke Worm continues his South Shore booking with a show in Kingston at the Pinz on Sept. 21. Pinz looks like an amusement center with a bar area. On the bill is Crimespree, Worm, Straight Eights and The Woods. FB page
Chet's Last Call documentary is getting a local showing at the Regent Theatre in Arlington on Sunday, Oct 21st at 7:00pm. There will be a Q & A after and some "great Chet era bands and musicians will join for a one of a kind after party". Here's the FB event page (and tix)
It's no surprise really: the Village Voice has shut down. They stopped the print version a year ago. We got a lot of punk news from that back in the day. Now it joins the Phoenix in the trash heap of history. Read more here.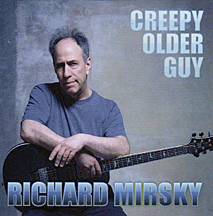 Rich Mirsky of Hixx fame has a solo album out now - Creepy Older Guy. He knows a lot of music and the songs are eclectic. Our raging fave is "Melissa" a Lou Reed sounding affair. He captures the regular guy having an unrequited office romance. And for us record nerds he has made the CD label look like the old 1960's Laurie Record label. Back then you would look at those labels going around – and you remember them. He's having a release party at the Midway on September 8th.
Some more rock fashion, in this case watches with designs featuring Metallica, AC/DC, Iron Maiden and others. They cost up to $1000.00. You can buy yours here.
---
Here's some good shows coming up this week.....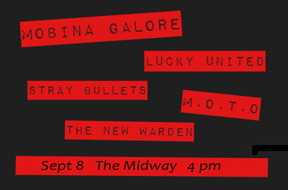 September 4 (Tuesday) Evil Engines, Gasko, State Of The Union at O'Brien's
September 4 (Tuesday) The False Pretenses - A Tribute to The Pretenders (on Chrissie Hynde's Birthday) at Plough & Stars, Cambridge. Feathuring: Andrea Gillis, Chris Cote, Melissa Gibbs, Charles Hansen, John Sheeran, Jim Janota. 9PM start
September 8 (Saturday) Color Killer will be on A Crash Course for the Ravers WMFO 91.5 1-4PM FB page
September 8 (Saturday) Mobina Galore, New Warden, Stray Bullets, Lucky United, MOTO at The Midway - 4-8PM early show
September 8 (Saturday) Richard Mirsky's CD Release Party at the Midway (night show)
September 8 (Saturday) The Queers on a boat!! doing the Rock On! Concert Cruise FB page for tix etc
September 8 (Saturday) Muck and The Mires debut music from their new release Muckus Maximus at the Plough & Stars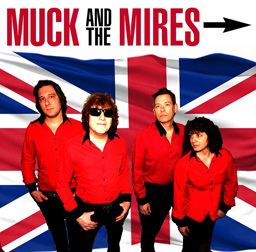 September 9 (Sunday) Somerville Rock + Roll Yard Sale 11AM-5PM Union Square Somerville. Check out their website for vendors and musicians.
September 9 (Sunday) The Queers, The Prozacs, CityState, Color Killer, Wretched Hive at the Waterfront Tavern Holyoke MA FB page doors at 7Pm
September 9 (Sunday) Punks For Pets 2018 w Special Guest Mobina Galore at The News Cafe Pawtuckeet RI FB page
September 10 (Monday) Aneurysm, Tongue Party, Knock Over City, Forktie at O'Brien's
And further out we have...
September 11 (Tuesday) Killing Joke on their 40th Anniversary Tour at the Paradise FB page
September 11 (Tuesday) Cheetah Chrome's new "Dead Boys", The Ghost Wolves, Midnight Creeps, The Worried at Alchemy in Provi RI. The Midnight Creeps!!! so glad they are back!!!
September 12 (Wednesday) Cheetah Chrome's new "Dead Boys", The Ghost Wolves - added to the bill- The Nervous Eaters and the reformed Red Invasion!! at Sonia. This is one of only two shows Red Invasion will be doing. FB page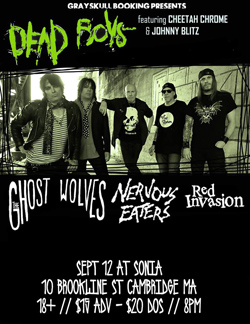 September 12 (Wednesday) Mongorellis, Order 66, Circus Battalion @ PA's Lounge
September 13 (Thursday) MC50 presents Kick Out The Jams - The 50th Anniversary Tour - whoa!! This is Wayne Kramer celebrating the 50th Anniversary of the MC5...with special guests!! At the Paradise. FB page
September 13 (Thursday) Carinae, Stuyedeyed, Zip-Tie Handcuffs at O'Brien's
September 13 (Thursday) Randy Black & The Heathcroppers and The Emily Grogan band are at Tavern at the End of the World
September 13 (Thursday) Fall-Fest 5 Day 1: featuring The Avengers! also on the bill - Silver Screams, Boot Rot, City Problems and a bunch more bands. It's at Alchemy. Music starts at 8PM Here's the FB page
September 13 (Thursday) Hudson Falcons, Genuine Rust, Sonic Libido and more TBA at This is an ALL AGES Matinee! at Thirsty First: Tavern & Grill, Lowell.
September 14 (Friday) Illegally Blind presents: Way Out, Russian Baths, Black Beach, House of Harm at O'Brien's
September 14 (Friday) Ten Dollar Mistake, Cold Expectations, The Melatonins at the Tavern at the End of the World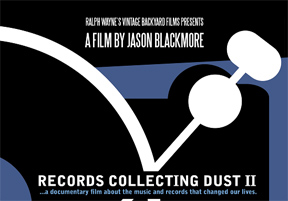 September 14 (Friday) Records Collecting Dust II Film Premiere at Regent Theatre in Arlington: it "focuses on the East Coast cities of Boston, New York and Washington DC, and includes in depth interviews with twenty eight highly influential people from the 1980's hardcore punk rock music scene." Including- Bob Cenci (jerry's kids) and John Sox (The FU's) as well as Ian MacKaye of Minor Threat/Fugazi, John Joseph of Cro-Mags, Dave Smalley of DYS/Dag Nasty, Amy Pickering of Dischord Records, John Sox of FU's, Walter Schreifels of Gorilla Biscuits/Quicksand, Roger Miret of Agnostic Front and Clif Croce of The Freeze." FB page
September 15 (Saturday) State of the Union will be on Brian Young's A Crash Course for the Ravers on WMFO 91.5 1-4PM
September 15 (Saturday) The Hideout, In The Meantime, DNZL at O'Brien's
September 15 (Saturday) Stars Like Ours, Sidewalk Driver, Gene Dante & TFS at KOTO Salem.
September 16 (Sunday) Black Market Flea by Boston Hassle & Ignore Rock n Roll Heroes - we went in June and it is awesome!!Lots of great vendors. Check it out folks!! 12-6PM FB page for info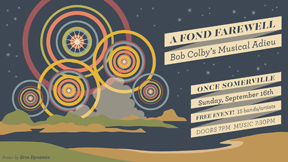 September 16 (Sunday) LOCAL Focus: a celebration and sale of boston rock photography And Bob Colby's Goodbye Party and Rock Extravaganza, 20+ of Boston's music photographers, spanning four decades of Boston music photography, will each display two prints in the Ballroom at ONCE. 2pm - 10pm FB event page
September 18 (Tuesday) ALL AGES MATINEE- 1-6PM : Hudson Falcons, Genuine Rust, Sonic Libido, Losers Circle at the Thirsty First Tavern in Lowell.
September 20 (Thursday) Richie Parsons plays before Queeraoke - that's 8-9:30 - at the Midway
September 21 (Friday) Thalia Zedek Band album release party with special guests Sleepyhead at The Midway
September 21 (Friday) Punk Night with Crimespree, The Straight Eights, Worm, The Woods at Pinz - Kingston FB page for info and direction
September 22 (Saturday) The Knock Ups, Titans of Industry, Sweetcreem, MIDI Myers at The Midway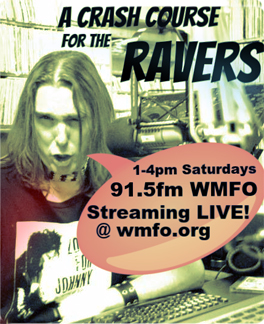 September 22 (Saturday) 1st Annual ONCE FEST at Once - An all-day and night festival of more than 10 local bands alternating sets in the Ballroom and Lounge. Check the FB page for more info
September 22 (Saturday) The Dogmatics, The Dents, HEAP at Cafe Nine in New Haven CT
September 23 (Sunday) The McGunks, Quiggs, Port City Saints, The Martians do a Sunday day show at the Midway 4PM
September 23 (Sunday) Vivi'd presents Agnostic Front and Death Before Dishonor at the Middle East UP -this is an early show- doors are at 3:30PM.
September 23 (Sunday) FEAR at the Middle East Down- Tix are $25...but maybe you'll want to shell out $125 for a meet and greet and early entry. Also on the bill are Slapshot and the Pint Killers.
September 28 (Friday) Thee Fightin' Fish, Graneros, Jakals at Opus in Salem
September 28 (Friday) State of the Union's CD release party at the Midway with The Gala, Gene Dante and The Hi-End. We heard some of that material and it is awesome!!! FB event page
September 28 (Friday) Have Nots, Lenny Lashley's Gang of One, Cuidado, Blood Stained Brindle at The Middle East Up
September 28 (Friday) Stop Calling Me Frank, Soraia, Hambone Skinny & The Connection at Sally O'Brien's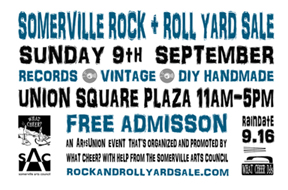 September 28 (Friday) When Particles Collilde, Dirty Dottys, Bloom at O'Brien's
September 28 (Friday) Shiny Beasts, Tiger Bomb at the Plough
September 29 (Saturday) Kermit's Finger, New Frustrations, More Beer Please, Instamatics 4-8PM At the Midway
October 1 (Monday) Major Stars *tour kickoff* Chris Brokaw Rock Band & Bong Wish at Charlie's Kitchen
October 5 (Friday) Kid Gulliver, The Hi-End, The Stigmatics at The Jeanie Johnston Pub in JP
October 8 (Monday) Loser's Circle, Coffin Salesman, Voice of Addiction, Cook Bag at Charlie's Kitchen
October 12 (Friday) Salem Horror Fest After Party with Diablogato, Gray Bouchard and the Dedications and Petty Morals at Opus in Salem
October 14 (Sunday) Punkcake's Halloween Market with lots of cool vendors and music by The Evil Streaks, The Demon Seeds, Coffin Salesman at Ralph's Diner 12-5PM FB page for more info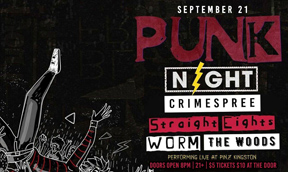 October 14 (Sunday) Jagger Holly, MATB, The Prozacs, Mongorellis, Color Killer at Beatnik's in Worcester.
October 15 (Monday) Jagger Holly, Mongorellis, The Prozacs, Jimmy Jacked, Color Killer at Opus Salem
October 15 (Monday)- October 18- Thursday Jonathan Richman at the Middle East Up.
October 17 (Wednesday) The Damned are back and at The Paradise.
October 18 (Thursday) The Proletariat, Savageheads, Silver Screams at Sonia -FB page
October 18 (Thursday) Sidewalk Driver, Watts, Justine and the Unclean at Thunder Road
October 20 (Saturday) Nervous Eaters, Indonesian Junk, Duck & Cover at the Middle East Up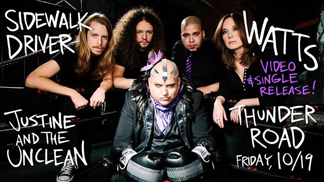 October 20 (Saturday) Stop Calling Me Frank, Crunchtime, The Jiblantos and The Black Souls at The Midway for a 4PM matinee.
October 27 (Saturday) Lyres, GLiDER, the modifierS at The Middle East Up- Early show doors at 6:30PM
October 27 (Saturday) The Descendents w/ Teenage Bottlerocket at The Palladium in Worcester FB page for tix etc
November 2 (Friday) Roky Erikson at Once. Tix here.
November 11 (Sunday) Save the date!! Brian Coleman who has published the much talked about Buy Me Boston book will be having a slideshow and panel discussion (including our very own Paul Blowfish Lovell, oh yeah and David Bieber) to promote the book. It's at The Brattle Theater - more info as it becomes available.
November 17 (Saturday) It's HIXXGIVING!! The joyous return of the annual celebration of white trash culture and redneck vittles. This year they'll have newcomers - Alice Highland, New Jersey's Sex Zombies, Your hosts- HIXX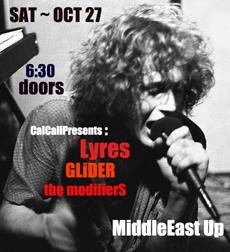 and the formidable Screw Cart. This will, no doubt, be off the hook! The buffet will be provided by the bands. Hixx asks that you b
ring non perishable food items, as always, for a local woman's shelter.
November 17 (Saturday) Post Punk 1977-87 Cover Night at Sally O'Brien's - 3 super groups will be covering songs from 1977-87. (punk, new wave, synth pop etc)
The groups are: Chuck Ferreira, Josh Pickering & friends, Duncan Wilder Johnson & friends, and Anthony Kaczynski & friends. FB event page
December 1 (Saturday) the second and final Red Invasion show - with Funeral Cone and Brix N' Mortar and one more TBA. @ The Middle East Upstairs
CONTACT US AT....misslynbgn@yahoo.com Send us your gig listings, your news and anything else ya got!! You want your CD reviewed?? Contact us for that too.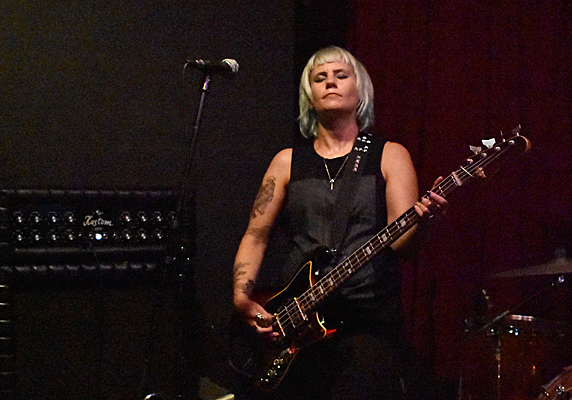 Blood Built Empire
Photo: Blowfish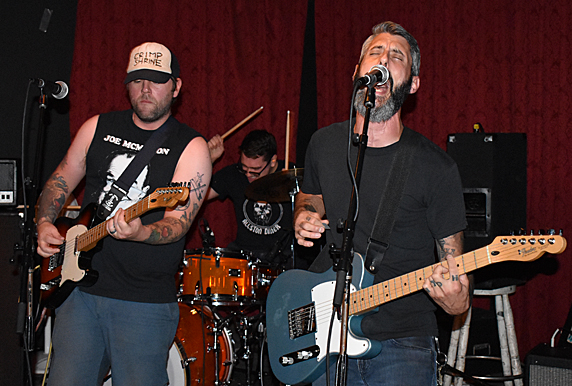 Tied To A Bear
Photo: Blowfish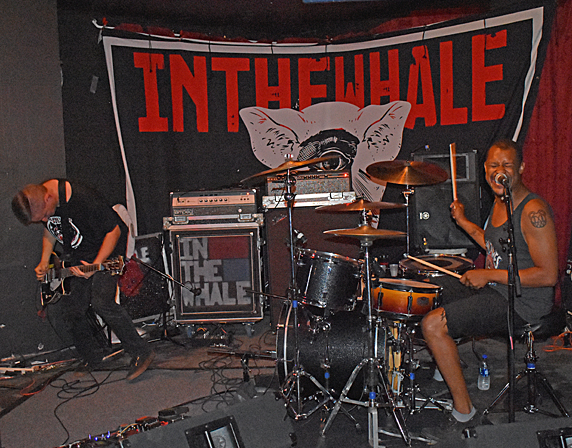 In The Whale
Photo: Blowfish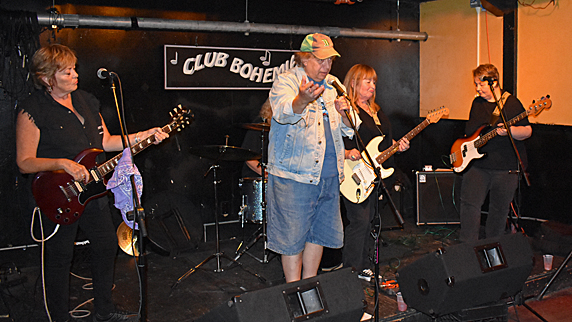 Michael Stewart introing Corolla DeVille
Photo: Blowfish
Jutine Covault and Michael Stewart
Photo: Blowfish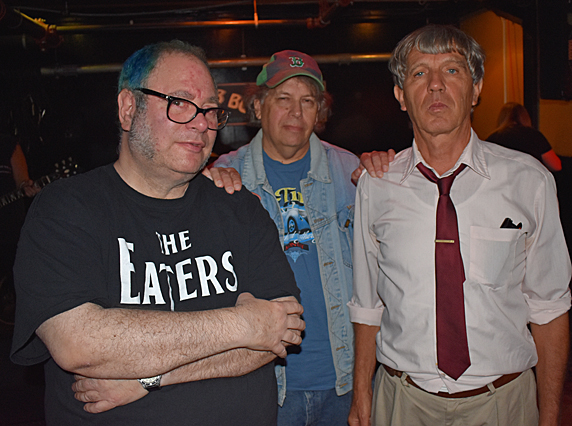 Arthur Freedman, Michael and Mickey
Photo: Blowfish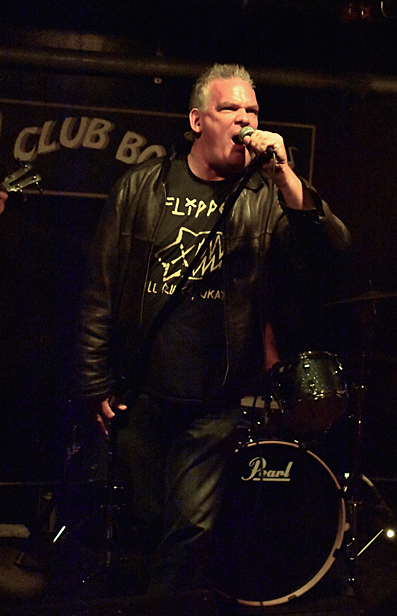 Mark Davis - Screw Cart
Photo: Blowfish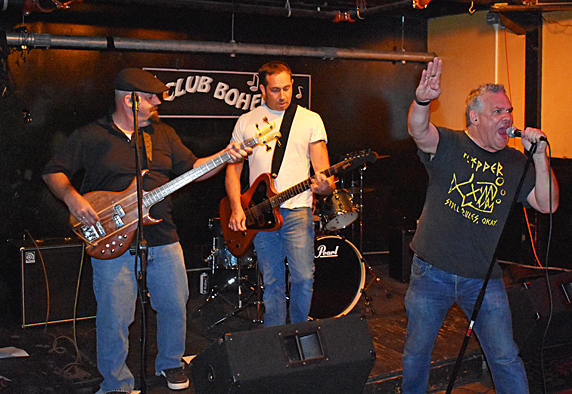 Screw Cart
Photo: Blowfish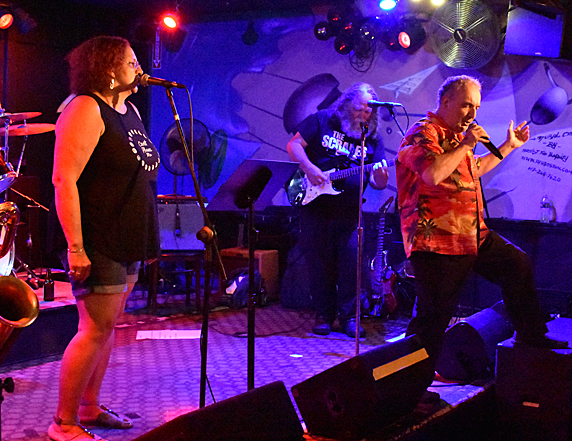 Love and Flame
Photo: Blowfish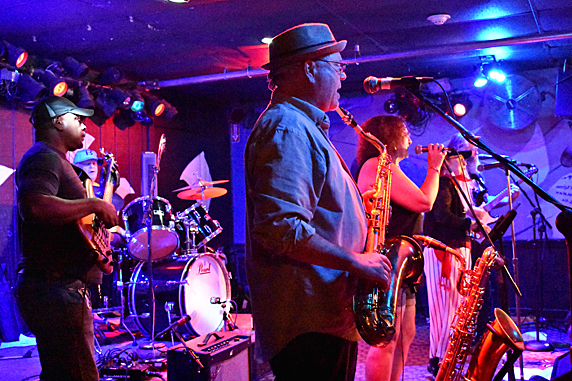 Love and Flame
Photo: Blowfish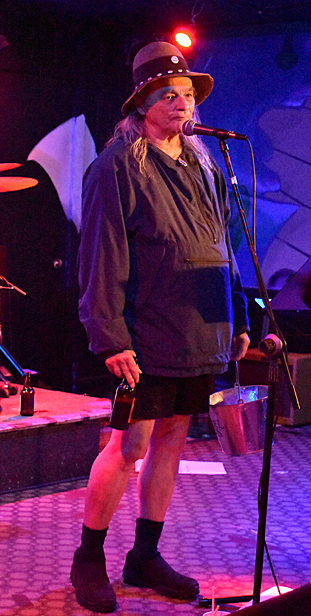 Michael Weddle
Photo:Blowfish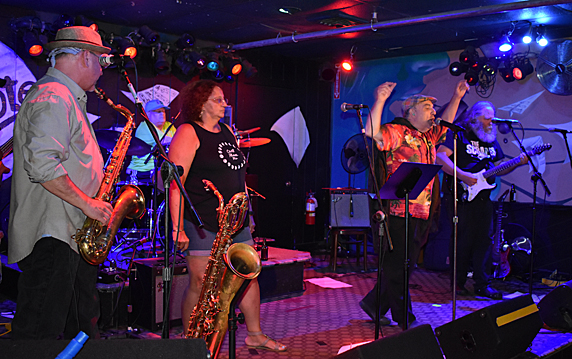 Love and Flame
Photo:Blowfish