The BGN News Archive
September 4, 2017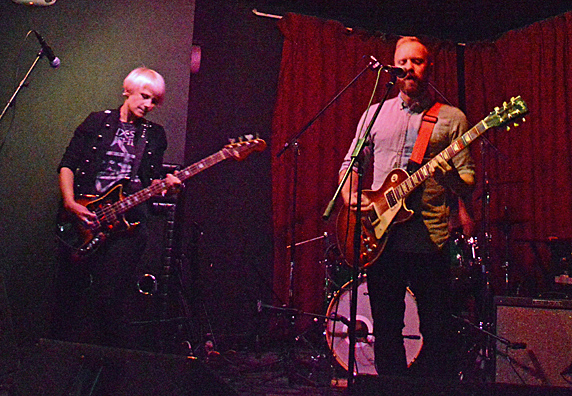 Blood Built Empire
Photo: Blowfish
It wasn't until Friday before we got out this week. There were bands we didn't know but they sounded like they could be interesting.

Blood Built Empire is a trio from Somerville. This was their first show but you would never guess that from the set. It was tight and hit hard with a mighty roar and righteous rants. They obviously have been in other bands (Ex-Taxpayer/The Information) to have the confidence they had on stage. The songs had riffs that were mechanical rather than melodic and that worked into their overall sound just fine. They could hammer on those riffs and drive them home.
The lyrics seemed like they were consequential but as usual they were hard to catch. Their Bandcamp page has a song called The Continuous Deterioration of Everything with an ecological message. Listening to that you can grasp what we were hearing live. Equipment geek alert: the bass player had a vintage Custom. It was black with that plentitude of Naugahyde plush.
They have some humor in describing themselves: Like the Mamas and the Papas with one less Mama - and mosh parts.
And they were giving out free shirts!

Gnard
Photo: Blowfish
Next to play was Gnard from Worcester. They seemed to have an arty side but were playing much too hard for any pretensions. It was loose and fun. They did a few short instrumentals.
On their Bandcamp page all songs are under 1:45. That's our sort of band. They have a song on Bandcamp called I'm a Demon (Roky) which is obviously about Roky Erickson. They score points for that.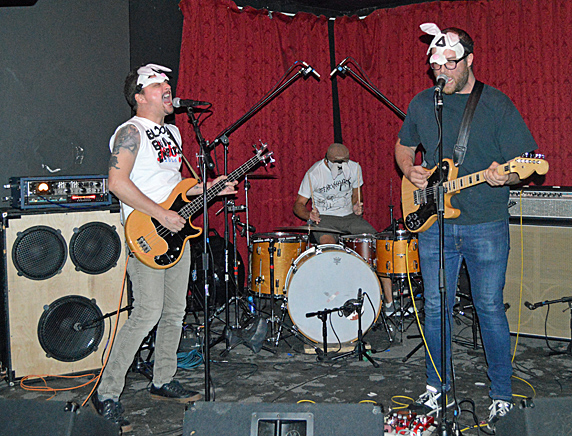 Good News
Photo: Blowfish
Great News has a bunny fetish of some sort. They wear rabbit masks on stage and in their promo photos. There may be a reason but it's wasn't discernible. They also had a non-compromising assault like Blood Build Empire. They put all different types of 'rock' in their self-description on Bandcamp. We however kept getting flashes of Zappa in their jerky rhythms. Even in a rabbit mask there was no hiding the workings of the intense drummer. We like them a bit more on their recorded works here on Bandcamp. That's where their 'math rock' comes through more.

At that point it was three sets that satisfied our rock seeking urges.
It was Labor Day weekend but we never stop working the clubs. Aneurysm opened the bill at O'Brien's. The bill was half local/half Brooklyn.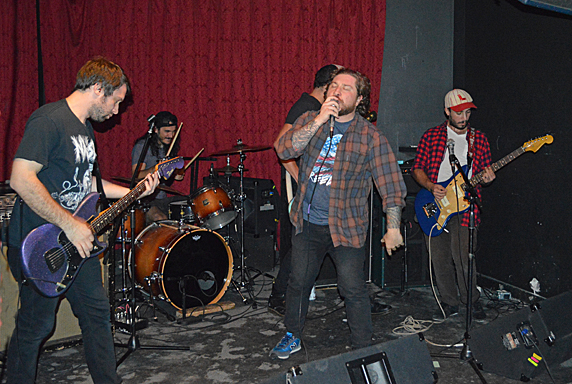 Anuerysm
Photo: Blowfish
Boston boys' Aneurysm's music came out in raw torrent. It's a sonic jumble that does its job of disorienting you and making you giving in to the power. The band's banging as the singer rants over it. He is at top yelling volume the whole time. He seems to be making a point but you can never hear lyrics when a group is roaring like that.
I liked it best when they would hit the occasional groove and you could get caught up in the lurching sound mass. The song Swallow My Prize on Bandcamp captures what they do but live is the best way to get this music.
Punk brought the noise in the seventies when things got too mellow. Groups like Aneurysm are continuing the assault on soft rock to this day. That's why we're still around.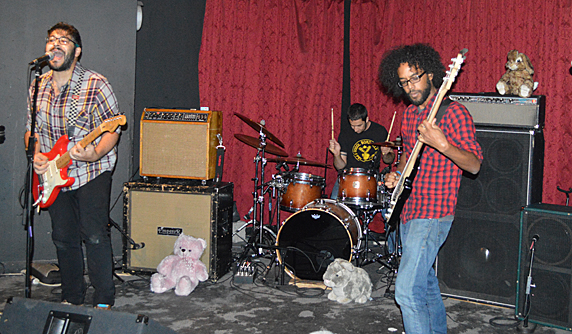 Moist Boy
Photo: Blowfish
Moist Boy from New Bedford was punk. Thank you, we need that! Just three guys pounding it out. The singer had a typical punk nasal voice, like the Dickies singer. It was so cool hearing that. The songs are all two minutes long. One of the songs was called i Wanna Be A GMO. Lyrics: "Inject me with some brand new DNA/ I think my old stuff is malfunctioning / I really need to be altered genetically.
They covered Attitude by the Misfits.
Being a New Bedford band they even recorded their songs in the Wamsutta Mills.
Love to see these guys again.
Like Good News they had a rabbit thing going on with several stuffed ones on stage.
What's with the rabbits already?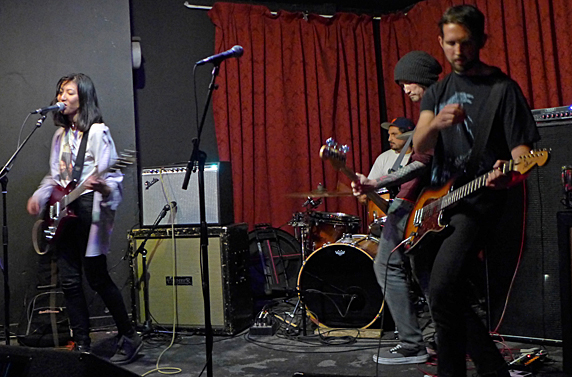 Giant Peach
Photo: Blowfish
Giant Peach were more arty sounding than their recorded efforts led us to believe. Bandcamp They were not playing conventionally. They were reaching for different ways of playing and structuring a song.
Another confirmation that Brooklyn is a hotbed of musical creativity.
---
And in other news ....
Playboy posted 8 pages of photos from Jimi Hendrix's Electric Lady studio in NYC. They seem to focus on the women and you can't see the studio so much. There is one shot where they show a big rack (pun intended) that will give you studio geeks a thrill.
Photo NSFW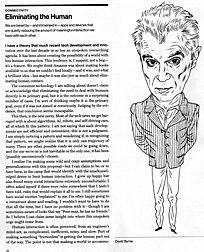 MIT Technology Review usually gives you hope when they describe the technology coming down the line that will improve life in the future. The first article in the current issue however is by David Byrne who writes at length in Eliminating the Human on the dehumanizing downside of the sterile computerization of civilization. Like all of David's prose it's clear and makes a compelling argument.
We think this time though that he was one-upped by an article a few pages later entitled The Octogenarians Who Love Amazon's Alexa. It's an uplifting story of elders using Alexa to communicate with family and to interact with computers without typing. It's making their life so much better.
Alexa is just a Talking Head that listens too, isn't it?

If you buy the new Petty Morals track Saturday Night Slacks on Bandcamp before September 8, they will contribute 50% of the money to the Southern Poverty Law Center.
Today Junior released a fun new video of Lee's Anthem. It's only 2:07 and has a lot of the signature moves that make us love the group.
Tim Casey and the Elves at Lowbudget Records just put out Living With the Aliens which is a David Bowie tribute double CD. They have made their three silent movies with new soundtracks available in the latest technology: Blueray and Download. If you are a silent movie fan or trying to find a way to appreciate them, these are for you. Casey's soundtracks make them live again. Check them out here.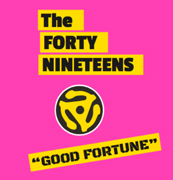 We need to hire help to keep up with these Rum Bar Records releases! The newest is the single by A Bunch of Jerks. It's two hits of cool garage. They are loose and fun and make you feel like the group would be a gas live. Check it out on Bandcamp
We've also heard from The Forty Nineteens from California. The CD is on Kool Kat Music and one of their songs I'm Free has been a Coolest Song of the Week on Little Steven's show, both of those are a sign of quality. The first song And Such and Such is as good as I'm Free. It seems like there's no end to the pop they can pour out. They do a cover of Time is On My Side by the Rolling Stones and it seems like they could do dynamite covers endlessly too. Go here for ways to get the album.
---
Here's some good shows coming up .....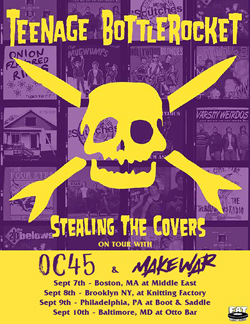 September 7 (Thursday) Teenage Bottlerocket, OC45 and MakeWar at The Middle East
September 7 (Thursday) Thrust Club, Burnt VIllage, Psychic Dog and Cook Bag at O'Brien's
September 8 (Friday) The Nervous Eaters and Glider , State of the Union and Casanovas in Heat at Out of the Blue Gallery Central Sq. here's the FB page to get updates.
September 8 (Friday) In Good Nature (EP Release Party), Degrader, Anyone Anyway, Divided Life, Rocket Ship at The Knights of Columbus in Leominster FB page for directions etc - this show starts at 5PM
September 9 (Saturday) The Stigmatics are on A Crash Course for the Ravers on WMFO 91.5 from 1-4PM
September 9 (Saturday) Starlabfest VIII will be taking place at the Somerville Arts Council's outdoor ARTFarm location at 10 Poplar St. just outside of Union Square. There will be beer, wine and cider, as well as FREE BBQ (including vegan/veggie options) from Scott Brothers New American Meat Co. Also, a flea market will be on site curated by High Energy. Music will be by Paul Collins & The Dazies, Lyres, Black Beach, Laika's Orbit, Me In Capris, JoJo & The Angry Girls, Bundles, Boston Cream and Jeff Rowe. Info and tix etc here.
September 9 (Saturday) The Gala, Future Carnivores, Stars Like Ours and Courters at O'Brien's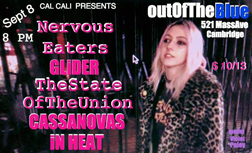 September 9 (Saturday) Highway Chapel at Sally OBrien's
September 9 (Saturday) Charlie Don't Surf at McGann's Pub down in North Station area. FB page
September 10 (Sunday) A Giant Dog, The Dazies, Boston Cream at O'Brien's
September 10 (Sunday) GBH and The Casualties at The Brighton Music Hall
And further out we have....
September 11 (Monday) Roky Erickson at the Brighton Music Hall. WOW!! Get yer tix here.
September 11 (Monday) Rocker Zine's Rock'n'Roll Trivia at Once (Taco Monday too! YUM) FB page here for more info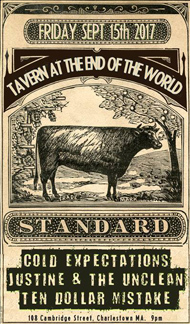 September 15 (Friday) Cold Expectations, Justine and the Unclean, Ten Dollar Mistake at The Tavern at the End of the World - FB page
September 15 (Friday) Less Art, Vattnet, Actor|Observer, The Nomad Stones at the Middle East Up Tickets
September 15 (Friday) Boston vs Tokyo Rock n Roll Showdown with Muck And The Mires, The Fadeaways (from Japan), Mellvins (from Japan), Jittery Jack at O'Brien's Pub
September 16 (Saturday) Big Giant, Greg Allen's Fringe Religion, The Melatonins at The Midway - 4PM matinee show
September 16 (Saturday) Chameleons VOX At the Middle East Also on the bill: Soft Kill , Way Out and The Milling Gowns FB Page
September 18 (Monday) The Dictators NYC (aka Manitoba NYC) are at The Middle East
September 18 (Monday) Duck & Cover and the Quiggs are at Once with a fake version of The Dead Boys...no Stiv no Jimmy Zero -how can you call that the Dead Boys?? sad.
September 18 (Monday) The Martians, The Runouts, Gant and Port City Saints are at Koto
September 19 (Tuesday) The Silver Mirrors, Dan Barracuda, Fordham Road, Perfect Mark Are at the Midway. Facebook Event
September 20 (Wednesday) X doing their 40th Anniversary Tour- at the Brighton Music Hall
September 20 (Wednesday) Kris Rodgers and Soraia are At O'Briens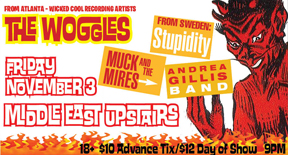 September 20 (Wednesday) a super-special Rockabilly edition of Primitive Sounds with host DJ Easy Ed will be spinning with three top DJs from out of town: James (Los Angeles), El Dedo (Phoenix) and Skeets (Montreal)....All 45s... All Killer, no Filler!- its at Brass Union in Union Square Somerville. Starts at 8PM
September 21 (Thursday) Mailman Carl, Dead Trains, Hambone Skinny, Natty D's, The Appleyards at Club Bohemia
September 22 (Friday) The Go Set, Beantown Boozehounds, The Pint Killers, The Disquiets at O'Brien's
September 22 (Friday) The Ataris and The Queers at The Middle East - this is an early show- 6PM -10Pm
September 22 (Friday) The Hi-End, Corin Ashley, Modern Day Idols, The Curtis Mayflower at the Midway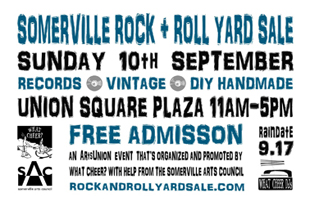 September 22 (Friday) The Bushwick Hotel, Petty Morals, The Fellowship of Feeding Wolves are at The Middle East Up
September 22, 23 & 24 (Friday-Sunday) The 5th Annual Rat Beach Party is at The C Note in Hull. FB page here. Lotta bands!! The Black Souls, Hummingbird Syndicate, Greg Allen & The Fringe Religion, Highway Chapel etc.
September 24 (Sunday) The Grommets, Uncle Spudd, Kermit's Finger, The New Frustrations, Sewer Buddies at The Midway - 4PM Matinee show
September 25 (Monday) Loser's Circle, Mongorellis, the Scutches, and Blame It On Whitman @ PA's FB page
September 28 (Thursday) Stiff Little Fingers are doing their 40th Anniversary tour they have Death by Unga Bunga opening for them - at the Brighton Music Hall
September 29 (Friday) Il Mostro, Silver Screams, BDSX and The Von Traps at O'Brien's
September 29 (Friday) Brian Young's ACCFTR A Crash Course for the Ravers featuring A Tribute to Thunders with Simon Ritt! 1-4PM WMFO 95.1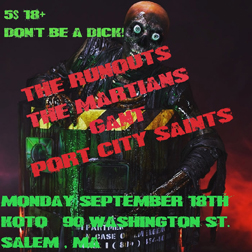 September 29 (Friday) Jay Allen and The Archcriminals, The Black Souls, Roy Sludge at The Midway (9PM show)
September 30 (Saturday) The Billy Conors Project with Mr Curt, Geoff Pango and Ski Bunny at The Tavern at the End of the World
October 7 (Saturday) Four great Boston punk bands, The Welch Boys, Pint Killers, Jason Bennett and the Resistance, and Guns of Brighton will be playing a benefit for Rosie's Place Shelter at the Midway..Facebook Event...If you can't make it,.. please donate to www.rosiesplace.org/
October 8 (Sunday) Petty Morals are having a Ballroom Blitz at Once Ballroom with a Flea Market and Art Show -also on the bill Muck & The Mires, The Dazies and Lady Pill (set times and more are on the FB page) It's 2PM- 8PM
October 8 (Sunday) The Crank-Tones are at Atwoods. This is a 4PM show. Atwoods is a great place for dinner too!!
October 13 (Friday) Silver Screams, Idle Pilot, Black Cheers and Psychic Dog at Koto/Salem
October 14 (Saturday) Rumbar Records presents- The Dirty Truckers celebrate Jamie's Dirty 50th BDay! Also on the bill- Watts, Kris Rodgers and the Dirty Gems and AM Stereo at The Midway (9pm)
October 14 (Saturday) The Worried, Greg Allen's Fringe Religion, Classic Ruins are at The Parlor, Providence, RI
November 3 (Friday) Indonesian Junk, Justine and the Unclean & Gymnasium at Tavern at the End of the World.
November 3 (Friday) The Woggles, Muck and the Mires, Stupidity, Andrea Gillis Band at The Middle East Up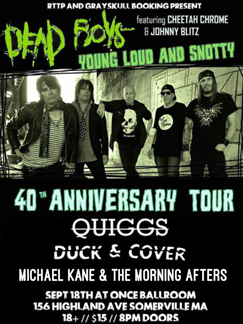 November 4 (Saturday) Human Sexual Response at HOB
November 9 (Thursday) The Proletariat at ONCE Ballroom w/ Siege and Black Beach
November 9 (Thursday) If you are in NYC or can get to NYC Celebrate Stranded in the Jungle: Jerry Nolan's Wild Ride the new book by Curt Weiss that covers 40 years of L.A.M.F. and is A Tale of Drugs, Fashion, the New York Dolls, and Punk Rock. Also there'll be music by with Greg Allen's Fringe Religion, and ...book reading, panels, Q&A, guests, book signing. It's at The Delancey in the Lower East Side 7-10PM FB Page for directions and more info He's at Out of the Blue/Cambridge ont he 12! see below.
November 10 (Friday) CH3 (Channel 3), The FUs, Silver Screams, Fast Times Punk at The Middle East Up - 8-Midnight show tix here Read about CH3 here. there's links for tix etc too
November 10 (Friday) The Proletariat are at Narrows Center for the Arts w/ Black Beach in Fall River, MA (FB page for info)
November 11 (Saturday) Hasselfest #9 this year has Pere Ubu and a ton of other bands at Once- get the info on the FB page here.
November 10 (Friday) Curt Weiss covers 40 years of L.A.M.F. and is A Tale of Drugs, Fashion, the New York Dolls, and Punk Rock in his new book Stranded in the Jungle: Jerry Nolan's Wild Ride Also, rock and roll with the Thigh Scrapers, Tiger Bomb, Moto, Glider, and the Lyres starts at 2:15. Here's the FB page
December 8 (Friday) Rumbar records is throwing a HUGE record release party of rthe new Justine and the Unclean record Get Unclean....It's at Once and there will be bands in the ballroom and in the Lounge. Check out this list!: In the Ballroom- The Upper Crust, Hey Zeus, Tom Baker and the Snakes, Justine and the Unclean ....In the Lounge - Cold Expectations, Roy Sludge Trio, Pinecone Teeth and Jay Allen - doors at 7:30 show starts at 8:15.
CONTACT US AT....misslynbgn@yahoo.com -Send us your gig listings, your news and anything else ya got!! You want your CD reviewed?? Contact us for that too.
Blood Built Empire
Photo: Blowfish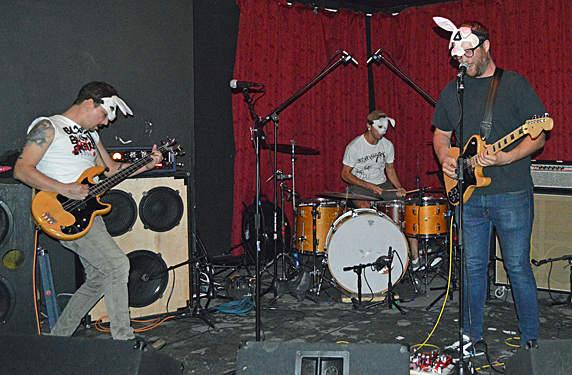 Good News
Photo: Blowfish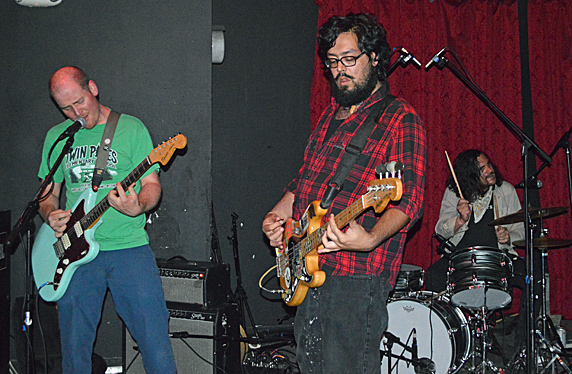 Gnard
Photo: Blowfish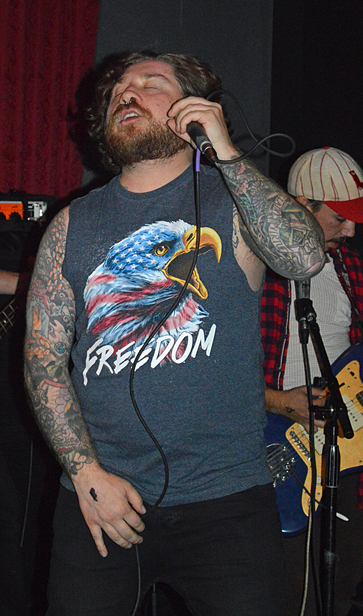 Aneurysm
Photo: Blowfish