The BGN News Archive
September 5, 2011
This past Friday we went to the Harvard Film Archive to see D.O.A., part of their American Punk film series going on through September 26th. I know I saw this film in the past, in fact I know I saw it at the Kenmore Cinema but much of it has disappeared behind a haze of time and uh other stuff....it brought the old days back without question!!
I remember how pissed I was that the Pistols didn't play in "civilized" places like Boston or New York so I could go see them. And this film highlights the fact that when Punk (The Pistols being the embodiment of that) made its way to the USA it was still a transitional time for some people here. Even though this film was from 1981 (late in my book) you see here how people were moving from Glam, maybe stuff like late T Rex and then The New York Dolls to punk and were a little confused about how to act and dress "like a punk". Most of the audience in this film looks like they were coming from a David Bowie concert!! It's funny to see it all now in retrospect!
And though this film is supposed to be about the Pistols American tour it really is about Punk in general. There's a cut of XRay Specs doing "Oh Bondage Up Yours" and Generation X doing "Kiss Me Deadly", The Dead Boys, Sham 69, The Clash...and there's way too much time spent on some guy named Terry Sylvester (not the Hollies guy) who desperately wants to be in a punk band but pretty much sucks and is a sort of a lost Brit, frustrated with his country but not really knowing what to do with himself. You're supposed to be made to understand what made Punk happen over there. It brought me back to the old days, the late 70's and reminded me how grateful I am that I was around and experienced the whole 'punk" music scene back then.
So there's loads of other cool movies coming up like Border Radio and The Blank Generation so go check 'em out!!

So coming up this Saturday the 10th is a big ole birthday bash for guitarist Pete from the Port Charles Quintet...it's at Copperfield's ... that's the place over by Fenway Park!
Also on Saturday the 10th is a way cool Mode Merr Fashion Show event at Church...it starts at 1PM and music is by The Skeleton Beats and The Steamy Bohemians and there's also going to be a burlesque show ...oh loads of fun ...get on down there!!
Marky Mayhem's next benefit shindig is @ the Midway on Sunday 9/11, 1-6 in the afternoon with; Shaun England, the Mesmerines(in their last appearance ever,) Kenne Highland & friends, Hixx , James Straight & the Wide Stance and more TBA)..we hope you can make it!!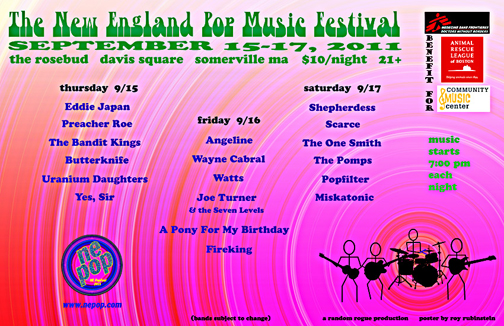 Hey get ready for THREE days of POP at The Rosebud Staring Thursday 9/15 it's the New England POP Festival!! (And make note music starts at SEVEN each night)
Thursday 9/15 : Eddie Japan, Preacher Roe, The Bandit Kings, Butterknife, Uranium Daughters and Yes, Sir.
Friday 9/16 is: Angeline, Wayne Cabral, Watts, Joe King & The Seven Levels, A Pony for My Birthday and Fireking.
Satuday 9/17: Shepardess, Scarce, The One Smith, The Pomps, Popfilter and Miskatonic
Then there's a 2 day Bike MS Benefit at Church: Friday Sept 23rd there's The Titanics, John Powhida, Pete Hayes' Rock Shop, The Russians and The In Out. On Saturday Sept 24 they got Easy Action (from Detroit/MI NOT the band with Casey Lindstrom!) ,Triple Thick, Gene Dante & The Future Starlets, and Jason Bennett
If you aren't into Pop then there's The Roy Sludge Trio having a record release show at TT's on Friday 9/16...and these guys are fantastic!!! .....even Bruce Springsteen thinks so...he was in town this week and saw Roy. It will be an awesome show I am sure!!
And don't forget the 35th Anniversary Damned show at The Middle East coming up Oct 20!! Email us with your latest news, opinions and all that kinda stuff….misslynbgn@yahoo.com