The BGN News Archive
September 6, 2010
We were not able to make it to the Gallery East Reunion Show but we did get a couple pics from Joanie Lindstrom, and from all the pics on the various boards and sites (try - www.returntothepit.com) it looks like it was a truly amazing time.....
So what's coming up huh?....
Jay Allen and The Archcriminals are busy this week first they'll be playing live on the radio on WMFO 91.5 FM this Wednesday, Sept 8th beginning around 10PM and know that if you are out of 'MFO's area you can stream live at www.wmfo.org or if you miss it you can catch up as they archive the show then they are over at the Rosebud on Friday night Sept 10th in Davis Sq with Muck and The Mires (on first so get there early!!), The Dirty Truckers and then Jay and The A's........
Port Charles Quintet is at TT's on Thursday Sept 16...these guys are SOOO worth checking out...they are on a roll these days!!...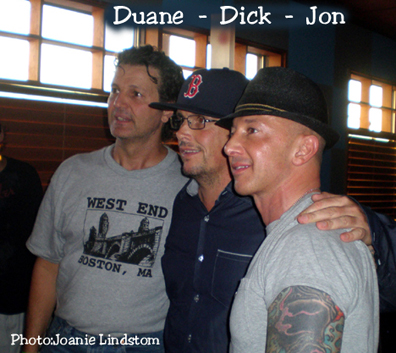 And during this week it looks like Nancy Neon is busy coz she's got a special show at Saturday Sept 18th Nancy Neon at The Cantab it a double celebration: Lisa Connolly's Birthday Bash & The Varmints CD Release Party with The Varmints' New CD in its entirety; Eric Martin & the Illyrians; the Birthday Girl's band; Corolla DeVille and The Boize open up, there's also a Complimentary Buffet and everyone gets a gift because all paying customers who are there at the end of the night get a free Vatmints' CD!!...
Then Nancy moves her magic to The Midway in JP with The Varmints, Pandemics and Hixx....
and in Somerville, at Precinct on the same night (Sat. Sept 18) there's Fox Pass, The Doom Buggies, Leon Rich and The Liz Borden Band....
Onto the next weekend we have a good show at TT's on Friday Sept 24th with Death & Taxes (doing their Final Show!), Wicked Whiskey, The WelchBoys and Lenny Lashley
The Acrobrats will be playing tracks off their just-released EP, 'Hair Triggger' when they open for The Swingin'Utters on Sunday Sept. 26 at Harper's Ferry in Allston. This is the Utters' first area appearance in almost a decade. From first to last: The Acrobrats, The Have Nots, The Copyrights and The Swingin' Utters....also on Sunday the 26th the original line-up of Thalia Zedek band Come is at TT's and early show at 10:45...so that's Thalia, Chris Brokaw, Arthur Johnson and Sean O'Brien....and that should be a great show.
and for you die hard GG Allin fans here's some news about a new GG release, a DVD coming out in on October 19th from : G.G. Allin & The AIDS Brigade "Live In Boston 1989" It has classic footage from The Middle East in Cambridge, MA (August 27, 1989) and features a live performance from GG Allin & The AIDS Brigade at The Middle East in Cambridge, MA from August 27, 1989. Also included is footage from various band rehearsals, pre-show makeup session, Merle and GG jamming and more. Bonus footage includes two 1993 shows from GG Allin & The Murder Junkies at Under The Rail in Seattle (May 26 - GG sets the stage on fire and defecates before the first song) and The Roseland Theater in Portland, OR (May 27 - GG sets the stage on fire again and gives himself a turkey baster enema). This is the vintage GG Allin you've come to know and love! Yes my friends lovely stuff from our beloved GG coming to a store near you soon! OK, that's it.... Email me us here at The BGN please...