The BGN News Archive
September 7, 2009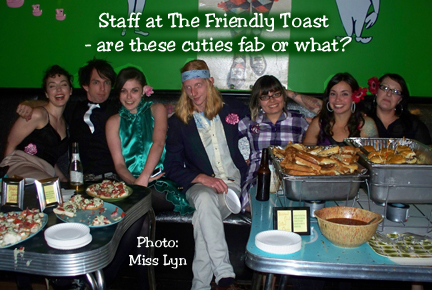 Woooo, I'm back from Texas and I'm COLD!!! Incredible art museums and lots of hot days and family......but, before I went off to the South I went with BeatGirl to the Grand Opening Celebration of a fab little restaurant in Kendall Square called The Friendly Toast...this place is very cool...it's restaurant #2 for a couple of New Hampshire punks who have a very, very successful Friendly Toast in Portsmouth NH. The decor is 50's 60's kitch and the staff are all super friendly and fabulous to look at too. The food is great and they have a line of mixed drinks all named after Hitchcock films! There's loads of breakfast foods, they do a great brunch but they have lots of other stuff like sandwiches and salads for evening fare as well.......check 'em out sometime soon!!! (We will have a new Punk Gourmet feature on them in the next few days)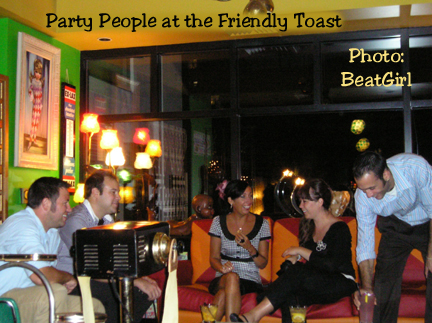 SO this Wednesday Sept 9th is the Scanning Party, Katy The Kleening Lady who is heading up the Boston Punk Rock Oral History Project is having a event from 7-9 PM and invites everyone down to bring old memorabilia from 1980-1984 Punk to scan for her project!! And to hang, reminisce and exchange stories from the old punk days... this is happening at the West End Community Center at 151 Staniford Street in the West End (that's down by The Garden) and go to googlemaps to see the location
And check it out; this Friday Sept 11th at The Middle East UP is The Angry Samoans along with Dirty Tactics, 007 Hundred Club, The Acro-brats, ....and yes again, on the special Labor Day Late Risers Show with Albert O and Blowfish they questioned WHY The Angry Samoans are playing Middle East UP and not DOWN. Joanie says they didn't even near sell out last time they played "Down"..hey, .folks we all have to get out there and support the music we love or it is gonna disappear from the live venues altogether!!
Whew!! Here's a blast from the past... at Precinct on Sept 12 with Muck and The Mires and THE ODDS ...yes you read it right, The Odds...their first show in 25 years as a matter of fact...DMZ broke up they split into two bands...The Lyres and The Odds...this is a do not miss show!! And note that Muck is on at 10, the Odds at 12 and Muck again at Midnight.
And coming up Sunday Sept 13th Tommy White... tells me that Unnatural Axe will be playing at The Pawtucket Film Festival and they will be showing their awesome, really really awesome "You'll Pay for This" film AND some clips of their tour in Italy as well! It's at 6:30 on Sunday 9/13, the cost is $10 and it INCLUDES BEER and a T Shirt! As well! And it is at : The Pawtucket Visitor Center Theater, 175 Main Street, Pawtucket RI, 02860 for more info you can go to The Festival Site http://www.pawtucketartsfestival.org/
Now also on Sunday is this: at TT The Bear's is Hugh Cornwell(Stranglers) and Mike Gent (Figgs and The Gentlemen) ...sounds like an excellent show!!
And of course The Marvels are playing at The Baseball Tavern on September 19th ...YAY!! I'l hopefully get to see them this time!!
And save this date too: Sunday September 20th at 1PM - Harper's Ferry: Ducky Boys, Everybody Out, Confront, Have Nots, Burning Streets
Ok folks, email me ....let me know what's happening..thanks!! click and write me!.... Lyn