The BGN News Archive
September 8, 2008
The Late Risers Club night at the Alchemist

| | |
| --- | --- |
| | |
This was a fun weekend my friends…Friday night, Sept 5th was WMBR The Late Risers Club Party at The Alchemist in JP….it was a really fun time!...yeah, it was great to watch Marissa Acosta's Late Risers Club film and yeah, it was great to see some classic old punk and new wave videos from Jan Croker but what was also fun was to just hang out and talk to people for a change! And people got in to a very social mood, introducing themselves to folks they've seen but never really spoke to and just walking up to others and saying Hi to start a conversation.
It was great and the Alchemist is a pretty cool place too (but don't order the fried calamari! It was terrible. Though everyone else I know who ate there was really happy with their food)…later in the night, Joanie Lindstrom, the unstoppable force behind it all, happily announced that they will be doing this quarterly!! And I think it's a wonderful idea. We'll definitely let ya know when the next Late Riser's Club Party is on!!!
The Late Risers Club night at the Alchemist

| | |
| --- | --- |
| The Wrecking Crew | Jamacia Plain guys with Joanie |
Next up was the Somerville Rock'n'Roll Yard Sale in Union Sq Somerville. Using up the rain date option on Sunday: There were a variety of vendors but mostly music and mostly vinyl!! But I also found a dealer there who had a pile of fanzines…..I saw a Dirt #2 there and figured I should shuffle through the lot to see if there were any BGNs. Yup, a #10 which I don't' have, as well as one with Jonathan Richmond on the cover and one with Peter Dayton…he also had a Roller Babe! which was a mag I put did a couple issues of with the late great, Boston photog;Lynn Ciulla. He said he knew nothing about them and found them in a big pile of trash in front of the apartment building next to the Plough & Star, "Some guy was getting thrown out of his apartment there." …hmmm, I wonder who that could have been!!
Somerville Yard Sale

| | |
| --- | --- |
| Tim of The new Frustrations | Jim and Jennifer Downes/artist vendors |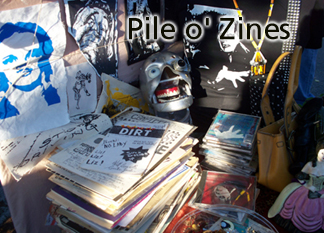 There was a lot of funky vintage clothes, handmade way cool stuff like girl's "tighty whities" with neat Pug faces on 'em by Jennifer Swanson, which you can see by clicking Jennomatic and a variety of fun items with 50's rock-a-billy imagery by Jenn's hubby Jim Downes, a freelance graphic designer…you can check out his stuff at Conformity Bites
Weirdo Records was there and I ran into Tim from the New Frustrations as he was buying himself a 13th Floor Elevators CD. When you've been bitten by that record fanatic bug you just can't stop!!!
(Speaking of which , Professor Blowfish recently made a visit to the brick and mortar site of Weirdo, see below for his more in-depth dissertation) ……
Comin up this week music-wise : The Brigands are at O'Brien's this Wednesday and for only $7, you gotta go!!
And this Friday at The Middle East down, you can find Three Bad Jacks, Sasquatch & The Sick-a-billies and The Murder….yeah!! see ya there!...

And then next week is Jason Bennet & The Resistance, The Have Nots and The Swaggerin' Growlers at TT's next Friday Sept 19th
but I gotta tell ya THIS also on Friday Sept 19th :
Rocky Velvet at The Plough & Stars on Friday Sept 19th
…check these guys out, they are really really great!!!
The world premiere of the documentary about The Remains, "America's Lost Band," is this Sunday at 4:00pm with The Remains doing a Q & A after the film and also will be performing 2-3 songs "unplugged". The festival web site is at www.bostonfilmfestival.org/ and it all happens at the Kendal. Lots of excitement from the local music fans on this. If you're a Boston music fan of any type you love the Remains.
And here's some really big news:
DMZ Reunion in October!!!!!
at Church with Red Invasion and The New Frustrations!!!! More news next week on this!!!!
And a kudos to Danny Lee who is now touring, as drummer, with the Thalia Zedick band in Europe
And now, from Professor Blowfish:
..I've talked up Weirdo Records before and I've ordered a few things through the web but I finally got to the store itself this last week. It was quite the experience. You have to make sure you have the right address and follow the signs, inside the front foyer, for the mailman, you'll get there. It's a room full of LP's and CD's that looks a lot like my room of LP's and CD's. I felt right at home and started to dig in.
I got the La Peste "Better Off Dead" CD for $7, some quality jazz for the same, a new Gary Usher comp, a comp called Girls With Guitars which include some Goldie and the Gingerbreads (Genya Ravan) among other CD's. I had to stop myself because everywhere you turn there's great stuff.
If you go first check the web site (Click here for WEIRDO ) to get a handle on the selection. Lots of it is very esoteric, good - but out there. When you go I guarantee you'll feel like a real Urban Record Hunter.
So we'll talk to ya again next week and write us with something you got to say , ok? Miss Lyn