The BGN News Archive
September 9, 2019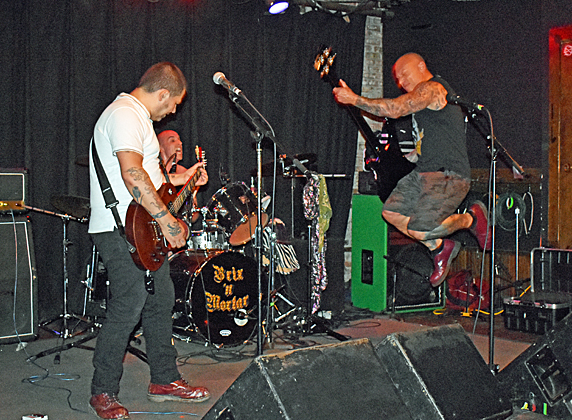 Brix'n Mortar
Photo: Blowfish
---
Brix'n Mortar was an exciting idea, putting together Joey Riot from Chanticlear and Troy from Razors in the Night ... and that was before we heard Devon on drums. On Monday (Labor Day) at Great Scott's we had the first chance to see them play since the new album came out. We got there early figuring there would be a crowd but it seemed like people where still doing the Labor Day thing somewhere else and there weren't many students around Harvard Ave either.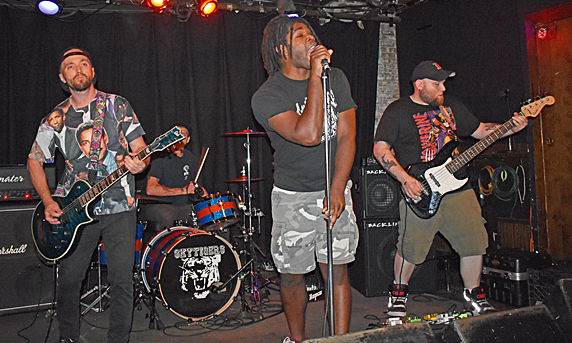 DNZL
Photo: Blowfish
Openers were our faves DNZL. Their concept: play songs with lyrics based on Denzel Washington movies only. But ... you don't have to know that to appreciate this group. At Great Scott's you could immediately get the punk/hardcore attack while singer Mel dug into the emotive lyrics. It was riveting when he got to those points in the song where a desperate character comes through. The lines like, "I did too much coke" or "Nobody's getting out alive" being repeated in Mel's screaming style just gets to you.
Being up on a raised stage pinned Mel down a bit. We're used to seeing him run around the floor. But the stage worked well for the band who sounded sharp as they worked their way through material that is no way simple. The new songs have even more details in them. The lyrics come from movies and in turn the songs sound like they could be in movie soundtracks. Some great videos could be made from these.
The bass player had a Denzel shirt that was pretty funny. (Photo) They've been working on their next album for some time, so that's something to look forward to. Meanwhile catch them next at Opus on Sept 19 and The Boston Local Music Fest on Boston City Hall Plaza on Sept 28. And here's their first release The Black Box Recordings
SkyTiger
Photo: Blowfish
The next set was by SkyTigers. Their sound is mostly metal and they list a lot of metal groups as their favorites on their Facebook page but they do have some thrash and hardcore in there. The hardcore part was what we liked the best. We did love their hard attack on all the material. Their album on Bandcamp is reflective of their live sound and they include a cover "Ace of Spades" . Here's their bandcamp page.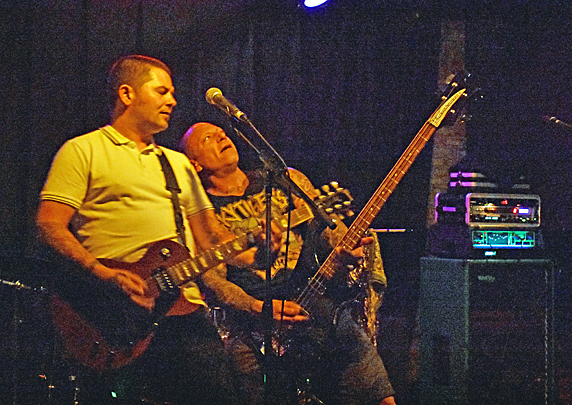 Brix'n Mortar
Photo: Blowfish
For their set Brix n'Mortar played their new album Poison Words. We've been derelict is listening to the new material but live those first few songs were particularly good. They had some good beefy bottom riffs and hit hard. All the material was straight up hard, actually, and we loved that. There were times when Troy, on bass, laid down an unruly roar on the bottom; it felt like the rest of the band was playing over an earthquake. There were other times where there were more easy to follow lines.
Joey and Troy have different styles of singing and that was part of what made the set interesting. The songs are written so each gets his moment and then when they sing together it's another level. Devon on drums is a monster. They really are an amazing trio.
The Vibrators were at O'Brien's on Thursday. They were supposed to play Boston a while ago and the show got moved and ended up in an East Boston VFW post at the last minute so only a few people got there.
Their first LP Pure Mania was a mainstay of early punk radio. They weren't completely punk in some ways but that only added to their appeal. Their single "Judy Said (Punch You in the Head)" did have a punk rush to it. That used to get played like crazy. The group has over 20 members through the years. At this point it's down to one original member. Someone said O'Brien's was sold out but it seemed to us that we have seen it more crowded.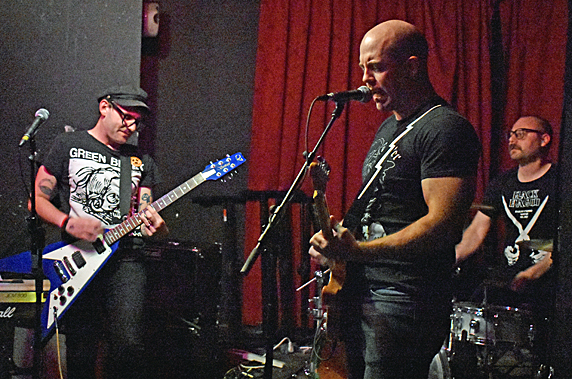 Sticker Shock
Photo: Blowfish
We got there for the second band of the night Sticker Shock. They were perfect for the show in the sense that they had the old punk spirit and sound. We saw them two years ago. They hav two guitars and drums, no bass. They're fast and loose and they were having fun up there ... and it was fun to listen to.
Here's "Dead to Rights" off their Bandcamp page. Take that in for a good dose of punk rock!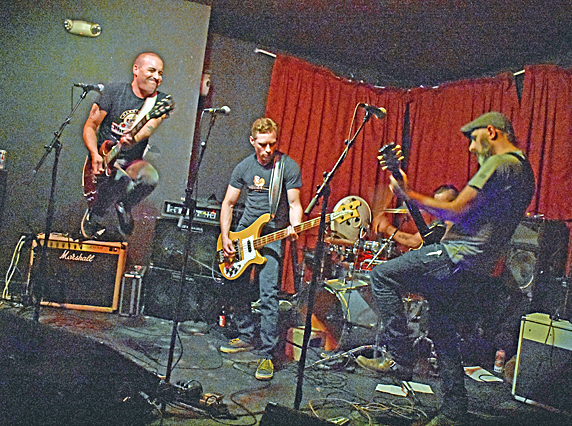 Duck & Cover
Photo: Blowfish
Everybody's favorite punk group Duck & Cover did the next set. It's one we have come to know and love. They lined up all those cool songs with the single line leads and the catchy parts were the melody is married to the chords underneath. A lot of those songs are on their last album Rob Them Blind. The set leads up to the final "Stand Corrected" which is a high water mark for Boston punk these last few years. Video of Duck & Cover.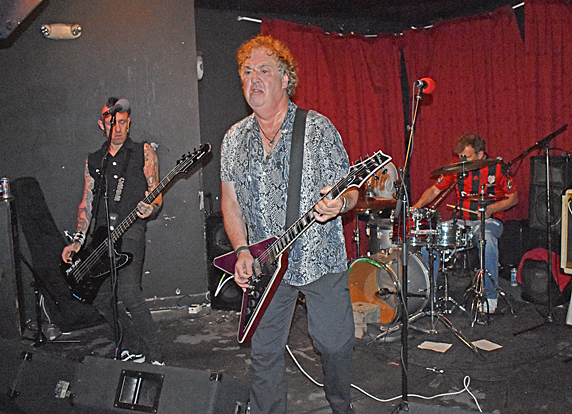 Vibrators
Photo: Blowfish
The Vibrators line up now is Eddie Edwards, the original bandmate, on drums joined by Pete from Finland on bass and Nigel Bennett on guitar. Nigel was familiar to us because he is the guitarist for the old English punk group, the Members. who saw five years ago at the Midway and there were only a dozen people for that show. That was a crime because they put in a great show.
The Vibrators set was very good. It wasn't great in the idea of getting a definitive Vibrators set. That's never going to happen now. What you did get was some authentic early English punk. Between Eddie and Nigel they can deliver the real deal because that's what they are.
This line up has been together a few years and has put out a few albums. Most of the material plaed this night was from those albums; some snappy punk material very much in line with the older stuff. We liked all the songs. There was not much regret in getting a full dose of Pure Mania.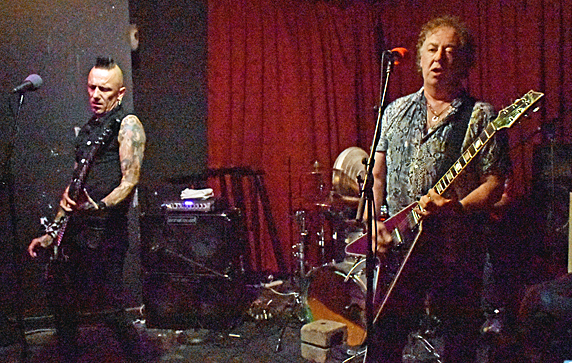 Vibrators
Photo: Blowfish
They covered "Sound of the Suburbs" in a nod to Nigel's connection and "Automatic Lover" from V2. One song that stood out was "Amphetamine Blue" which was done by the Fallen Angels when original Vibrator Knox was in it. When they did play "Baby, Baby, Baby" the whole club sang along with them in what was the best moment of the night. Video of that here. "Judy Said" didn't have the manic punk edge of the original and that's really what the attraction is on that, but it was alright.
Nigel on guitar had all the chops to deliver the older, and newer, songs. Eddie had a nice woody sound on his snare as he played a lot of 2/4 beats with tidy rolls and pick-ups that gave all the material a simple punk feel. You could feel that through the whole set.
It took over 40 years but now we can say we saw The Vibrators!!
The prospect of seeing Chris Brokaw drew us to the Hong Kong in Harvard Square on Saturday. The Hong Kong has been adding some extra shows lately. What we love about that place is that the shows are from 8 to 11 pm and they go on time. They list the set times on their Facebook page also.
On Saturday they opened the doors at 8pm and by 8:15 about 60 people were there and Chris Brokaw started his set.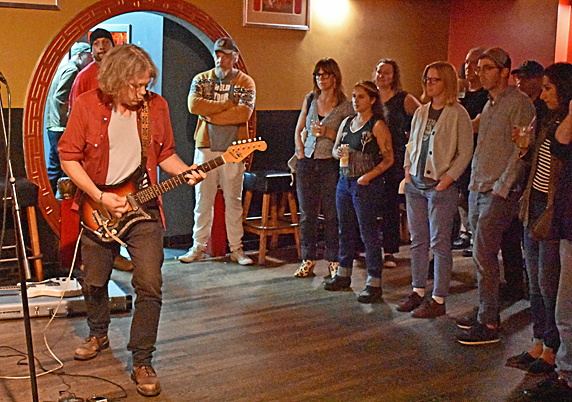 Chris Brokaw
Photo: Blowfish
Chris's resume is staggering. When he plays, he brings a lot to the table. The lion share of the time the music is instrumental. Chris and the band work closely together. You could see where a quick nod or glance would trigger a change.
Chris' guitar work was sublime all night. He plays long stretches of chords with leading tones and extensions that weave a moody melody. Because it's all based on rock he avoids any jazz affectations. His chord shapes are way off the beaten track. A short conversation afterwards confirmed that even he didn't know the actual chord names; they unfolded naturally during the composition of the pieces.
It almost seemed like the compositions were transcriptions of a larger group pieces where the guitar had to track a few melodic lines. In the end it's just Chris's unique style. In "I'm The Only One For You" the chords where conventional and the song pretty in a straight forward way, which shows Chris can do that if he wants too.
Most of the songs were mid-tempo and mid-volume but near the end he cranked things up a tad as a reminder that when he goes loud he has another whole set of chops. It was a showcase set by a masterful musician.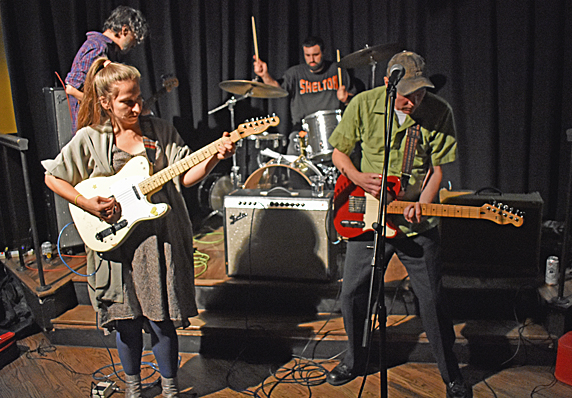 Mountain Movers
Photo: Blowfish
We were almost afraid to see another band after that set. Mountain Movers, a psych group from New Haven, had that job. At the beginning they played about three songs that all featured fuzz laden solos. The guitarist worked the pedals and especially the wah-wah to get a perfect 60s sound. They would have fit into a Fillmore bill seamlessly.
Then they upped the ante by playing a long instrumental piece that seemed like 12 or 15 minutes long. It rode on a one note pulsating bass, much like Pink Floyd's "Astronomy Domine". It had that heart beat effect. They did a lose psych jam on top of that. It was hypnotic and transporting. The only thing missing was the light show. The song on their Bandcamp page called "The Other Side of Today" that is similar but doesn't have the same bass work on the song we heard.
They should be booked for the next Fuzzstival. WMBR DJ's Sue Safton (Aural Fixation) and Mistress Laura (Bats in the Belfry) were there and they know their psych.
We left then but the show was actually a release party for Major Stars album on Drag City.
Click Here for more band photos.
---
And in other news.....

The Dogmatics are doing an In-store release performance & signing of their new CD She's the One at Newbury Comics Norwood MA on Saturday October 5th: 3:00 PM And if you order from RumBar records now you will be entered to win a one of a kind 'She's the one' limited edition 7inch Vinyl test pressing. One customer will be pulled at random with all pre-orders placed! FB page for Oct 5. You can also catch the Dogmatics at these events: Saturday September 21st @ Hygenic Art Park, New London CT w/Dogbite & Heap FB Event Page... and ... Saturday October 26th @ The New World Tavern, Plymouth MA w/Stop Calling Me Frank, New Frustrations & The Gronmets FB Event Page
---
Here's some good shows coming up this week.....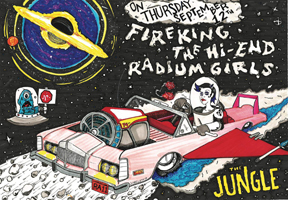 September 9 (Monday) The Subhumans w/ FEA and Savageheads at Once Ballroom
September 12 (Thursday) Fireking, Hi-End, Radium Girls at The Jungle
September 13 (Friday) Screw Cart, Doug MacDonald Band, State of the Union at The Jungle
September 14 (Saturday) A Bunch of Jerks, Near North (VT) and Special Surprise Guests!!! at The Square Root
September 14 (Saturday) The Cotones, Kid Gulliver, Why Try?, Mosaic Mirrors at The Jungle
September 14 (Saturday) Punks for Pets!! with Stubborn Hearts, The Essays, Mike Donovan, Sex Coffee, Artist Jackie featuring BeatCo.ViaMental, Panzerchocolate, The Hangovers at The News Cafe in Providence RI FB page
And further out there is.....
September 15 (Sunday) The End of Summer Mess-Around - with guests Simone Berk of Kid Gulliver and Sugar Snow, and Lynda Manolyn from Tiger Bomb. 4-6PM ast The Plough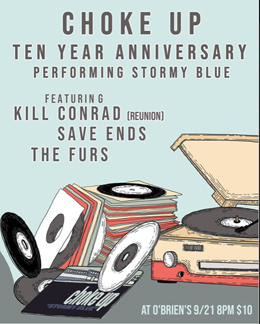 September 16 (Monday) Ralph's Diner and Wormtown Ska Presents: The Toasters, Threat Level Burgundy, Sweet Babylon at Ralph's Diner in Worcester.Tickets.
September 19 (Thursday) Baabes, Fur Purse, North By North (Chicago), Sadie Vada at O'Brien's
September 19 (Thursday) Some Kind Of Nightmare with Skytigers, The Natty D's, DNZL at Opus in Salem
September 20 (Friday) Priors, Black Beach, Far Corners, Andy California at the Midway
September 20 (Friday) 138, Popgun, The Vic Morrows, Richie Parsons at Koto Salem
September 21 (Saturday) PRIORS, Black Beach, Far Corners, and Andy California 8PM show at The Midway
September 21 (Saturday) Lyres and Glider at Once (TIX)
September 26 (Thursday) Ritualists (NYC), GLiDER, Sara & the Scaliwags, Lily Black at O'Brien's
September 26 (Thursday) The Runouts, Thee Fightin Fish, Muck and the Mires, Seawolf at The Jungle
September 26 (Thursday) Mick Lawless & Reckless Hearts,Tsunami of Sound, Gene Dante & Future Starlets at The Square Root.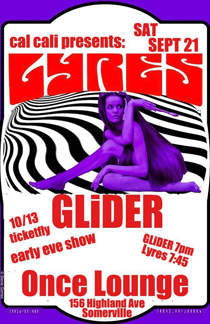 September 28 (Saturday) Swelltune Records presents: Shake a Leg! with The Rock-A-Sonics, Josh Sorheim, Shaun Young & Sean Mencher, Jittery Jack & Amy Griffin, The BopThrills, The Soapbox Saints, plus The Swelltune Jamboree and DJ Easy Ed! It's an all day affair at The Porch Southern Fare & Juke Joint In Medford, MA FB page
September 28 (Saturday) if you're in NYC this weekend check out GLiDER and Baabes at Otto's Shrunken Head. FB page.
September 28 & 29 (Sat & Sun) The Boston Local Music Fest 10AM-6PM both days at Government Center. Check website for updated listings. They say: "There will be a variety of musical genres represented, as well as artists and artisans, food trucks, a beer garden, and a community of people supporting, experiencing, and celebrating our local music culture." We'll see.
October 1 (Tuesday) Agnostic Front w/Prong at Brighton Music Hall
October 3 (Thursday) The Bind, The Legendary Cazbats, The Tsunami of Sound at The Jungle. 9-11:30 PM adv $6 door $10.
October 4 (Friday) Cold Expectations, M.O.T.O., Little Billy Lost at The Jungle
October 5 (Saturday) Mudhoney, Pissed Jeans at Brighton Music Hall 6PM doors.
October 5 (Saturday) Elvis Room 20: The Queers are at AS Art Space in Portland, NH. FB page for info
October 6 (Sunday) The Sinister Six, Martin / Morell / Fredette and TRiPLE THiCK - 3-7PM show at The Midway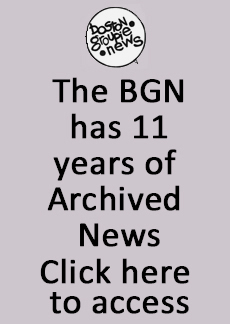 October 7 (Monday) Hambone Skinny, Indonesian Junk, Baabes at Charlie's Kitchen
October 10 (Thursday) Kid Gulliver, State of the Union and The Chelsea Curve at The Jungle
October 10 (Thursday) Dick Pics, Guilloteenagers, Big Mermaid, Thee Fightin' Fish at Club Bohemia
October 11 (Friday) Sister Suzie (from the UK) Jittery Jack & Amy Griffin at O'Brien's
October 12 (Saturday) Lyres, Tiger Bomb, Glider at Sun Tiki Studios 375 Forest Avenue, Portland, Maine 04101 FB page
October 13 (Sunday) The Cranktones, with Sax Gordon and DJ Todd Purple at the Midway matinee 3-7Pm
October 13 (Sunday) The Legendary Cazbats Psychedelic 60's Dance Party at the Jungle 6-8:30 PM
October 18 (Friday) Marianne Toilet & The Runs, Corner Soul, Smitty E Smitty and the Feztones, The Melatonins are at Koto Salem.
October 19 (Saturday) A Crash Course for the Ravers has Richard Mirsky - 1-4PM WMFO 91.5 FM
October 19 (Saturday) Avenir (French punk rock) at the News Cafe in Provi RI - check out their bandcamp page ..and here's the FB page for the show & tix etc!!!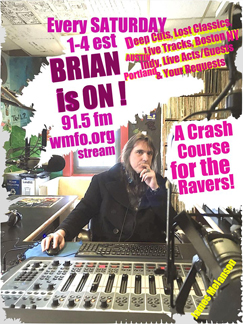 October 19 (Saturday) Cactus Attack, Black Leather Lagoon, Tarantula Bros, Nick the Barbarian at Opus in salem

October 20 (Sunday) Stiff Little Fingers, The Avengers at Brighton Music Hall doors 7PM

October 20 (Sunday) The Vivian Girls are at Once

October 23 (Wednesday) Flipper with David Yow (Jesus Lizard) "40th Anniversary Show" at The MIddle East Down

October 23 (Wednesday) 999, The Clap, Vixen 77 at The Fire Philly PA FB Page

October 25 (Friday) Flamin' Groovies, Richard Lloyd Group, Tiger Bomb at ONCE

October 25 (Friday) 999, The Clap, the Parasitix, The Transmission Now at the Catasauqua American Legion 215 PA FB page

October 26 (Saturday) The Fleshtones, GLiDER, Muck & the Mires, Baabes at Once Ballroom

October 26 (Saturday) Pale Lips (MTL) with The Gala, Loretta, & Kathy Snax at O'Brien's

October 26 (Saturday) Stop Calling Me Frank, Dogmatics, New Frustrations, The Grommets at the New World TAvern Plymouth MA - FB page for info

October 26 (Saturday) 999, The Clap, The Bobby Lees, Blank Spots at Coney Island Baby in NYC FB page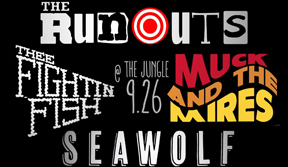 October 29 (Tuesday) 999 & The Clap at Randy Now's Man Cave 134 Farnsworth Ave, Bordentown, New Jersey 08505 FB page
November 1 (Friday) Change Today (Joe Wood era TSOL), Covered In Bees & Tiger Bomb at Gino's in Portland ME FB Page
November 2 (Saturday) Gene Dante & The Future Starlets, Cold Expectations (record release) and The Chelsea Curve! at Sally O'Brien's
November 8 (Friday) Muck & The Mires, The Gotham Rockets, Tiger Bomb, Gene Dante at Alchemy in Providence RI FB page.
November 9 (Saturday) The Von Traps, Salem Wolves, blindspot, Jakals at Opus in Salem
November 9 (Saturday) Change Today: Joe Wood era TSOL at Ralph's Rock Diner Worcester.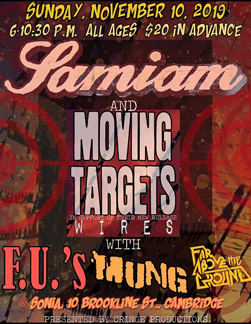 November 16 (Saturday) Brian Young's a Crash Course for the Ravers is featuring Greg Allen's Fringe Religion. 1-4PM WMFO 91.5 FM at http://www.wmfo.org/popout_player.php?bitrate=256
November 16 (Saturday) International Pop Overthrow at Union Tavern...check FB page for info as it comes.
November 21 (Thursday) Robert Gordon with special guest Chris Spedding and Diablogato at Once
December 21 (Saturday) MOTO, The Thigh Scrapers, The Thirsty Pirates (NYC) , The Montgomerys at The Midway for a Matinee Show 3-7:30PM
January 10 (Friday) The Mercy Case, Bystander, blindspot, Foxes at Koto Salem
January 18 (Saturay) Barrence Whitfield & The Savages, Muck and the Mires at The Middle East FB page and tickets
March 28 (Saturday)The Zulus at The Paradise
CONTACT US AT....misslynbgn@yahoo.com Send us your gig listings, your news and anything else ya got!! You want your CD reviewed?? Contact us for that too.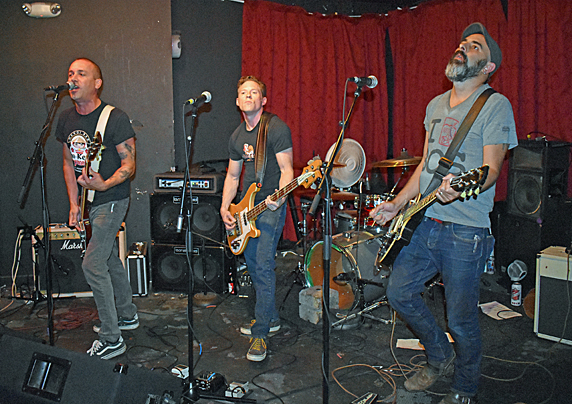 Duck & Cover
Photo: Blowfish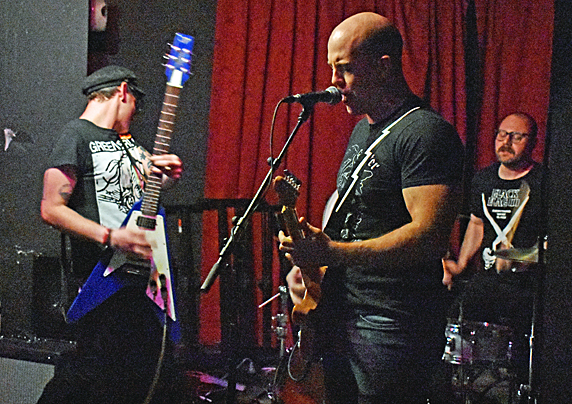 Sticker Shock
Photo: Blowfish

Brix 'n Mortar
Photo: Blowfish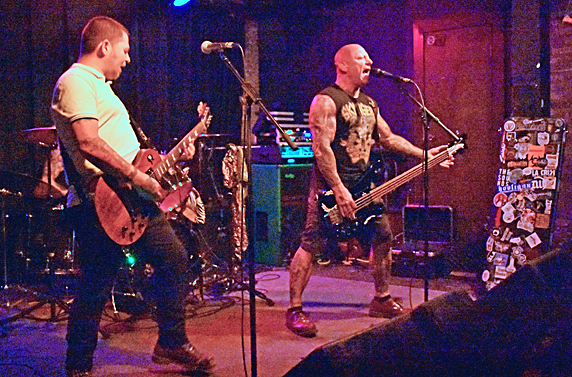 Brix'n Mortar
Photo: Blowfish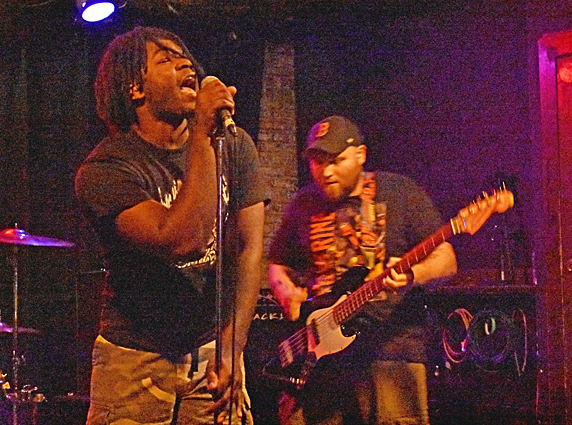 DNZL
Photo: Blowfish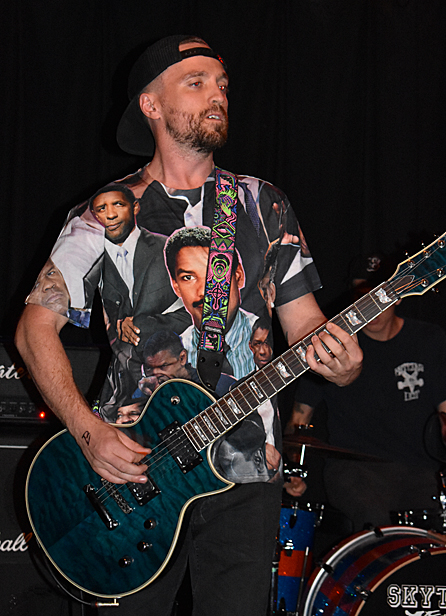 DNZL
Photo: Blowfish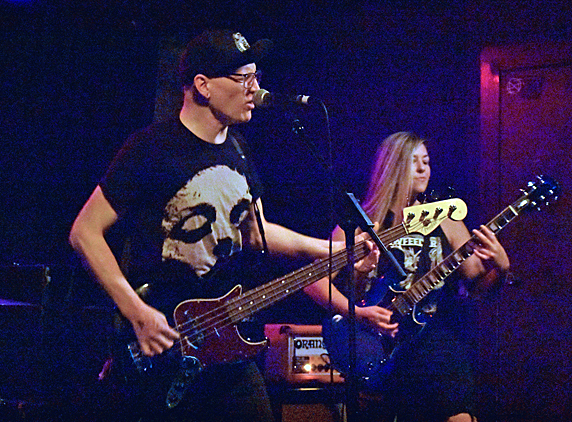 Sky Tigers
Photo: Blowfish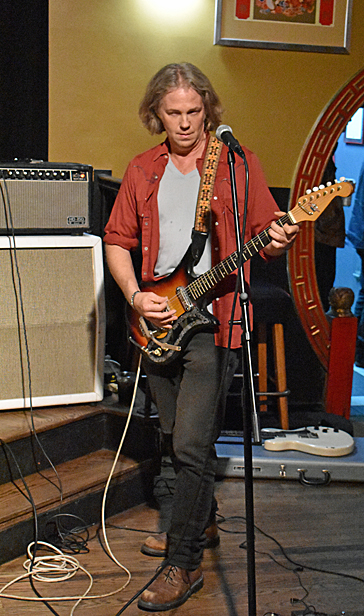 Chris Brokaw
Photo: Blowfish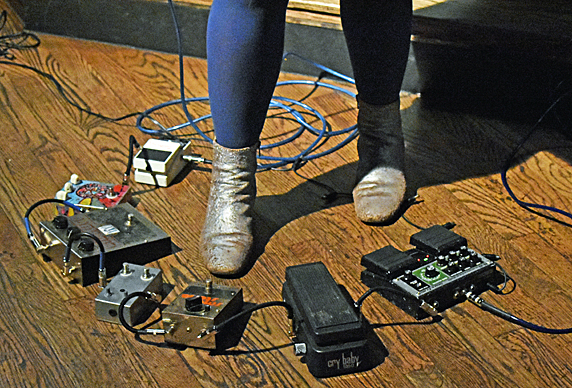 Mountain Movers
Photo: Blowfish