The BGN News Archive
September 10, 2012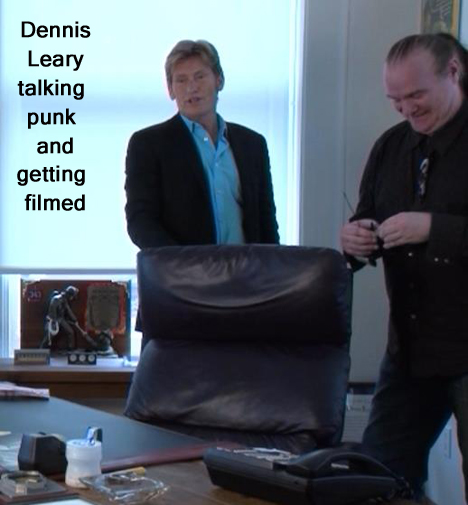 So, the Boys From Nowhere documentary is comin' along….-Here's the latest from the BFN guys:
"On Wednesday the BFN crew trucked on down to NYC for a funny, entertaining interview with actor/author/comedian Denis Leary about his memories of the Boston punk scene of the '70s. Denis talked about the Real Kids, DMZ, Lyres, Willie Loco, the Neighborhoods, the Nervous Eaters and more-including stealing the Clash's beer at the Orpheum, with Eaters' guitarist Jonathan Paley. Huge thanks to Denis, Sawyer Williams at Apostle Films, Jonathan Paley for helping to set it up, and Roger Brodeur for getting us there."..... but hey you guys on the crew: wrap it up already everyone wants to see this doc!!!
Also we want to say CONGRATULATIONS are in order for The Midnight Creeps' Jennifer LaHurricane and The Sleazies' Jami Sleaze as wedding bells chimed for this couple just recently!!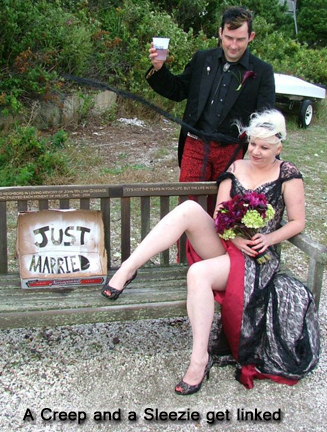 Here's stuff that's coming up and worthy:
Friday, September 14 is a busy night!!
The Woggles do their thing -and it should be wild- in the small space of The Plough and Stars. Muck and The Mires are also there that night!
And at Radio on the 14th there's a good line up with The 360's, Pop Gun, A Terrible Beauty, Cooling Towers
At The Rosebud there's Cal Cali's New Experience for covers from your life along with Danny O'Halloran's band The Black Cheer and Liz Borden Band and Axemunkee
And wow here's one awesome show this Saturday Sept 15 at Great Scott's in Allston:
Deke Dickerson & His Ecco-Fonics, The Raging Teens, Roy Sludge with special guests a reunion of The Alrighters!! Also DJ Easy Ed spins the platters all night long! AND a new last minute addition to this show: Rob "DEWITT DOES CASH" DeWitt has graciously agreed to appear onstage at this event. We hear he will duet with the late great Johnny Cash via Hologram!!!
And I don't know what's going on but there must have been a shake up at The Cantab's Club Bohemia….there are some very interesting shows booked there for the near future including Friday 9/14 with Triple Thick, The Thick Shakes , Jack of Hearts and The Monsieurs.
Then there's two excellent nights coming up at Radio later in September: Friday, Sept 21st is the WMBR 35th Anniversary Party There will be a backing band with various singers from around town covering bands like the Diodes, Stiff Little Fingers, The Boys, etc. plus Cocked n' Loaded doing heavier stuff like Motorhead and Turbo Negro. Downstairs in Moe's Lounge, Artie Friedman will screen old local videos and perhaps a screening of the LRC documentary. Cover charge is only $5! On the air that week they will be playing one decade of punk each half hour. You can even buy tickets in advance, which might actually be needed. When was the last time you paid $5 for a show? 1977 when this radio program started probably. Feel free to post the flyer and spread the word.
then on Saturday the 22nd there's a killer show celebrating Joan Jett's Birthday with The Dirty Truckers, Tijuana Sweetheart, Gene Dante, The Other Girls and Cradle to the Grave, The Acro-Brats….doing all Joan Jett all night long - excellent!!
But again, Club Bohemia has The Titanics , The Banditas , The Big Digits and The White Pages
Wednesday Sept 26 - Afghan Wigs at HOB…I love those guys!!
And Thursday Sept 27, at The Lizard Lounge, Tony Savarino -guitarman extraordinaire- is having a Record Release Party for his new disc: Guitaresque…..this CD was produced by Barry Marshall! Sounds like a pretty amazing combo to me! Tony will also have a stellar belly dancer in the house that night as well!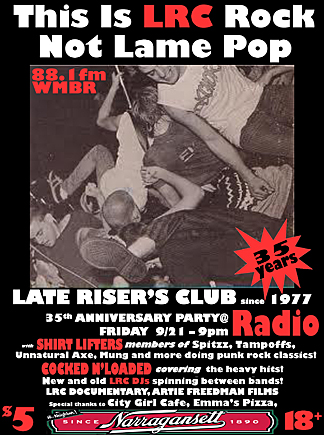 Now here's a puzzler…for all you Bauhaus/Love & Rockets fans Dark Sky Productions presents David J (yeah, as in Bauhaus & Love & Rockets), Adrian H & the Wounds , Do Not Forsake Me Oh My Darling - this is so odd! Why is David J at The Cantab??? I don't know but it's a show you can't miss!
And into that weekend there's a two night Crash Safely Benefit at The Davis Square Theater (not the Somerville Theater but down the street from it!) Friday 9/28 has The Unholy 3, The Dirty Truckers, The Gentlemen, Jenny Dee and the Deelinquents and The Phil Aiken Army.
Saturday 9/29 has The Upper Crust, Sidewalk Driver, TRiPLE THiCK, Thick Shake sand Cotton Candy- that sounds like a totally fun night!! And a worthy cause my friends- help fight MS!! And you can buy your tix here!
Thee Cuban Heels are at Toad on the 29th too...it's just a short walk from Davis to Porter to check them out too! and its FREE!
And it looks like Nicole Tamaro is having another book release party… this one's at Radio on Friday October 5th with Razors in the Night, Full Body Anchor and Jason Bennett & The Resistance - only $5 folks!!...
Also at Radio the next weekend there's a lot happening to think about… Thursday and Friday Oct 11 & 12 there are benefits for Barbara Walsh …I don't know her personally but she had a stroke while at the LA Airport and is now headed toward the long haul of rehab...we wish you well Barbara and a speedy recovery!! - this could happen to ANY of us…go and show some support for a fellow rocker:
Thursday Radio UP has the benefit for Barbara with Rule, Jenny Dee & The Delinquents, The Decals, AM Stereo, The Modifiers - Radio Down has: The Charms, Dave Mirabella, Eric Salt & The Electric City.
Friday the 12th is Barbara Walsh benefit at Radio Down with The Dirty Truckers and others - Radio UP has The Dents, Devil On Horseback CD Release, Watts, Gymnasium, Spin Off
And if you can't make it and would like to donate a little dough to the cause go here: Benefit for Babs Donate
And you might as well come back the next night too cause Saturday Oct 13th is Radio's 1 Year Anniversary!!! More info later!
EMAIL US AT…….misslynbgn@yahoo.com