The BGN News Archive
September 11, 2017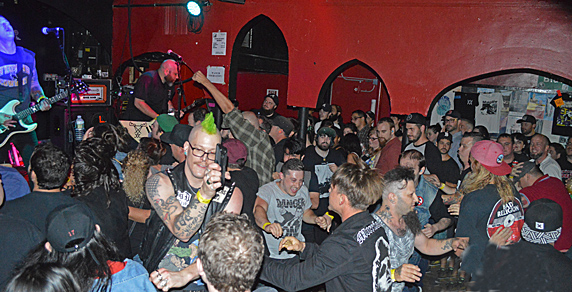 Teenage Bottlerocket
Photo: Blowfish
Teenage Bottlerocket have been playing the pop punk since 2000. They seem to hit Boston almost yearly. Thursday their devotees sold out the Middle East Up.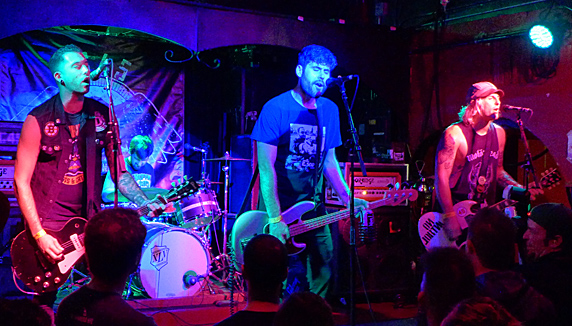 OC45
Photo: Blowfish
OC45 opened. They had a tour disaster when their van broke in Madison, WI and the repair was too costly for them. That was not one of the 'Happy Accidents" as they named their last CD. They did raise $8,700 on the GoFundMe campaign. They missed half the tour and this Boston show was their first since that mishap. We were glad there was a full club to greet them home again.
They put on their usual fast punk show. They seem to be most comfortable singing "fuck the world." ...they have the attitude. But the great thing we discovered on their last CD is that they actually have depth to their lyrics. Shush! Don't tell anyone. We think they want to keep it on the down low. But their song This Bottle's Got Your Name On It had emotion in it. To be in your face punk and have feeling in the song too, that's the golden ring.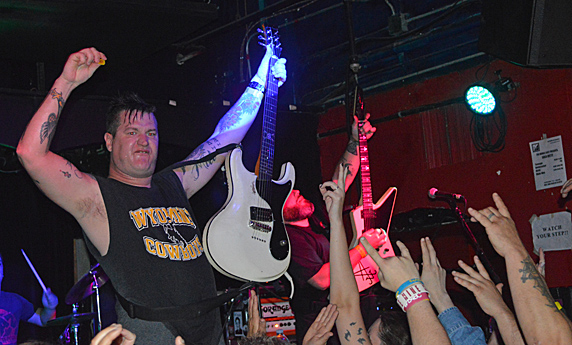 Teenage Bottlerocket
Photo: Blowfish
Fans think that the Bottlerocket are a sure thing, and they are. Long ago they mastered the pop punk song and stage show. It's based on their progenitors: Ramones and Green Day.
The band was on stage setting up and then left. The lights went down and some fanfare music came on and they hit the stage. But they looked just like they did before they left. It was a letdown, but that was the only letdown as they proceeded to play an hour of unrelenting melodic punk. The audience went suitably bonkers. That was some of the most active moshing we've seen in a while. Those people were having fun. You can see some of the action in the photos and the videos above. The band encouraged the moshing and at one point even played a song and asked for people to pogo. It all made you feel like you were living in a Ramones-like world and that's a nice feeling.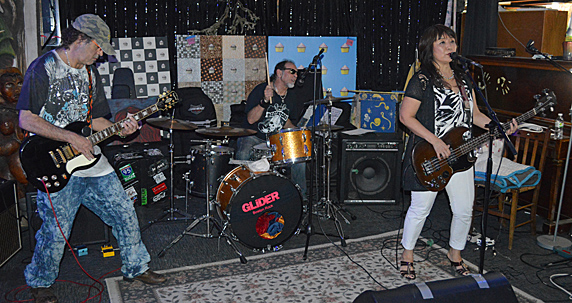 Glider
Photo: Blowfish
Things were quieter at Out of the Blue on Saturday. Not many people there where the Nervous Eaters were headlining.
We heard Glider's set. They do some interesting covers. A Velvet Underground was one and they ended with a solid cover of Joey Ramones' Maria Bartiromo (video below). They have some memorable originals like Anorexia and Child Abuse. It's time to get those in some recorded form. They still play a cool song which they did as Jet Set back in the 80s.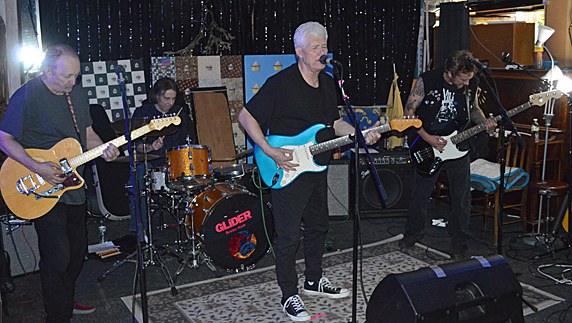 Nervous Eaters
Photo: Blowfish
The Nervous Eaters who are into their 40th year of punking, as we are, are in a fruitful period. They have an expanded version of "Hot Steel and Acid" on Ace of Hearts coming out and they're recording some new songs for their next album. Musically they are more solid than ever with the addition of Nick Hebditch on bass. With Nick helping, the background vocals have become a 'thing' and it adds to the live set.
They did a parcel of their old faves. And those songs are some of the most iconic in Boston rock. The kicker is that their 'later' material from around 2000 is now right up there too. They started with Call Kevin (video above) from that period and also played Today and Tomorrow and No More Idols. And to show they still can do it, they add Chad, a new song that has lyrics that jump out and lots of juicy musical moments that make that an instant favorite also.
With the small audience being vocal and some prompting by Cal Cali, the group tied it all up with Loretta. Even though there wasn't a lot of people this was a opportunity to enjoy the Eaters close up.

Saturday we took in some of 8th Annual Starlabfest. We were there last year for the 7th versiom. This year they were a bit more high profile and the musical acts were more of interest for us. They had Paul Collins and the Lyres as main attractions. One of our faves Black Beach got in there too.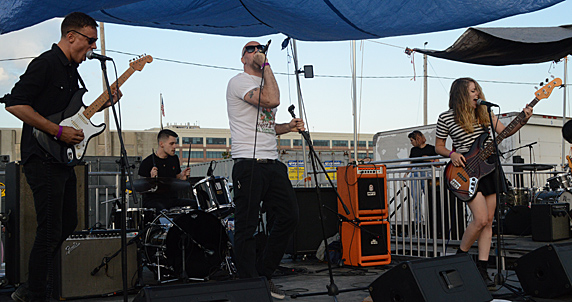 Jojo & and the Angry Girls
Photo: Blowfish
We saw a new group to us which we thought were very interesting: Jojo & the Angry Girls. They were garage psych with a fuzzed out guitar being the main sound. We really liked the lead singer, J. Ring. He had a great stage presence but the whole band was interesting. The singer went into fast talking sections that fell short of rap; it was closer to spoken word maybe? (thank god!) although they have 'rap' in their self-description on Bandcamp. They only have one song on their Bandcamp page but it is representative. Give it a listen ....We got hooked!! We'll be looking for future gigs.
After that there was a long section of comedians. We ate the tiny pulled pork sandwiches that were being passed off as "free bbq meal" and they weren't bad at all. We made a pass at the various booths of vintage clothing, local artisan made jewelry, buttons etc.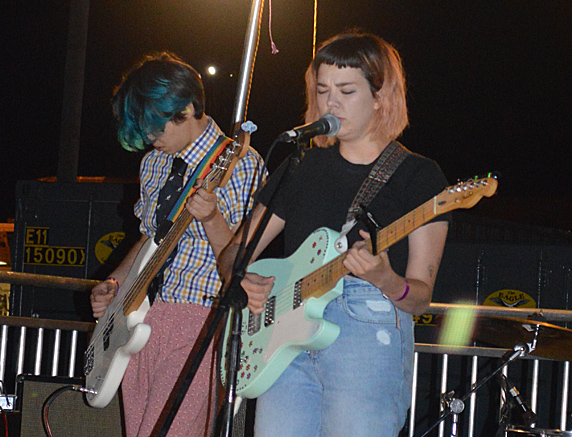 Baby!
Photo: Blowfish
Music wise - Next up was Baby! who were indie pop. They had a line up of fans in front bopping to the tunes.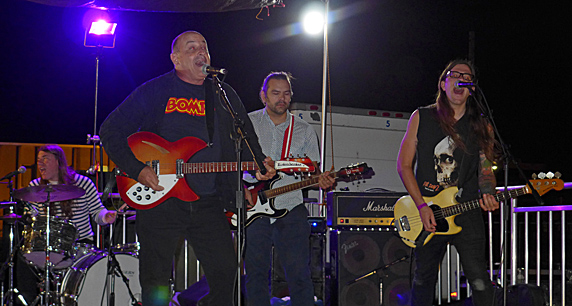 Paul Collins
Photo: Blowfish
At this point we had been there a few hours and were getting antsy for Paul Collins. The sets were running about an hour late. By the time Paul got on stage it was dark. They didn't have many lights shining on stage. Paul's set was plagued by equipment problems and bad sound but somehow he came through it with his positive attitude. It seemed like he was going to play no matter what and that spirit made it work.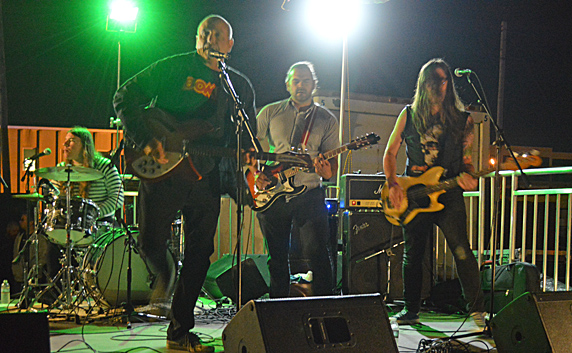 Paul Collins
Photo: Blowfish
Those that know Paul's music, love him. He's stamped his own brand on power pop. There were many times in the set where it all came out and that was very satisfying. Backing him for this show were members of the Dazies. They learned all the songs they could and they told Paul which ones they knew. He ended with two Nerves songs the last being Hanging on the Telephone. At that point it was dark and cold, we were tired and Lyres were still two sets away. So, we hit the road.
Starlabfest is one of the few outside things we hit. It has a lot going on besides the music and parking was easy, something to think about for next year.
---
And in other news ....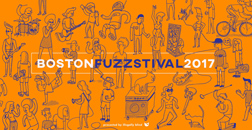 The 5th Annual Boston Fuzzstival is taking place from September 28-30. Fuzzstival is a celebration of local and regional music. Check out the gig listings below for particulars and links. 3-Day pass to all events is only $30.
Unnatural Axe is playing the Gonerfest in Memphis on Sept 28- Oct 1...loads of bands on that bill! Check it out here...Gizmos headlined a couple years ago.
Punk Rock Trivia (Monday this week!!) is always fun but here's another great idea!! Name That Punk Tune!! Hilken Mancini is playing DJ for a night of fun, prizes, bitchin' sounds, drinks, and opportunity to show off your punk rock knowledge--or merely revel in that of others. It's at Once later this month on the 28th. See gig listings below for links for tix etc. This is a night to benefit Girls Rock Campaign Boston.
Patti Smith has a new book out Devotion (Why I Write) - it's sure to be another great read and her discussion of the book this Sept 28th should be as entertaining as her talk last year for M Train. See gig listings below.
Chris Spedding of Pogo Dancing fame, and so many other things, has a 50 track, 4 CD Box Set that just came out: The RAK Years. It covers his time with RAK Records between 1975-1980
Joanie Lindstrom takes off to Toronto and stops off at Buffalo and the Finger Lakes. Lots of tips for those that may duplicate that trip. Joanie's Ontario and Upstate NY vacation
---
Here's some good shows coming up .....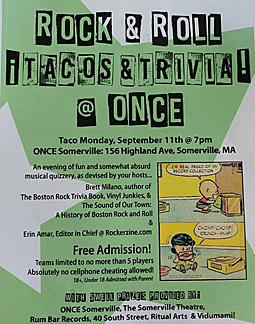 September 11 (Monday) Roky Erickson at the Brighton Music Hall. WOW!! Get yer tix here.
September 11 (Monday) Rocker Zine's Rock'n'Roll Trivia at Once (Taco Monday too! YUM) FB page here for more info
September 15 (Friday) Cold Expectations, Justine and the Unclean, Ten Dollar Mistake at The Tavern at the End of the World - FB page
September 15 (Friday) Boston vs Tokyo Rock n Roll Showdown with Muck And The Mires, The Fadeaways (from Japan), Mellvins (from Japan), Jittery Jack at O'Brien's Pub
September 16 (Saturday) Big Giant, Greg Allen's Fringe Religion, The Melatonins at The Midway - 4PM matinee show
September 16 (Saturday) Chameleons VOX At the Middle East Also on the bill: Soft Kill , Way Out and The Milling Gowns FB Page
September 17 (Sunday) Black Market hosted by Boston Hassle & Ignore Rock'n'Roll Heroes at the Elks Lodge Bishop Allen Dr Central Sq Cambridge - one-day flea market featuring handmade artwork, prints, patches, records, tees, pins, ceramics, jewelry, zines, body care, tea, macrame; vintage clothing, accessories, books, as well as tarot readings, haircuts, live drawings, and more! 11Am- 5PM FB page
And further out we have...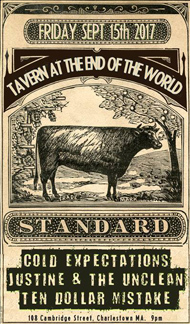 September 18 (Monday) CANCELLED - The Dictators NYC - CANCELLED was at The Middle East
September 18 (Monday) Duck & Cover and the Quiggs are at Once with a fake version of The Dead Boys...no Stiv no Jimmy Zero -how can you call that the Dead Boys?? sad.
September 18 (Monday) The Martians, The Runouts, Gant and Port City Saints are at Koto
September 20 (Wednesday) X doing their 40th Anniversary Tour- at the Brighton Music Hall
September 20 (Wednesday) Kris Rodgers and Soraia are At O'Briens
September 20 (Wednesday) a super-special Rockabilly edition of Primitive Sounds with host DJ Easy Ed will be spinning with three top DJs from out of town: James (Los Angeles), El Dedo (Phoenix) and Skeets (Montreal)....All 45s... All Killer, no Filler!- its at Brass Union in Union Square Somerville. Starts at 8PM
September 21 (Thursday) Mailman Carl, Dead Trains, Hambone Skinny, Natty D's, The Appleyards at Club Bohemia
September 22 (Friday) The Go Set, Beantown Boozehounds, The Pint Killers, The Disquiets at O'Brien's
September 22 (Friday) The Ataris and The Queers at The Middle East - this is an early show- 6PM -10Pm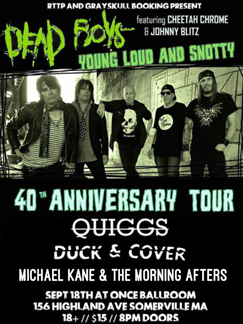 September 22 (Friday) The Hi-End, Corin Ashley, Modern Day Idols, The Curtis Mayflower at the Midway
September 22 (Friday) The Bushwick Hotel, Petty Morals, The Fellowship of Feeding Wolves are at The Middle East Up
September 23 (Saturday) Mother! A benefit for Harvey Relief with A Bunch of Jerks, Lost Cosmonauts, Nice Boots, Standup comedy from Jessie Baade and more!! at The Midway. This is a 4PM show Here's the FB page.
September 22, 23 & 24 (Friday-Sunday) The 5th Annual Rat Beach Party is at The C Note in Hull. FB page here. Lotta bands!! The Black Souls, Hummingbird Syndicate, Greg Allen & The Fringe Religion, Highway Chapel etc.
September 24 (Sunday) The Grommets, Uncle Spudd, Kermit's Finger, The New Frustrations, Sewer Buddies at The Midway - 4PM Matinee show
September 25 (Monday) Loser's Circle, Mongorellis, the Scutches, and Blame It On Whitman @ PA's FB page
September 28 (Thursday) Name That Punk Tune!! Hilken Mancini is playing DJ and Queen of Punk Gilmore "GtotheT" Tammy, Your Game Show Hostess with Most Mostest for a night of fun, prizes, bitchin' sounds, drinks etc...starts at 7:30 at Once Tix etc here.
September 28 (Thursday) Patti Smith discusses her newest book Devotion (Why I Write) Info and tix here
September 28 (Thursday) Boston Fuzzstival Day 1 is at The Elks Lodge in Central Sq , Bishop Allen Drive. PLaying: Dent, Birthing Hips, Kal Marks, halfsour, Gravel, La Neve, Rick Rude - Ensemble, Blau Blau, Dazey and the Scouts Starts at 6PM (FB page)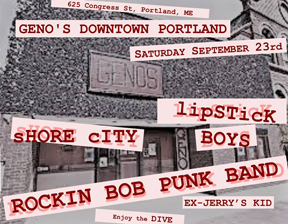 September 28 (Thursday) Stiff Little Fingers are doing their 40th Anniversary tour they have Death by Unga Bunga opening for them - at the Brighton Music Hall
September 29 (Friday) Brian Young's ACCFTR A Crash Course for the Ravers featuring A Tribute to Thunders with Simon Ritt! 1-4PM WMFO 95.1
September 29 (Friday) Boston Fuzzstival Day 2 is at Once - playing: Ava Luna, Ovlov, Horse, Jumper of Love, Bat House, A Band Called E, Lisa/Liza, Laika's Orbit, WEay Out, earthquake party!, Mint Green - starts at 6PM (FB page)
September 29 (Friday) Il Mostro, Silver Screams, BDSX and The Von Traps at O'Brien's
September 29 (Friday) Jay Allen and The Archcriminals, The Black Souls, Roy Sludge at The Midway (9PM show)
September 30 (Saturday) Boston Fuzzstival Day 3 is at Somerville ARTFarm(just outside Union Sq.) Playing: Dirty Dishes, MV & EE, Loone, The Kominas, Sammus, Mini Dresses, Gymshorts, Honduras, Steep Leans, Olden Yolk, Peach Ring, Boston Cream Starts at 1PM (FB page)
October 2 (Monday) Cryostasium, Rawstrum, Petridisch, Hannah Judson at PA's Lounge
October 7 (Saturday) A Boston Punk Rock Benefit for Rosie's Place featuring The Welch Boys, Jason Bennett & The Resistance, Pint Killers, and Guns of Brighton 9PM show at The Midway FB page
October 8 (Sunday) Petty Morals are having a Ballroom Blitz at Once Ballroom with a Flea Market and Art Show -also on the bill Muck & The Mires, The Dazies and Lady Pill (set times and more are on the FB page) It's 2PM- 8PM
October 8 (Sunday) The Crank-Tones are at Atwoods. This is a 4PM show. Atwoods is a great place for dinner too!!
October 13 (Friday) Silver Screams, Idle Pilot, Black Cheers and Psychic Dog at Koto/Salem
October 14 (Saturday) Rumbar Records presents- The Dirty Truckers celebrate Jamie's Dirty 50th BDay! Also on the bill- Watts, Kris Rodgers and the Dirty Gems and AM Stereo at The Midway (9pm)
October 14 (Saturday) The Worried, Greg Allen's Fringe Religion, Classic Ruins are at The Parlor, Providence, RI
October 15 (Sunday) Refuse Resist 10th Anniversary Show! with special guests Disaster Strikes, All Torn Up, Neighborhood Shit, and Cry Havoc This is a 3PM start matinee show at The Midway.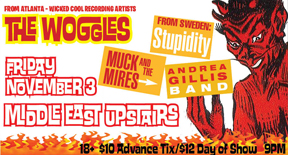 October 18 (Wednesday) The Nekromantix and The Brains at The MIddle East Down 7PM- Midnight show Tix etc here
November 3 (Friday) Indonesian Junk, Justine and the Unclean & Gymnasium at Tavern at the End of the World.
November 3 (Friday) The Woggles, Muck and the Mires, Stupidity, Andrea Gillis Band at The Middle East Up
November 4 (Saturday) Fireking, The Billy Connors Project, Hummingbird Syndicate, Tracy Chevrolet doing a 4PM Matinee show at The Midway
November 4 (Saturday) Loser's Circle w/ Rebuilder, Dead Bars, and Settlers at OBriens
November 4 (Saturday) Human Sexual Response at HOB
November 9 (Thursday) The Proletariat at ONCE Ballroom w/ Siege and Black Beach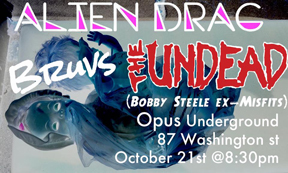 November 9 (Thursday) If you are in NYC or can get to NYC Celebrate Stranded in the Jungle: Jerry Nolan's Wild Ride the new book by Curt Weiss that covers 40 years of L.A.M.F. and is A Tale of Drugs, Fashion, the New York Dolls, and Punk Rock. Also there'll be music by with Greg Allen's Fringe Religion, and ...book reading, panels, Q&A, guests, book signing. It's at The Delancey in the Lower East Side 7-10PM FB Page for directions and more info He's at Out of the Blue/Cambridge ont he 12! see below.
November 10 (Friday) CH3 (Channel 3), The FUs, Silver Screams, Fast Times Punk at The Middle East Up - 8-Midnight show tix here Read about CH3 here. there's links for tix etc too
November 10 (Friday) The Proletariat are at Narrows Center for the Arts w/ Black Beach in Fall River, MA (FB page for info)
November 11 (Saturday) Hasslefest #9 this year has Pere Ubu and a ton of other bands at Once- get the info on the FB page here.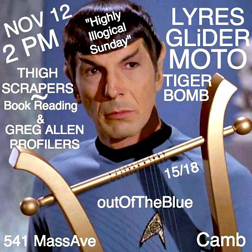 November 12 (Sunday) Curt Weiss covers 40 years of L.A.M.F. and is A Tale of Drugs, Fashion, the New York Dolls, and Punk Rock in his new book Stranded in the Jungle: Jerry Nolan's Wild Ride Also, rock and roll with the Thigh Scrapers, Tiger Bomb, Moto, Glider, and the Lyres starts at 2:15. Here's the FB page
December 2 (Saturday) DJ Easy Ed presents: The Cranktones plus Easy Ed's Record Hop! 4-8PM matinee at The Midway
December 8 (Friday) Rumbar records is throwing a HUGE record release party of the new Justine and the Unclean record Get Unclean....It's at Once and there will be bands in the ballroom and in the Lounge. Check out this list!: In the Ballroom- The Upper Crust, Hey Zeus, Tom Baker and the Snakes, Justine and the Unclean ....In the Lounge - Cold Expectations, Roy Sludge Trio, Pinecone Teeth and Jay Allen - doors at 7:30 show starts at 8:15.
CONTACT US AT....misslynbgn@yahoo.com -Send us your gig listings, your news and anything else ya got!! You want your CD reviewed?? Contact us for that too.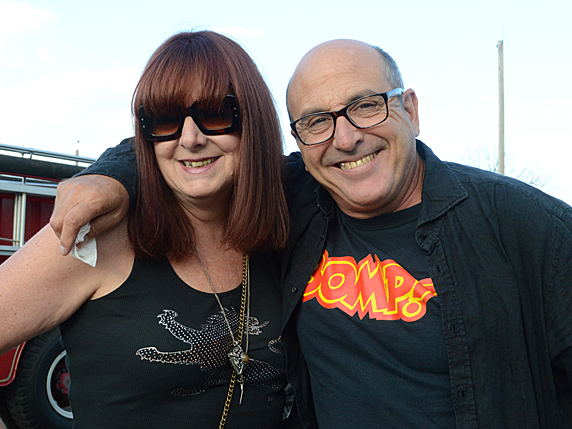 Kim Ackland and Paul Collins
at Starlabfest
Photo: Blowfish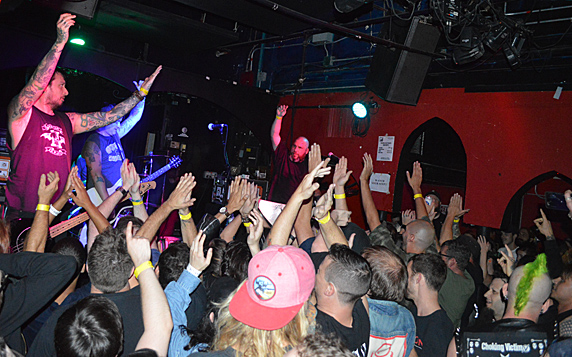 Teenage Bottlerockets
Photo: Blowfish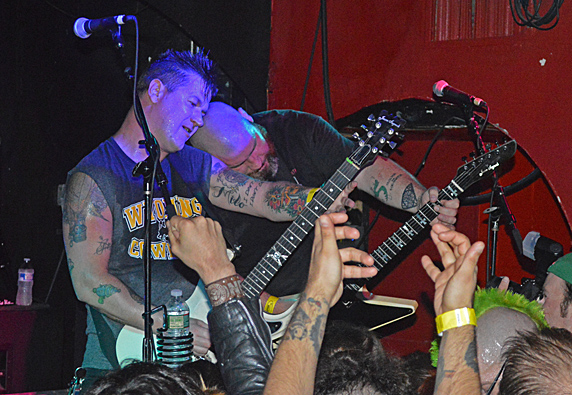 Teenage Bottlerockets
Photo: Blowfish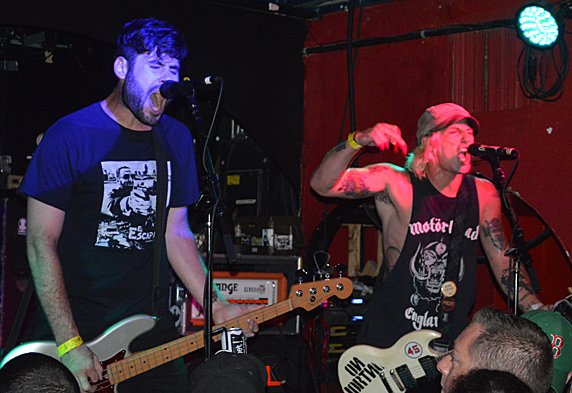 OC45
Photo: Blowfish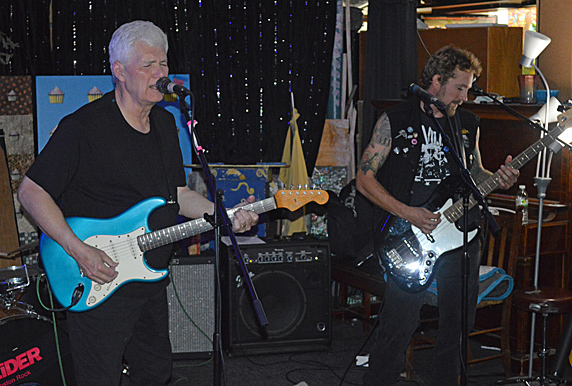 Nervous Eaters
Photo: Blowfish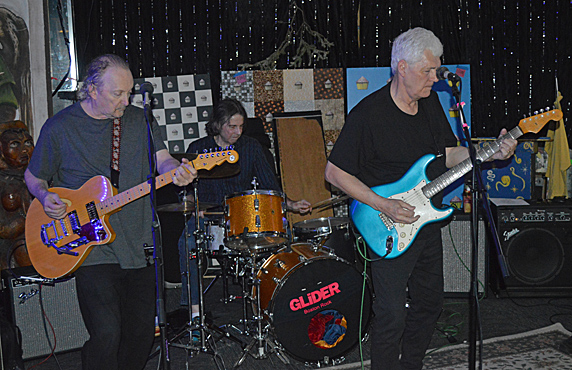 Nervous Eaters
Photo: Blowfish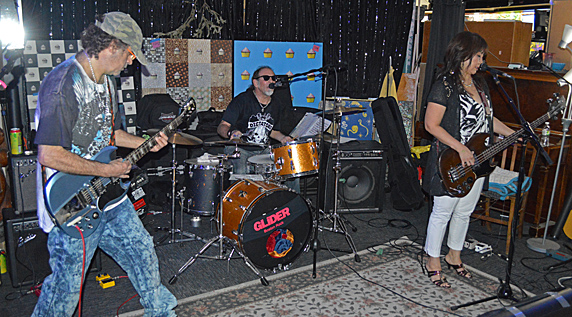 Glider
Photo: Blowfish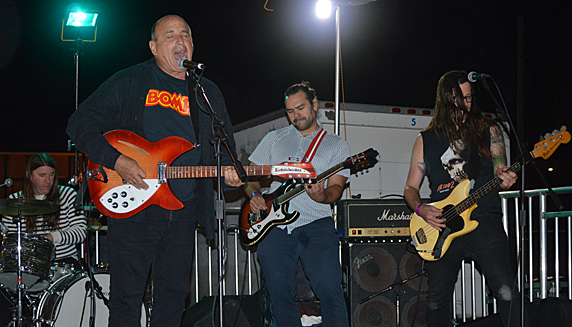 Paul Collins
Photo: Blowfish