The BGN News Archive
September 16, 2013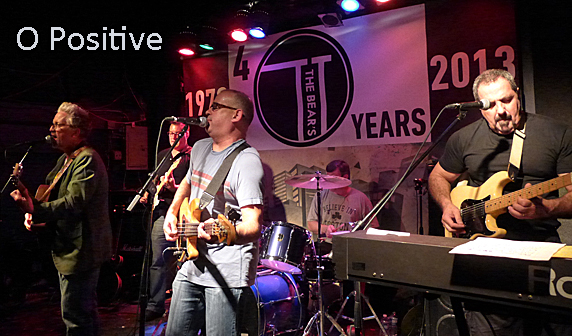 This past Saturday we made it to the final night of the week long TT The Bear's 40th Anniversary Celebration ...if you do the math that takes you back to 1973. It opened as a restaurant originally ...and didn't have live music until 1984. We got this from Bonnie who has been running TT's for 40 years...what a sweetheart she is!!! It was a complete pleasure to finally meet her and get to talk to her! She told us the first band to ever play at TT's was the Outlets...
What an amazing line up for the final show on Saturday: with Willie Loco, Randy Black and The Heathcroppers, Reid Paley, The Dogmatics, Three Colors, O Positive and Classic Ruins!! When we first walked in the crowd was a little sparser than we had expected but it was 8:45...still early yet.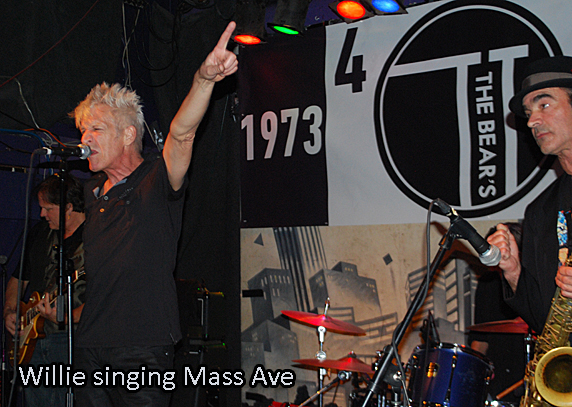 We take our place in front of the stage and see an unmistakable visage...Miss Xanna Don't!! Now living in Seattle she didn't tell anyone she was coming to town! So that was a great surprise ...And she looks as fabulous as ever!......Willie Alexander was on stage ..sans piano (! ) with Randy Black and his band backing him up. Willie was in good form and did "Mass Ave" all the while pointing toward the street a half block away. It's amazing to think that the song Mass Ave has been heard around the world and people are listening to lyrics about that stretch of road. The song of course name checks another club down the street, the Cantab, which is still going strong. With his north shore living we aren't getting enough Willie down here. Life is cruel.
They finished off the set with a cover of "Stand By Me" with Linda Viens coming up to join them on vocals...

Randy Black stayed onstage and went into his set. He started with "Simple Things" the first song of his new CD The Sky Goes Clear. It doesn't take long to get sucked into Randy's world. He puts lots of detail into his songs both in lyrics and music. The mixture of intelligence and passion makes for an irresistible attraction. The sets are short tonight and we're feeling a bit shortchanged. We'd love to wallow in this world some more but the good news is the CD does capture all the qualities he displays live.

Another old favorite Reid Paley was next in the lineup. Xanna referred to him as "Tom Waits with pipes." And that's so apropos....He's always been known for his strong voice even from the days in the Five. Now, there's an LP worth searching for.
Reid does a solo act which is good because you want to catch the words which are funny, provocative or both at the same time. He's often saying something devastating in a joking way or as he says in a lyric "I was almost completely sincere".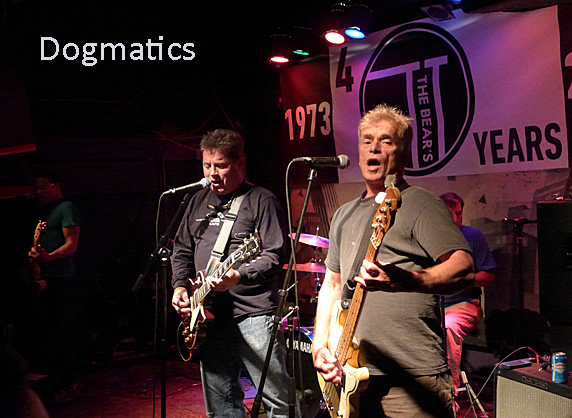 Who would have guessed the current status of the Dogmatics from their carefree antics back in the day? Somehow they kept their lightheartedness in the music yet are serious when presenting it. It's a successful formula for them. They play all the old favorites which have grown more loved by all of us as time goes on and mix a few well-chosen covers. This night they are loud and exciting. Peter O'Halloran always seems like he's "getting away with something" as his teachers probably put it. It's an appealing stage persona. Jerry Lehane's voice sounds particularly strong tonight. They have brought the songs and good feelings and ramped up the excitement. Good job all around.
All groups are using common amps with no ill effects except maybe Paley who was a bit too dirty sounding. He laughed about it on stage too. During the Dogmatics set the crowd grew to capacity. That music room was jammed. It got a little hot as the night went on.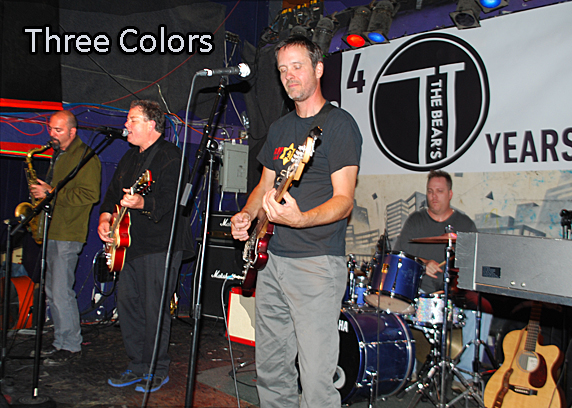 When we saw Three Colors on the bill we were happy but puzzled. They never got that much attention for their alternative pop. As it turns out they are Bonnie's favorite group. "Those are my boys!" said she. The thing with the Three Colors is that they don't rock or even roll they bop and bounce a bit. They do low key pop with subtle riffs, lyrics and hooks. It's done with craft and when it works it will capture you and give you a good glow. They accomplished that this night. "One Big Tree" their best known song was the highlight of the set. The lead singer has a relaxed way about him that mirrors the groups' dynamic. Members of O Positive joined the group for two last songs which was nice but in no way prepared one for their set that followed.
O Positive was at the height of the 80's alternative music scene. I saw them several times, once opening for Sinead O'Conner at the then named Great Woods. So, I know they are good but I was still swept away with the great set they did. If you looked at them individually they seem very workmanlike, no big whoop, but when you hear the overall sound coming out it's like something magical is added because that overall sound has qualities that thrill you. It was inspiring to be so close to it and see it take shape.
They have three guitars going and they always are doing different things. They are ringing with all sorts of overtones. It reminds you of that U2 sound the Edge gets a lot. I assume they have effects pedals going. They use amp tremolo a lot along with volume swells via the volume knob on the guitar. Well it goes on and on but it doesn't explain that indefinable 'something' that elevates the music to that special place. Hard to beat that set.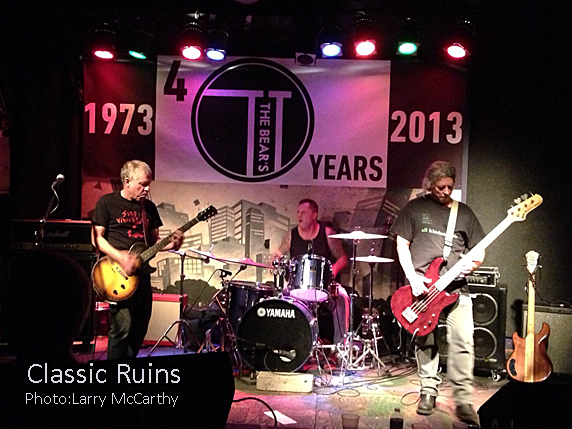 We exited even though our faves the Classic Ruins were playing. We had been standing over four hours at that point and Blowfish had the Rat Beach Party on Sunday afternoon to think about.
Interesting fact: Bonnie said she was looking to have the first band who played in 1984 to end the celebrations and that group was the Outlets but they didn't want to play for some reason....
The two day Rat Beach Party started Saturday night and the reports were that the place was filled. Mostly with south shore locals which is nice. I went for Saturday afternoon. The Beachcombovers where scheduled to open. When I got no music had started yet and they said it looked like maybe one o'clock would be the start. No problem since we are on the beach I take the Sunday paper and read on the sea wall on the beautiful day.
Walking back I caught Hardwired at the lower bar doing "Alcohol" by Gang Green and pretty good too. There were not a lot of people there, enough but there should be more. This event goes on all day so maybe more will come later. The Red Parrot has all sorts of dining rooms and there are people eating on the deck with no idea or interest in the music inside.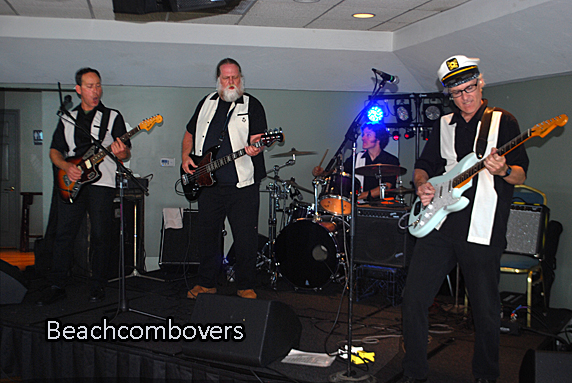 Upstairs The Beachcombovers started doing their surf thing which seems so right in this venue. They weren't supposed to have belly dancers but we did get one woman in a bathing suit doing some dancing. They also have a new CD and they played several of the tunes on that including the massively great "Kitemare". Richie Parsons jumped up and did a few Axe tunes - Three Chord Rock and No Surfing In Dorchester Bay. Richie has a lot of new songs and projects out there that will come together in the next few months and next week he has his Quincy Beachcomber gig.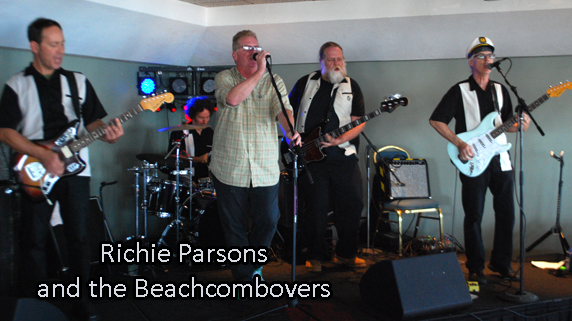 Cadillac Heart with Billy Connors was next. They were playing as a trio this time, they've changed the line ups as time has gone on. The drummer is solid and Scott on bass handling the foundation with no problem. The spare setting really works for Scott's time at the mike. You could hear his clear tone and control of voice during "Nothing's Gonna Change". Always a highlight it came across as a showcase for Scott. I'll be humming that catchy ditty for weeks now.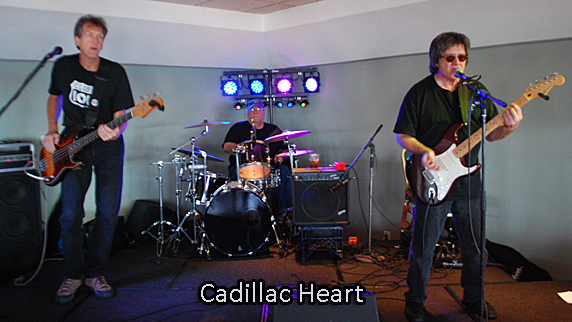 The first time I saw Count Joe Viglione he was hanging upside down from the pipes at the Rat. This night he also climbed around on the pipes, rolled on the floor and ran though the audience while the band was playing the Velvets' Waiting For My Man. That would be in 1975 or 1976 I would guess. I haven't seen him play in a while although he did have a gig at the Cantab a while back. The band did a song first then Joe jumped on stage for "There's Nothing Like A Hit". The energy level was way up there. He's rocking harder than anyone so far. Joe doesn't think of just the music, it's got to be a show too.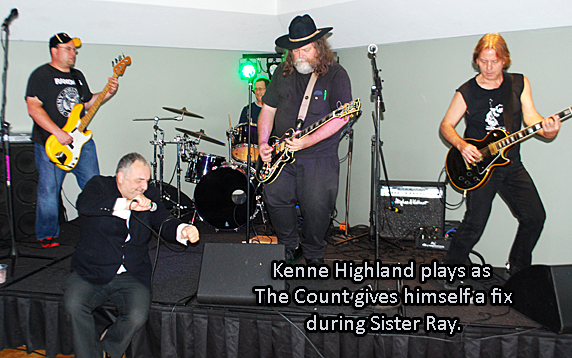 He began by running around with a cane to mock the idea that he would need it. He then had two Hawaiian shirts on, then a cape as he went into full Count mode. He did get winded but he was ready for that and had Lady Caroline do her star turn with Love and Flame. Even though she claims she hasn't sung that much through the years she proceeded to almost belt out the tune. No rusty voice here.
He had Kenne Highland come up and play Sister Ray. Kenne and the band did a long jam staying dirty and loud the whole time, meanwhile the Count in running around in his cape eventually flattening his body face first against the wall and not moving for two minutes or so. It did have the desired creepy effect. It was a real mini-show.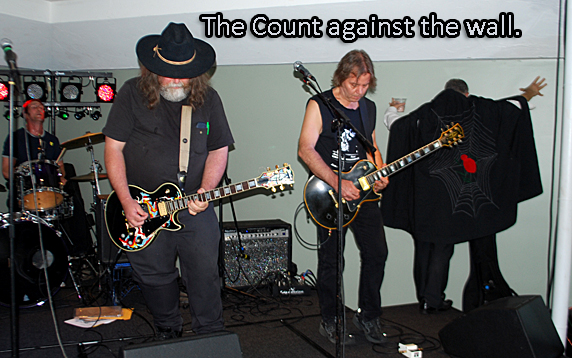 Other Sunday duties called me home but the party was just starting and would go all through the rest of the day and night up to Midnight. Jimmy Harold did show up after I left which is fantastic good news because he had an operation not long ago and that he felt good enough to go is great. If things go right this will be the first annual Nantasket Beach Party and that would be heaven sent for us South Shore rockers.
Crash Safely benefit shows are still taking place This weekend Sept 20 & 21 at The Midway... Friday 9/20 Titanics, Corin Ashley, The Unholy III, The Phil Aiken Army and Lenny Lashley's Gang of One
Saturday 9/21 - Sidewalk Driver, Gene Dante and The Future Starlets, My Own Worst Enemy, The I Want You, & Cotton Candy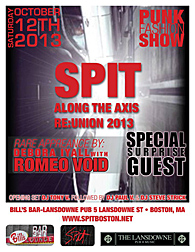 9/21 Upstart Fest 2013 - The Northeast's Biggest and Best Punk Rock Party will be at the Middle East Down with Koffin Kats, Hudson Falcons, Turbo AC's, Two Fisted Law, American Pinup, New Red Scare, Svetlanas (U.S.S.R.), Cry Havoc, The Old Edison and OC45 - DOORS AT 5PM!!!
If you are not in Boston don't despair...this show is touring and may be coming to a city near you check out their website!

Also on the 21st - At Radio is a celebration of Joan Jett's Birthday!! So its Ladies of the 80's cover songs night...

Sunday Sept 22 you can go hang out at the Allston Village Street Fair...Noon - 6 PM they have 2 stages of music, and street performers too! I only recognize the names of two bands on the list but hey I'm sure they'll be great - it's Allston after all

Saturday September 28th Cal Cali brings us The Nervous Eaters (YAY!!) along with the Bob Cenci Cal Cali Duo (and other tba) at the Midway

There's a special show on Tuesday October 1st at The Beachcomber in Quincy with Richie Parson doing a special solo gig!! And talk about a super group!! He's got not only Brother Cleve on guitar - but Carl Biancucci on bass!! Also special guest that night are and Kepi Ghoulie and all the way from Italy: Miss Chain and The Broken Heels...Richie says he has loads of new material they'll be performing!

11th Annual Ponderosa Stomp is this October 3, 5 and 5 at The Rock n Bowl in New Orleans check out their site for a list of performers etc....

Terry Brenner has put together a great show up in Salem....The Smithereens (!!!) with Pop Gun and Gyro Lula at the Old Town Hall in Salem on Saturday Nov 23. Tix are 35 buckaroos my friends...and its an early show with doors at 6PM.

October 12th -WAS going to be Cal Cali's Rat Reunion - but he's moving it because of Spit Reunion #2!!! On October 12th At Bill's Bar on Landsowne St.....DJs will include Tony V, Paul V and Steven Strick and music so far will be by Robin Lane and Lizzie Borden & The Axes..get info timeline and buy tix at their website

Also on October 12th is The Boston Boozehounds Reunion Show at the Middle East Up along with Reno Divorce and Loser's Circle

November 8th is Baker boys night at Radio down with The Kurt Baker Band and Tom Baker and The Snakes..

And really far in advance we're letting you know about John Surette's punk opera Tomorrow The World will be performed live at the Middle East, Saturday Dec 14.

Don't forget that The Live at the Rat CD is now available for purchase from QRST's...go get your very own!! Talk about the way back machine and a bunch of awesome memiories!!

EMAIL US AT.......misslynbgn@yahoo.com

Past postings of this news page are in the BGN ARCHIVES