The BGN News Archive
September 16, 2019
Shock and loss were the one-two punch of hearing of Ric Ocasek's death. Our minds immediately went to the late '70's when so much was going on in Boston. The huge debut LP by band Boston in August of 1976 gave the city more attention. Right at the heels of that (early 1977) were The Cars' demos that Maxine Satori was giving heavy air play on WBCN.
But before the Cars, there was "Ocasek and Orr" a duo who played semi-accoustic sets at the Blue Parrot in Harvard Square, across the street from Groupie Towers. Then they expanded into Cap'n Swing. When David Robison joined the band they morphed into The Cars and from there they seemed to take off big time.
They played the Rat and the line was around the block. They seemed to get fame and fortune almost immediately. The band had a common dynamic but Ric supplied the songs and the band gave them their stamp.
As The Cars went up, up and away with popularity, we punkers went on with our thing. To our surprise and joy The Cars built Syncro Sound Studio on Newbury Street and began to give some help to some local bands. Ric could often be seen at the local clubs checking out new bands. People may promise that sort of thing but they actually did it.
Some of the bands that recorded, mixed or overdubbed albums at Syncro are: Third Rail, Nervous Eaters (demos), Vinny, Semper Fi, The Nor'Easters. Bim Skala Bim, Green Magnet School, Zulus, Peter Dayton, New Models, Last Stand, Three Colors and Ball and Pivot. There's more we sure. During those days there was lots of talk about Syncro and the support that The Cars/Ric were giving people. Ric even had the band Suicide open for The Cars on their tour. He was supportive in many ways.
That's the reason the BGN ended up there in 1981 to give Ric the first and only BGN Medal of Honor. OK so it was cardboard covered with silver paint. But more important was the honor it bestowed! You have to laugh at it now… and then.
The Cars were very welcoming to us. They stopped during recording for the 'ceremony' such as it was. They let us look into the studio for just a second. We talked a bit. One thing they told us was that Ric had gotten a new guitar. It seems that the stage show now had "Let's Go" beginning with the stage completely dark. Ric had to play an intro on guitar but he never could see where he was playing so they got him a guitar with some lights on the neck indicating where the frets were. They treated us well and we always remembered that day fondly.
You don't have to go far to find some local that knows or had an interaction with Ric and it's all nice stories.
Ric had a lot of class in an industry that is notable for being selfish and cutthroat.
RIP Ric.
---
Friday The Who were at Fenway but we were at The Jungle. We got there in time for most of State of the Union. They have such a punchy group sound. They sound like the Neighborhoods sometimes who's songs they sometimes cover. As always we marveled at Sandy on drums. Those long rolls that build up tension are a move that we have come to wait for.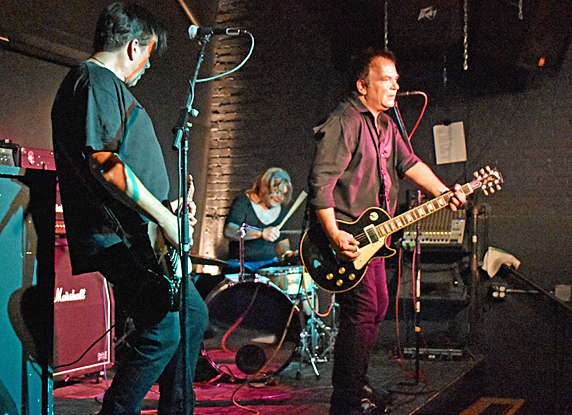 State of the Union
Photo: Blowfish
The songs they played from their album Panaflex Blue are all sounding like classics as time goes on. They played some new songs that are right in line with the older faves. It was a solid set, and that's what we always get from State of the Union.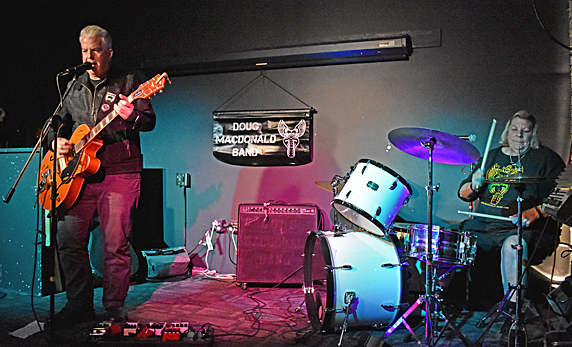 The Doug MacDonald Band
Photo: Blowfish
The Doug MacDonald Band are a duo. We've seen them before. A common strategy of rock duos is to blast out the guitar and make the drums sound as big and busy as possible to sound like a full band. The Doug MacDonald Band don't do that, they don't get frantic they just rock and let the songs carry the set. Patty on drums was sensitive to the needs of the song and was always tasteful.
The less frantic approach made for a more personal setting. MacDonald's songs seemed to be from his everyday life and they often had a local setting, like Quincy, Southie or Chelsea. With his big orange Gretch you would think Doug would play Rockabilly and he did a tad but it's also surf and any other thing he wants to stick in there.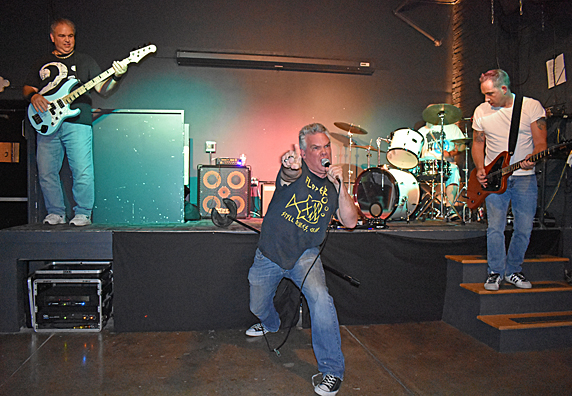 Screw Cart
Photo: Blowfish
What is it about Screwcart that gives them that strange air? They seem like they are testing boundaries. The songs are about weird things like "Cheese Wheels" and situations and are often sung in a menacing way. At The Jungle they had the best sound of the night. Everyone else suffered from echo or balance problems but Screwcart somehow sounded clear. They had a new bass player and he was a good fit with the drummer who made every hit count. This was the tightest we've heard them. The bass tone was deep and rolling. His lines were always moving and he often played with his hand over the top of the neck. (PHOTO) The guitarist played with a cutting tone. It was always interesting riffs. He gives that band an identity.
And then there was Mark Kennedy on vocals. He delivers those ominous lyrics with seriousness. You always think there's a point being made and you should be making an effort to figure it out. They always do interesting covers too and this night they did "Crazy on You" by Heart. That was outside the box!
John Keegan was at The Midway Matinee on Saturday: It more or less a cover-up affair. Hannah Smart split her first gig since moving to town from Middlebury VT between acoustic and electric, and a shy but charming mix of originals and covers. Johnny Plankton and the Sea Monkeys of Sole whip out a go-to mixtape of 80's punk and new wave that is impossible to resist. From 999's Homicide to Blondie's, Dreamin', from Iggy's Five Foot One to Elton Motello's Jet Boy Jet Girl, Plankton knows how to pick 'em, add their fingerprints and kick them.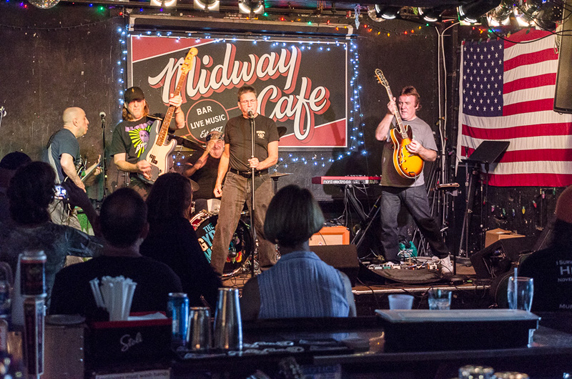 Johnny Plankton and the Sea Monkeys of Sole
Photo: John Keegan
Club Linehan is all over the place with a couple Love and Flame numbers with Lady Carolyn on vocals, a twist of Lou, Freddy Cannon's Tallahassee Lassie and Frank Zappa's first tune, The Worlds Greatest Sinner. The Gypsy Moths wrap it up with a blast of bone and sax laced, garaged up, sweat-soaked R n B Soul. They go for deep cuts, blue-eyed soul, jump, a couple of familiar crowd-pleasers - Knock on Wood, and a cookin' Rip this Joint. They even throw in a few solid originals in the same juke joint party vein.
Saturday night we opted for the Hong Kong in Harvard Square. We have come to appreciate the early start and end time. It's music by 8:15 or 8:30 and it's over by 11:30.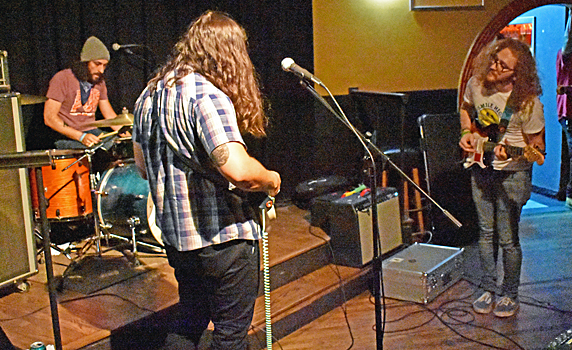 Today Junior
Photo: Blowfish
Today Junior was the opener. We haven't seen them playing around too much lately and sure enough they said that the drummer has been in CA. They also said that they came right to the gig from some recording. That was a good sign that they are a going concern. They played mostly new songs and they were more of the same character of the old, which is good news for us because we love what they do.
Harry the guitarist has created his own sound by amassing a large collection of odd chord shapes. They color every song and give the group its unique style. The set at the Hong Kong had a combination of surf/pop/romantic songs that are a joy to take in.
Intellectually they are challenging to figure out and are at the same time rewarding emotionally. We can't say enough about this group. The news of new material is something to look forward to.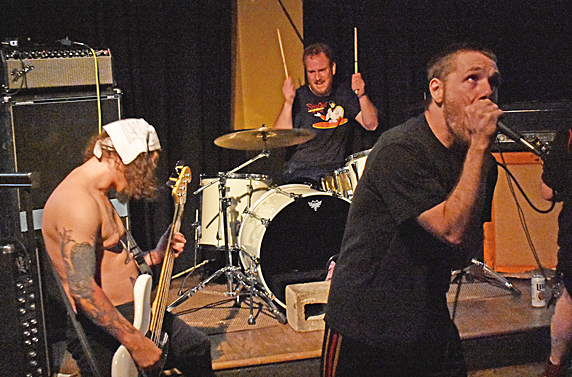 Psychic Weight
Photo: Blowfish
Psychic Weight, up next, was a change of pace. We saw them at the Midway in March so we knew what to expect. The Hong Kong audience however was put off. Psychic Weight played a mean punk hardcore. It was a jarring switch from Today Junior. The group knew it and mentioned as much on stage. But if the audience backed off the group didn't. It was a full bore attack. The guitarists were completely focused on playing as hard as possible and the drummer was sweating like crazy as he hit hard but with precision.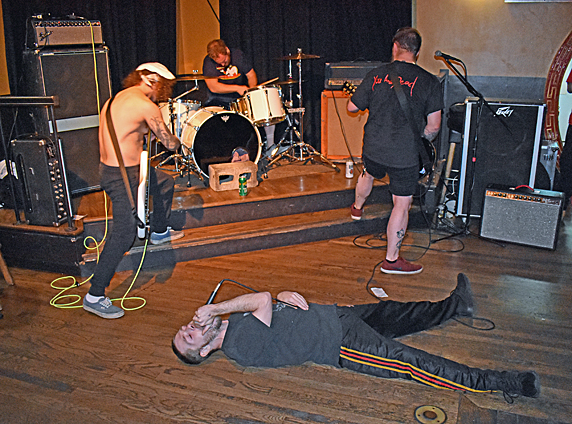 Psychic Weight
Photo: Blowfish
The music had lots of sudden tempo and rhythm changes. The singer was singing from deep in the throat. It was impossible to hear the words which is a shame. If you look at the lyrics on their More Weight EP they have some pointed political points to make.
Psychic Weight is a good name for this band. The way they play and what they say will weigh on your mind. You have to hand it to them for playing with every bit of energy and conviction despite the stand offish crowd.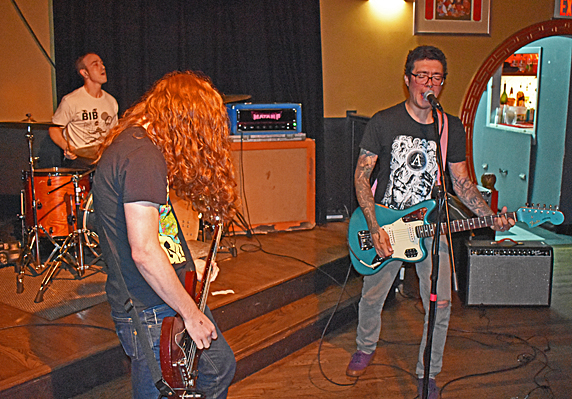 Sneeze
Photo: Blowfish
This show was the album release party for Sneeze a Massachusetts band. They describe themselves as "punk, fuzz, pop, grunge" we would add 'indie' in there too, because live they had that indie feel. They had a good punch live. The overall sound was fuzzy. Their recorded sound is tidier and we like their new album Fin. The album is on Bandcamp. Arepresentative song is "Not In Service" .
Click Here for more band photos.
This week we have an interview of Mike Stewart by John Keegan. Mike has been on the scene a long time. Much of it has been as a DJ on WMFO but he has been responsibe behing the scene on a lot more things and that's what you will find out in this interview. Click the photo below to go to the interview.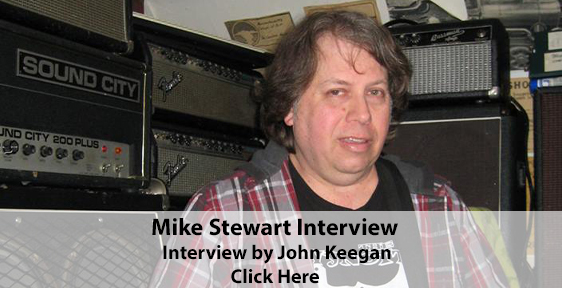 ---
And in other news.....
Glider have been around for a long time now. They play an interesting rotation of covers with their originals. Many of those originals are from Cal Cali's early 80s band Jetset. Now, Cal has finally got all those songs recorded. He's released two early peaks at those. Have a listen - there's MTV and Victims.
The big news of the week wasn't musical but if you are on the Boston scene Doyle's in Jamaica Plain is probably well known to you. They revealed that they will be closing. It was a good place to have a meal during a long show at the Midway for us these last few years. Read more here.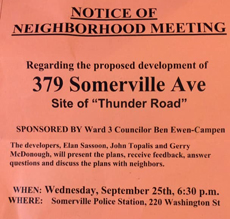 News of another closing was musical: Thunder Road looks like it's up for sale. Some local realtor is grabbing it. Thunder Road has specialized in cover bands, most notably and repeatedly, the Grateful Dead....But there were some good shows that we covered along the way. That space was Radio previously and many years before that (1980-81) it was Jaspers.
And in Lowell they have the same problem with UnchARTed Gallery closing down. They were an art performance space that had been going for 11 years.
Still, it's amazing how many great shows there are in teh area! As you will see in the Gig Listings below.
The Dogmatics are doing an In-store release performance & signing of their new CD She's the One at Newbury Comics Norwood MA on Saturday October 5th: 3:00 PM And if you order from RumBar records now you will be entered to win a one of a kind 'She's the one' limited edition 7inch Vinyl test pressing. One customer will be pulled at random with all pre-orders placed! FB page for Oct 5. You can also catch the Dogmatics at these events: Saturday September 21st @ Hygenic Art Park, New London CT w/Dogbite & Heap FB Event Page... and ... Saturday October 26th @ The New World Tavern, Plymouth MA w/Stop Calling Me Frank, New Frustrations & The Gronmets FB Event Page
---
Here's some good shows coming up this week.....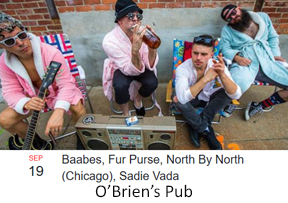 September 16 (Monday) Ralph's Diner and Wormtown Ska Presents: The Toasters, Threat Level Burgundy, Sweet Babylon at Ralph's Diner in Worcester.Tickets.
September 19 (Thursday) Baabes, Fur Purse, North By North (Chicago), Sadie Vada at O'Brien's
September 19 (Thursday) Some Kind Of Nightmare with Skytigers, The Natty D's, DNZL at Opus in Salem
September 20 (Friday) Priors, Black Beach, Far Corners, Andy California at the Midway
September 20 (Friday) Conflict, Escuela Grind at Sonia
September 20 (Friday) Divided Heaven (LA Punk), Stubborn Hearts, rooFTops at Winter Hill Brewery Somerville. FB page
September 20 (Friday) 138, Popgun, The Vic Morrows, Richie Parsons at Koto Salem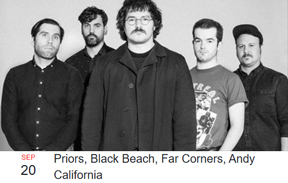 September 21 (Saturday) Lyres and Glider at Once (TIX)
And further out there is.....
September 25 (Wednesday) hardcore at The Hong Kong with Irreal (from Spain!), Bloodsuckers, Tortured Skull, Cartridge
September 26 (Thursday) Ritualists (NYC), GLiDER, Sara & the Scaliwags, Lily Black at O'Brien's
September 26 (Thursday) The Runouts, Thee Fightin Fish, Muck and the Mires, Seawolf at The Jungle
September 26 (Thursday) Mick Lawless & Reckless Hearts,Tsunami of Sound, Gene Dante & Future Starlets at The Square Root.
September 26 (Thursday) Stubborn Hearts, Varsity Club, Jared Knapik, Father Card, CookBag at The Parlour on Provi RI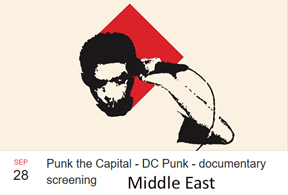 September 28 (Saturday) Punk the Capital - DC Punk - documentary screening at the Middle East 2PM...FB page
September 28 (Saturday) Razorta Rosa, Ski Bunny, OTP, Miracle Blood at The Jungle
September 28 (Saturday) Swelltune Records presents: Shake a Leg! with The Rock-A-Sonics, Josh Sorheim, Shaun Young & Sean Mencher, Jittery Jack & Amy Griffin, The BopThrills, The Soapbox Saints, plus The Swelltune Jamboree and DJ Easy Ed! It's an all day affair at The Porch Southern Fare & Juke Joint In Medford, MA FB page
September 28 (Saturday) if you're in NYC this weekend check out GLiDER and Baabes at Otto's Shrunken Head. FB page.
September 28 & 29 (Sat & Sun) The Boston Local Music Fest 10AM-6PM both days at Government Center. Check website for updated listings. They say: "There will be a variety of musical genres represented, as well as artists and artisans, food trucks, a beer garden, and a community of people supporting, experiencing, and celebrating our local music culture." We'll see.
September 29 (Sunday) Disco Volante, Bata Sodo, Rawstrum at O'Brien's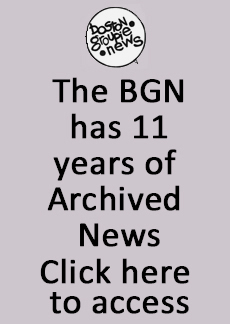 September 30 (Monday) Threat Level Burgundy, Cuidado, Waxjaw, the Creepy Freaks at Charlie's Kitchen
October 1 (Tuesday) Agnostic Front w/Prong at Brighton Music Hall
October 3 (Thursday) The Bind, The Legendary Cazbats, The Tsunami of Sound at The Jungle. 9-11:30 PM adv $6 door $10.
October 4 (Friday) Cold Expectations, M.O.T.O., Little Billy Lost at The Jungle
October 4 (Friday) Team Dresch, Shepherdess and Stubborn Hearts at ONCE
October 5 (Saturday) Mudhoney, Pissed Jeans at Brighton Music Hall 6PM doors.
October 5 (Saturday) Elvis Room 20: The Queers are at AS Art Space in Portland, NH. FB page for info
October 6 (Sunday) The Sinister Six, Martin / Morell / Fredette and TRiPLE THiCK - 3-7PM show at The Midway
October 7 (Monday) Hambone Skinny, Indonesian Junk, Baabes at Charlie's Kitchen
October 10 (Thursday) Kid Gulliver, State of the Union and The Chelsea Curve at The Jungle
October 10 (Thursday) Dick Pics, Guilloteenagers, Big Mermaid, Thee Fightin' Fish at Club Bohemia
October 11 (Friday) Sister Suzie (from the UK) Jittery Jack & Amy Griffin at O'Brien's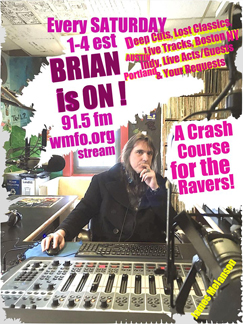 October 11 (Friday) Lucifer Christmas presents: Not Your Mama's Burlesque Show! plus new music from Steady Vex
October 12 (Saturday) Lyres, Tiger Bomb, Glider at Sun Tiki Studios 375 Forest Avenue, Portland, Maine 04101 FB page
October 13 (Sunday) The Cranktones, with Sax Gordon and DJ Todd Purple at the Midway matinee 3-7Pm
October 13 (Sunday) The Legendary Cazbats Psychedelic 60's Dance Party at the Jungle 6-8:30 PM
October 17 (Thursday) Robotic Hawks, Billy Connors Project, Spaces For Two at The Jungle
October 18 (Friday) Time and Place, The Knock Ups, Wolf Tape, Cook Bag at The Midway
October 18 (Friday) Marianne Toilet & The Runs, Corner Soul, Smitty E Smitty and the Feztones, The Melatonins are at Koto Salem.
October 19 (Saturday) A Crash Course for the Ravers has Richard Mirsky - 1-4PM WMFO 91.5 FM
October 19 (Saturday) Watts, Kid Gulliver, State of the Union at The Square Root
October 19 (Saturday) Avenir (French punk rock) at the News Cafe in Provi RI - check out their bandcamp page ..and here's the FB page for the show & tix etc!!!
October 19 (Saturday) Cactus Attack, Black Leather Lagoon, Tarantula Bros, Nick the Barbarian at Opus in salem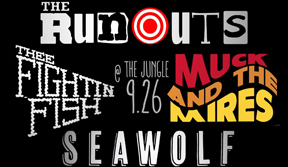 October 20 (Sunday) Stiff Little Fingers, The Avengers at Brighton Music Hall doors 7PM
October 20 (Sunday) The Vivian Girls are at Once
October 21 (Monday) Cherry Brat, Street Milk, The Wild Allegations at The Jungle
October 23 (Wednesday) Flipper with David Yow (Jesus Lizard) "40th Anniversary Show" at The MIddle East Down
October 23 (Wednesday) 999, The Clap, Vixen 77 at The Fire Philly PA FB Page
October 25 (Friday) The "Scare" Root Halloween Show! with Justine's Black Threads, The Chelsea Curve, Little Billy Lost at the Square Root
October 25 (Friday) Flamin' Groovies, Richard Lloyd Group, Tiger Bomb at ONCE
October 25 (Friday) 999, The Clap, the Parasitix, The Transmission Now at the Catasauqua American Legion 215 PA FB page
October 26 (Saturday) The Fleshtones, GLiDER, Muck & the Mires, Baabes at Once Ballroom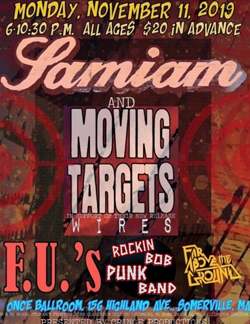 October 26 (Saturday) Pale Lips (MTL) with The Gala, Loretta, & Kathy Snax at O'Brien's
October 26 (Saturday) Stop Calling Me Frank, Dogmatics, New Frustrations, The Grommets at the New World TAvern Plymouth MA - FB page for info
October 26 (Saturday) 999, The Clap, The Bobby Lees, Blank Spots at Coney Island Baby in NYC FB page
October 28 (Monday) Cycling w/ The Melted Chapstixs at The Jungle 5-8PM
October 29 (Tuesday) 999 & The Clap at Randy Now's Man Cave 134 Farnsworth Ave, Bordentown, New Jersey 08505 FB page
October 30 (Wednesday) Devil's NIght at O'Brien's with Babes of Mutilation (as the Pixies), Fury Things (Dinosaur Jr. tribute), The Knock Ups as Hole, Queers of the Stoned Age, Corner Soul as The Stooges
November 1 (Friday) Change Today (Joe Wood era TSOL), Covered In Bees & Tiger Bomb at Gino's in Portland ME FB Page
November 2 (Saturday) Gene Dante & The Future Starlets, Cold Expectations (record release) and The Chelsea Curve! at Sally O'Brien's
November 8 (Friday) Wolftape, Doug McDonald Band, Crunchtime, Thigh Scrapers at Pete's Grill Quincy FB page
November 8 (Friday) Muck & The Mires, The Gotham Rockets, Tiger Bomb, Gene Dante at Alchemy in Providence RI FB page.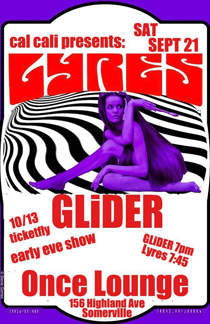 November 9 (Saturday) Muck And The Mires, The Downbeat 5, and Gotham Rockets at Sally O'Brien's
November 9 (Saturday) Black Helicopter, Salem Wolves, blindspot, Jakals at Opus in Salem
November 9 (Saturday) Change Today: Joe Wood era TSOL at Ralph's Rock Diner Worcester.
November 11 (Monday) Samiam, Moving Targets, F.U.s, Rocking Bob, and Far Above the Ground at Once - All ages - starts at 6PM- 10:30PM!! FB page for tix etc.
November 14 (Thursday) Halshug (from Denmark), Corrode, Skinned Alive, Skrawl at the Dorchester Art Project
November 16 (Saturday) Brian Young's a Crash Course for the Ravers is featuring Greg Allen's Fringe Religion. 1-4PM WMFO 91.5 FM at http://www.wmfo.org/popout_player.php?bitrate=256
November 16 (Saturday) International Pop Overthrow at Union Tavern...check FB page for info as it comes.
November 21 (Thursday) Robert Gordon with special guest Chris Spedding and Diablogato at Once
November 23 (Saturday) The Knock Ups, blindspot, Lonely Leesa & The Lost Cowboys at Sally O'Brien's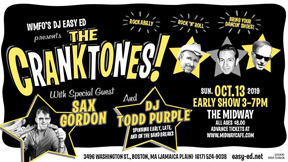 December 7 (Saturday) Triple B Records presents: American Hardcore Fest 2019 with Magnitude, Wild Side, One Step Closer, Restraining Order, Method of Doubt, Anxious, Big Mack, Field Agent- All Ages, $25Advance / $30Day of Show, *NOTE* 12:00PM Doors- this is an early show!! FB page.
December 21 (Saturday) MOTO, The Thigh Scrapers, The Thirsty Pirates (NYC) , The Montgomerys at The Midway for a Matinee Show 3-7:30PM
December 21 (Saturday) Mother Iron Horse, Tied to a Baear, Von Traps, Skytigers at Opus in Sale
January 10 (Friday) The Mercy Case, Bystander, blindspot, Foxes at Koto Salem
January 18 (Saturay) Barrence Whitfield & The Savages, Muck and the Mires at The Middle East FB page and tickets
March 28 (Saturday) The Zulus at The Paradise
CONTACT US AT....misslynbgn@yahoo.com Send us your gig listings, your news and anything else ya got!! You want your CD reviewed?? Contact us for that too.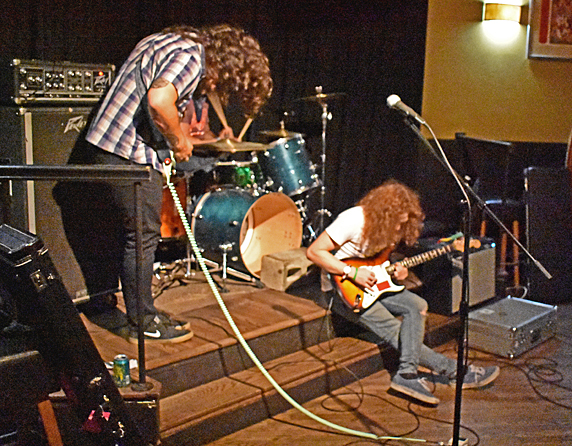 Today Junior
Photo: Blowfish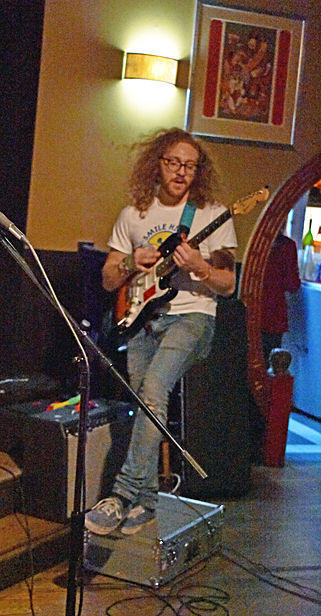 Today Junior
Photo: Blowfish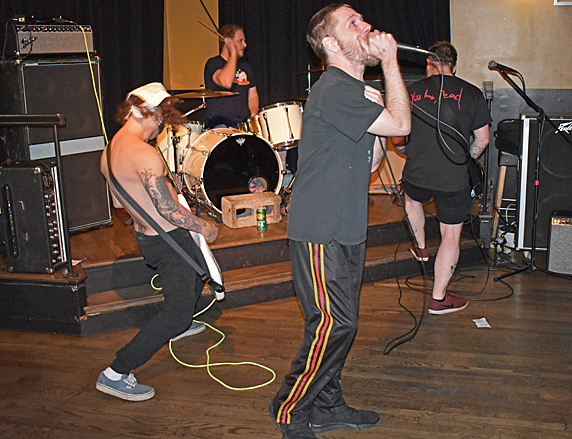 Psychic Weight
Photo: Blowfish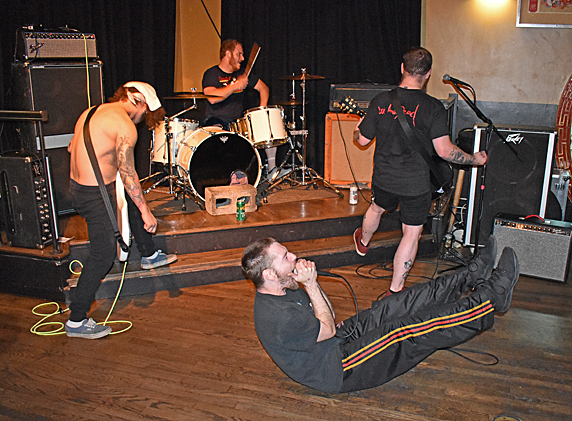 Psychic Weight
Photo: Blowfish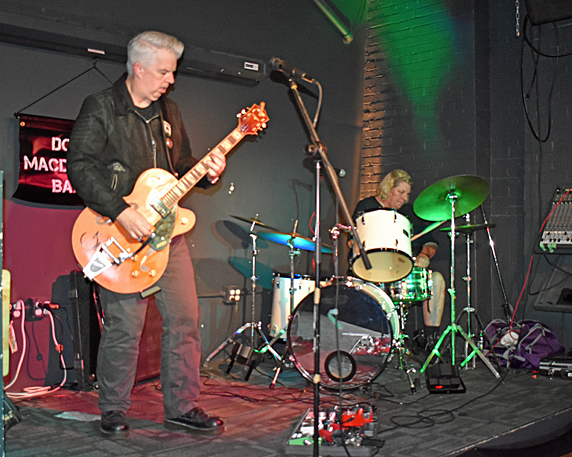 The Doug MacDonald Band
Photo: Blowfish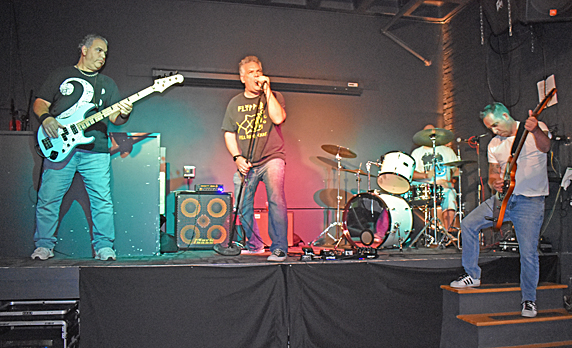 Screw Cart
Photo: Blowfish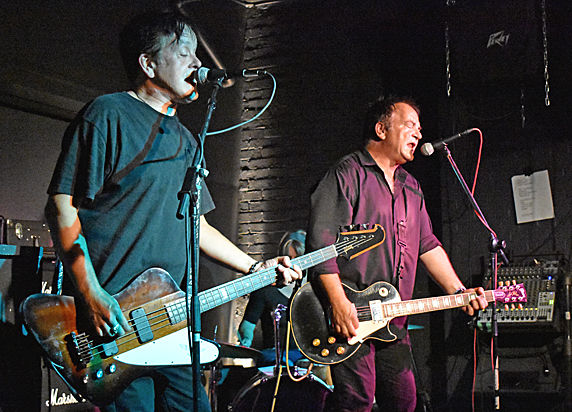 State of the Union
Photo: Blowfish