The BGN News Archive
September 17, 2012
We seem to end up at Radio a lot. This past weekend they had The 360's playing. They are getting the good buzz again, I mean you can't escape Kim Ackland raving about this band!! So we went.
We get to the club to catch Terrible Beauty setting up. They look like a rockabilly group with the two women in the band wearing sort of rockabilly punk style dresses. But their set starts and they play dirge and gothy type of music. There was such a disconnect with their visual style I found it hard to digest. That seems an unfair criticism even as a write it but it was too strong to deny.
The singing pretty bad, uncomfortable to have to sit through really. Actually it was kind of like torture. The bass player had some nice moments though, and she kept the band as close as they could get to listenable. With the dirge goth sound she made them sound reminiscent of very early Cure. None of the songs clicked though. They finally ended their set.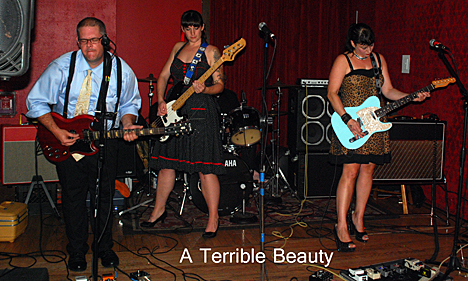 The next group was Pop Gun. Gotta love that name. Not too dramatic looking, pretty much jeans and t-shirts, they played in a straight forward rock style for say, 1975 and that's what they are shooting for. It felt good to get some straight no bull rock.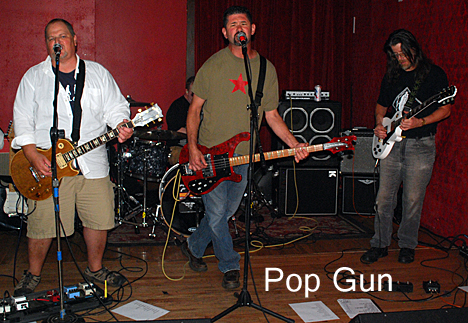 Here's stuff that's coming up and worthy:
There's two excellent nights coming up at Radio this coming weekend: Friday, Sept 21st is the WMBR 35th Anniversary Party
There will be a backing band with various singers from around town covering bands like the Diodes, Stiff Little Fingers, The Boys, etc. plus Cocked n' Loaded doing heavier stuff like Motorhead and Turbo Negro. Downstairs in Moe's Lounge, Artie Friedman will screen old local videos and perhaps a screening of the LRC documentary. Cover charge is only $5! On the air that week they will be playing one decade of punk each half hour. You can even buy tickets in advance, which might actually be needed. When was the last time you paid $5 for a show? 1977 when this radio program started probably.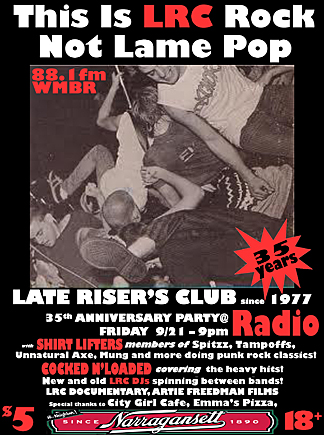 then on Saturday the 22nd there's a killer show celebrating Joan Jett's Birthday with The Dirty Truckers, Tijuana Sweetheart, Gene Dante, The Other Girls and Cradle to the Grave, The Acro-Brats.....doing all Joan Jett all night long - excellent!!
But again, Club Bohemia has The Titanics , The Banditas , The Big Digits and The White Pages
And if you can get there head over to the O'Neill Rose Barn, 305 Great Neck Rd, Waterford, CT for a Reducers Tribute show featuring The Dogmatics!!! It's a 7PM show so plan accordingly!
And Thursday Sept 27, at The Lizard Lounge, Tony Savarino -guitarman extraordinaire- is having a Record Release Party for his new disc: Guitaresque.....this CD was produced by Barry Marshall! Sounds like a pretty amazing combo to me! Tony will also have a stellar belly dancer in the house that night as well!
Now here's a puzzler....for all you Bauhaus/Love & Rockets fans Dark Sky Productions presents David J (yeah, as in Bauhaus & Love & Rockets), Adrian H & the Wounds , Do Not Forsake Me Oh My Darling - this is so odd! Why is David J at The Cantab??? I don't know but it's a show you can't miss!
And into that weekend there's a two night Crash Safely Benefit at The Davis Square Theater (not the Somerville Theater but down the street from it!) Friday 9/28 has The Unholy 3, The Dirty Truckers, The Gentlemen, Jenny Dee and the Deelinquents and The Phil Aiken Army.
Saturday 9/29 has The Upper Crust, Sidewalk Driver, TRiPLE THiCK, Thick Shake sand Cotton Candy- that sounds like a totally fun night!! And a worthy cause my friends- help fight MS!! And you can buy your tix here!
Thee Cuban Heels are at Toad on the 29th too...it's just a short walk from Davis to Porter to check them out too! and its FREE!
Oi, there's also another fab show over at The Midway - awesome rockabilly night presented by DJ Easy Ed This night has Jittery Jack, Rick Coyne, Rick Bounty and John Carlevale and The Rolling Pins! Whew!!
And it looks like Nicole Tamaro is having another book release party for yet another book - her third .... this one's at Radio on Friday October 5th with Razors in the Night, Full Body Anchor and Jason Bennett & The Resistance - only $5 folks!!...
Also at Radio the next weekend there's a lot happening to think about ..benefits for Barbara Walsh ....I don't know her personally but she had a stroke while at the LA Airport and is now headed toward the long haul of rehab...we wish you well Barbara and a speedy recovery!! - this could happen to ANY of us....go and show some support for a fellow rocker:
Thursday Radio UP has the benefit for Barbara with Rule, Jenny Dee & The Delinquents, The Decals, AM Stereo, The Modifiers - Radio Down has: The Charms, Dave Mirabella, Eric Salt & The Electric City.
Friday the 12th is Barbara Walsh benefit at Radio Down with The Dirty Truckers and others - Radio UP has The Dents, Devil On Horseback CD Release, Watts, Gymnasium, Spin Off
And if you can't make it and would like to donate a little dough to the cause go here: Benefit for Babs Donate
And you might as well come back the next night too cause Saturday Oct 13th is Radio's 1 Year Anniversary!!! More info later!
If you are out in the western part of the state there's a Happy Birthday Cheryl Crane/Crybabies Reunion show on Oct 13th at the awesome Hotel Vernon. Also on the bill is Carolla Deville and The Flipsides with Chris Horne from the Brood.
November 3rd The Neighborhoods and Robin Lane and The Chartbusters are at the Blue Ocean Music Hall at Salisbury Beach....they must be like huge rockstars or something coz tix are again overpriced at $25.
News from the Magic Room: Sunday, November 4th it The Halloween Hangover Show ! ANd Butch Patrick aka Eddie Munster, from the original 60s tv program The Munsters ,will be on hand for a "meet and greet " live at the Magic Room Gallery ! Also performing will be the legendary Muck and the Mires , and Tsunami of Sound . Also appearing, will be The King of Pop Culture himself !
And November 9th!!! Roky Erickson is going to be at the new Harvard Square club Sinclair, which will be at 52 Church Street - it would be awesome if it was in the Harvard Square Theater space....it would be like the old days kind of....when there were bands there. But anyway there you have it....Sinclair...Roky.
Finally All Ages- Boston Hardcore the film is available on DVD!!! You can check it out and purchase right here.... This DVD has 30 minutes of extra footage AND The Springa Chronicles...oh yeah!! GOTTA get it just for that...we can never have enough Springa, right?.....
EMAIL US AT.....misslynbgn@yahoo.com