The BGN News Archive
September 17, 2018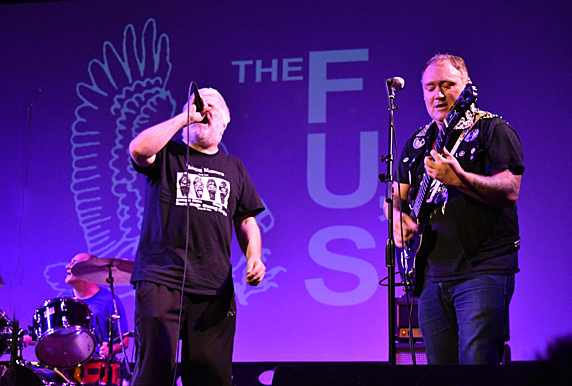 The FU's
Photo: Blowfish
We had to check out the "Dead Boys" at Sonia. We did see them at Once a year ago. There was another incentive – Red Invasion were opening. That last time we saw them was maybe 2009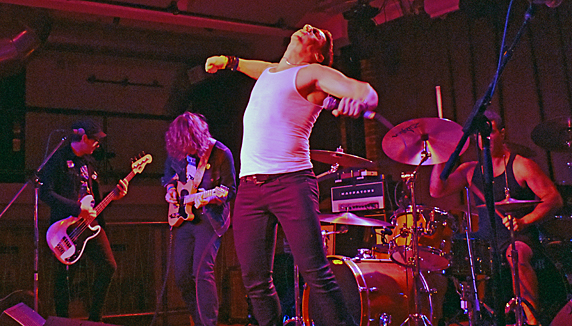 Red Invasion
Photo: Blowfish
It made sense to have Red Invasion on the bill because Joey Boy was a rabid Stiv Bator's fan. He actually got on stage with Cheetah Chrome in 2008 at the Unnatural Axe 30th Reunion show. He was on fire that night. He was on fire at Sonia too. The whole band payed solidly, with little or no seams showing, for all their time away. It was maybe not as 100% crazy as it used to be but still lots of energy. There were several songs that had hooks that worked. To us it seemed they worked better than back in the day. Their last song Disconnected which they consider their hit was good but the earlier ones held their own.
The band was digging into their instruments as Joey sang with intensity and emphasizing with punching and other gestures. It was representative of all we liked about them back in their heyday. We'd love to see more shows.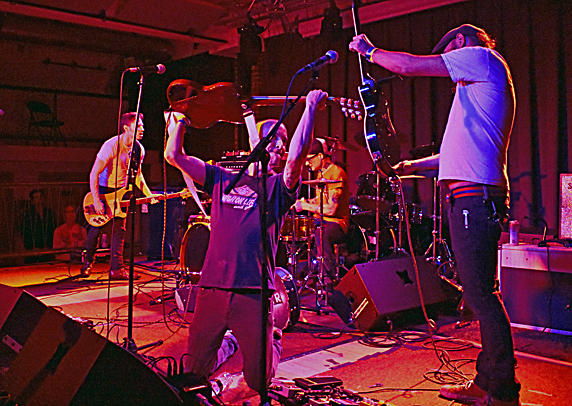 Duck & Cover
Photo: Blowfish
The Nervous Eaters were on the bill but somehow didn't make it and Duck & Cover filled in with less than a days' notice. They did a similar set as when they played the Middle East down opening for the Dickies.
They played new material off their new Rob Them Blind CD and it's some of their best. "Live It Up" has that chorus where they sing, "you're going down again" with the emphasis on "down again" that is an example of how D&C catch your ear. They did again in "Borrowed Time". The other way was with those structured guitar interplays like they did with the introduction to "Wasted"
The intro to "Yeah Don't You" brought "I Fought the Law" (Clash version) to mind but then went its own way. We could go on, their whole set is those 3 minute punk shots guaranteed to make you a fan. They sounded perfect with the sound at Sonia.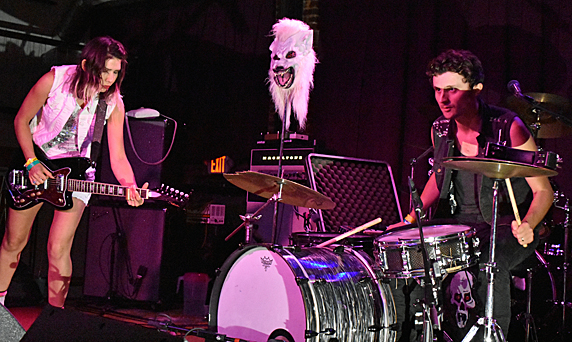 Ghost Wolves
Photo: Blowfish
The Ghost Wolves are from Austin. They are a duo with guitar and drums. We've gone from where it was unique White Stripes, to now, where it's a common line up. Their music was primitive garage stomp via the blues. There was some slide guitar. It was reminiscent of The Cramps to some extent but the guitarist/vocalist had a lighter demeanor. She was entreating people to sing along and have a party time. She did a lot of jumping around and that was pretty cool.
The people up front were very into it and indeed having a party time. They have been going since 2011 and have a load of releases. See on Bandcamp.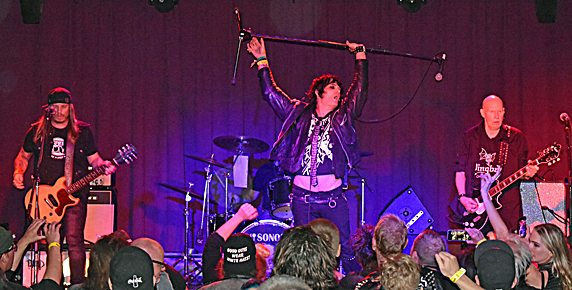 Dead Boys
Photo: Blowfish
The original Dead Boys are down to Cheetah Chrome and Johnny Blitz. The lineup was the same as the Once gig a year ago. The lead singer, Jake Hout, who has the unenviable job of filling in for Stiv Bators did as well a job as anyone could.
They began with Sonic Reducer which we thought was a mistake, I mean where do you go from there? However they were following the opening tracks from Young, Loud and Snotty. As it turned out there's no problem with what order you play those classic songs. The set was filled with favorites.
The best thing we liked was hearing Cheetah play. He has that classic tone and in some ways it didn't even matter what song he was playing, his guitar ruled.
If you saw the Dead Boys back in the day it's hard not to miss Stiv but the audience was going bonkers for this excellent line up pumping out the Dead Boys repertoire. There was vigorous moshing going on the whole set. Everyone was loving it and even us punk veterans from back in the day were happy to get these songs done up in such excellent fashion.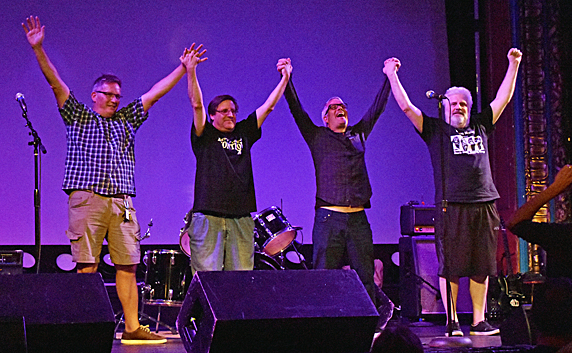 Cenci, Quint, Blackmore and Sox
Photo: Blowfish
Friday it was to The Regent in Arlington. A movie and two bands seemed like a good deal and that's a venue with seats!
Records Collecting Dust II had interviews with hardcore band members from Boston, New York and DC, whereas Dust I was oriented to the West Coast.
The talk was about first records bought, favorite records, and records you would grab in case of a fire. Not an earth shattering matter but a conversation that you have often if you are a record fanatic (and we are). The Boston hardcore LP's got plenty of mentions: Jerry's Kids, DYS, The Freeze, FU's and Stranglehold but there was surprising diversity. Choices went from A (Animals) to Z (Zappa - by John Sox!).
Quint, Cenci and Blackmore taking questions
Photo: Blowfish
Al Quint, who knows more about hardcore than anyone, was a highlight. Many were uncertain as to what LP to grab in case of fire, not Al who plopped a box on his lap and said, 'these'. Damn the women and children – that box is getting to safety.
Al has a lot of insights. Here's a good interview from him - click here.
There was some Q&A after with the director Jason Blackmore, Bob Cenci, Al Quint and John Sox.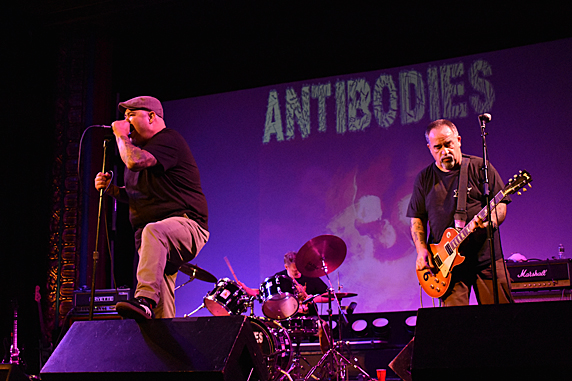 Antibodies
Photo: Blowfish
Then there was a set by The Antibodies from the South Shore. We saw them at the Gang Green show at the C Note. They did some of the same songs; "In My Eyes" , "Blacked Out" and "Oi to Your Mother". They looked at home on the big stage and the theater gave them a big blue/purple video backdrop with 'Antibodies' at the top. That was cool.
At one point the singer and guitarist listed their favorite and influential LP's, that's what the movie makes you do. It gets in your head.
The FU's
Photo: Blowfish
The FU's were in the same line up as we saw them at the Space Center and the Father's Too reunion. The band did their usual tight set. They also looked glorious on the big stage with the huge blue screen behind them.
The old material is classic but one of the best songs was a new one. They have an EP coming out and it should be yet another chapter is the bands history. Of all the hardcore groups the FU's and John Sox have proven themselves over the long haul and they have done it by putting in the hard work.
Being able to sit made it so easy to listen closely and enjoy the set.
Mentioning the FU's at the Space Center reminded us that the All Ages hardcore movie was shown there. In a month we will have the Chet's Last Call documentary. The Boys From Nowhere has been shown and has some more upcoming. We are in a good era for films. The thing is you have to first go through the time period and then hope you live long enough to see the movie concerning it, 30 and 40 years later!!
Saturday we saw three of the four bands at O'Brien's. DNZL, In The Meantime and Oh, The Humanity are playing in a similar style. They are all a mix of punk, hardcore and thrash with some emo in the vocals.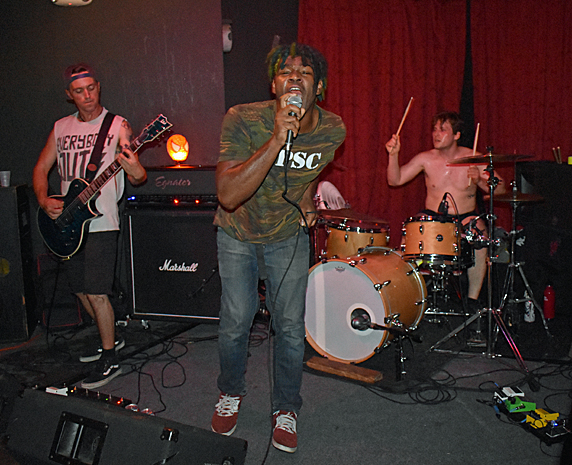 DNZL
Photo: Blowfish
We've been looking to catch DNZL after seeing their set at PA's Lounge last June. Saturday they revealed an even more souped up group. They were tighter and more assured all around. The lead singer, Mel, has charisma and he was hard to take your eyes off of. He had dramatic stage moves, often off the stage and into the crowd. Vocally he was doing a lot of screamo but alternated that with a pleading tone, or even a prayerful one. At those points the band would go to a very low volume and when they slowly brought it back up, often with a rapid drum roll, you couldn't help but be swept up with it.
The drummer, John, is a beast. It's not that he didn't play the beat but that there was so much more going on that it got lost in the mix. It was a sort of shock and awe technique. It was busy playing and he was hitting hard. The sweat was pouring out of him from the first song. That explains why he basically plays in his boxers only. The busy attack is actually common to these sort of groups and the In The Meantime drummer did it too, but John had a visceral savage attack. Look at the video above where we caught a small bit of it at the beginning especially.
The kicker is that he only has been playing a year and never had a lesson! The bass player kept up with him and that's a miracle. The bass player used some repetitive and melodic figures that put a framework down that you could hang on to.
It was one exciting set.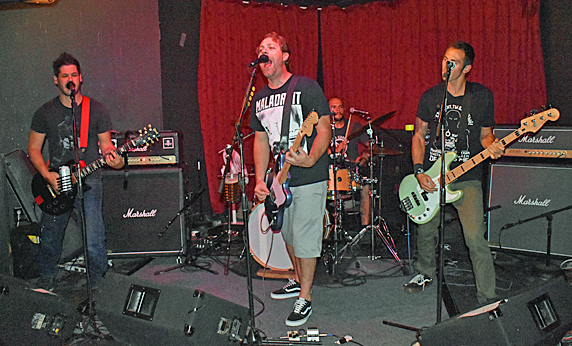 In The Meantime
Photo: Blowfish
In The Meantime, who we've also seen at PA's Lounge , Club Bohemia (RIP) and here at Radio (RIP), have impressed us more and more with every show as we get familiar with their material along the way. They benefit from a two guitar attack. They hit the riffs and chords hard and they often sing with three vocals going which adds to a powerful overall all sound. We went on about the DNZL drummer but the In The Meantime drummer was in the same ballpark.
They did one song that began with a fifties rock progression and sung in that style but the song soon launched into a heavy thrash but it's a cool change up. This was a set where we often were just taking it all in with pure pleasure. We only wanted the set to go on more.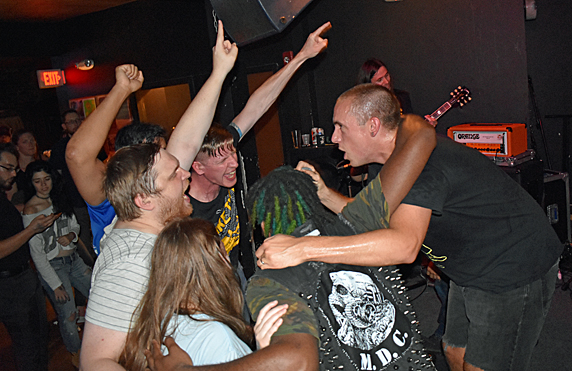 Oh, The Humanity
Photo: Blowfish
Oh, The Humanity are touring to promote their new split EP with The Hideout, the group we missed this night. They have some killer songs withe choruses that the audience loves to sing along with. The older song that worked that way was "Lola" which has lyrics that go, "my eyes were like video cameras" that has a big emotional effect in the context of the song and people really got into that. Even Mel from DNZL, who requested the song, got on stage to join in, which was funny because during his set he was often off stage. It had lots of repeats and every one hit its mark. They often got to that same point at other times during the set.They played "Roadsick" from their last CD and that had another heart rendering moment in the chorus when they sang, "Everything I am in spite of everything else."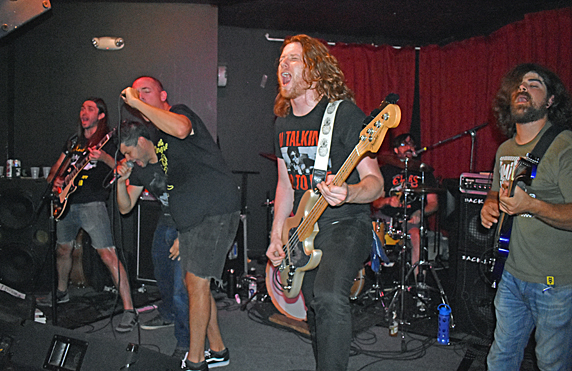 Oh, The Humanity
Photo: Blowfish
What frames these moments is the double guitars with every note arranged to create a sweeping panoramic sound. At times they almost get epic. They have some metal in the sound that contributed to their branded attack.
That was the third set of top notch punk/hardcore. I don't see a lot of older punks at these shows but this music is a continuation of punk and if you want to see what groups are doing now these are some of the groups to catch.
More band photos below the show listings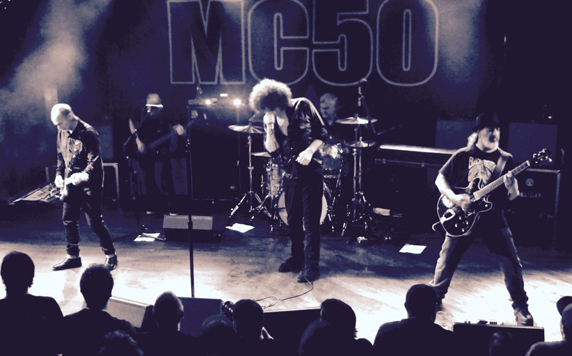 MC5
Photo: Mark Davis
On Thursday Mark Davis was at the Paradise and took some photos of the MC5. By all reports, and a few vids we saw, they were raging like back in their prime. Today we can appreciate how raw they were in the sixties. That was a time of love and flowers but the MC5 were mad and punky. Only Iggy would be comparable for the same time period.
To view all of Mark's photos click the photo below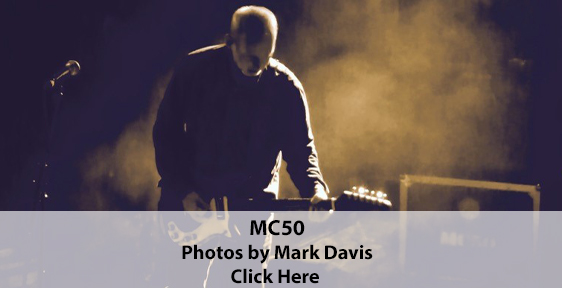 ---
And in other news.....
At The Regent Theater this week is The Public Image is Rotten (Thu-9/20, Sun-9/23 & Wed-10/3 at 7:30pm)
Kurt Baker Combo is coming to Boston!! One show only at Sally O'Brien's Nov 10. with Muck and the Mires, Stop Calling Me Frank and Kris Rodgers and the Dirty Gems
Lyres have released the status on their next album: "LYRES finyl (sic) recording session for our new album IS booked for sunday, monday, tuesday october 28th, 29th and 30th…..planned are 7 NEW songs including two brand new originals and a revamped version of poets classic" They still have their GoFundMe page going if you want to be part of Lyres history.
Rum Bar Records has released a CD by The Peawees from Italy called Moving Target. The first song they posted for free on Bandcamp was "Walking Through My Hell" which is a blistering romp sounding a lot like early Elvis Costello. Another song is "The Stranger" which is rocking at the same level but has a Del Shannon feel to it. This band has been together 20 years and they sound fresh.
---
Here's some good shows coming up this week.....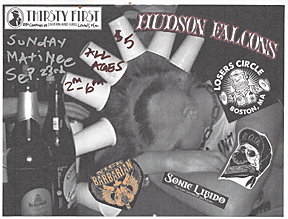 September 18 (Tuesday) Ian Moore with his full band PLUS Xanna Don't & The Wanted at Thunder Road
September 18 (Tuesday) ALL AGES MATINEE- 1-6PM : Hudson Falcons, Genuine Rust, Sonic Libido, Losers Circle at the Thirsty First Tavern in Lowell.
September 19 - 23 (Weds-Sun) Bust Out Boston Music Festival at The Burren - a five night festival dedicated to Boston Music by "womxn". FB page
September 19 (Wednesday) Bust Out Boston Music Festival at The Burren Day One - NEON BLK (fka Radclyffe Hall), Abbie Barrett & Band, ZOLA
September 20 & 23 (Thurs & Sun) Regent from Sept 19 to 23 the new The Public Image is Rotten.
September 20 (Thursday) Richie Parsons plays before Queeraoke - that's 8-9:30 - at the Midway
September 20 (Thursday) Boston Emissions is back. They're doing early shows at Hennessy's upstairs, across from City Hall.
Doors at 7:30. Music starts at 8:30. Food served all night. This night they have Baabes, Set Fire, 123 Astronaut. Check out the FB page for directions etc.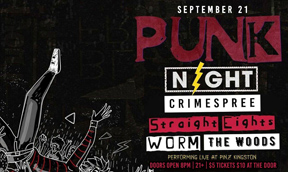 September 21 (Friday) Thalia Zedek Band album release party with special guests Helen Money and Sleepyhead at The Midway

September 21 (Friday) Bust Out Boston Music Festival at The Burren Day Three- VQnC, Petty Morals, Stars Like Ours

September 21 (Friday) Punk Night with Crimespree, The Straight Eights, Worm, The Woods at Pinz - Kingston FB page for info and direction

September 22 (Saturday) A Crash Course for the Ravers has Adam Sherman as guest!! 1-4PM WMFO 91.5

September 22 (Saturday) The Knock Ups, Titans of Industry, Sweetcreem, MIDI Myers at The Midway

September 22 (Saturday) Bust Out Boston Music Festival at The Burren Day Four - The Devils Twins, Dark Matter, Magen Tracy & the Missed Connections, Susan Cattaneo, Cujo, Flight of Fire, Happy Little Clouds, Lily Black, PowerSlut, Citrusphere, Mint Green, Lonely Leesa & The Lost Cowboys
September 22 (Saturday) 1st Annual ONCE FEST at Once - An all-day and night festival of more than 10 local bands alternating sets in the Ballroom and Lounge. Check the FB page for more info
September 22 (Saturday) The Dogmatics, The Dents, HEAP at Cafe Nine in New Haven CT
September 23 (Sunday) The McGunks, Quiggs, Port City Saints, The Martians do a Sunday day show at the Midway 4PM
September 23 (Sunday) Roy Sludge B'day Jamboree at Sally O'Brien's 6PM & Free
September 23 (Sunday) Vivi'd presents Agnostic Front and Death Before Dishonor at the Middle East UP -this is an early show- doors are at 3:30PM.
September 23 (Sunday) FEAR at the Middle East Down- Tix are $25...but maybe you'll want to shell out $125 for a meet and greet and early entry. Also on the bill are Slapshot and the Pint Killers.
September 23 (Sunday) Bust Out Boston Music Festival at The Burren Day Five - Oompa, Melissa Ferrick, Shepherdess, Aversed, Aubrey Haddard, Carissa Johnson, Marcela Cruz, sister, Emily Grogan, Fur Purse, Cruel Miracle, Thrust Club, Radium Girls
September 26 - 28 (Weds-Friday) The Regent Theater in Arlington is showing of Bad Reputation which is all about Joan Jett.
September 28 (Friday) Thee Fightin' Fish, Graneros, Jakals at Opus in Salem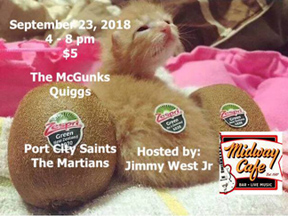 September 28 (Friday) State of the Union's CD release party at the Midway with The Gala, Gene Dante and The Hi-End. We heard some of that material and it is awesome!!! FB event page
September 28 (Friday) Have Nots, Lenny Lashley's Gang of One, Cuidado, Blood Stained Brindle at The Middle East Up
September 28 (Friday) Stop Calling Me Frank, Soraia, Hambone Skinny & The Connection at Sally O'Brien's
September 28 (Friday) When Particles Collilde, Dirty Dottys, Bloom at O'Brien's
September 28 (Friday) Shiny Beasts, Tiger Bomb at the Plough
September 28 (Friday) Fuzztival Night 1 at Once with The Monsieurs, Corridor, Rick from Pile, NICE GUYS, TRIM, Dump Him, La Neve, Rick Rude, Leopard Print Taser, Hairspray Queen, Blue Ray- Show starts at 7PM
September 29 (Saturday) Fuzztival Night 2 at Once with What Cheer? Brigade, Olden Yolk, Mr. Airplane Man, Really From, Anna Fox Rochinski, Bong Wish, Oompa, Carinae, Lady Pills, Edge Petal Burn, Love Stranger - show starts at 7PM
September 29 (Saturday) Kermit's Finger, New Frustrations, More Beer Please, Instamatics 4-8PM At the Midway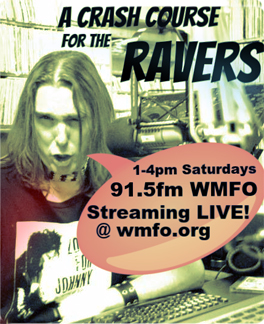 September 29 (Saturday) TNG (The Next Generation), Thee Fightin' Fish, Binge Magick, The Kicks at The Midway
September 29 (Saturday) Party Bois (record release!) along with Carissa Johnson, Andre Obin and Dj Michael V at Great Scott
September 29 (Saturday) Crunchtime, The Hi-End, State Of The Union, The Worried at Koto in Salem
September 29 (Saturday) The Radiator Rattlers Record Release Party with Tigerman WOAH!, Michael Kane & the Morning Afters, Rooftops at RG's Pub in Haverhill, MA FB page
October 1 (Monday) Major Stars *tour kickoff* Chris Brokaw Rock Band & Bong Wish at Charlie's Kitchen
October 2 (Tuesday) Rock n Roll Trivia at The Sincalir!! FB page.
October 2 (Tuesday) Coffin Salesman, Bob Cenci, Troll 2 and 1 more tba at Opus in Salem
October 5 (Friday) Kid Gulliver, The Hi-End, The Stigmatics at The Jeanie Johnston Pub in JP
October 5 (Friday) At the C Note in Hull - 61 Ghosts, 1.4.5., Classic Ruins, Johnny Thunders Orchestra
October 6 (Saturday) Art Thieves, Stemwinder, Michael &TMs, Blood Built Empire at O'Brien's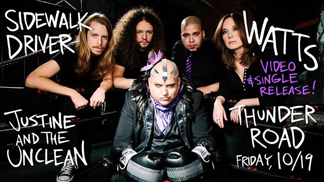 October 7 (Sunday) The Crank-tones are at Atwood's 4-6PM
October 8 (Monday) Loser's Circle, Coffin Salesman, Voice of Addiction, Cook Bag at Charlie's Kitchen
October 12 (Friday) Brix'n'Mortar, DNZL, Secret Spirit, The Kreutzer Sonata, Rooftops at O'Brien's
October 12 (Friday) Salem Horror Fest After Party with Diablogato, Gray Bouchard and the Dedications and Petty Morals at Opus in Salem
October 13 (Saturday) The Pack A.D., Tom Baker & The Snakes, The Gala at ONCE
October 13 (Saturday) Satan, The Humanoids, Hessian, Black Mass at Great Scott
October 14 (Sunday) Punkcake's Halloween Market with lots of cool vendors and music by The Evil Streaks, The Demon Seeds, Coffin Salesman at Ralph's Diner 12-5PM FB page for more info
October 14 (Sunday) Jagger Holly, MATB, The Prozacs, Mongorellis, Color Killer at Beatnik's in Worcester.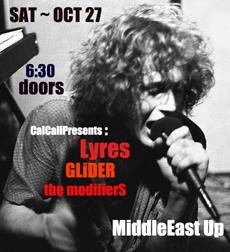 October 15 (Monday) Jagger Holly, Mongorellis, The Prozacs, Jimmy Jacked, Color Killer at Opus Salem
October 15 (Monday)- October 18- Thursday Jonathan Richman at the Middle East Up.
October 17 (Wednesday) The Damned are back and at The Paradise.
October 18 (Thursday) The Proletariat, Savageheads, Silver Screams at Sonia -FB page
October 19 (Friday) Sidewalk Driver, Watts, Justine and the Unclean at Thunder Road
October 19 (Friday) Halloween Show with Kid Gulliver, The Knock-Ups, Ski Bunny, Sapling will include Special Halloween covers and a full cover set with The Knock-Ups doing Siouxsie and the Banshees. At jeanie Johnston Pub in JP
October 20 (Saturday) Nervous Eaters, Indonesian Junk, Duck & Cover at the Middle East Up
October 20 (Saturday) Stop Calling Me Frank, Crunchtime, The Jiblantos and The Black Souls at The Midway for a 4PM matinee.
October 21 (Sunday) Boston Premiere of the Chet's Last Call Documentary at The Regent Theater Arlington with live performances byR andy Black and The Heathcroppers, The Dogmatics, Bim Skala Bim, TBA Allstars - starts at 7PM TIX etc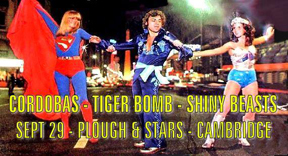 October 26 (Friday) The Humanoids, Slim Jim and the Mad Cows, Maiden New England, Electric Street Queens at The Midway
October 26 (Friday) The Radiator Rattlers, Kermit's Finger, Black Hatch, The Grommets at O'Brien's
October 27 (Saturday) Benefit for Mission 22/Dennis Donahue's Birthday Show! with Kind Crew, Neighborhood Shit, Sick Minds, Jerry's Got Jokes, and Whoopi Sticks at The Midway -Early Show 4-8PM
October 27 (Saturday) Lyres, GLiDER, the modifierS at The Middle East Up- Early show doors at 6:30PM
October 27 (Saturday) The Descendents w/ Teenage Bottlerocket at The Palladium in Worcester FB page for tix etc
October 29 & 30 (Mon & Weds) Now here's how to do Halloween!! At Symphony Hall this Halloween season when Keith Lockhart and members of the Boston Pops visit The Bates Motel and perform the original score of the Alfred Hitchcock film, "Psycho", in sync with the film on the big screen. One of the greatest suspenseful thrillers of all time, this cinematic masterpiece comes alive with Bernard Herrmann's spine-tingling score performed live. The unforgettable and disturbing slashing chords played during the now famous shower scene are just as terrifying now as they were to first-time audiences in 1960.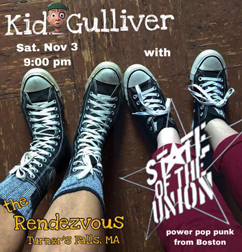 November 2 (Friday) Roky Erikson at Once. Tix here.
November 3 (Saturday) Coffin Salesmen, OC45, The BUndles, Burn Burn Burn at O'Brien's
November 4 (Sunday) Book release party for Poetry for the Neon Apocalypse by local Punk Poet Jake Tringali with Mint Green, Ski Bunny, The Sewer Buddies, Jenn Lombari, Hyber at The Midway 4-8 PM. FB page
November 10 (Saturday) Kurt Baker is coming to Boston!! One show only at Sally O'Brien's Nov 10. with Muck and the Mires, Stop Calling Me Frank and Kris Rodgers and the Dirty Gems
November 11 (Sunday) DNZL, Standard Issue, Psychic Weight, TBA - 4-8PM Early Show at The Midway
November 11 (Sunday) Save the date!! Brian Coleman who has published the much talked about Buy Me Boston book will be having a slideshow and panel discussion (including our very own Paul Blowfish Lovell, oh yeah dn David Bieber) to promote the book. It's at The Brattle Theater - more info as it becomes available.
November 17 (Saturday) It's HIXXGIVING!! The joyous return of the annual celebration of white trash culture and redneck vittles. This year they'll have newcomers - Alice Highland, New Jersey's Sex Zombies, Your hosts- HIXX and the formidable Screw Cart. This will, no doubt, be off the hook! The buffet will be provided by the bands. Hixx asks that you bring non perishable food items, as always, for a local woman's shelter. At The Midway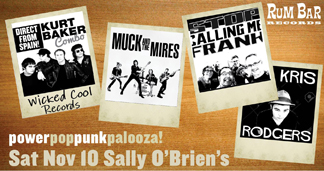 November 17 (Saturday) Post Punk 1977-87 Cover Night at Sally O'Brien's - 3 super groups will be covering songs from 1977-87. (punk, new wave, synth pop etc)
The groups are: Chuck Ferreira, Josh Pickering & friends, Duncan Wilder Johnson & friends, and Anthony Kaczynski & friends. FB event page
December 1 (Saturday) the second and final Red Invasion show - with Funeral Cone and Brix N' Mortar and one more TBA. @ The Middle East Upstairs This is an early show- doors are at 6:30
December 9 (Sunday) Trusty Sidekick, Stigmatics, Crunchtime. Dick Pics do a Matinee 4-8 show at The Midway
December 15 (Saturday) Duck & Cover, Stop Calling Me Frank (Album Release), State of The Union, The Angel Martins Early Show 4-8PM at The Midway
December 22 (Saturday) Greg Allen's Fringe Religion, Classic Ruins, 1.4.5, Fireking - Early Show 4-8 at The Midway
January 12 (Saturday) IL Mostro (CD release) w/ Cortez, Scuzzy Yeti & Wrought Iron Hex at O'Brien's
CONTACT US AT....misslynbgn@yahoo.com Send us your gig listings, your news and anything else ya got!! You want your CD reviewed?? Contact us for that too.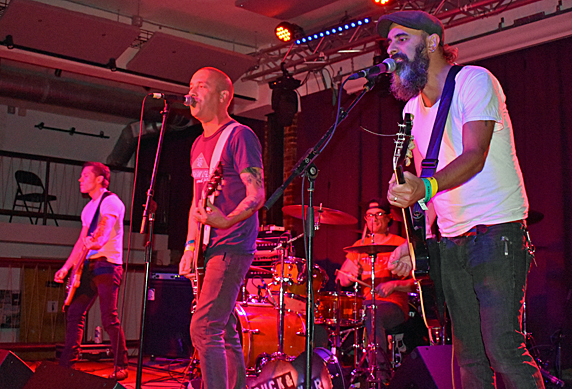 Duck & Cover
Photo: Blowfish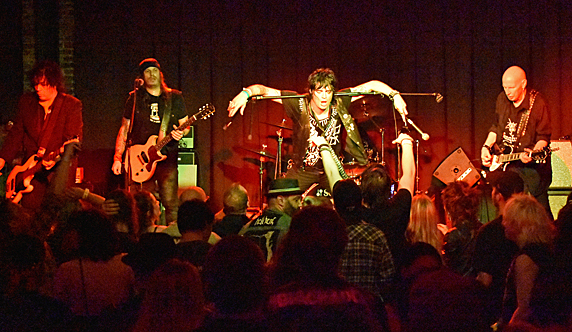 Dead Boys
Photo: Blowfish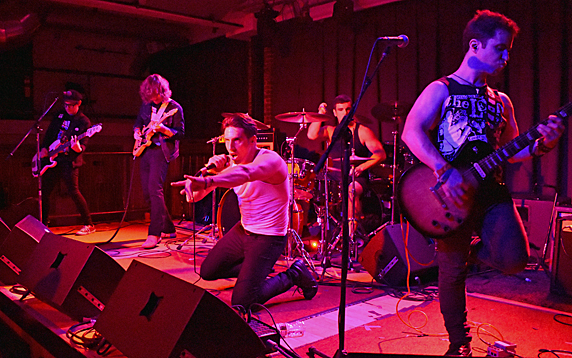 Red Invasion
Photo: Blowfish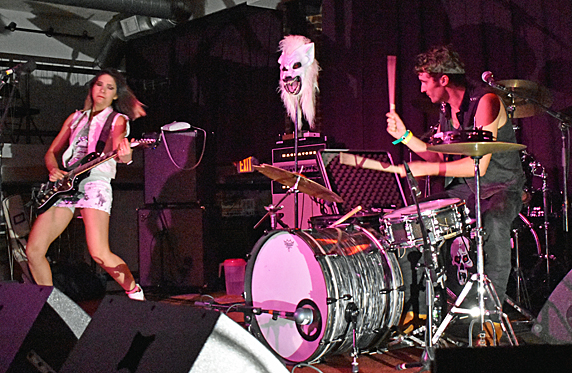 Ghost Wolves
Photo: Blowfish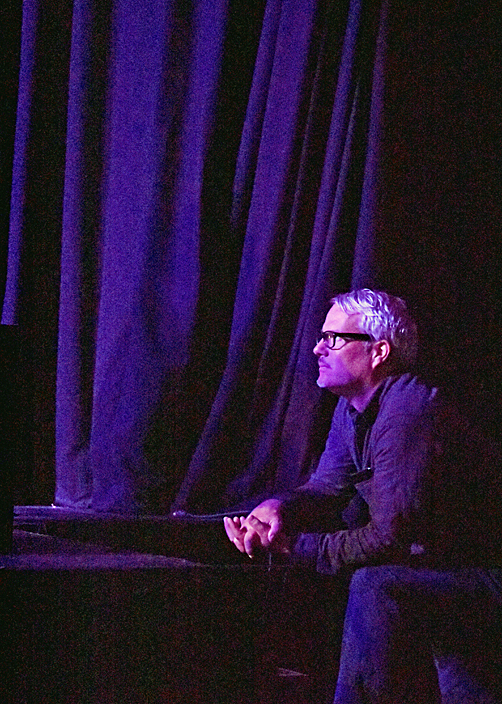 Director: Blackmore
Photo: Blowfish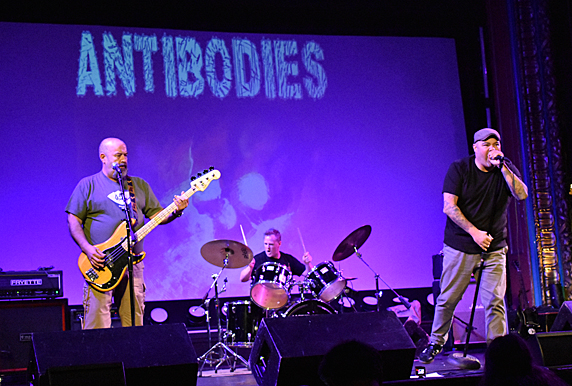 Antibodies
Photo: Blowfish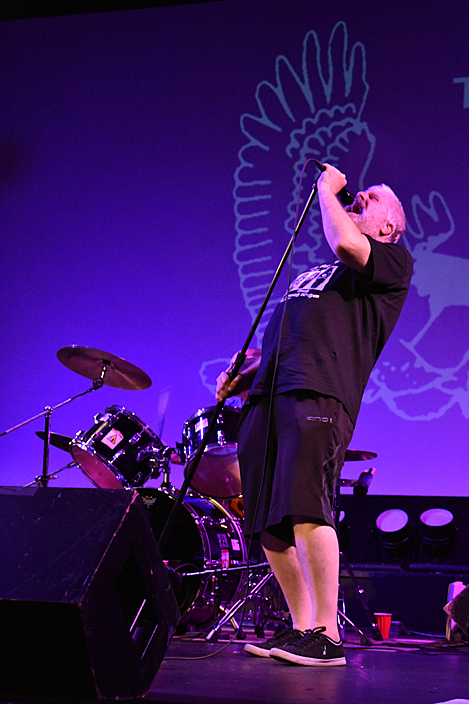 John Sox
Photo: Blowfish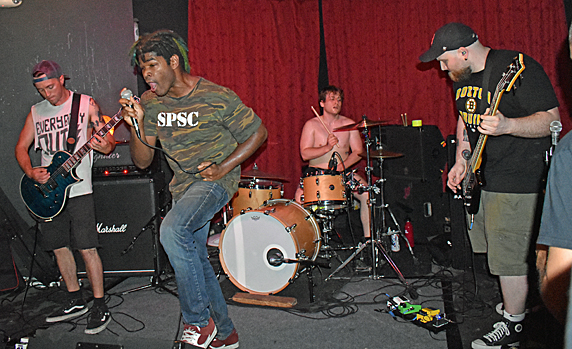 DNZL
Photo: Blowfish
Oh, The Humanity
Photo: Blowfish