The BGN News Archive
September 19, 2011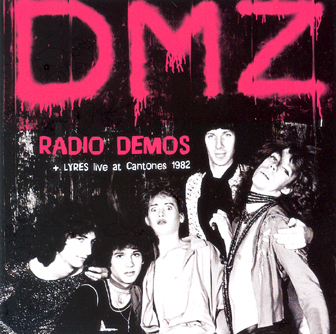 Munster Records from Spain has released a CD of some old material from DMZ and the Lyres. The CD has one set from each which are also available as individual LP's on vinyl.
The DMZ set is a gem. It's from a WTBS (then and WMBR now) session in 1976. It's a good look at the way things were in '76 and by that I mean raw and wild. You can see how this would shake up the Linda Ronstadt loving crowd.
The covers are a reminder too. They pick Kinks, Rolling Stones and the DC 5. There was a reaction to the established rock groups at the beginning of punk but the early material by the same groups was more rocking and a source of inspiration and material.
The whole feel of the set just whips you back to the day.
Reasons to get out:
Peter Hook playing Joy Division's Closer will be at the Paradise on Tuesday....to go further back to the sixties bands the Zombies will be at Showcase Live in Foxboro on Wednesday.
Tuesday TT the Bears has Locals cover Bruce Springsteen night. Two stellar pop makers are on the top of the bill Corin Ashley and Dave Aaronoff......DANGER: there is a act called UKE SPRINGSTEEN and I wish that on no one. Born to UKE, indeed.
The Manglers, The Jabbers, The FU's, The Stretchers and Josephin...at The Midway Friday September 23 and all for 10 bucks!!
Then there's a 2 day Bike MS Benefit at Church: Friday Sept 23rd there's The Titanics, John Powhida, Pete Hayes' Rock Shop, The Russians and The In Out. On Saturday Sept 24 they got Easy Action (from Detroit/MI NOT the band with Casey Lindstrom!) ,Triple Thick, Gene Dante & The Future Starlets, and Jason Bennett
Rayboy's last gig before he goes mid-west is also on this Saturday. He'll be pounding (artfully) for The Cadillac Hearts at 9pm at the Cantab. and a reunited Tom Dickey & the Desires featuring original members goes on at 10pm. Last on is The Cock Walkers featuring Joe Harvard at midnight. Opening is the Spotted Dead Nettle (which is a "fast growing perennial to be used as a ground cover"...I looked it up!)
Saturday the 24th Boston Band Crush is doing their 3rd ONE NIGHT BAND. They get 40 musicans (Evan Shore is in there this year) and shuffle them into 8 bands. They rehearse in the morning and play at night. It's a fun concept and is a fun night. The proceeds go to charity too. They also have sponsors like Sam Adams which is usual and Peaches and Crème, a pie store which is different and I like that. I wish the clubs were more food oriented and less booze oriented. I would like to see a music room and bakery. I rather eat than drink, but hey that's me.
And this is sure to be a fun and excellent event:
It's VINYL RECORD MADNESS at The Mars Records / Store 54 Outdoor Record Sale on Saturday Oct 1st at Store 54 in Allston from Noon-4PM.......the official address is 16 Harvard Ave if you need to find it.... 12 Ultra Cool Record Dealers/Collectors will setup on Store 54's Outside Patio with crates and crates of vinyl goodness for your shopping pleasure! (I heard there will even be 8 tracks too) There will be guest DJ's spinning as well as refreshments for all! And it FREE too!!
Providence has Jonathan Richman at Firehouse13 pm on October 16th....The Colonel's 3rd Annual Super Dooper Guitar Party is at the German Hall in Pawtucket on October 15. It's a mash up of a guitar sale and concert: a real winner for guitar fans. Find details on Facebook....They found the perfect venue for the Murder Junkies - Club Hell. They bring a circus of dangerous behavior there on October 9.
And don't forget the 35th Anniversary Damned show at The Middle East coming up Oct 20!!
And mark your calendars for Saturday November 5 when The Magic Room has James Straight and The Wide Stance along with Ken Scales and the new Adventure Set!!!
Email us with your latest news, opinions and all that kinda stuff...if ya got any....misslynbgn@yahoo.com