The BGN News Archive
September 20, 2010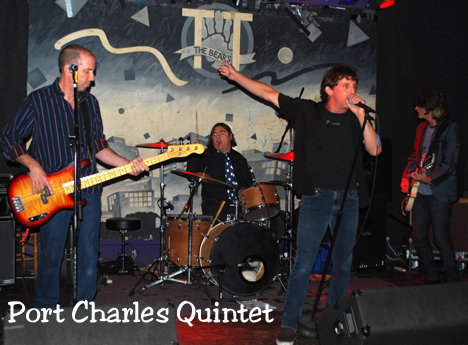 Blowfish with the news this week.....
I had to have another hit of Port Charles Quintet so I went to TT's on Thursday. There was a good crowd there for a week day. I missed Brown Boot but caught the last 4 songs of the Weisstronauts who I've heard good things about. They do some nicely played instrumentals and ended with a superior instrumental of Pleasant Valley Sunday by the Monkees. It just soared.
I couldn't figure out what Mars is aiming for but they were good enough. Port Charles did not disappoint. They came roaring out of the gate and never let up. Dennis McCarthy is a powerhouse drummer with finesse that keeps the band at the top energy level every minute. Cam and Company know these cover songs down to the core and dish them up with authority and power. It's a good night whenever you catch them.....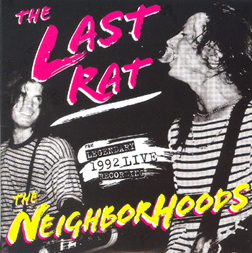 It's hard to think of two things we have liked more than The Neighborhoods and The Rat and now we get THE LAST RAT a CD of the Hoods live at the Rat in 1992. There are no liner notes but 29 songs with 5 covers including Spymaster which is turning out to have to long life. There will be a show to celebrate the release at the Paradise on October 24. You can get it at Newbury Comics. ......
There has been a lot of North Shore punk stuff going on with TMAX moving up there and having the Noise 30th Anniversary party in Gloucester ....Willie Loco has sort of kick started things up there......
Billy Connors of the Boize is having some health problems and is heading for the hospital...we wish him well......
Gigs of interest at the Church have been spotty but this is a winner...Steve Wynn performs The Dream Syndicate's Medicine Show LP on October 15...time to drag the vinyl out and listen to that again. ......
Nice to see Triple Thick's new CD getting good play on WMBR..review here. .....
John Hovorka is having a book reading party at the Plough and Stars on Saturday October 9th at 4pm. The Story of Johnny Wylde is a fictional story of making rock in the 80's, he writes what he knows. He's going to have different people reading sections…that could be interesting. ..other Boston punk writers here........
Email Miss Lyn here at The BGN please...