The BGN News Archive
September 21, 2009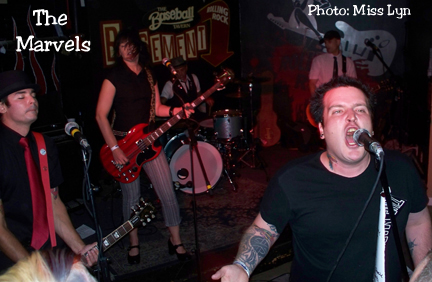 Hey folks, another week gone by and this week we made it out to see some music and it was really a great night of bands. We headed on down to the Baseball Tavern on Saturday to see The Sprained Ankles, Razors in the Night and The Marvels....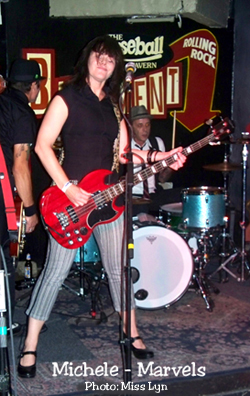 excellent bill and excellent show!!!
The Sprained Ankles are fun to watch...the lead singer is a riot...in some ways he reminds me of Joey Boy from Red Invasion, he's got this natural super energy and he's very animated up there. He definitely has his very own moves down and he's just great to watch. Allen Lavesque is now in the band playing bass and they sounded quite good Saturday night......next up was Razors in the Night...well these guys must be keeping Hootenany in Harvard Sq in business...they are perfectly punk in their appearance...ALL the right accoutrements...I have seen Todd out at many shows and he is always dressed in ultra punk regalia...but I don't' doubt their authenticity either....and frankly I am glad there are so many people out there today keeping the punk thing alive....anyway Razors are straight ahead hardcore punk...fast furious but they also seemed to be very good natured and cool guys...my only complaint...please guys have someone other than Ian sing back up...the guy sings worse than I do and that is pretty bad......but all in all it was an excellent set, TONS of energy and feeling!! Definitely a good band!...now, next up was The Marvels...yup,they are now more my favorite Boston band than ever before!!! Wooo, something happened while they were broken up because they were tighter and more energized than ever...wow!!! amazing set really...Staffy - what can I say, as awesome as ever (I just wish someone would give him some fashion advice...like "Staffy, wear tighter pants maybe so they aren't falling down off your ass!" ) ...Michele and Jesse...what a freaking rhythm section, I mean they were pounding it OUT!!! These guys sound better than EVER!!!! Their next show is in November with Muck and The Mires and if you haven't' seen them this time around you just HAVE to go see them!!! I mean , They blew the fuses in the club they during their set and they even got the audience demanding an encore!! ....And as Eric Law said when they finished their last song "Now THAT's rock and roll!" ...YUP!....
Now here'S what coming up....... This Saturday Sept 26th is Padded Hell Penis Fly Trap and The Egos at O'Brien's....hmmm, should be entertaining for sure!!
But now here's A Punk Rock SHOW at Baseball Tavern yeah!_- Pressure 28 (from England), Hard Times (from France), *Sword + Spear* , Resistance 77 (from England), Tommy & the Terrors, For the Worse, The Barons , Aires & Graces , The Butchers , Revilers, Bloodstained Brindle, Hammer and the Nails, Peace Creeps, 45 Adapters - This is a EARLY daytime show starting at 1PM - and for tickets you can go to Play It Loud! For Tickets And here is a very special event....
on Sunday 9/27 at 8pm at Church there is a Lou Miami "Reunion" Rootoo Family Benefit...playing will be James Straight and The Kozmetics (JS used to be in James Straight and The Beaureaucrats and was a good friend of Lou Miami's) the band will include former members of Lou Miami's bands, they'll be doing Lou songs...and man did he writer some excellent ones!!! ....also on the bill will be Girl On Top...and From Karen Di Biassi we hear: " Lou Miami came to me for voice lessons around 1984 and we became close friends. After the Kozmetix broke up Jack Rootoo (guitarist) joined Girl On Top and played with us for fifteen years. Both have since passed away:-( They are missed. Please come and support them." ...the word is that Jack Rootoo's family is having a very difficult time and need help so please come out and give some support.......it's $10 at the door......
And looking forward to October here's some cool stuff to plan for: both at The Middle East UP to make things easy for you: The Dirty Truckers and Muck & The Mires on Friday Oct 9th and next night, on Saturday Oct 10 it's The Glam vs. Punk Extravaganza : with Gene Dante & The Future Starlets, The New Alibis, MeandJoanCollins and The Acro-brats -cool!!

Ok folks, email me ....let me know what's happening..thanks!! click and write me!.... Lyn