The BGN News Archive
September 21, 2020
This Saturday, Sept. 26th from 8 to 10 pm, we get Smitt E Smitty's Atomic Fez Fundraiser on Once's Virtual Venue (info on FB) Even though we asked (in our interview with Smitty), we still don't know exactly what some of the groups are going to do for the show. Some details have come out lately though, we now know that The Shang Hi Los will debut a new song and their first video.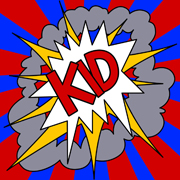 We just found out that Kid Gulliver will reveal a new video for their song "Carousel" from their first CD. Kid Gulliver were just getting attention and a parcel of new fans who were just getting familiar with their catalog ... as the pandemic hit.
Carousel, like the amusement ride, is circular and moving but it's even more disorienting than that. The phrasing gives the song an even more vertiginous feeling. It doubles up on the swirling effects already in the song. Simone Berk is superimposed and it feels like she's floating. The lyrics come across as inner musings. The video was done by Daniel Ouellette and it has the craft and superior quality that will raise the bar for future works.
So, now we jump the gun and give you the Kid Gulliver video of "Carousel" now!
This week we had another fine gift…a new Baabes video and song; "Pretty Mugshot" from the up coming High Demand Trash EP. It's got all the exciting garage craziness that mark their live sets…and oh, do we miss that!! If you missed Baabes live shows, shame on you.When we get back to live shows you have to put a Baabes show at the top of the list. Meanwhile, give the video a view here. Here's the Baabes Facebook page. They'll be doing a new song and video each month during the pandemic.
| | |
| --- | --- |
| Dug - self portrait | The Live Art show |
Thursday's Live Art with Dug McCormack continues to be a highlight of the week. Dug draws as he talks about what's going on in the Boston scene and how to support the artists that are still working. The show is one of the welcome oddities that cropped up amidst the shutdown. He's on every Thursday starting at 6 pm. Here's this weeks show on Facebook. This week the Count interviewed Dug on the Club Bohemia page. Something we wanted to know is in there – how many bands is Dug in? Turns out it's three and a half, but Dug's creative drive may increase that number at any time.
Richie Parsons and Tony Kaczynski did a live stream set on the Midway stage on Thursday.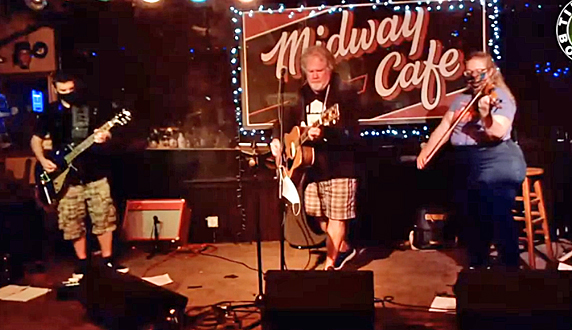 Richie Parsons
Richie had a trio with him and did his solo material. Richie's whole second career line has been a welcome addition to his musical life. His voice has come to the fore and his wide taste in music has served him well in his songwriting. His set was similar to his last set at the Midway a few weeks ago. He sang mostly from his solo albums. Funny, he sang "Blue Sands" about that long lost club…hang on Richie you will have a whole list of closed bars to sing about. We can never get enough of "Love Letters", "When You're Dancing" and "Mix Tape".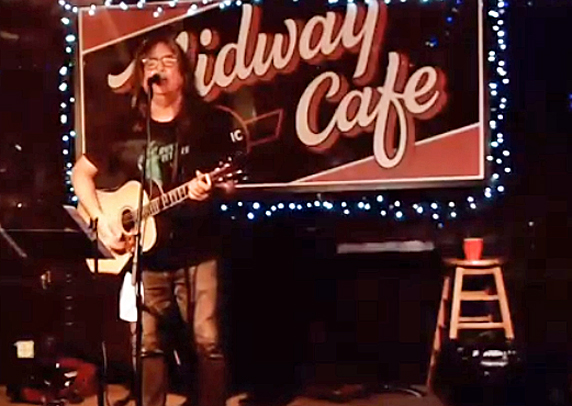 Tony Kaczynski
Tony Kaczynski has done regular streams from his apartment. He said he was happy to be on a stage again and we were happy too. I mean it's been six months since we've seen him on stage…and that means it's been six months since we've seen ANY band on stage! Damn!!!
Tony did a solo acoustic set. he is a superior song writer and the songs are showcases for that amazing voice. It's been too long since we heard some of those songs from "Double Trouble" that we have come to love so much, like "Look To the Sun" and "Just Like Sunday". Tony used his strong voice to take on Roy Orbison's "Running Scared". That was cool.
Click here to access the video: Live Stream from The Midway Tony & Richie.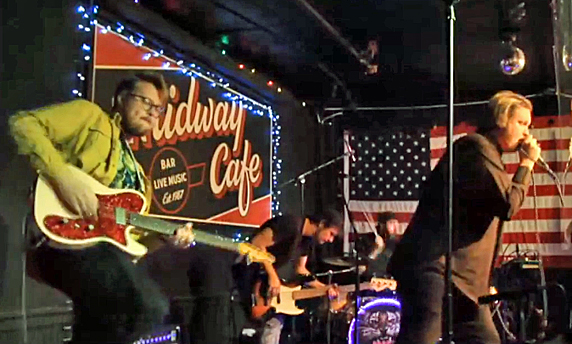 Paper Tigers
The Midway had Paper Tigers doing a live stream on Saturday at 8pm. We never saw them before but we heard a lot to like on the live stream. They were all amped up and the sound was balanced with the vocals still clear. The singer interesting and the power of the band actually came through the live stream feed, that doesn't happen often. Check out their website Paper Tigers. You can hear their EP, The Outer Limits, there. They're from Allston and they have a song called "On Harvard Ave".
The Midway live stream can be seen here: Paper Tigers at The Midway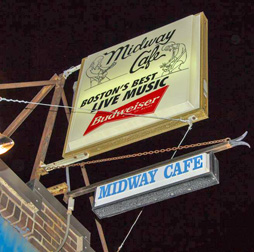 Jenn Lombari of Stubborn Hearts has a live stream show at the Midway coming up this Thursday September 24 from 7 to 9 pm. The other act is Britt Walsh. See below in listings for link.
The Instamatics and The Jacklights will be streaming live from the Midway on October 13 7 to 9 pm See listing below for link. The Instamatics is a scrappy surf band that does its own thing and comes up with some unusual covers that originally are anything but surf. We saw them in 2018
The Jacklights look interesting judging by their Bandcamp page. "Hook-driven pop punk, inspired by 80s/90s bands." Listen to their demo "Bad Memory" on Bandcamp.
And don't forget Replay at The Midway ( every Weds, Thurs, Sat & Sun 5-10PM) which is videos of previous shows by bands like The Cranktones, Triple Thick, Classic Ruins and more. Check out the FB page.
There is a live stream fundraiser for The House of Music in Portland ME club that looks like it could be interesting. There's no list of groups but they say they will play until the donations run dry: The Facebook And here's the Go Fund Me page They already have $53,475.00.
---
On the radio......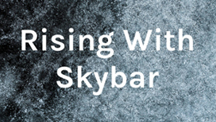 Skybar is bumpin' it up, he's getting some live music action into his podcasts. This week it was Carissa Johnson. Carissa is better suited to the solo set than a lot of others. She played a few songs and talked about strategies during the shutdown. You can hear the show on the AnchorFM website.
Here's a Singles Going Steady podcast "wherein: Adrienne and Steve discuss the influential, underrated punk of England's 999" The show focuses on the art of the single and this podcast zeroes in on 999. Give it a listen here.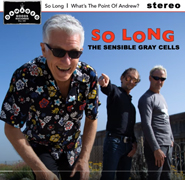 On her Late Risers Show thursday Joanie Lindstrom played the Sensible Gray Cells' "So Long". That's Captains Sensible's his new side group with Johnny Moped & Paul Gray, And what a fine song it is!! You'd think that maybe the Captain was spreading himself a bit thin at this point or that he's worn out as far as songs go. Obviously not, judging by this song! Give it a listen yourself.
Here's a 17 minute video of Lenny Kaye (from Sept 5, 2020) of the Patti Smith Group. He plays several songs and has some thoughtful ideas to communicate. This was recorded at his home in the Pocono Mountains in Pennsylvania.
---
CDs/ Music.....
Today Junior were not very active pre lockdown. We always thought that they were one of the leading contenders for the next prominent band in town. They have a whole sound of their own. The good news is they just released a new song; "Laurel Canyon" and it's right in line with their best. It's a lyrical love letter for that most favored of locations. Today Junior's dreamy indie surf sound is a suitable frame for something like this. Listening to this we almost forget our current predicament and we greedily want more songs!
Adventure Set take their time releasing songs but it's always worth the wait. They craft their tunes so they sound like the best and classiest of 80s electronica. The new song is "Handmade". "The worst pain is handmade", the lyrics declare. The overall effect is somber.
Rum Bar's latest is The Short Fuses' album Dawn of the Deaf. The first song "The Pink" is a take no prisoners rocker. The sound of the group jumps out of the speakers. They are some aggressive players. Live they must be an earful.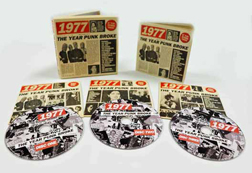 Cherry Red Records recently released (in 2019) a three disc box set called 1977 - The Year Punk Broke. "chronologically chosen three-disc selection of singles that touches on some of the biggest releases of the year plus loads of tracks that still sound rough and ready by bands who didn't stand the test of time. It kicks off with the Buzzcocks' "Boredom," which was an influential track sonically and commercially as it gave other people the idea to release their records totally independently. The deluxe clamshell package includes a weighty booklet full of illustrations, with a 15,000-word sleeve-note and band-by-band biographies by compiler David Wells." it includes The Stranglers, 999, The Lurkers, Xray Specs and a ton of others. Check it out here. and Here's a chat with Cherry Red's founder Iain McNay about the set. You can see the entire list of songs here.
Cal Cali's band Glider has been releasing songs from their album Glider Glider recorded with Ducky Carlisle. It's their best work yet. Punk songs that sound doubly great when you hear them on the radio in a set. To hear them now you can go to the Glider Glider FB page and listen. And hey our own Kenne Highland is on bass!
The latest Boston Rock n' Roll Anthology is almost here. It is available on MixCloud now
---
Read.......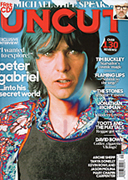 Is there anything new to be found in Jonathan Richman's bio? Uncut Magazine gives it a six page try in the September issue. The story is the same but there are some current quotes from the people around Jonathan. One thing we learn is that there is an album in the pipeline of ALL the A&M (Alan Mason) and Warner Brothers (John Cale) demo recordings. Some of the cuts have no vocals. Bassist Ernie Brooks says that there are some song versions that haven't been heard yet. Jerry Harrison says that there have been "substantial offers" to reunite the classic Modern Lovers group. You can purchase a digital copy of the September Uncut Magazine here. And read some more articles on Jojo here.
Clubland stands by itself - A book of poetry from 2011 based on Dave Morrison's experience on the Boston Music scene is a one off. Dave revisited the book last Wednesday on his live stream poetry reading from the Camden Opera House in Maine.
| | |
| --- | --- |
| Dave Morrison | Ellen Sander |
Dave has 14 books of poetry and is seasoned in reading poetry in a public forum. There was no awkwardness as he read for a half hour. Some quick stories introduced some of the poems. People shy away from poetry so this is a good chance to get a feel for it. The subject matter will be of interest and the presentation couldn't be better. Dave's website. The video can be seen here
The second part of the video is a book reading by Ellen Sander. She was a rock critic in the sixties and she has many inside and personal stories of major rock stars that you haven't heard before. Well, you haven't heard them if you haven't read her book Trips. That book is currently being reissued. The original goes for good money on eBay. If you are a classic rock aficionado you will be pleasantly surprised at her tales and views from the sixties.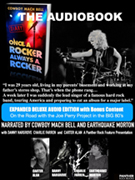 Mach Bell's book Once a Rocker is now out in audio book form. The book about Mach's time in the Joe Perry Project has extra material in the audio form. Mach says: I tell my own story along with my great friend and co-narrator Earthquake Morton. Some may remember Earthquake from his famous party band, "Duke & the Drivers."
In this audio book there are also visits from an illustrious supporting cast: WBCN's Carter Alan and Joe Perry Project members Danny Hargrove and Charlie Farren. Vivid, new tales shared, old questions finally answered, and a gripping, new Final Chapter is premiered. Get it here Once a Rocker
For a short time you can pre-order a Blake Babies coffee mugs….from American Laundromat Records.
---
Coming up.....
Virtual/ Streaming.....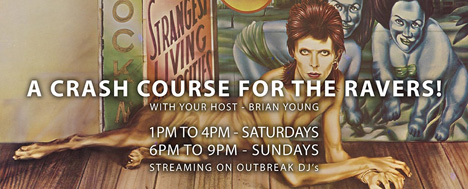 Tuesday Sept 22, 6PM - Punk Rock Aerobics Facebook Live
Wednesday Sept 23, 6PM - Replay at The Midway Facebook Page
Wednesday Sept 23, 6PM - When Particles Collide Facebook Live, 6p
Thursday September 24, 7 to 9 pm - Jenn Lombari of Stubborn Hearts and Britt Walsh are doing a live stream show at the Midway. Here's the FB page.
Saturday Sept 26, 8PM Virtual Atomic Fez Fundraiser for ONCE in Somerville (Read more in our interview with Smitt E. Smitty.) FB event page.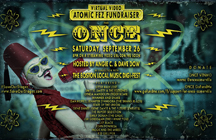 Saturday Sept 26, 12PM and September 27, 10PM The Boston Local Music Festival on Facebook Live. Hosted by Midway Cafe, TinyOak Booking and Boston Local Music Festival and shot at various locations. Bands will include The Knock Ups, Linnea's Garden, When Particles Collide, Planet Mercury, Walter Sickert, OTP. Here's the Facebook page.
Saturday October 3,7 PM – 8:15 PM The Mess-Around Virtual Video Premiere guest will include Kurt Baker and Geoff Palmer (The Connection) as well as the regulars, Justine, Jay and Tom. Here's the FB page.
Tuesday October 13, 7-9PM, 8PM- The Instamatics and The Jacklights will be streaming live from the Midway FB event page
Live shows.....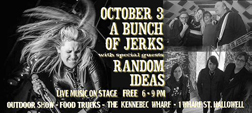 October 3 (Saturday) A Bunch of Jerks and Random Ideas at the HydeOut At The Wharf (1 Wharf St. Hallowell, ME) from 6 -9 pm. It's free and food trucks will be on site and plenty of space to dance and social distance yourself. Facebook page
October 28 (Wednesday) Einstürzende Neubauten - The Year of the Rat Tour - The Wilbur Theater Facebook Page
Thursday December 17 -7-9:30PM - Talkin' to Dracula and his Crew: Goth subculture and horror, a lecture - Miskatonic Institute of Horror Studies Brooklyn NY FB page
January 16, 2021 (Saturday) New Date - The Schizophonics, Muck and the Mires at ONCE Lounge Early Show: 5:30 PM – 8 PM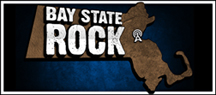 February 17, 2021 (Saturday) Rescheduled - Swans w/ Anna von Hausswolff at the Paradise
April 19, 2021 (Monday) Rescheduled - Dead Can Dance at The Wang Theater
April 29, 2021 (Thursday) Circle Jerks Plus Special Guests at the paradise (this is a reskedged show) FB page
CONTACT US AT....misslynbgn@yahoo.com Send us your gig listings, your anything else ya got!! You want your CD reviewed?? Contact us for that too.
---