The BGN News Archive
September 22, 2008
We took a trek to the Abbey this weekend….felt really weird there, really weird. And they had all the lights in the regular stage room shut off except for one really annoying flood light but that was just part of it…
I got to see The Throwaways sans Staffy….hmm, instead of being engrossed in Staffy's every move (I'm not quite sure what it IS about Staffy that enthralls me so, I'm perplexed but anyway…..) I was better able to hear their songs and realize how good they actually are!!! The Throwaways are really good!!!
Well I don't' know what to say about the Abbey…we saw Cheryl Eagan-Donovan there, arriving not to stay but to give her donation to the club and offer to show her film, All Kindsa Girls, if they would like….. that's all I"m gonna say...
So this coming week at the Abbey…I'm into this Friday night: Red Invasion headlines on Friday night, Sept 26th along with Doggfight US, Insult and Fake Boys,sounds excellent to me!!
And this coming Sunday, September 28th is an awesome show over at Harper's Ferry: The Street Dogs, The Unseen and The Men…sounds like boys night out but there'll be eye candy for us girls too…I love tight pants and tatts, you as readers well know….
October is looking like an excellent gig month:
Wednesday, October 1st, at Church is CHROME's Helios Creed….this is THE GUY that made up the sound that many bands in the 80's and 90's picked up: here's a bit of a history lesson: "Helios Creed is the legendary guitarist of San Francisco's proto-industrial acid-punk band Chrome. His unusual musical stylings have influenced bands such as Butthole Surfers, Ministry, Nine Inch Nails, KMFDM and Prong. Helios Creed joined San Francisco's Chrome in 1977 to record their second album Alien Soundtracks. Helios' mastery of sustained, distorted guitar effects and deep, crooning vocals noticeably changed Chrome's direction and made them the science fiction inspired, avant-garde acid-punk that Chrome is best known for." Here's his website and you should check him out!!! Helios Creed CHROME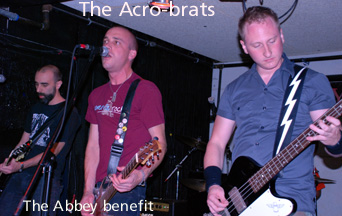 Hey then for you Rock a billy hoe down types just 2 days later, Oct 4th, a Saturday at Church it's the Dixons, The Swinedells and a bunch of others worth checkin' out….
Wreckless Eric at TT's Sunday October 12th!!
But save your energy my friends coz Monday October 13th at Church is a killer totally mental show…: The Mentors (without El Duce hmmm, I don't know but we all go on right??) Psycho, Kill Slug…you'll need to be strong for this show!
Saturday October 19th at O'Brien's is gonna be a good night! I like O' Brien's, as long as it's not too packed so don't' go cause I need my space…ha ha, no, DO go to see Black Mosettes, The Victims , Classic Ruins and the return of The Mess Me Ups (YAY!!! I TOLD you they be re-forming!!) DMZ Reunion !!!!!
at Church on Thursday October 23rd with Red Invasion and The New Frustrations!!!!
Oh oh and watch out, The Neighborhoods and The Figgs at Church November 1st!!
Now we have a couple of links for your viewing pleasure….
1) Kinda new (but always worth the watch!!) posts of videos at KINODV ( meant to include this last week but forgot):
Richard Hell and the Voidoids were regular headliners at CBGB during the punk movement in New York City in the late 70's and 80's. Jan shot "Blank Generation" with a single nuvicon b/w camera and a portapak. This live version is a bit on the rough side but an interesting piece of punk history. Watch "Blank Generation"
Across the Atlantic, one of the more prominent 70's 2 Tone ska revival bands, Madness boards the "Night Boat to Cairo." This is a dance crazed live performance filmed in London 1980. Put on your dance shoes and start skanking. Check out Madness "Night Boat to Cairo"
2) NEW Kenne Highland video….yes, NEW…he went to DC to see our old friends The Slickee Boys, he got up on stage to perform Jailbait Janet (gee, I thought he renounced rock'n'roll??? Now I'm really confused…I think the distance makes it "allowable" if ya know what I mean)…but anyway Here's Jailbait Janet
and then some guy who knows nothing about anything but gawd love him he's interested, interviewed Kenne…so here's the interview too….
and one more thing, lest we forget, or some of you may not have known Kenne way back when but here's some photos spanning the years of Kenne...see how he's changed....



First pic I ever saw of Kenne...WHEW!!




Kenne on stage
at the Underground circsa 1980
….well ok my friends…until next time…and please do send along a little message to make my day…. ML