The BGN News Archive
September 22, 2014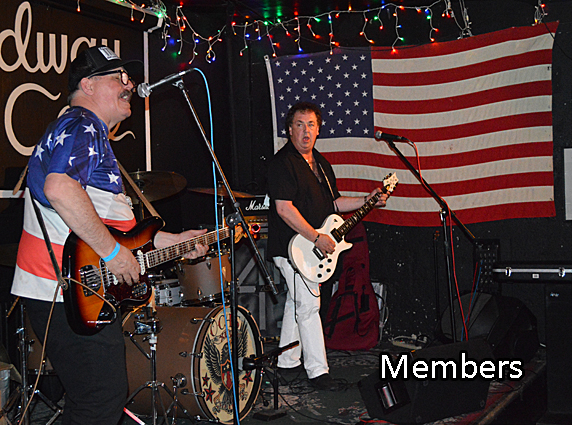 Here at the BGN we post the news on Sunday night or Monday morning. That gives us the sense that the rock week ends on Sat and we start all over again (usually on Friday after). That's not the case these days because good gigs are every day this month. We posted the news Sunday mid-day and then headed out that night to see The Members at the Midway.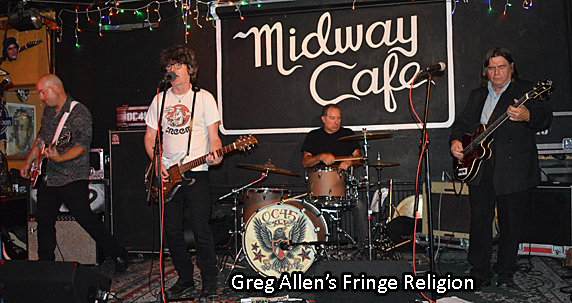 We saw just a song and half by Greg Allen's Fringe Religion as they were winding up the set. We really liked them last time we saw them play (read about that here) and were disappointed at having not caught a lot more of their set. People in the club?...less than 20....and most were band members. There seemed to be about FIVE paying customers: us, Joannie Lindstrom, Eric Law and Slimedog from Thrash'n'Bang.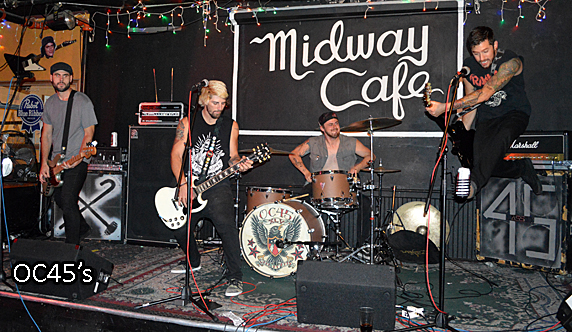 OC45 had played the afternoon hardcore show and now they were playing the night show also. They were drunk. I know that because they kept saying it. They also said they were under rehearsed many times but then they launched hard and heavy into some tight hardcore with many tempo changes and no mistakes that I could hear. The lead singer had a 50% blond dye job and more to the point a voice that reminded me of Stiff Little Fingers. Just a few songs made my night. Between songs they were bantering between themselves mostly about how much they drank and how the pizza they had was bad but then again it was pizza so it wasn't that bad...etc. I found it extremely funny, very entertaining. As long as the music was good - go ahead and prattle on.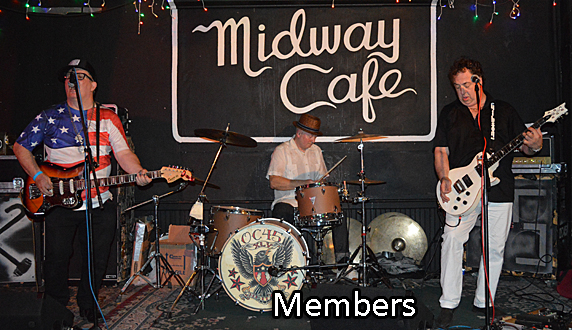 Now that the night was saved we wondered what the Members would be like. It's been a long time for this group. Blowfish used to play Solitary Confinement and Offshore Banking Business on the Late Risers Club back in '78 and '79. The Sound of the Suburbs got massive radio play. The Biographical Dictionary of Popular Music has The Sound of the Suburbs listed as one of the most representative punk singles (that was just the first book I picked up). So why wasn't anyone at the club? Maybe a dozen people were there when they played. It was Sunday night and it had been a week with lots of shows, but still. The Members put on one cool show.
To start off with they sound like THE MEMBERS which is English and punk. Seems like they should but that's not always the case with older bands. When the Standells played I didn't get the feeling I was hearing the old band in any significant way. These guys though, still had it. JC the main singer gave back stories or put the songs in context of the era. It was a little English punk history as well as music. The songs are still as good as one remembers. It's hard to beat those nuggets of punk from the early days. Sound of the Suburbs, Solitary Confinement, Offshore Banking Business and Working Girl hit the spot. They played other songs from their first record, all good. This was all I had hoped for.
I doesn't matter to me how many people were there but I felt bad for the band who took it in stride. I had bought tickets early because I thought, them being an old English punk band, that it might have sold out.....right.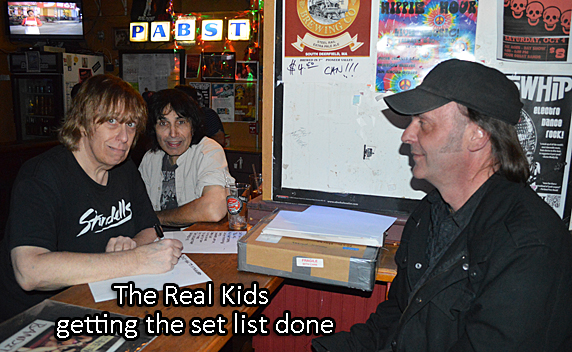 Then, on Monday, we found ourselves into the next week and the regular show by the Real Kids. This would be my fourth day in a row at the clubs. Rock Every Day is my new motto. Jay Allen was just stepping off stage as we opened the door at the Midway. "Nice timing" he throws my way with derision and a smile. I hope. Jay has lots of fun material and old school punk sounding material I would have liked to catch.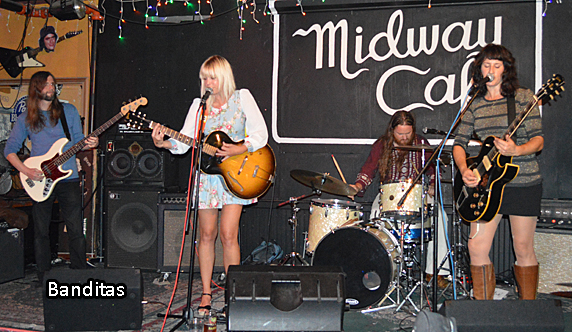 Some equipment problems that Billy Cole helped to fix delayed The Banditas. They have Margaret Garrett from Mr. Airplane Man who everybody seems to know and like. Also in the group is a striking blond woman who had a voice that could belt it out when needed. They did some soft poppy psyche; one had the drummer playing a flute. Then some more rocking things driven with Margaret Garrett's chording and that emotive voice.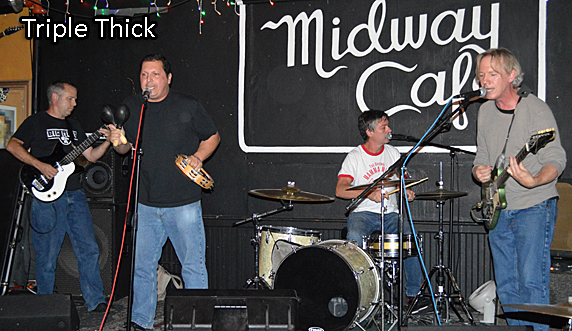 Finally, after months of missing Triple Thick at the Plough, we got a dose of the garage from our faves. Henry stands like a titan shaking maracas and tambourine like ominous talismans and issuing lyrics with plentiful emotion. We love this guy. It's a set full of short riff based songs whose titles are almost the whole lyrics. If you want to do what they do you have to immerse yourself in Garageland and have complete knowledge of its history and songs. Please Triple Thick, never stop. We need to hear you always.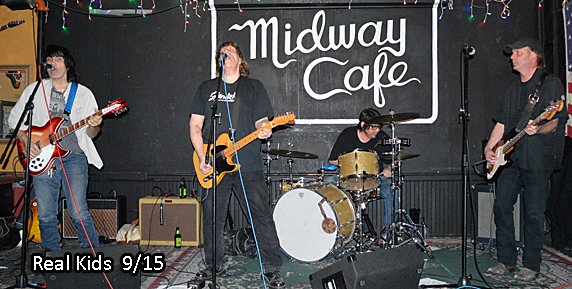 Can it be possible, more Real Kids? Yes, it can. They seem to be in a fun mode today. A little monitor problem then there off with Don't Talk to Strangers and Tell Me. Weeks of playing have improved them in many unseen ways. Everything is sounding better; tighter, punchier. They roll along - All Night Boppin' with the rockabilly sway. She's Got Everything the Kinks song sounds like it was written for them.
John got a little sick and had to take a break but just like every other time he comes back and finishes the set. I think more and more of him as I see him soldier on despite the physical setbacks. He has played some noteworthy solos tonight. They pull out the 12 string for the second time and surprise us with the Beatles You Can't Do That. Every week they have added some new things. They finish with the greatest screw-you song of all - Who Needs You. Not a set without problems but the highs are Real Kids highs, only receivable from them.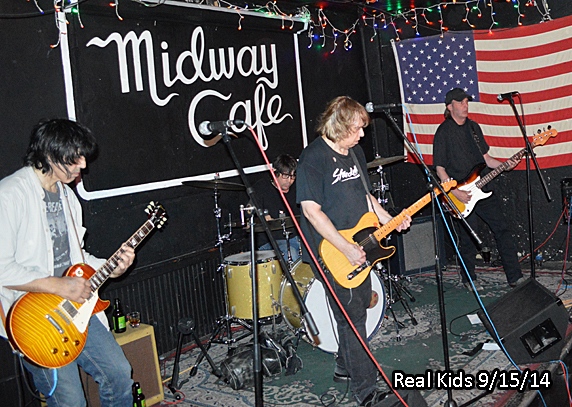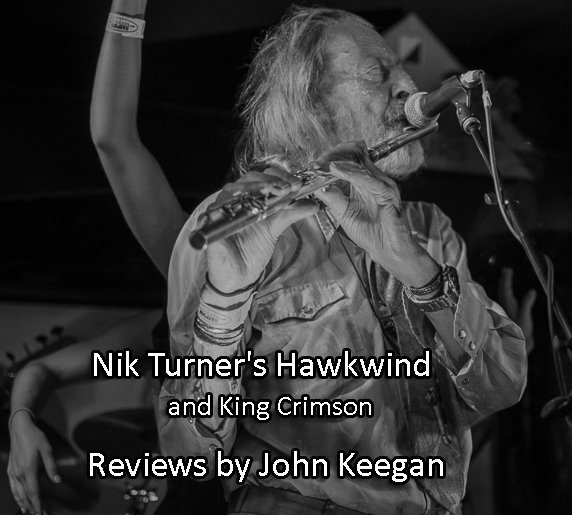 And in other news......
Not that it really effectsd us at all but ARCH as in Allston Rock City Hall is dead as a music venue....they are only existing as a gallery now because the city of Allston willnot let them have amplified music there!! Read about it from the Herald here
Which brings us to the other news...about what was once our beloved Radio. It seems the promoter Dan Millen, the guy who has finally ended up with the liquor license, proudly stated to told Wicked Local Somerville "Thunder Road..." (the lame new name for the club) "...will be a venue for local artists and will not play 'loud' or 'dangerous' music that might attract the wrong kind of clientele." HUH?? WHAT the hell does that mean?? Well it looks like most of the people reading this will proudly NOT be there anyway!!
And what's coming up.......
Tuesday Sept 23rd is another one of those special Midway shows...this one has The Egos, Problems , The Knock Ups and Hambone Skinny
Wednesday 9/24 is yet another excellent show at The Midway with The Savtones, Axemunkee and Mission Creep (it's their Album Release!)
Here is another one of those insane weekends with loads of great stuff going on- but its the norm for Sept/Oct in Boston!! :
It's starting early at TT's on Thursday Sept 25th. FINALLY Endation is playing in Boston again, and this is their CD Release party. Yellabird starts out the night at 9, then Eddie Japan, Endation is on at 10:50 and Do Not Forsake Me Oh My Darling finishes off the night and (this is the ONLY time you will see them for the rest of the year).
SHOW #5 for Pipeline has Dumptruck resurrected in the line up - Fri. Sept. 26 at Regent Theatre, Arlington:
7:30 - 8:10 The Barnies
8:25 - 9:05 The Jigsaws
9:20 - 10:00 Big Dipper's Bill Goffrier & friends
10:15 - 10:55 Vapors of Morphine
11:10 -11:50 Dumptruck
On Friday the 26th Psychic Dog is having a release party for their new CD Big and Lonely at PA's Lounge in Union Square Somerville also on the bill are All Eyes on Me, The Digs, Supersona and Old Hat
at The Middle East down on Saturday the 27th they have a killer show with GBH, The Angry Samoans, Reagan Youth, and Burning Streets .
The Regent Theater in Arlington Sept 27 is yet another amazing Pipeline! Show with: Barry & The Remains, Cardinal, The Downbeat 5
Sept 26, 27 & 28 is The 2nd Annual New England Shake Up it's Three Rockin' days of Bands! Record Hops! Vendors! Car Show! Indoor Pool Party! And More! All taking place at the lovely Sturbridge Host Hotel in Sturbridge, MA....Boston bands Jittery Jack, The Rollin' Pins and Lynnette and The Longshots will be performing.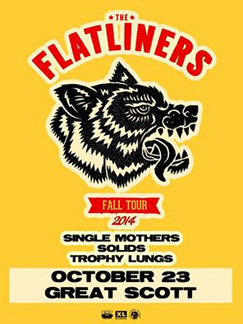 The Rat Beach Party set for September 27 & 28 (Sat & Sunday) you get all the info on their Facebook page new bands are being added.
Crash Safely is coming up in September/October - night #1 is at The Midway on Saturday September 27th with The Figgs, Watts, Gene Dante & The Future Starlets, The I Want You and As The Sparrow
And Terry Brenner has a Garage Rock Extravaganza on the North Shore! on Saturday the 27th with The Connection (at 11), The Charms (at 10) and Corolla DeVille ( at 9) and its all happening at The Spotlight Tavern...for only $5!!
And the Gizmos are playing in Memphis at The Gonerfest on September 27th
At BRIGHTON MUSIC HALL on Sunday Sep 28 is Pipeline! super show ....the line up now is.....
5:00 - 5:40 The F.U.'s / Strawdogs (split set)
5:55 - 6:35 The Nervous Eaters
6:50 - 7:30 Men & Volts
8:00 - 8:40 Bentmen
8:55 - 9:35 The Flies
9:50 - 10:30 Anastasia Screamed
Friday October 3rd at the Middle East down is a Pipeline at 25 Presents: 50 Years of Boston Rock! with: Fuzzy, Blood Oranges, Robin Lane and the Chartbusters, Tacklebox, Lazy Susan, Buttercup, and Weeping in Fits and Starts
Another Middle East down Pipeline! Show on Saturday Oct 4 with The Clamdiggers (members of Upper Crust). Orangutang, Bulkhead, Birdsongs of the Mesozoic, Kudgel, Quintaine Americana, and Crazy Alice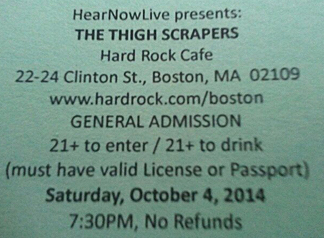 And for The Midway early evening show (4PM doors) this Saturday October 4th - Kenne Highland and Eddie Flowers are at it again with The Rockabilly Yobs (mems of The Gizmos/Afrika Korps), Didn't Planet, Wasted Luck (from Germany) and The New Frustrations
Saturday October 4th O'Brien's has a really good ...and long and early starting show with 3PM doors: DRAGO, The FU's, Black Cheers, Silver Screams, Quiggs and Little Richards ...you can read our write up on the Quiggs and The Black Cheers here from when we saw them at The Midway in March.
Also on October 4th over at Hear Now Live presents The HArd Rock Cafe is Versa Mynor, Black & Blue Mornings, The Thigh Scrapers and Between Dreams
Next night Sunday Oct 5th Pipeline! has something at The Paradise ...and the current line up added Tree .....
4:30 - 4:50 Kiristina and Carol of Quivvver mini-set
5:05 - 5:45 High Risk Group
6:00 - 6:40 Big City Rockers with The Atlantics' Fred Pineau
6:55 - 7:35 Reddy Teddy
7:50 - 8:30 Shake the Faith
8:45 - 9:05 Tree (mini-set)
9:20 - 10:00 Willie Alexander & The Boom Boom Band
10:15 - 11:00 Heretix
October 5th - another amazing Sunday show at The Midway will bring us The Vibrators!!! also on the bill MOTO and The Skeleton Beats. And the Vibrators have a new record coming out September 16th on Cleopatra Records it's Punk Mania - Back To The Roots: "14 killer reminders (plus 3 more on the CD) as to why Knox, Eddie & Co. have built a long, successful career on their razor sharp riffs and rousing hooks!"....check it out here.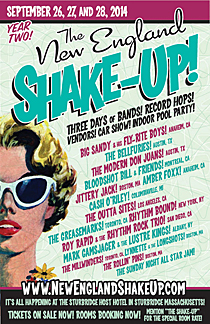 Friday October 10 is Night 2 for Crash Safely Benefit this one's at the Midway again...and there's a great line up with Petty Morals, Gymnasium, Tsunami of Sound and My Own Worst Enemy.
The Pipeline! juggernaut continues with SHOW #11 - Fri. Oct. 10 at Cuisine en Locale, Somerville:
6:30 - 7:10 Luca Brasi
7:20 - 8:00 Unnatural Axe
8:10 - 8:50 Permafrost (Miles Dethmuffin)
9:00 - 9:40 Hullabaloo
9:50 - 10:30 The Red Telephone
10:40 - 11:20 Orbit
11:30 - 12:10 Green Magnet School
Pipeline! Show #12 - Sat. Oct. 11 at Cuisine en Locale, Somerville: The Cavedogs, Gigolo Aunts, Flying Nuns, The Rising Storm, Drumming on Glass, The Natives, The Dambuilders' Dave Derby & friends You can get TICKETS here.
over at Store 54 Bob Colby Presents The Beachcombovers and Mars on Saturday October 11th
The Gizmos are in Brooklyn at Union Pool on Saturday October 11th this line up will be Kenne Highland, Eddie Flowers, & Ted Niemiec bringing the original 1976/77 Gizmos to NYC w/ assistance from Kenny Kaiser (Afrika Korps), MJ Quirk (Kenne Highland Clan), & Matt Burns (KH Clan) also on the bill: Lame Drivers, Milk Dick, & Liquor Store.
Also on October 11th an all day affair with the 9th Annual Hot Rod Fallout in Glastonbury CT - Bands & Continuous Music All Day
Vendors, Food, Booze, and more.....1963 & Older Traditional Styles Vehicles - Hot Rods, Customs, Stock, Race and Bikes
Pipeline! Show #13 - Sun. Oct. 12 at The Middle East Downstairs, with The Gizmos (original line up of Highland, Flowers, Neimec), The Bags, The Voodoo Dolls, Kenny Chambers / Electric Ears (Moving Targets), The Underachievers, Carrie Bradley (of Ed's Redeeming Qualities, The Breeders, The Buckets) TICKETS can be bought here
In case you've been missing the Roy Sludge Trio as I have, they're back and on a Sunday too October 12th ...at The Midway from 4-8:30PM along with special guest The Calamity Cubes and all for only $5!!
Monday October 13th there's a special show at Weirdo Records with Eddie Flowers and Kenne Highland , its the day after their Pipeline! show at the Middle East Down. Pre Kenne/Eddie there's CTM opening the night around 8pm and Cryostasium middle things out around 8:30-8:45. If you know the album 'Vernietiging', you'll love the set. Triple guitar attack all coming out of tiny l'il amps. Keep in mind that this is a TINY place so if you want to see the sets best to get there earlier than later.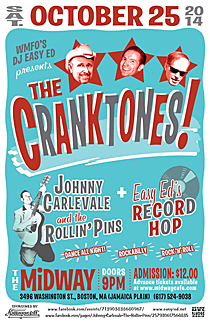 A few weeks ago we mentioned that we missed Plumerai but that they were reforming as DRLNG...well now they are playing out and already have a new EP called Icarus. And they are celebrating with a EP Release Party on Thursday October 16th at The Davis Square Theater. Also on the bill are Video Teeth, Cooling Towers and Funeral Advantage. We are looking forward to seeing this new iteration!!
Friday October 17th is Night 3 of Crash Safely Benefit...this time its at the Middle East Up and wow, the line up again is killer with Township, White Dynomite, The Field Effect, Triple Thick and Animal Hospital!!
Also on Oct 17th at The Midway is Sasquatch and the Sick-A-Billys, Tigerman WOAH, Tail Light Rebellion, and The Radiator Rattlers
Saturday October 18th there's a insane bill at The Cantab with Kilslug, Hirudinea, Witch King and David Carradine
Also n the 18th - out in JP at The Boston Wreck Center are the Hub City Stompers, Brunt of It, Beantown Boozehounds, Disaster Strikes and Neighborhood Shit. All info and map here
October 25th we can see The Cranktones at The Midway again kids...it's WMFO's Easy Ed presents:- The Cranktones, Johnny Carlevale & The Rollin' Pins, plus Easy Ed's Record Hop!!! - great night!!! These are fun gigs with a friendly group prone to dancing….. And Easy Ed doing the DJ thing between sets….Here's a video we took last time they were there….check it out here!
Also on Saturday, October 25, at Copperfields there's compilation CD Release Party for Chris Atwood's radio show The Alternative on WATD featuring: James Straight and the Wide Stance, A Fifth Column, Ruby Rae, and The New Frustrations. That little radio show is getting bigger by the day.
The Damned are touring this Fall with TSOL. They are playing Halloween in NYC but playing Boston on Saturday October 25th at the Royale...tix here....
In November Bob Colby has his Store 54 show with When Particles Collide and Powerslut on Saturday November 8th
Cavestomp ! & King Yum Records Present: Lyres with Special Guests Wicked Cool Recording Artists Cocktail Slippers, The Connection, TRiPLE THiCK on Friday, Nov 14, 2014 at The Middle East - Up. (Tickets here) The Cocktail Slippers, great Norwegian female band: "The band's main musical influences are Blondie, The Shangri-Las, Joan Jett, Foo Fighters, The Ramones, and The Beachboys". Their real good version of the Connie Francis/Ellie Greenwich song Don't Ever Leave Me
CONTACT US AT.......misslynbg@yahoo.com Send us your gig listings, your news and anything else ya got!!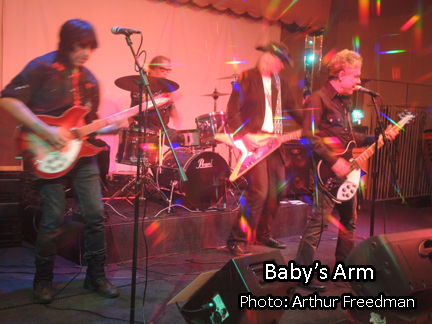 This is at the Cuisine en Locale 9/13/14 show last week.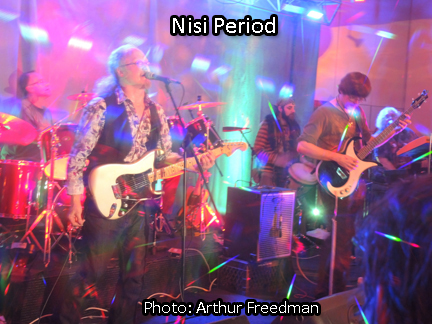 Fri. Sept. 19 at Cuisine en Locale, Somerville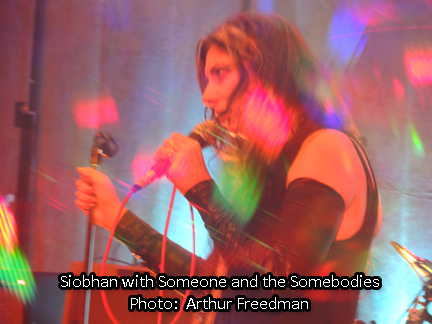 Fri. Sept. 19 at Cuisine en Locale, Somerville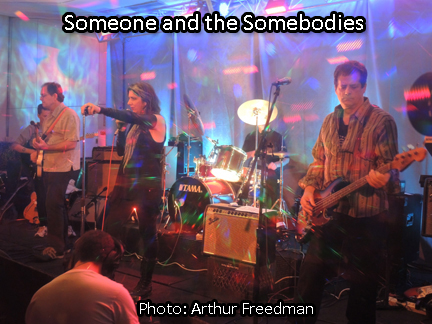 Fri. Sept. 19 at Cuisine en Locale, Somerville