The BGN News Archive
September 23, 2019
Lyres
Photo: Blowfish
---
The Hong Kong Thursday shows are getting our attention. Like the reliable Mondays at Charlie's Kitchen the bills are punk oriented. So it was back to Harvard Square this week.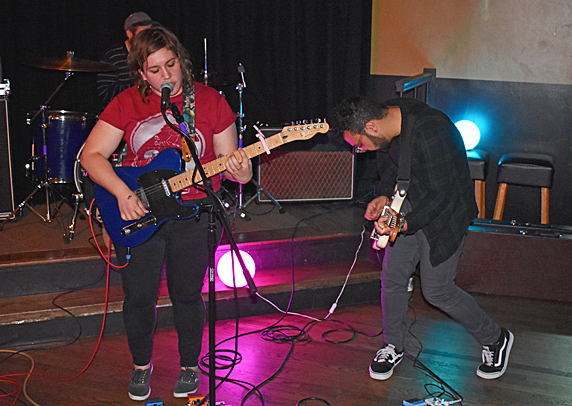 Sorry
Photo: Blowfish
Sorry (new group, not the old hardcore one) was the opener. We saw them here a month ago and wanted to see them again. Like last time they dug in and worked their way to some moments that transcended the usual.
Both guitars created a distorted background as the drums kept things busy sounding. Then it was the bass that was often the instrument that caught your ear. There's something about the Hong Kong, either the room or the sound guy, that makes the bass sound clear in the mix. It happened last time we were here and it was true for every group tonight.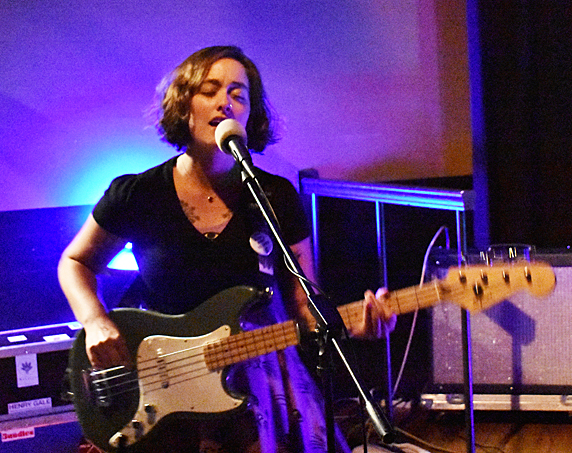 Stephanie - Sorry
Photo: Blowfish
Stephanie on bass played half melodic and half figure type playing. She had that gift of playing just the right extra note or two that makes her lines click. She was always working the song rhythmically and/or melodically it was never a stock riff that was plugged in.
The singing was also the key to some of the best moments. It was clear and cut though the busy background.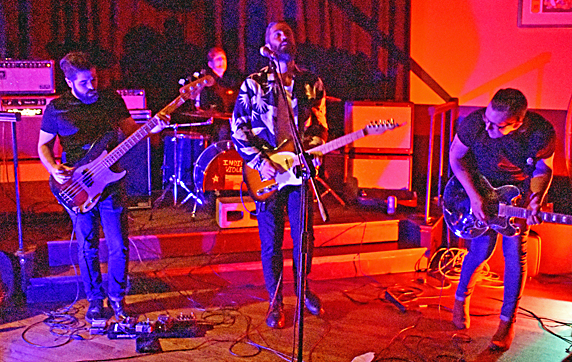 Last Vacation
Photo: Blowfish
Last Vacation was a switch up. They had an eighties influenced sound, they sounded like Talk Talk and Modern English. They ended up playing a cover of Modern English's "I Melt With You". The guitarist had some choice tones with his board when he played his single line riffs. He did it often and they all were perfectly placed and you waited for them to come around again. They were sort of a guilty pleasure.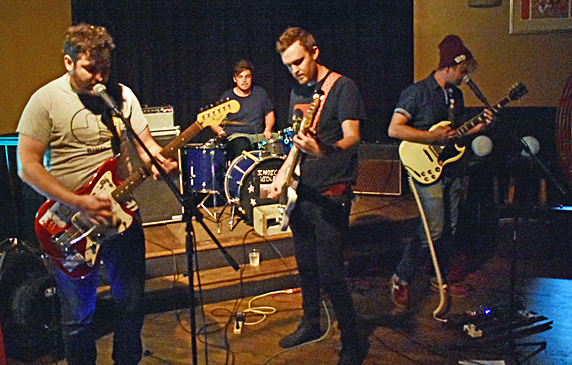 Greed Island
Photo: Blowfish
Greed Island got looser and put more energy into the songs. They would work into a song until it was raging at the end. The guitarist would start with some single line riffs sometimes using his whammy bar but would end up just ripping into a rave up before the song was over. It's a winning way to rock. They are from Dover NH. We'd check them out more if they played around town.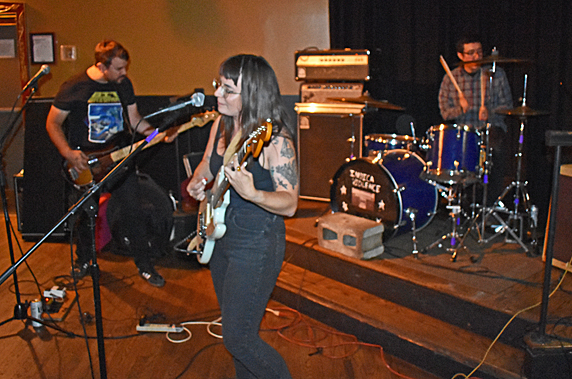 Fucko
Photo: Blowfish
We've heard about Fucko for a while. How can you not register that name? This was the first time we've seen them. It turns out that the drummer Derek is also the guitarist for Sneeze who we saw last week and also runs Midnight Werewolf Records that also puts out albums by Kal Marks and Idiot Genes.
Fucko had that punk feel, and we love that. Songs were based on chord progressions. Sometimes there are some unusual intervals in there that they make work. The guitarist would play full chords not two note power chords to get a full sound with the trio line up.
In the end it's not what they do but how they do it. They have a low key punk vibe that's hard not to like. They make the whole set feel special. They have built up a fan base and we think that's why. It's time for us to listen more to their albums to get up to speed on the songs because they are interesting.
They are playing the Sinclair on October 11 with Sheer Mag and Tweens.
Friday night we headed to Sonia for an early all ages show with D- Sagawa, Escuela Grind and early 80's UK band Conflict. Based on Conflict and the photos we saw we thought it would be a punk show.
D-Sagawa
Photo: Blowfish
D-Sagawa looked punk and they call themselves "raw punk" but they are not what we would consider punk at all, they're a kind of nihilistic grindcore. In the looks/fashion department Jessica the lead singer looked perfect as a poster child for punk… puffed out punk shag, jean jacket replete with arm band, studs and buttons and a Never Mind the Bollocks banner on the back, zippered black pants and a ripped t-shirt set up that looked like it was straight from a 1980s punk fashion book. It was an awesome look!! The guitarist sported a huge green mohawk and there was studs, buttons, rips all over everyone on stage. But this band produced a huge frenetic thrash metal sound with all the members frantically strumming their instruments and fingering the necks. Jessica did some serious throat singing with loads of echo on her mic which created a huge sound. Over the thrash of the rest of the band it filled the atmosphere of the room completely. D-Sagawa/Bandcamp
It's interesting to see the generations following actual punk, mix up that sound with all the other stuff they've been exposed to and hear what comes out of the end of the funnel. It ain't punk, but it influenced by punk… and in the end that's a good thing!!!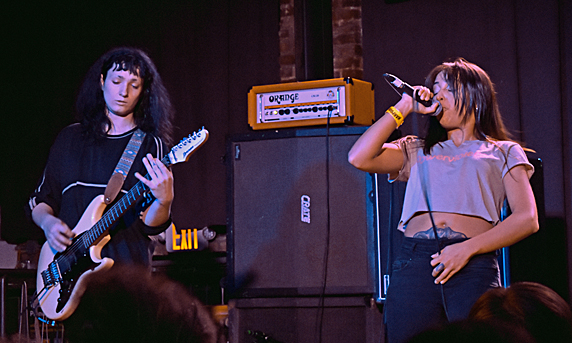 Escuela Grind
Photo: Blowfish
Up next was Escuela Grind. They describe themselves like this: "Through punishingly short songs, Escuela delivers politically charged lyrics inspired by modern anxieties, unrest, and the roots of grindcore."
As the band was setting up we were watching this tiny woman working with effects boxes on the stage. She was pretty, petite and we wondered what she had to do with the band. Whoa!! She's Katerina Economou, she's the singer! The band starts and out comes this powerful super deep commanding throat singing. She reminded us of Olga from the Svetlanas in that she became possessed and transported to a different place when she sings. (We have a small dose of her singing in a video below.) We were transfixed!! It took a while to even realize there was no bass player, just drums and more thrashy wild lead type guitar throughout. Escuela Grind on Bandcamp.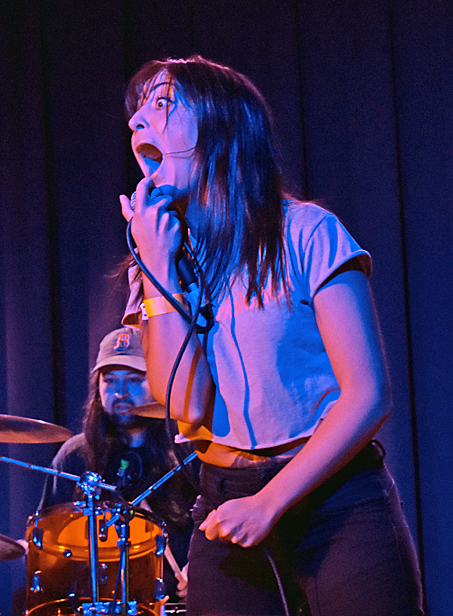 Katerina Economou - Escuela Grind
Photo: Blowfish
With both D-Sagawa and Escuella...and with any throat singing ... it was impossible to understand a single word which might be too bad considering that the lyrics are supposed to be fraught with meaning and a message. The singer for the new band Flashback we reviewed a few weeks ago was there. We see where her influences are coming from.
It was good to see two groups fronted by women who were a powerful presence within the band.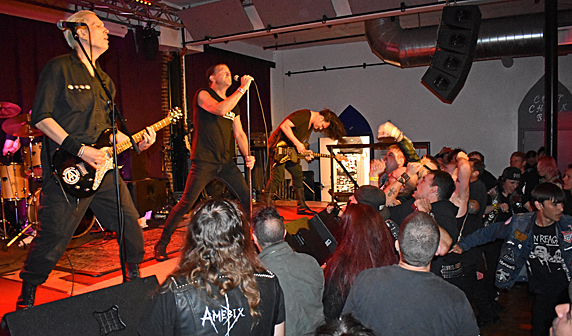 Conflict
Photo: Blowfish
Up next was a more old school punk set from the UK band Conflict, they were the band that got us to this show in the first place. It was all about soaking up some 1980s English anarcho-punk. It was all bar chords drilling out the beat with the bass sticking to the root note and adding one or two extra. It was all very simple on purpose, not much variation and no soloing.
The singer, Colin, had the typical flat declarative gruff for the vocal delivery. You could catch some of the social commentary in the lyrics and the occasional shout out in between songs of "not letting them put you down". The audience, with plentiful studded jackets and one Jason hockey mask, ate it up. We did too.
After two groups pushing metal we finally got our punk fix. There were obviously people there who came out for Conflict and the English anarchy thing. There were some Flux of Pink Indians jackets. There weren't many old school punks there that we knew. We did see two of the dedicated – Al Quint and Joanie Lindstrom (who was seriously gig hopping seeing four shows that night!) What does it take to bring out the old crowd now?
I guess it takes the Lyres to get the old crowd out. Once Lounge upstairs was full on Saturday for the Lyres/Glider show. We have Cal Cali to thank for all the Lyres shows these days. The last Lyres show around, as far as we can find, was at Thunder Road in January of 2018. They have played north of the city for a few shows.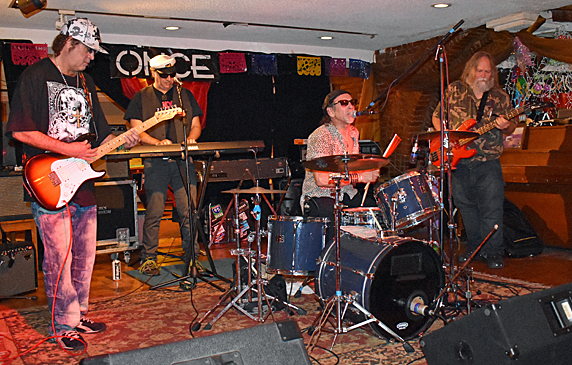 Glider
Photo: Blowfish
We got there halfway through Glider's set. The band has obviously been playing and practicing a lot lately. This was one of the best sets for them that we've seen. The new line up is working out. Kenne Highland continues to impress with his bass playing. He's low key on stage, which is out of character for him, and just takes care of business.
The whole set was basically the songs Glider has recorded recently. That album will be out soon. Most of the songs are old Jetset songs and they were written in the 80's and reflect that era, which is funny when you heard a song like "MTV". In the set were songs we have come to know like "Sex Beat" and "Victim".
Lyres
Photo: Blowfish
By the time the Lyres began to play the club had filled up. There was a lot of the old crowd there. There was a buzz in the room. Lyres don't just have fans they have worshipers. The Lyres shows of 40 years ago were not unlike this. The Boston punk scene knew how good they were from day one. We can be proud of that. One note from Jeff's organ and 40 years disappear.
They started with a few of the favorites and ended with a few but in between it was all obscure nuggets. This has been the their usual set for a while. It was a generous set. We saw the sound man give the 10 minute left sign, otherwise Jeff would have kept playing and nobody there was going to leave.
The band was tight and sharp. We'd pay again and sit through just Paul Murphy drumming solo, right now. He does that slow roll where he accents the end of a line. That is such a classic move. You can hear the move several times after the 29second mark in the third video above. Steve Aquino had the brittle tone that cuts through. He plays those chord based riffs that are pure ice cream. Dave Szczepaniak on bass was one of Jeff's great finds. He's got the perfect driving lines and does a big service with the backup vocals.
Jeff is always the center. We were talking to Rick Harte, who was there, about how Jeff has the gift… the smarts…the talent – however you want to frame it - of embodying the spirit of the songs he's covering. Other groups that try what the Lyres do come from the outside and try to learn the tricks of sounding like these songs, but Jeff already understands everything about the songs and their spirit. He's gets it all from the inside.
So you know you should have been there. Rule for every Boston Punk: Be at every Lyres show. The one big downside was the no air conditioning. It was a sweat fest. Sometimes you have to suffer for your art.
There is an old live show from the Rat released on Crypt Records – see the news below.
Click Here for more band photos.
---
And in other news.....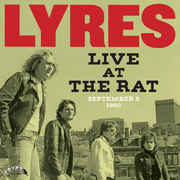 While Lyres are working on a new album with Rick Harte, a live set from 1980 is released from Crypt Records. It's called Live At The Rat, September 3 1980.
Here's the write up from Crypt: "Crypt continues its delve into the Boss-town Low-down with this shit-hot 39 minute blastin' mutha (don't ya know!) of LYRES at their most ferocious and in top rip-roaring fidelity thanks to a reel to reel tape discovered in August 2017 in the vaults at Erik Lindgren's studio! Erik set one line direct into the board and one mic suspended above the audience and the result is a BEAST of a set! Jeff Conolly (natch!) on organ and vocal and tambourine, DMZ cats Peter Greenberg (guit) and Mike Lewis (bass), plus ex-Real Kid Howie Ferguson on drums. Gatefold sleeve with unseen photos plus liner notes by Peter Greenberg, Mike Lewis and longtime Boss-town fanatic/scribe Bill Tupper. the music? ripping, absolutely ripping ROCK and ROLL music."
There's been lots of reaction and postings about Ric Ocasek on Facebook. On the Late Risers Club Joanie Lindstrom did a whole show of Cars and Cars related songs. It has some unusual and rare songs. It's very much worth listening to. As usual the WMBR shows are archived for two weeks. Search for Joanie's Thursday LRC here in the archives.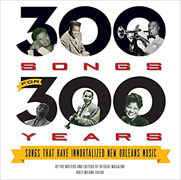 Bret Milano has a new book out...300 Songs for 300 Years, The book is a musical history of New Orleans, with the stories behind 300 songs that trace the city's musical motherlode-- from "When the Saints Go Marching In" and "Down by the Riverside" through Louis Armstrong and professor Longhair, the birth of rock & roll, the heyday of R&B and much more, up to the present day. The Book Release party is Oct 1 at the Harvard Coop. Clea Simon will moderate discussion, Brett will read a few entries, and there will be a live soundtrack by members of Boston's own New Orleans-themed band, Confederacy of Dumpsters! and free Zapp's Chips courtesy of the Coop!
Brix'n Mortar are doing a show with Punk/Oi band Grade 2 at O'Briens on Friday Oct. 4. We saw Grade 2 in June at Maggy's Lounge in Quincy and loved 'em. Now you have another chance to catch them in Boston with the mighty Brix'n Mortar!!! Get yr tix here!! After the Maggy's show Joanie Lindstrom had the group on her show - it's worth a listen on the WMBR archives.
---
Here's some good shows coming up this week.....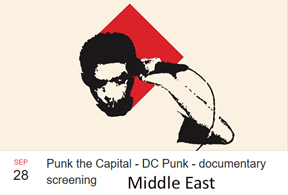 September 25 (Wednesday) hardcore at The Hong Kong with Irreal (from Spain!), Bloodsuckers, Tortured Skull, Cartridge
September 26 (Thursday) Ritualists (NYC), GLiDER, Sara & the Scaliwags, Lily Black at O'Brien's
September 26 (Thursday) The Runouts, Thee Fightin Fish, Muck and the Mires, Seawolf at The Jungle
September 26 (Thursday) Mick Lawless & Reckless Hearts,Tsunami of Sound, Gene Dante & Future Starlets at The Square Root.
September 26 (Thursday) Stubborn Hearts, Varsity Club, Jared Knapik, Father Card, CookBag at The Parlour on Provi RI
September 27 (Friday) The Mistress Band will be playing at the Tavern at the End of the World- The Mistress Band is Randy Black, George Hall, Linda Viens, John Phister and Clark Goodpastor. They are on at 11 following a set by David Johnston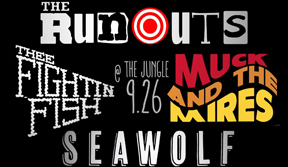 September 27 (Friday) Margaret Airplaneman record release "Live at the CRMII" at the Charles River Museum of Industry & Innovation in Waltham. 7:30-10:30. Gregory Porter (drums) & Djim Reynolds (bass) and guests The Concerns FB page
September 28 (Saturday) Punk the Capital - DC Punk - documentary screening at the Middle East 2PM...FB page
September 28 (Saturday) Razorta Rosa, Ski Bunny, OTP, Miracle Blood at The Jungle
September 28 (Saturday) Swelltune Records presents: Shake a Leg! with The Rock-A-Sonics, Josh Sorheim, Shaun Young & Sean Mencher, Jittery Jack & Amy Griffin, The BopThrills, The Soapbox Saints, plus The Swelltune Jamboree and DJ Easy Ed! It's an all day affair at The Porch Southern Fare & Juke Joint In Medford, MA FB page
September 28 (Saturday) if you're in NYC this weekend check out GLiDER and Baabes at Otto's Shrunken Head. FB page.
September 28 & 29 (Sat & Sun) The Boston Local Music Fest 10AM-6PM both days at Government Center. Check website for updated listings. They say: "There will be a variety of musical genres represented, as well as artists and artisans, food trucks, a beer garden, and a community of people supporting, experiencing, and celebrating our local music culture." We'll see.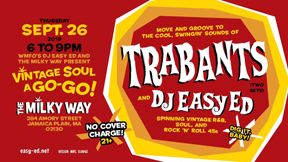 September 29 (Sunday) Disco Volante, Bata Sodo, Rawstrum at O'Brien's

And further out there is.....

September 30 (Monday) Threat Level Burgundy, Cuidado, Waxjaw, the Creepy Freaks at Charlie's Kitchen

October 1 (Tuesday) Bret Milano Book Release party for his new book 300 Songs for 300 Years, at The Harvard Coop 7-9PM FB page

October 1 (Tuesday) Agnostic Front w/Prong at Brighton Music Hall

October 3 (Thursday) The Bind, The Legendary Cazbats, The Tsunami of Sound at The Jungle. 9-11:30 PM adv $6 door $10.

October 4 (Friday) Grade 2, Brix n' Mortar and Barfight Champs at O'Brien's

October 4 (Friday) Cold Expectations, M.O.T.O., Little Billy Lost at The Jungle

October 4 (Friday) Team Dresch, Shepherdess and Stubborn Hearts at ONCE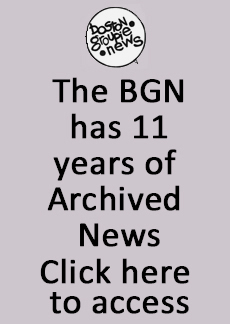 October 5 (Saturday) Dogmatics 'She's the one' release performance & signing at the Norwood Newbury Comics 3-5PM - FB page
October 5 (Saturday) Mudhoney, Pissed Jeans at Brighton Music Hall 6PM doors.
October 5 (Saturday) Elvis Room 20: The Queers are at AS Art Space in Portsmouth, NH. FB page for info
October 6 (Sunday) The Sinister Six, Martin / Morell / Fredette and TRiPLE THiCK - 3-7PM show at The Midway
October 6 (Sunday) Hardcore Stadium Presents: Restraining Order, Ancient Filth, Ugly, Vantage Point, Mangled at the Middle East Up
October 7 (Monday) Hambone Skinny, Indonesian Junk, Baabes at Charlie's Kitchen
October 7 (Monday) Rock'n'Roll Trivia with Erin & Bret at The City Winery 7.30-10.30
October 10 (Thursday) Kid Gulliver, State of the Union and The Chelsea Curve at The Jungle
October 10 (Thursday) Dick Pics, Guilloteenagers, Big Mermaid, Thee Fightin' Fish at Club Bohemia
October 11 (Friday) Sister Suzie (from the UK) Jittery Jack & Amy Griffin at O'Brien's
October 11 (Friday) Lucifer Christmas presents: Not Your Mama's Burlesque Show! plus new music from Steady Vex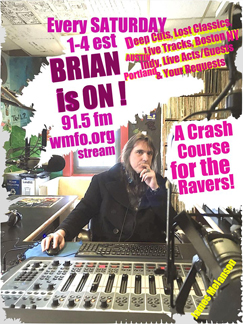 October 12 (Saturday) Benefit Multimedia Concert to benefit the South Texas Human Rights Center & BORDERx Comix project with GHOST GRL, Crow Follow, Spectramotiv and Visual Multimedia: BORDERx Comix Artists. Admission $10 To help Asylum Seekers and Migrants caught up in the border crisis - All Proceeds will go to these two beneficiaries. at The Lily Pad Inman Square FB page for more info.
October 12 (Saturday) Lyres, Tiger Bomb, Glider at Sun Tiki Studios 375 Forest Avenue, Portland, Maine 04101 FB page
October 13 (Sunday) The Cranktones, with Sax Gordon and DJ Todd Purple at the Midway matinee 3-7Pm
October 13 (Sunday) The Legendary Cazbats Psychedelic 60's Dance Party at the Jungle 6-8:30 PM
October 16 (Wednesday) Randy Black & The Heathcroppers begin a Third Wednesday (of each month) residency at The Plough & Stars. 6-8PM
October 17 (Thursday) Robotic Hawks, Billy Connors Project, Spaces For Two at The Jungle
October 18 (Friday) Time and Place, The Knock Ups, Wolf Tape, Cook Bag at The Midway
October 18 (Friday) Marianne Toilet & The Runs, Corner Soul, Smitty E Smitty and the Feztones, The Melatonins are at Koto Salem.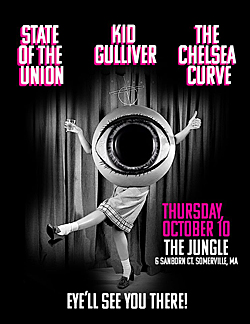 October 19 (Saturday) A Crash Course for the Ravers has Richard Mirsky - 1-4PM WMFO 91.5 FM
October 19 (Saturday) Watts, Kid Gulliver, State of the Union at The Square Root
October 19 (Saturday) Avenir (French punk rock) at the News Cafe in Provi RI - check out their bandcamp page ..and here's the FB page for the show & tix etc!!!
October 19 (Saturday) Cactus Attack, Black Leather Lagoon, Tarantula Bros, Nick the Barbarian at Opus in salem
October 20 (Sunday) Stiff Little Fingers, The Avengers at Brighton Music Hall doors 7PM
October 20 (Sunday) The Vivian Girls are at Once
October 21 (Monday) Cherry Brat, Street Milk, The Wild Allegations at The Jungle
October 23 (Wednesday) Flipper with David Yow (Jesus Lizard) "40th Anniversary Show" at The MIddle East Down
October 23 (Wednesday) 999, The Clap, Vixen 77 at The Fire Philly PA FB Page
October 25 (Friday) Road Soldier, The Manglers, New American Good Time Boys at The Midway (night show)
October 25 (Friday) The "Scare" Root Halloween Show! with Justine's Black Threads, The Chelsea Curve, Little Billy Lost at the Square Root
October 25 (Friday) Flamin' Groovies, Richard Lloyd Group, Tiger Bomb at ONCE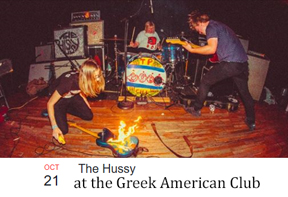 October 25 (Friday) 999, The Clap, the Parasitix, The Transmission Now at the Catasauqua American Legion 215 PA FB page

October 26 (Saturday) The Fleshtones, GLiDER, Muck & the Mires, Baabes at Once Ballroom

October 26 (Saturday) The Dogmatics Record Release Party! with Stop Calling Me Frank, The New Frustrations, Grommets at the New World Tavern Plymouth FB page

October 26 (Saturday) Pale Lips (MTL) with The Gala, Loretta, & Kathy Snax at O'Brien's

October 26 (Saturday) Stop Calling Me Frank, Dogmatics, New Frustrations, The Grommets at the New World TAvern Plymouth MA - FB page for info

October 26 (Saturday) 999, The Clap, The Bobby Lees, Blank Spots at Coney Island Baby in NYC FB page

October 27 (Sunday) 999, The Pajama Slave Dancers and The Clap at the Hawks & Reed Performing Arts Ctr in Greenfield, MA TIX HERE

October 28 (Monday) Cycling w/ The Melted Chapstixs at The Jungle 5-8PM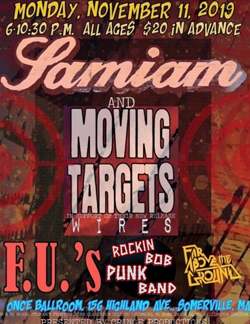 October 29 (Tuesday) 999 & The Clap at Randy Now's Man Cave 134 Farnsworth Ave, Bordentown, New Jersey 08505 FB page
October 30 (Wednesday) Devil's Night at O'Brien's with Babes of Mutilation (as the Pixies), Fury Things (Dinosaur Jr. tribute), The Knock Ups as Hole, Queers of the Stoned Age, Corner Soul as The Stooges
November 1 (Friday) Change Today (Joe Wood era TSOL), Covered In Bees & Tiger Bomb at Gino's in Portland ME FB Page
November 2 (Saturday) Shut Up (NJ), HIXX, The Guilloteenagers, A Bunch of Jerks at the Midway for a matinee show 3-7PM
November 2 (Saturday) Gene Dante & The Future Starlets, Cold Expectations (record release) and The Chelsea Curve! at Sally O'Brien's
November 2 (Saturday) Relapse, blindspot, Motel Black at the Middle east Up - 6PM show - all ages.
November 5 (Saturday) The Von Traps, Pretty Pleased (Chicago), Crunchtime at The Jungle- this is a FREE SHOW!!!
November 8 (Friday) Wolftape, Doug McDonald Band, Crunchtime, Thigh Scrapers at Pete's Grill Quincy FB page
November 8 (Friday) Muck & The Mires, The Gotham Rockets, Tiger Bomb, Gene Dante at Alchemy in Providence RI FB page.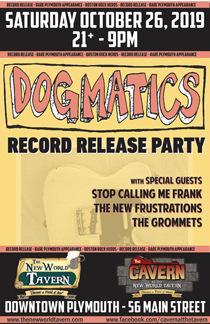 November 9 (Saturday) Muck And The Mires, The Downbeat 5, and Gotham Rockets at Sally O'Brien's
November 9 (Saturday) Black Helicopter, Baabes, blindspot, Jakals at Opus in Salem
November 9 (Saturday) Change Today: Joe Wood era TSOL at Ralph's Rock Diner Worcester.
November 11 (Monday) Samiam, Moving Targets, F.U.s, Rocking Bob, and Far Above the Ground at Once - All ages - starts at 6PM- 10:30PM!! FB page for tix etc.
November 14 (Thursday) Halshug (from Denmark), Corrode, Skinned Alive, Skrawl at the Dorchester Art Project
November 16 (Saturday) Brian Young's a Crash Course for the Ravers is featuring Greg Allen's Fringe Religion. 1-4PM WMFO 91.5 FM at http://www.wmfo.org/popout_player.php?bitrate=256
November 16 (Saturday) International Pop Overthrow at Union Tavern...check FB page for info as it comes.
November 21 (Thursday) Robert Gordon with special guest Chris Spedding and Diablogato at Once
November 23 (Saturday) A Crash Course For The Ravers featuring A Bunch Of Jerks 1-4PM WMFO 91.5
November 23 (Saturday) The Knock Ups, blindspot, Lonely Leesa & The Lost Cowboys at Sally O'Brien's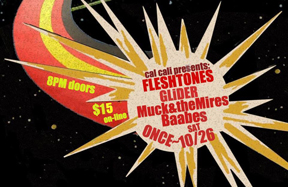 November 23 (Saturday) "Love The Bands" @ ONCE Featuring: Smitty E. Smitty & The Feztones, PowerSlut, Corner Soul, The Rupert Selection - Doors: 8:30PM, Music 9PM
December 7 (Saturday) Triple B Records presents: American Hardcore Fest 2019 with Magnitude, Wild Side, One Step Closer, Restraining Order, Method of Doubt, Anxious, Big Mack, Field Agent- All Ages, $25Advance / $30Day of Show, *NOTE* 12:00PM Doors- this is an early show!! FB page.
December 14 (Saturday) Baabes, The Von Traps, The Hi-End, The Stigmatics at the Midway Matinee Show 3-7Pm
December 21 (Saturday) MOTO, The Thigh Scrapers, The Thirsty Pirates (NYC) , The Montgomerys at The Midway for a Matinee Show 3-7:30PM
December 21 (Saturday) Mother Iron Horse, Tied to a Bear, Von Traps, Skytigers at Opus in Sale
January 10 (Friday) The Mercy Case, Bystander, blindspot, Foxes at Koto Salem
January 18 (Saturay) Barrence Whitfield & The Savages, Muck and the Mires at The Middle East FB page and tickets
March 28 (Saturday) The Zulus at The Paradise
CONTACT US AT....misslynbgn@yahoo.com Send us your gig listings, your news and anything else ya got!! You want your CD reviewed?? Contact us for that too.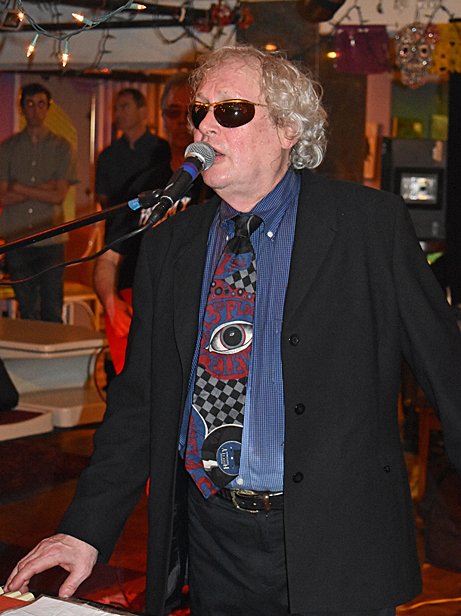 Lyres
Photo: Blowfish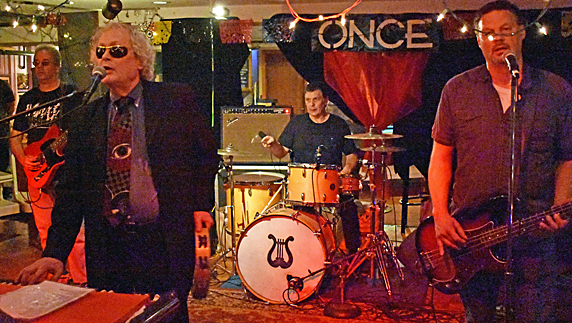 Lyres
Photo: Blowfish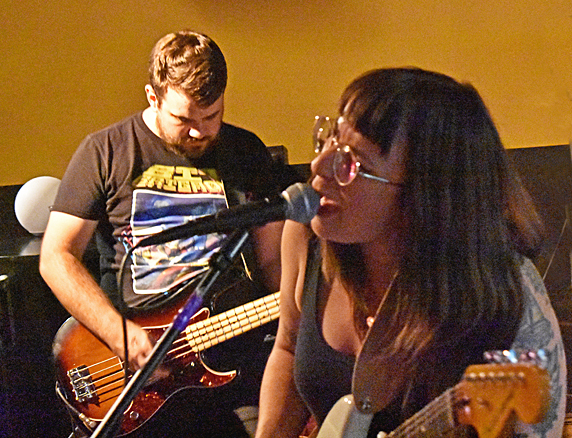 Fucko
Photo: Blowfish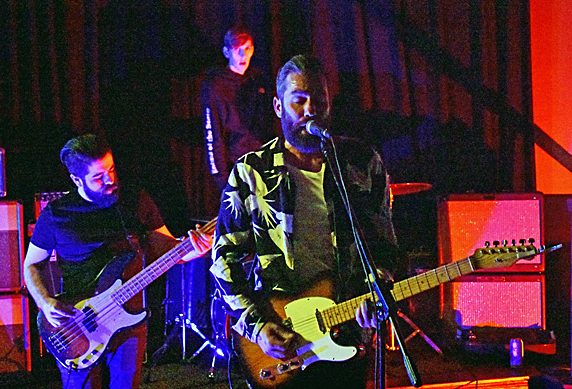 Last Vacation
Photo: Blowfish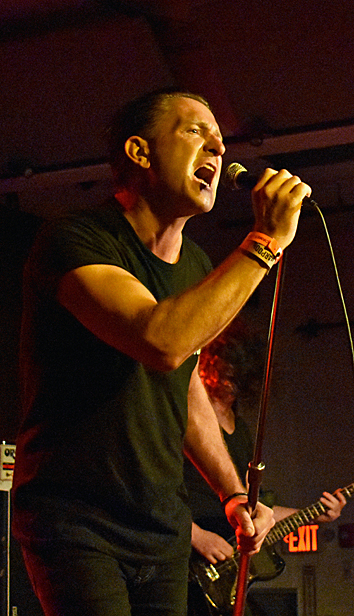 Conflict
Photo: Blowfish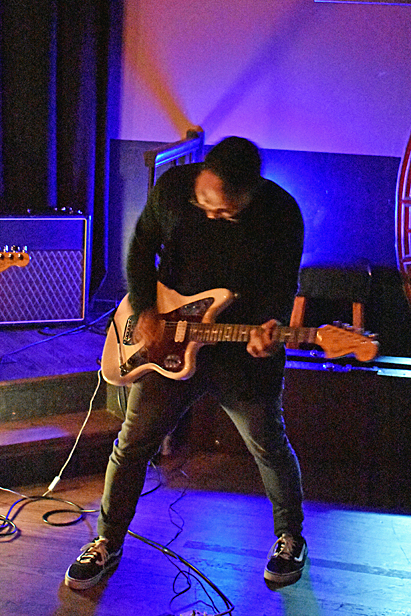 Sorry
Photo: Blowfish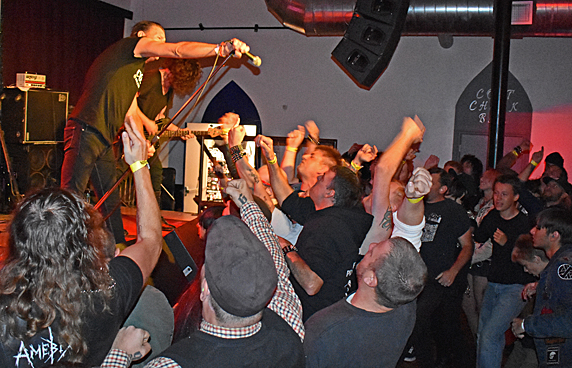 Conflict
Photo: Blowfish