The BGN News Archive
September 24, 2018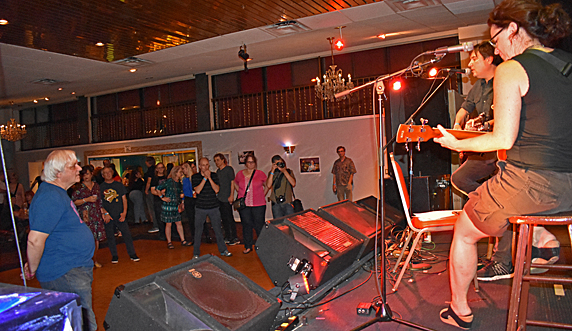 Bob Colby watching Cold Expectaions
Photo: Blowfish
Bob Colby left Boston today (Sunday 9/23/18) for Tuscon, AZ. He had a going away show at Once to mark the occasion a week ago. There's no doubt really, Bob is the first Boston punk fan. He was there at the origins with the Modern Lovers and then The Kids, that became the Real Kids.
It means something that he's leaving. We don't even know all of its meaning yet but we'll find out with some perspective later. The obvious thing is that it's been 40 years and time is marching on.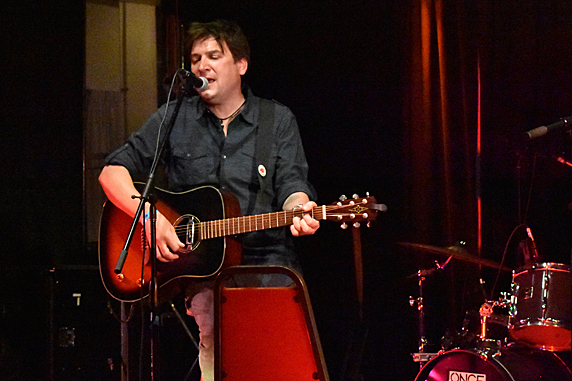 Steve Prygoda
Photo: Blowfish
At Once the bill was filled with 15 acts, and the sets were short. Colby got up and close to the stage. That's what he's done for decades.
We walked in on Steve Prygoda from Cold Expectations in solo mode on stage. It was a change to hear him that way. JoEllen joined him after a few songs. Steve said that now there was only two members of Cold Expectations. That was news. We guess they are in hiatus now?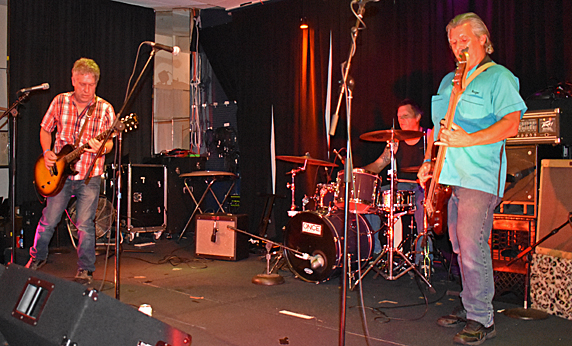 Classic Ruins
Photo: Blowfish
We hadn't seen Classic Ruins for a long time. Maybe a year? The worse shock was that they only did three songs because of the time constraints. We felt gypped but the packed bill dictated it. We were able to video "Nyquil Stinger", that is below.
The Very is typical of the sort of music Bob sought out - just a duo with guitars. The minimalism allows novel approaches. In The Very's case the songs open up when you give a close listen to the lyrics.
Bob never got jaded. He was always looking for new groups with a different way of doing things as well as keeping track of the old rocking faves.
The Very
Photo: Blowfish
Psychic Dog were on as we were yapping up a storm and soon left. We had just spent 11 hours doing last week's BGN that day. We were tired but had to show up for Bob.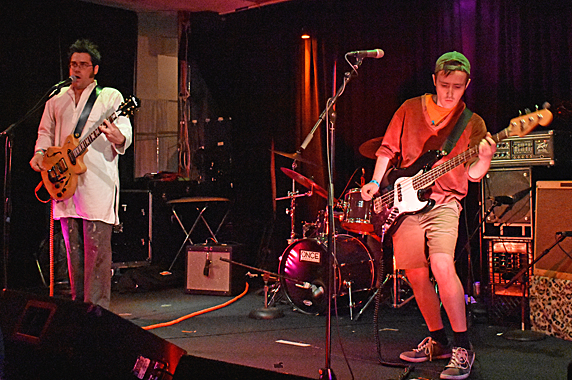 Psychic Dog
Photo: Blowfish
Good luck Bob!!!! We will miss you!!
Friday was a tryout for punk in Pinz, a new venue in Kingston on the South Shore. It's a huge entertainment complex in the Kingston Mall. It has about half a dozen large rooms - bowling lanes, a restaurant, a gaming area, a billiards room and a very large bar/stage area.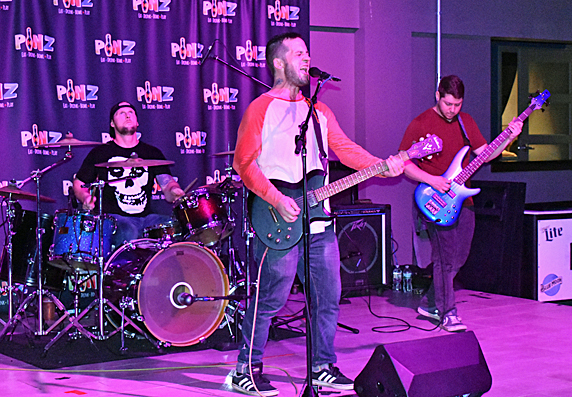 The Woods
Photo: Blowfish
The Woods were playing as we entered. There were a few dozen people in front of the stage and many more were at tables around the stage. From the beginning we could hear the heavy echoes. The music area had a high ceiling and there was nothing to absorb the sound.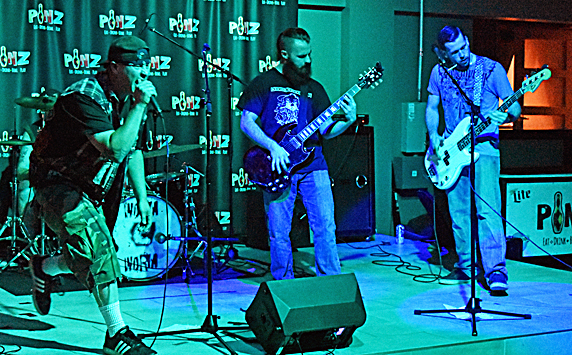 Worm
Photo: Blowfish
Worm also suffered from the sound a lot. They came over differently from even their last gig at the C Note with Gang Green. At Pinz there was a lot of space between the band members to go along with the spacey sound. Even still some of the songs came through. There were times when the lyrics were clear.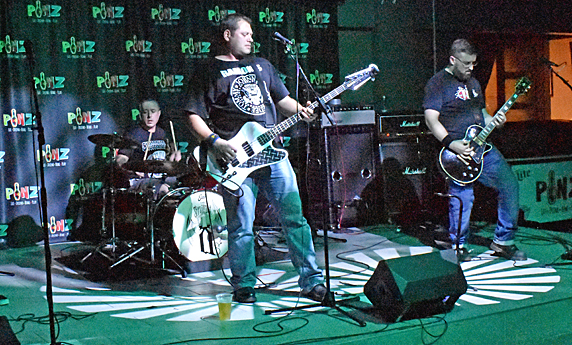 The Straight Eights
Photo: Blowfish
The Straight Eights, who set up the bill, fared a bit better. The sound was the same but their simple riff based songs held up better. The simple riffs were often doubled up by guitar and bass and that gave it more definition and the vocals were plain on top. The singer had a distinctive tone that gave character to the lyrics.
They covered a Twisted Sister song, the first video above. Twisted Sister has that same minimalist style but Straight Eights have a punkier sound. We saw them at Pete's Grill in Quincy last February but got into their music more this time.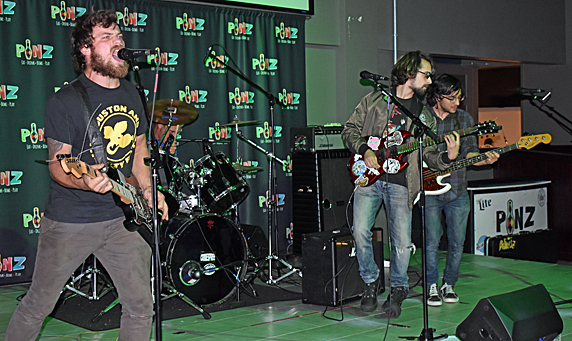 Crimespree
Photo: Blowfish
Everything seemed calm up to this point. Then it was Crimespree time. We know that Chester the singer likes to talk up a storm and often he will throw out a few verbal taunts. Crimespree are punk, first and foremost. The music is hard and fast and meant to excite. A few moshers started. That made us realize – oh, ya, moshing! What are they going to do about that? In no time the bouncers had squashed it. That didn't sit well with Chester who suggested dancers do what they want. People were cool till the last song and a few started to mosh and again the bouncers were right on it.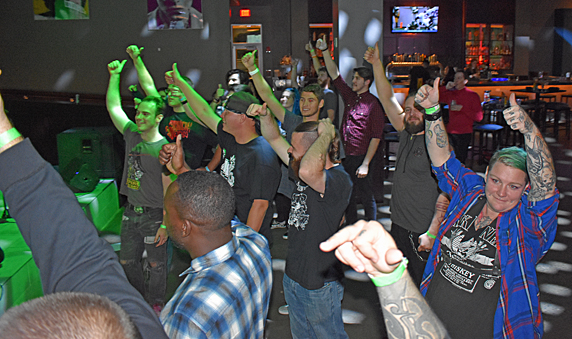 Thumbs up during Crimespree set
Photo: Blowfish
Chester also did his thing where he stops the music and makes everyone raise their arm and give a thumb's up. Then he says to point to people not raising their arms with your other arm. He stays with this for a while talking about what he is doing and pointing out that the bartenders and even the nearby bowlers were doing the thumbs up.
This was not a musical thing like clapping or waving to the beat; this was a theater of the absurd moment. As dumb as it may seem it did put you in the 'moment'. You looked around at everyone and everyone was looking at you. It was a cool moment there in Pinz which I can't imagine is typical.
All the groups had the benefit of the elaborate light show the club has. In between the groups there was some mainstream music (we didn't know any of it). The also had videos by the likes of Britney Spears and Avril Lavigne…those are the two we recognized.
That was the first punk show there. Let's see if there is another.
More band photos below the show listings
Arthur Freedman was at the Gary Numan show on Thursday at the Paradise. We have some photos below. The woman beside Gary in the first photo and in the second is Gary's daughter.
Gary Numan at the Paradise 9/20/2018

| | |
| --- | --- |
| | |
| | |
---
And in other news.....
It seems like a forty hour job just keeping up with the Rum Bar releases. This week was the official release of the new ones from Muck and the Mires, Stop Calling Me Frank and The Peawees.
Muckus Maximus is just another confirmation of the insane greatness of Muck and the Mires. "Good Enough" which we have loved live is here along with three other charged up winners.
Stop Calling Me Frank took decades to get to Spider In My Beer And Other Songs, a 13 cut CD of new and old material. It turns out that "Every Time I See Her" is a cover song from Peter and the Test Tube Babies. If you know the SCMF version you can't help but add in the sax riff in the chorus in your mind. Their CD release party is at Sally O's on September 28
The Peawees we talked about last week. One listen to their new CD Moving Target is all it should take for you to latch on to this Italian band. Bandcamp page.
And let's give some attention to a non-Rum Bar release - Skin Deep by The Flying A Holes. They are a revived group that started in the 70s and had their final show at the Rat. At different times they sound like Roxy Music, Graham Parker, the Ramones, a movie soundtrack and many other groups. They do miracles in the studio. It's a fine effort that deserves some attention. Check out their FB page for more info
---
Here's some good shows coming up this week.....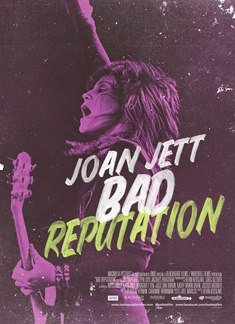 September 26 - 28 (Weds-Friday) The Regent Theater in Arlington is showing of Bad Reputation which is all about Joan Jett.
September 26 (Wednesday) Thee Fightin' Fish, Graneros, Jakals at Opus in Salem
September 28 (Friday) State of the Union's CD release party at the Midway with The Gala, Gene Dante and The Hi-End. We heard some of that material and it is awesome!!! FB event page
September 28 (Friday) Have Nots, Lenny Lashley's Gang of One, Cuidado, Blood Stained Brindle at The Middle East Up
September 28 (Friday) Stop Calling Me Frank, Soraia, Hambone Skinny & The Connection at Sally O'Brien's
September 28 (Friday) When Particles Collilde, Dirty Dottys, Bloom at O'Brien's
September 28 (Friday) Shiny Beasts, Tiger Bomb at the Plough
September 28 (Friday) Fuzztival Night 1 at Once with The Monsieurs, Corridor, Rick from Pile, NICE GUYS, TRIM, Dump Him, La Neve, Rick Rude, Leopard Print Taser, Hairspray Queen, Blue Ray- Show starts at 7PM
September 29 (Saturday) Fuzztival Night 2 at Once with What Cheer? Brigade, Olden Yolk, Mr. Airplane Man, Really From, Anna Fox Rochinski, Bong Wish, Oompa, Carinae, Lady Pills, Edge Petal Burn, Love Stranger - show starts at 7PM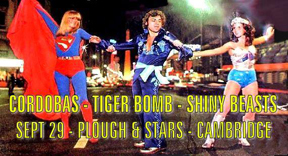 September 29 (Saturday) Kermit's Finger, New Frustrations, More Beer Please, Instamatics 4-8PM At the Midway
September 29 (Saturday) TNG (The Next Generation), Thee Fightin' Fish, Binge Magick, The Kicks at The Midway
September 29 (Saturday) Party Bois (record release!) along with Carissa Johnson, Andre Obin and Dj Michael V at Great Scott
September 29 (Saturday) Crunchtime, The Hi-End, State Of The Union, The Worried at Koto in Salem
September 29 (Saturday) The Radiator Rattlers Record Release Party with Tigerman WOAH!, Michael Kane & the Morning Afters, Rooftops at RG's Pub in Haverhill, MA FB page
And further out we have......
October 1 (Monday) Major Stars *tour kickoff* Chris Brokaw Rock Band & Bong Wish at Charlie's Kitchen

October 2 (Tuesday) Rock n Roll Trivia at The Sincalir!! FB page.
October 2 (Tuesday) Coffin Salesman, Bob Cenci, Troll 2 and 1 more tba at Opus in Salem
October 5 (Friday) The Billy Connors Project at Sally O'Brien's
October 5 (Friday) Kid Gulliver, The Hi-End, The Stigmatics at The Jeanie Johnston Pub in JP
October 5 (Friday) At the C Note in Hull - 61 Ghosts, 1.4.5., Classic Ruins, Johnny Thunders Orchestra
October 6 (Saturday) Out Of The Blue Gallery Benefit~Allston location ~3-11pm~ 18 sets mostly solo peeps like Frank Rowe, Adam Sherman, Kenne Highland and Gee Julie, Rich Mirsky..... see FB page for info and address.
October 6 (Saturday) Art Thieves, Stemwinder, Michael &TMs, Blood Built Empire at O'Brien's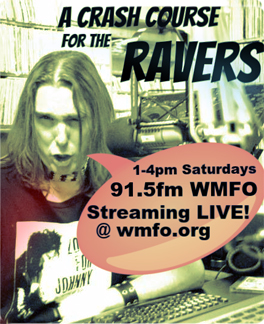 October 7 (Sunday) The Crank-tones are at Atwood's 4-6PM
October 8 (Monday) Loser's Circle, Coffin Salesman, Voice of Addiction, Cook Bag at Charlie's Kitchen
October 12 (Friday) Brix'n'Mortar, DNZL, Secret Spirit, The Kreutzer Sonata, Rooftops at O'Brien's
October 12 (Friday) Salem Horror Fest After Party with Diablogato, Gray Bouchard and the Dedications and Petty Morals at Opus in Salem
October 13 (Saturday) The Pack A.D., Tom Baker & The Snakes, The Gala at ONCE
October 13 (Saturday) Satan, The Humanoids, Hessian, Black Mass at Great Scott
October 14 (Sunday) Punkcake's Halloween Market with lots of cool vendors and music by The Evil Streaks, The Demon Seeds, Coffin Salesman at Ralph's Diner 12-5PM FB page for more info
October 14 (Sunday) Jagger Holly, MATB, The Prozacs, Mongorellis, Color Killer at Beatnik's in Worcester.
October 15 (Monday) Jagger Holly, Mongorellis, The Prozacs, Jimmy Jacked, Color Killer at Opus Salem
October 15 (Monday)- October 18- Thursday Jonathan Richman at the Middle East Up.
October 17 (Wednesday) The Damned are back and at The Paradise.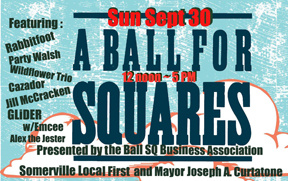 October 18 (Thursday) The Proletariat, Savageheads, Silver Screams at Sonia -FB page
October 19 (Friday) Sidewalk Driver, Watts, Justine and the Unclean at Thunder Road
October 19 (Friday) Halloween Show with Kid Gulliver, The Knock-Ups, Ski Bunny, Sapling will include Special Halloween covers and a full cover set with The Knock-Ups doing Siouxsie and the Banshees. At jeanie Johnston Pub in JP
October 20 (Saturday) Nervous Eaters, Indonesian Junk, Duck & Cover at the Middle East Up
October 20 (Saturday) Stop Calling Me Frank, Crunchtime, The Jiblantos and The Black Souls at The Midway for a 4PM matinee.
October 21 (Sunday) Boston Premiere of the Chet's Last Call Documentary at The Regent Theater Arlington with live performances byRandy Black and The Heathcroppers, The Dogmatics, Bim Skala Bim, TBA Allstars - starts at 7PM TIX etc
October 22 (Monday) OC45, Bad Larrys, BDSX, Von Traps at OPUS Salem
October 25 (Thursday) Damnation, Forbidden Dimension, Demon Seeds, Knock Ups at O'Briens'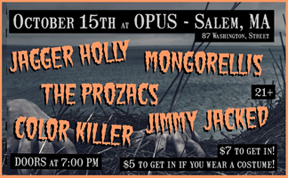 October 26 (Friday) The Humanoids, Slim Jim and the Mad Cows, Maiden New England, Electric Street Queens at The Midway
October 26 (Friday) The Radiator Rattlers, Kermit's Finger, Black Hatch, The Grommets at O'Brien's
October 27 (Saturday) Benefit for Mission 22/Dennis Donahue's Birthday Show! with Kind Crew, Neighborhood Shit, Sick Minds, Jerry's Got Jokes, and Whoopi Sticks at The Midway -Early Show 4-8PM
October 27 (Saturday) Lyres, GLiDER, the modifierS at The Middle East Up- Early show doors at 6:30PM
October 27 (Saturday) The Descendents w/ Teenage Bottlerocket at The Palladium in Worcester FB page for tix etc
October 29 & 30 (Mon & Weds) Now here's how to do Halloween!! At Symphony Hall this Halloween season when Keith Lockhart and members of the Boston Pops visit The Bates Motel and perform the original score of the Alfred Hitchcock film, "Psycho", in sync with the film on the big screen. One of the greatest suspenseful thrillers of all time, this cinematic masterpiece comes alive with Bernard Herrmann's spine-tingling score performed live. The unforgettable and disturbing slashing chords played during the now famous shower scene are just as terrifying now as they were to first-time audiences in 1960.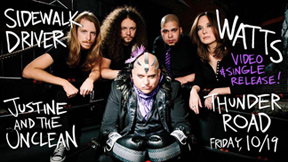 November 1 (Thursday) Kris Rodgers & The Dirty Gems - The Connection - Kurt Baker at The Dover Brickhouse in Dover NH FB page.
November 2 (Friday) Roky Erikson at Once. Tix here.
November 3 (Saturday) Coffin Salesmen, OC45, The BUndles, Burn Burn Burn at O'Brien's
November 4 (Sunday) Book release party for Poetry for the Neon Apocalypse by local Punk Poet Jake Tringali with Mint Green, Ski Bunny, The Sewer Buddies, Jenn Lombari, Hyber at The Midway 4-8 PM. FB page
November 10 (Saturday) Rockin Bob Punk Band, Smartyr, Banshee, Raw Radar War at The Midway 4-8PM
November 10 (Saturday) Kurt Baker is coming to Boston!! One show only at Sally O'Brien's Nov 10. with Muck and the Mires, Stop Calling Me Frank and Kris Rodgers and the Dirty Gems
November 11 (Sunday) DNZL, Standard Issue, Psychic Weight, TBA - 4-8PM Early Show at The Midway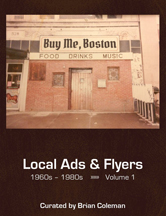 November 11 (Sunday) Save the date!! Brian Coleman who has published the much talked about Buy Me Boston book will be having a slideshow and panel discussion (including our very own Paul Blowfish Lovell and David Bieber) to promote the book. It's at The Brattle Theater - more info as it becomes available.
November 17 (Saturday) It's HIXXGIVING!! The joyous return of the annual celebration of white trash culture and redneck vittles. This year they'll have newcomers - Alice Highland, New Jersey's Sex Zombies, Your hosts- HIXX and the formidable Screw Cart. This will, no doubt, be off the hook! The buffet will be provided by the bands. Hixx asks that you bring non perishable food items, as always, for a local woman's shelter. At The Midway
November 17 (Saturday) Post Punk 1977-87 Cover Night at Sally O'Brien's - 3 super groups will be covering songs from 1977-87. (punk, new wave, synth pop etc)
The groups are: Chuck Ferreira, Josh Pickering & friends, Duncan Wilder Johnson & friends, and Anthony Kaczynski & friends. FB event page
November 17 (Saturday) Jittery Jack, Miss Amy Griffin, Whiskey Kill & DJ Easy Ed at Sally O'Brien's
November 17 (Saturday) Scissorfight, Welch Boys, Taxi Driver, Watching It Burn, COB at Maggy's in Quincy FB page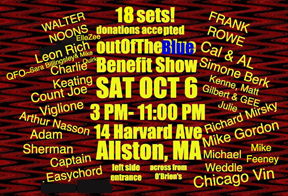 December 1 (Saturday) the second and final Red Invasion show - with Funeral Cone and Brix N' Mortar and one more TBA. @ The Middle East Upstairs This is an early show- doors are at 6:30
December 9 (Sunday) Trusty Sidekick, Stigmatics, Crunchtime. Dick Pics do a Matinee 4-8 show at The Midway
December 15 (Saturday) Duck & Cover, Stop Calling Me Frank (Album Release), State of The Union, The Angel Martins Early Show 4-8PM at The Midway
December 22 (Saturday) Greg Allen's Fringe Religion, Classic Ruins, 1.4.5, Fireking - Early Show 4-8 at The Midway
January 12 (Saturday) IL Mostro (CD release) w/ Cortez, Scuzzy Yeti & Wrought Iron Hex at O'Brien's
CONTACT US AT....misslynbgn@yahoo.com Send us your gig listings, your news and anything else ya got!! You want your CD reviewed?? Contact us for that too.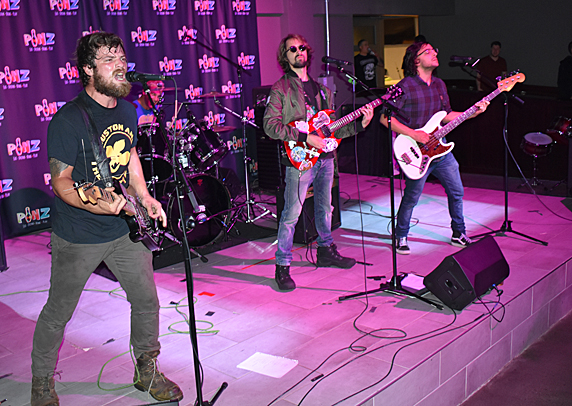 Crimespree
Photo: Blowfish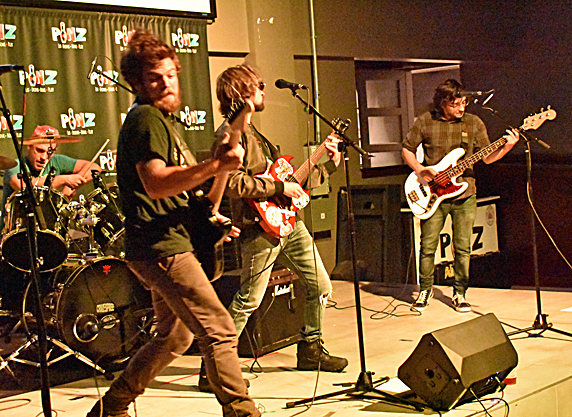 Crimespree
Photo: Blowfish
Carl - Classic Ruins
Photo: Blowfish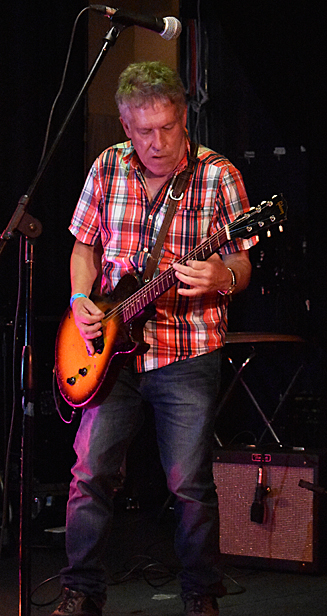 Frank - Classic Ruins
Photo: Blowfish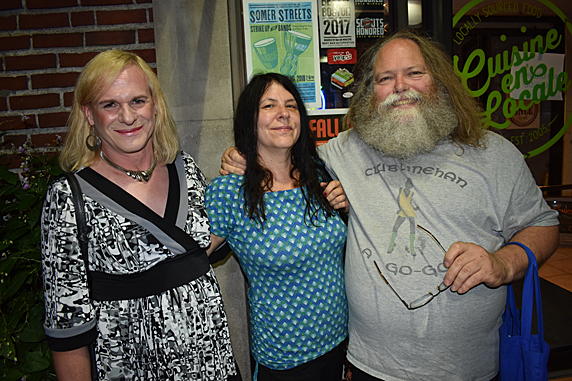 Jenny, Gee Julie, Kenne - outside Once
Photo: Blowfish
Worm
Photo: Blowfish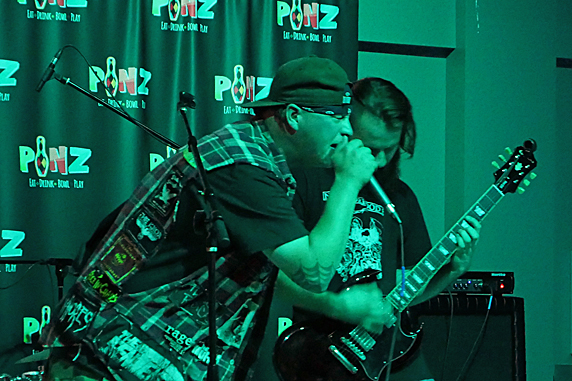 Worm
Photo: Blowfish