The BGN News Archive
September 25, 2017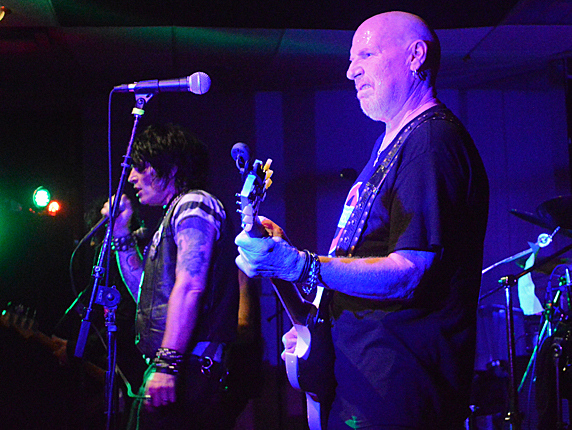 The Dead Boys
Photo: Blowfish
So...Blowfish went to see that band calling themselves The Dead Boys....
As Matt Burns said, "It's only $15.00, why not go and see?" He was talking about the "Dead Boys" show at Once on Monday.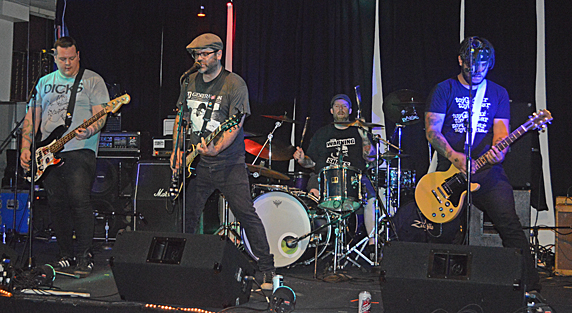 Michael Kane and the Morning Afters
Photo: Blowfish
To our mind the lineup of bands before the "Dead Boys" was worth the money in itself. But we missed most of Michael Kane and the Morning Afters and heard just two songs. There was no Cheryl Crane on bass! Is that a permanent thing? They were a good fit for this bill. They are new but everything that comes out of them is steeped in a love of early punk.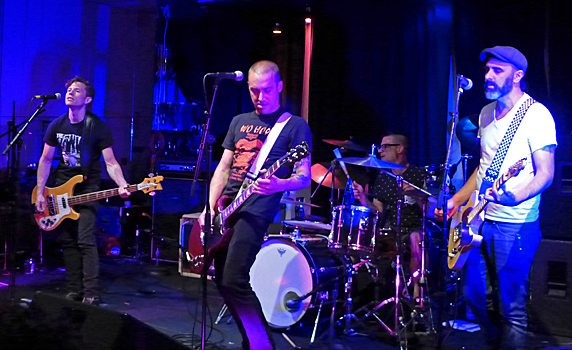 Duck and Cover
Photo: Blowfish
Duck and Cover was next and you know we love those guys. It was different seeing them up on a raised stage. They went full throttle. They did a new song and it was one of their best yet. They ended with Stand Corrected which is their most popular. They show us directions where punk can grow. They add an extra dose of melodicism and expanded musical influences without giving up power, grit or attitude.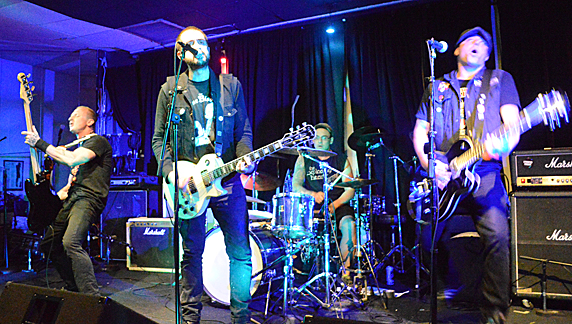 Quiggs
Photo: Blowfish
It was more punk with the Quiggs. This time we didn't focus on Swid on bass (who was tremendous) but forced ourselves to check out the group as a whole. We finally zeroed in on their straight ahead punk and heard some good songs. They don't mind a simple"we don't give a fuck" as a lyric but most of their lyrics say more than that. A notable song was When We Were Young. The two guitars trade chord strums at the beginning - simple but effective. The lyrics are about lost innocence. Here is the song on Bandcamp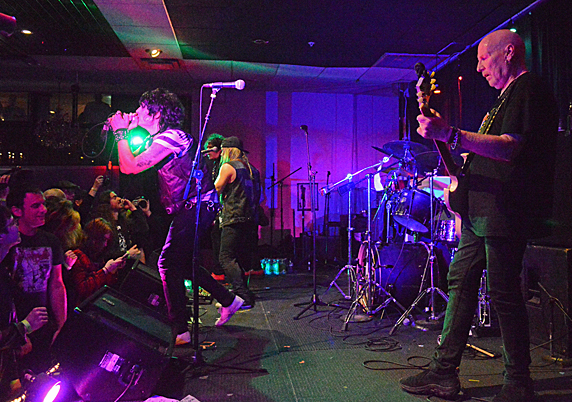 The Dead Boys
Photo: Blowfish
When the time came for the "Dead Boys" the club was three-fourths full. For a month the discussion has been, is it worth going? The common comment, "there's no Stiv." But still there was Cheetah Chrome and Johnny Blitz. They came on to lots of cheers. The lead singer had lots of NYC attitude and we liked that. He didn't try to be Stiv, he did it his way and it fit well. He did mimic the hang yourself with the microphone chord thing that Stiv did.
The set started with Sonic Reducer, video above, and Cheetah doing Jimmy Zero's great guitar intro. The best moments all night were those classic monster riffs that the band was known for back in the day.
The band was up to the challenge. They were well chosen. The guitarist Jason "Ginchy" Kottwitz has played with Syl Sylvain and the Bulemics. Bassist Ricky Rat was one of the co-founders of Detroit's legendary glam punker the Trash Brats. There was a big crowd pushed up to the stage who were eating it all up. No credibility problem for those people. Behind them a small mosh pit. Then after about six or seven songs, they stop. That was it! Set over. Our jaws dropped. (Later talking to Eric Law he said they basically played the first album. That was more songs than I thought.)
The Dead Boys
Photo: Blowfish
All this build up and a short set? They did come back for an encore. The Dead Boys was so much about Stiv that any attempt without him comes up short and in this case a short set. Some of the songs: All This and More, Ain't it Fun, Ain't Nothing to Do and What Love Is.
---
And in other news ....
We knew this day would come but didn't want to think about it- Out of the Blue Gallery has to move out of their current space by December 1. They are having various fundraiser shows and they also have a paypal link for donations. Please go here to see a letter from Tom Tipton and see the link and see the calendar for their events coming up. Check out thier FB page too!!!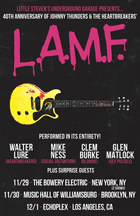 The 40th Anniversary of the L.A.M.F. LP is being marked by a series of concerts with Walter Lure, Clem Burke, Glen Matlock and Mike Ness. They are in NY and LA. Get dates and locations, etc. here on Brooklyn Vegan
Bob Colby gave an update on his moving situation and why Boston gets to keep him a little longer. It's very interesting too. It gives an insight into the main problem of getting a cheaper place to live. Check it out here
Clea Simon was a rock critic of note in the 80's and 90s. She was published in the Boston Globe. She now has a mystery novel set in the Boston music scene of that era called World Enough. It's to be released on Nov 1 . It can be pre-ordered on Amazon. The teaser says: "The casual camaraderie of Boston's club scene hides something darker. A night out to hear some music, a band she used to love: But when onetime rock critic Tara Winton accepts an assignment from her former editor, she must revisit not only the old scene but everything she holds dear." Her previous books were mysteries involving cats with titles like: Mew Is For Murder, Probable Claws and The Feline Mystique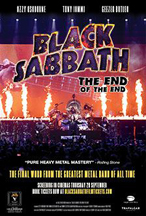 A movie of the last Black Sabbath tour called The End of the End is coming out on September 28 in movies theaters …… Here's the Trailer
Bent Shapes is calling it quits. Announcement here . They will play their final show at Great Scott on December 16th alongside Beware The Dangers Of A Ghost Scorpion! and Laika's Orbit. FB event page here We thought they did the indie rock thing better than most. They were quirky and intelligent and they rocked. They did a cover of the 2x4's Bridgeport Lathe. Hearing that live was always a highlight. Bridgeport Lathe on Bandcamp
Pearl Jam has a movie out also - It's a concert film that chronicles Pearl Jam's legendary performances at Wrigley Field during the Chicago Cubs historic 2016 season. It will be at the Kendall Cinema on Oct 3 Read about it and get tix here.
And speaking of films- its not music but its a big part of most of our lives......Blade Runner 2049 debuts in local theaters soon October 5!!! Find where you're gonna go to see it.
Here's a new tune from Johnny Angel (Wendell)
---
Here's some good shows coming up .....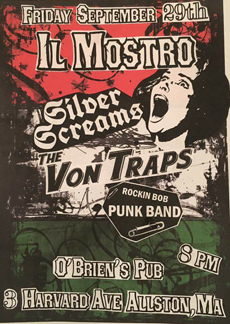 September 25 (Monday) Loser's Circle, Mongorellis, the Scutches, and Blame It On Whitman @ PA's FB page

September 28 (Thursday) Name That Punk Tune!! Hilken Mancini is playing DJ and Queen of Punk Gilmore "GtotheT" Tammy, Your Game Show Hostess with Most Mostest for a night of fun, prizes, bitchin' sounds, drinks etc...starts at 7:30 at Once Tix etc here.

September 28 (Thursday) Patti Smith discusses her newest book Devotion (Why I Write) Info and tix here

September 28 (Thursday) Boston Fuzzstival Day 1 is at The Elks Lodge in Central Sq , Bishop Allen Drive. PLaying: Dent, Birthing Hips, Kal Marks, halfsour, Gravel, La Neve, Rick Rude - Ensemble, Blau Blau, Dazey and the Scouts Starts at 6PM (FB page)

September 28 (Thursday) Stiff Little Fingers are doing their 40th Anniversary tour they have Death by Unga Bunga opening for them - at the Brighton Music Hall

September 30 (Saturday) Brian Young's ACCFTR A Crash Course for the Ravers featuring A Tribute to Thunders with Simon Ritt! 1-4PM WMFO 91.5

September 29 (Friday) Boston Fuzzstival Day 2 is at Once - playing: Ava Luna, Ovlov, Horse, Jumper of Love, Bat House, A Band Called E, Lisa/Liza, Laika's Orbit, Way Out, earthquake party!, Mint Green - starts at 6PM (FB page)

September 29 (Friday) Il Mostro, Silver Screams, BDSX and The Von Traps at O'Brien's

September 29 (Friday) Jay Allen and The Archcriminals, The Black Souls, Roy Sludge at The Midway (9PM show)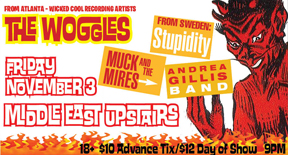 September 29 - October 1 (Fri-Sun) The Rat Beach Party at the C Note in Hull. There's a ton of bands on these three days including The Beachcombovers, Charlie Don't Surf, Club Linehan A Go Go
(featuring our own Kenne Highland and John Keegan) State of the Union, Pop Gun, The Stigmatics ...so please check out the FB page for full info FB PAGE.... Also check out this great article from Bill Copeland Music News it's got info and SET TIMES fior all three days.
September 30 (Saturday) Boston Fuzzstival Day 3 is at Somerville ARTFarm(just outside Union Sq.) Playing: Dirty Dishes, MV & EE, Loone, The Kominas, Sammus, Mini Dresses, Gymshorts, Honduras, Steep Leans, Olden Yolk, Peach Ring, Boston Cream Starts at 1PM (FB page)
September 30 (Saturday) Love and Flame show at the C Note in Hull Fred Pineau, T.B. Player and Gary Soprano will be playing in the group. One perk is that they will be playing Rondy Rush the song they did in 1977 when they were in Third Rail.
September 30 (Saturday) Tiger Bomb w/ Watts & The Connection live at Bayside Bowl in Portland, ME
And further out we have...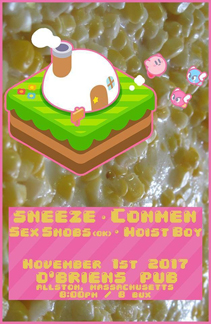 October 2 (Monday) Cryostasium, Rawstrum, Petridisch, Hannah Judson at PA's Lounge
October 7 (Saturday) A Boston Punk Rock Benefit for Rosie's Place featuring The Welch Boys, Jason Bennett & The Resistance, Pint Killers, and Guns of Brighton 9PM show at The Midway FB page
October 8 (Sunday) Petty Morals are having a Ballroom Blitz at Once Ballroom with a Flea Market and Art Show -also on the bill Muck & The Mires, The Dazies and Lady Pill (set times and more are on the FB page) It's 2PM- 8PM
October 8 (Sunday) The Crank-Tones are at Atwoods. This is a 4PM show. Atwoods is a great place for dinner too!!
October 9 (Monday) It's another fun night of Rock and Roll Trivia at ONCE Lounge by Rocker Zine....starts at 7!!
October 13 (Friday) Silver Screams, Idle Pilot, Black Cheers and Psychic Dog at Koto/Salem
October 14 (Saturday) Rumbar Records presents- The Dirty Truckers celebrate Jamie's Dirty 50th BDay! Also on the bill- Watts, Kris Rodgers and the Dirty Gems and AM Stereo at The Midway (9pm)
October 14 (Saturday) The Worried, Greg Allen's Fringe Religion, Classic Ruins are at The Parlor, Providence, RI
October 15 (Sunday) Refuse Resist 10th Anniversary Show! with special guests Disaster Strikes, All Torn Up, Neighborhood Shit, and Cry Havoc This is a 3PM start matinee show at The Midway.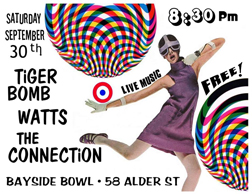 October 18 (Wednesday) The Nekromantix and The Brains at The Middle East Down 7PM- Midnight show Tix etc here
October 20 (Friday) it's Cal Cali Band and Highway Chapel with Rev Joe at Tavern at the End of the World - Go to the Tavern. The foods great, the people so nice and you get music to boot.
October 20 (Friday) Hey Hey Record Party Par-Tay! - Andy California celebrates the release of his new 7 inch and don't forget to bring the money says Andy. He par-tays with Sticker Shock and Johnnie and the Foodmasters - 10PM @ The Jeanie Johnston Pub- Check out the Facebook page- worth it for the visuals alone.
October 20 (Friday) Boston Hassle presents Boston Underground Summit 10! Featuring Panicsville (Chicago), Diva Karr, S Nicaenum, Manes Prophet (VT), +DOG+, Service ....MORE TBA at the Massasoit Elks Lodge Bishop Allen Dr Central Sq Cambridge. FB page The 9 bands will set up round-robin-style in two rooms, 3 stages and take turns playing a song. When the cycle is complete, the loop repeats again...and again... and again. First cycle starts at 8:30.
October 26 (Thursday) GRCB Halloween Fundraiser Cover Show! at O'Brien's - it's a load of Boston rockers doing covers as various bands...in the mix you've got Hilken Mancini, Samwise Faye, Liz Vom Teufel, Megan Sutton, Anjimile Yvonne, Jennifer Turpin, Liz Vom Teufel, Erin Genett Cat Verlicco, Jenny Bergman and Flight of Fire and a lot more people.... they'll be doing Cramps, The Pixies, Spice Girls and Led Zepplin. ....Stick around for costume prizes for Best DIY Costume! Best Group Costume! Scariest Costume! Most Creative Costume! Costume that needs the most explanation! ...it's gonna be a FUN night!! FB page Haunting your our earlobes this year: Beware the Dangers of a Ghost Scorpion!, Sinnet, and Boston Cream. It all starts at 10PM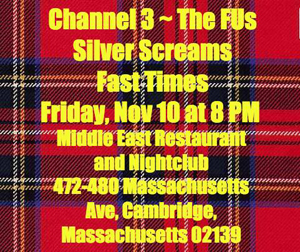 October 28 (Saturday) Tube Fest,New England's all day instrumental celebration, is coming to the Midway Cafe - on the bill: The Fathoms, Tsunami of Sound, SPF4, Matt Heaton and The Electric Heaters, 9th Wave, The Derangers, The Spytones, The Beachcombovers
November 3 (Friday) Indonesian Junk, Justine and the Unclean & Gymnasium at Tavern at the End of the World.
November 3 (Friday) The Woggles, Muck and the Mires, Stupidity, Andrea Gillis Band at The Middle East Up
November 4 (Saturday) Fireking, The Billy Connors Project, Hummingbird Syndicate, Tracy Chevrolet doing a 4PM Matineee show at The Midway
November 4 (Saturday) Loser's Circle w/ Rebuilder, Dead Bars, and Settlers at OBriens
November 3 (Friday) Human Sexual Response at HOB
November 9 (Thursday) The Proletariat at ONCE Ballroom w/ Siege and Black Beach
November 9 (Thursday) If you are in NYC or can get to NYC Celebrate Stranded in the Jungle: Jerry Nolan's Wild Ride the new book by Curt Weiss that covers 40 years of L.A.M.F. and is A Tale of Drugs, Fashion, the New York Dolls, and Punk Rock. Also there'll be music by with Greg Allen's Fringe Religion, and ...book reading, panels, Q&A, guests, book signing. It's at The Delancey in the Lower East Side 7-10PM FB Page for directions and more info He's at Out of the Blue/Cambridge on the 12! see below.
November 10 (Friday) CH3 (Channel 3), The FUs, Silver Screams, Fast Times Punk at The Middle East Up - 8-Midnight show tix here Read about CH3 here. there's links for tix etc too
November 10 (Friday) The Proletariat are at Narrows Center for the Arts w/ Black Beach in Fall River, MA (FB page for info)
November 11 (Saturday) Hasselfest #9 this year has Pere Ubu and a ton of other bands at Once- get the info on the FB page here.
November 12 (Sunday) readings by author, Curt Weiss from Stranded in the Jungle / Jerry Nolan's Wild Ride &...Greg Allen's Fringe Religion plays "Jerry Nolan & the Profilers" live ! followed by Lyres, GLiDER, MOTO, Tiger Bomb and Thigh Scrapers ~ at Out of The Blue FB page Reading is at 2:15 and bands follow...times are ont eh FB page.
December 2 (Saturday) DJ Easy Ed presents: The Cranktones plus Easy Ed's Record Hop! 4-8PM matinee at The Midway...followed by......
December 2 (Saturday) Watts (45 Release), Diablogato, Duck & Cover, A Bunch of Jerks at The Midway
December 8 (Friday) Rumbar records is throwing a HUGE record release party of the new Justine and the Unclean record Get Unclean....It's at Once and there will be bands in the ballroom and in the Lounge. Check out this list!: In the Ballroom- The Upper Crust, Hey Zeus, Tom Baker and the Snakes, Justine and the Unclean ....In the Lounge - Cold Expectations, Roy Sludge Trio, Pinecone Teeth and Jay Allen - doors at 7:30 show starts at 8:15.
CONTACT US AT....misslynbgn@yahoo.com -Send us your gig listings, your news and anything else ya got!! You want your CD reviewed?? Contact us for that too.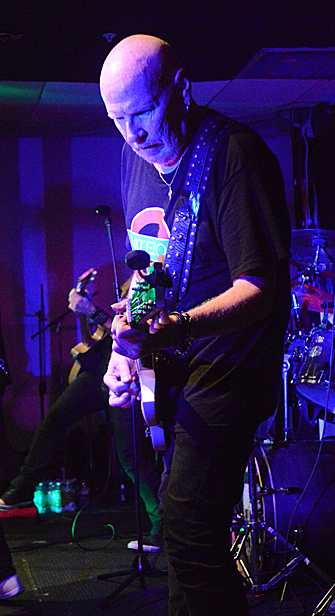 Cheetah Chrome
Photo: Blowfish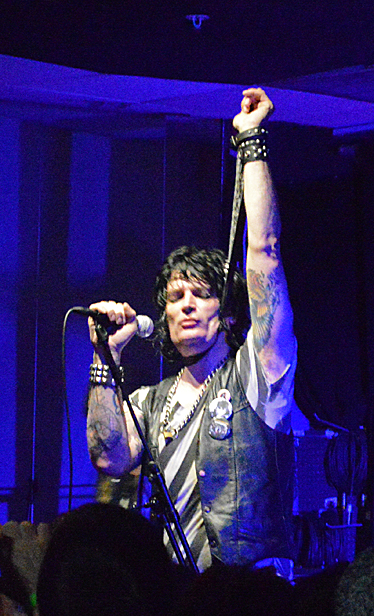 Dead Boys
Photo: Blowfish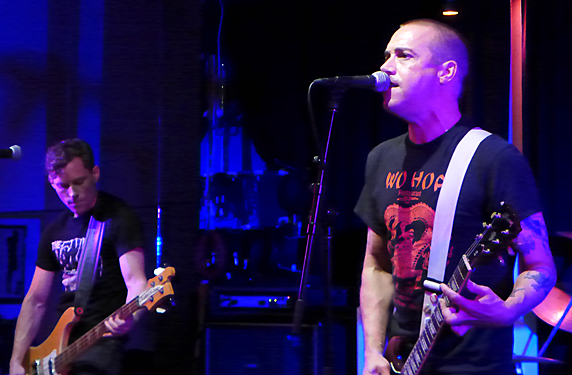 Duck and Cover
Photo: Blowfish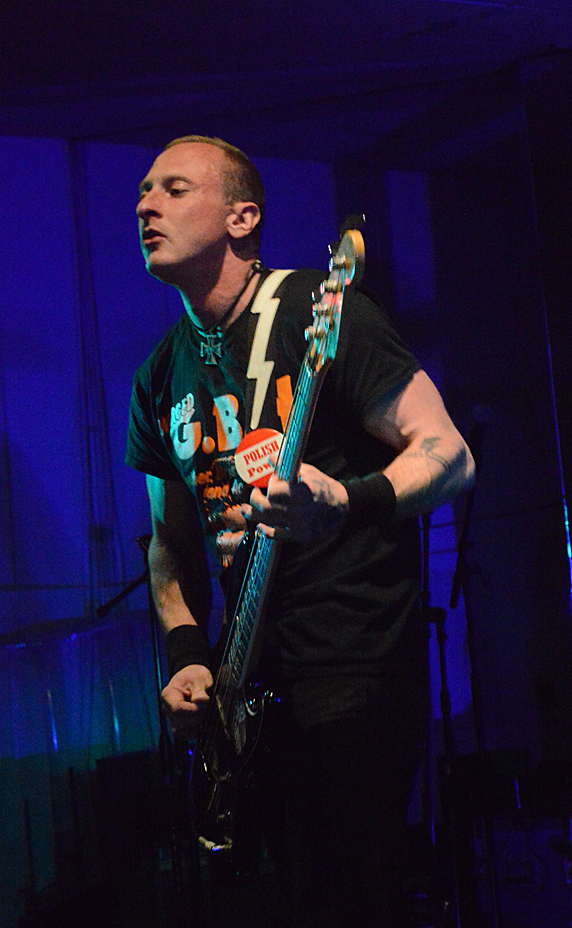 Swid - Quiggs
Photo: Blowfish