The BGN News Archive
September 29, 2014
Being on vacation for a week we haven't updated the news this week. Now, we have two gig reviews by John Keegan one hardcore and one Rat Beach party. See below for these. We will be back in swing this week.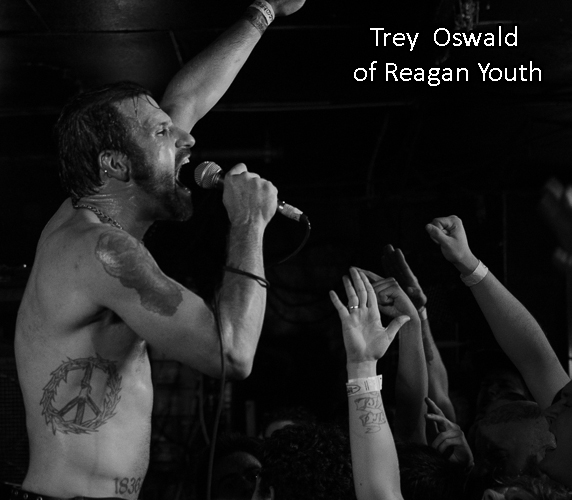 It's the second year for the Rat Beach Party. Michael Weedle had the idea and drive to make this an annual event that would become part of a South Shore tradition.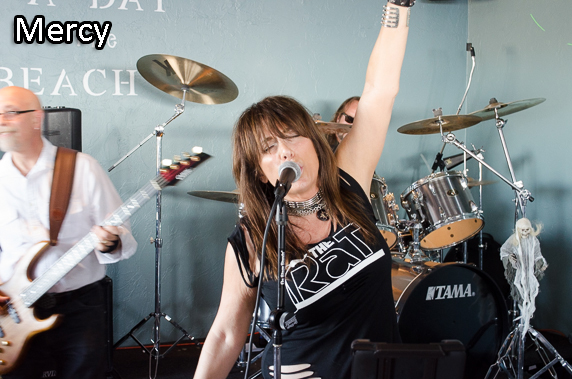 Friday October 10 is Night 2 for Crash Safely Benefit this one's at the Midway again...and there's a great line up with Petty Morals, Gymnasium, Tsunami of Sound and My Own Worst Enemy. The Pipeline! juggernaut continues with SHOW #11 - Fri. Oct. 10 at Cuisine en Locale, Somerville: 6:30 - 7:10 Luca Brasi, 7:20 - 8:00 Unnatural Axe, 8:10 - 8:50 Permafrost (Miles Dethmuffin), 9:00 - 9:40 Hullabaloo, 9:50 - 10:30 The Red Telephone, 10:40 - 11:20 Orbit, 11:30 - 12:10 Green Magnet School You can get TICKETS here.
over at Store 54 Bob Colby Presents The Beachcombovers and Mars on Saturday October 11th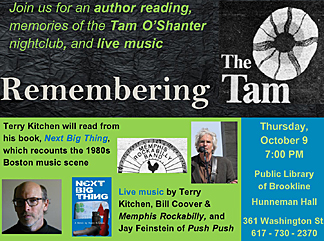 The Gizmos are in Brooklyn at Union Pool on Saturday October 11th this line up will be Kenne Highland, Eddie Flowers, & Ted Niemiec bringing the original 1976/77 Gizmos to NYC w/ assistance from Kenny Kaiser (Afrika Korps), MJ Quirk (Kenne Highland Clan), & Matt Burns (KH Clan, Litehouse and a gazillion other bands) also on the bill: Lame Drivers, Milk Dick, & Liquor Store.
At Store 54 on Oct 11th - from Bob Colby: This month features two great tastes the surf rock of The Beachcombovers and the power pop of MARS MUSIC that go great together, all at the coolest place to play a show in this town! (we agree!) So come on down and join the party (and bring your own beverages - but no food, please). Doors will be at 8:00, music starts at 9 . There'll be a suggested cash donation at the door.
For you guys up in the north near Portland you're in for a great show with The Real Kids, Nervous Eaters and The Flipsides are at Geno's tonight October 11. Geets Romo says : "I booked this 1st Portland show with the Real Kids in 1977, and now they're playing their 2nd Portland show on Oct 11, 2014, which I also booked... Sorry for the long wait."(FB page) ..
Also on October 11th an all day affair with the 9th Annual Hot Rod Fallout in Glastonbury CT - Bands & Continuous Music All Day
Vendors, Food, Booze, and more.....1963 & Older Traditional Styles Vehicles - Hot Rods, Customs, Stock, Race and Bikes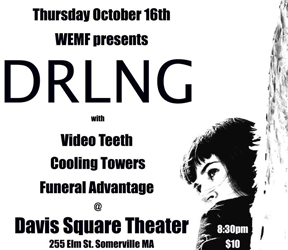 Now, pre Pipeline Show on Sunday October 12th there 's our fave Roy Sludge Trio at The Midway for a 4PM- 8:30PM show with The Calamity Cubes : with Roy (going on at 6:30-8:30) will be with Jim Scoppa, guitar & Johnny Sciascia, upright bass), The Calamity Cubes (from Kansas) go on at 5PM - all for only 5 bucks my friends…then head on over to the Middle East down for
Pipeline! Show #13 - Sun. Oct. 12 at The Middle East Downstairs, with The Gizmos (original line up of Highland, Flowers, Neimec), The Bags, The Voodoo Dolls, Kenny Chambers / Electric Ears (Moving Targets), The Underachievers, Carrie Bradley (of Ed's Redeeming Qualities, The Breeders, The Buckets) TICKETS can be bought here
Monday October 13th there's a special show at Weirdo Records with Eddie Flowers and Kenne Highland , its the day after their Pipeline! show at the Middle East Down. Pre Kenne/Eddie there's CTM opening the night around 8pm and Cryostasium middle things out around 8:30-8:45. If you know the album 'Vernietiging', you'll love the set. Triple guitar attack all coming out of tiny l'il amps. Keep in mind that this is a TINY place so if you want to see the sets best to get there earlier than later.
A few weeks ago we mentioned that we missed Plumerai but that they were reforming as DRLNG...well now they are playing out and already have a new EP called Icarus. And they are celebrating with a EP Release Party on Thursday October 16th at The Davis Square Theater. Also on the bill are Video Teeth, Cooling Towers and Funeral Advantage. We are looking forward to seeing this new iteration!!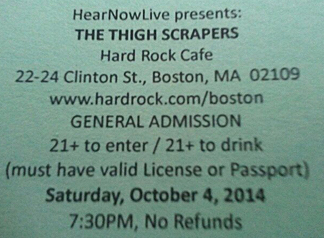 Friday October 17th is Night 3 of Crash Safely Benefit...this time its at the Middle East Up and wow, the line up again is killer with Township, White Dynomite, The Field Effect, Triple Thick and Animal Hospital!!
Also on Oct 17th at The Midway is Sasquatch and the Sick-A-Billys, Tigerman WOAH, Tail Light Rebellion, and The Radiator Rattlers
Saturday October 18th there's a insane bill at The Cantab with Kilslug, Hirudinea, Witch King and David Carradine
Also n the 18th - out in JP at The Boston Wreck Center are the Hub City Stompers, Brunt of It, Beantown Boozehounds, Disaster Strikes and Neighborhood Shit. All info and map here
October 25th we can see The Cranktones at The Midway again kids...it's WMFO's Easy Ed presents:- The Cranktones, Johnny Carlevale & The Rollin' Pins, plus Easy Ed's Record Hop!!! - great night!!! These are fun gigs with a friendly group prone to dancing….. And Easy Ed doing the DJ thing between sets….Here's a video we took last time they were there….check it out here!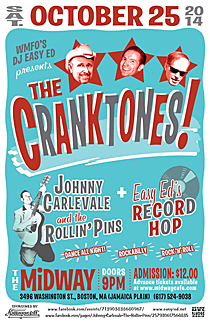 Also on Saturday, October 25, at Copperfields there's compilation CD Release Party for Chris Atwood's radio show The Alternative on WATD featuring: James Straight and the Wide Stance, A Fifth Column, Ruby Rae, and The New Frustrations. That little radio show is getting bigger by the day.
The Damned are touring this Fall with TSOL. They are playing Halloween in NYC but playing Boston on Saturday October 25th at the Royale…tix here….
In November Bob Colby has his Store 54 show with When Particles Collide and Powerslut on Saturday November 8th
Roy Sludge is doing another Sunday 4-8:30 Pm show on November 9th at The Midway!
Cavestomp ! & King Yum Records Present: Lyres with Special Guests Wicked Cool Recording Artists Cocktail Slippers, The Connection, TRiPLE THiCK on Friday, Nov 14, 2014 at The Middle East - Up. (Tickets here) The Cocktail Slippers, great Norwegian female band: "The band's main musical influences are Blondie, The Shangri-Las, Joan Jett, Foo Fighters, The Ramones, and The Beachboys".
Also on Nov 14th over at The Midway you will find The Upper Crust The Weisstroauts, Tim Lee 3 and My Own Worst Enemy - that should be a great show!! And an interesting mix to say the least!
At The Midway - November 16th (Sunday - Day Show): The Humanoids, Mama Ladilla, The FUs, Chin Strap
Mark yr calendars for this one!!: December 12th (Friday): The Real Kids , The Titanics, The Nectarines - at The Midway
CONTACT US AT…….misslynbgn @ yahoo.con Send us your gig listings, your news and anything else ya got!!