The BGN News Archive
September 30, 2013
One never lets a Nervous Eaters gig go by if at all possible and we didn't, we headed across town to the Midway on Saturday.
We caught most of the set by Glider another shuffling of personel by Cal Cali. This one cobbled together members of Billy Rath and the Street Pirates with Jetset. I thought it was a good combo of punk and psychedelia. The songs were very punkish being older songs Cal has used in past groups and the music had a punk base with swirling psychedelic feedback and effects by guitarist "Alf". Tempos were slow on purpose. The overall group sound was interesting as was the whole idea.
Meanwhile the club attendance was sparse. It looked like the Eaters set would be like a private performance but the crowd picked up a bit just before they went on.
Alas the Eaters had mucho amp problems and technical glitches that interrupted the flow of the set but we got the good songs. Degenerate, On the Avenue, Shit for Brains, Tomorrow and Today (newer song and a live favorite now), No More Idols and 528 about the Rat which looms larger than ever in Boston Punk lore as each day goes by it seems.
The lineup was Steve Cataldo, Alan Hebditch, Rob Skeen and David McLean. The gig had a nice low key vibe to it as does the Midway. I love their Saturday afternoon gigs I've hit and the easy parking. I complain about the drive but I like the place.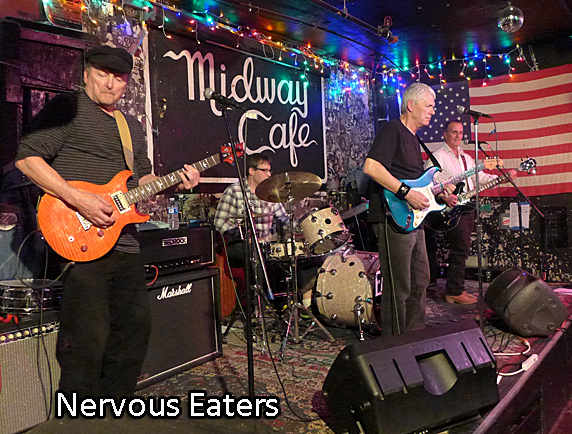 Rick Harte was there and helped to get the sound set up. Having Rick as your soundman - sounds like heaven to me. Rick name on a CD always indicates quality and lately his presence at a gig indicates a quality music night also. We didn't want to annoy Rick and ask about the Real Kids CD he's working on but thank god he mentioned it first. After all he is putting in lots of time on this and he told us the new John Felice disc is coming along. Six songs mixed and six songs to go. Rick said "This record needs to be as good as the Red Star records".... And "I'm working for him" meaning of course John Felice! Which is pretty amazing and explains why product from Ace of Hearts is always so good... Rick also giave us a teaser and told us its all originals except for two covers: a Modern Lovers tune and a Kinks song.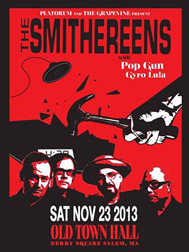 And in other John Felice news...Chris Parcellin finally got to interview John for The Boys from Nowhere film...it wouldn't complete with out John Felice so its great that happened!
And from True Age Media - they are promising that Let's Go To The Rat (the film) will be out by December!! awesome!
And...WHAT??? The Flaming Groovies are at Radio??? Yup- Thursday November 14th and note- since you do not want to miss anything that doors are at 7 and the show starts at 8PM sharp!! Andy Shernoff is also on the bill! Word is that the tix are half gone as of this writing...so go to radio and buy your tickets- like - NOW!!!
And we wanted to meniton Mal Thursday and his Mal Thursday Show podcasts...take a listen it si GOOD STUFF! HIs most recent is Mass PIke Memory Lane with songs from The Real Kids, The Barbarians, Kenne Higkand, DMZ and so on....well worth bookmarking this link and lissenin' each week my friends...
There's a double whammy of a special show on to start off this week: Monday Sept 30th at Charlie's Kitchen in Harvard Square there's Unnatural Axe with Kepi Ghoulie and all the way from Italy Richie Parsons brings us : Miss Chain and The Broken Heels then you can do it all over again (almost) on Tuesday October 1st at The Beachcomber in Quincy with Richie Parson doing a special solo gig this time with (talk about a super group!! ) Brother Cleve on guitar - and Carl Biancucci on bass!! Richie says he has loads of new material they'll be performing! Also Kepi Ghoulie and Miss Chain and The Broken Heel...playing this show too -
This Friday Oct 4th you can hear John Havorka tell his story on WRFG FM out of Atlanta GA..... He's on the Americana Garage radio show, hosted by Steve K...and John will talk about his novel, his music and more...and you can listen here .....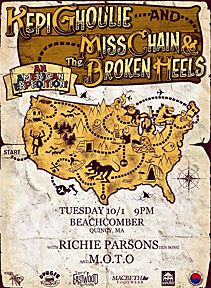 And this Saturday October 5th we have a bunch of good stuff: first off there A Crash Course for Ravers with Kenne Highland!! That should be for some pretty interesting listening folks coz as Kenne said on the facebook page..."He likes hearing his own voice" a yup, we're sure Kenne will have no probem filling up the 3 hours of the show. He's gonna give Brian Young a run for his money!!......listen up this Saturday 1PM to 4PM on WMFO 91.5 FM
Also this Saturday 10/5 Wayne Viens has a great show at his Store 54 with The Classic Ruins and the Titanics all for a $10 donation and the first 30 people get free Satanics tapes....wooohooo
Great show up in Salem...The Smithereens (!!!) with Pop Gun and Gyro Lula at the Old Town Hall in Salem Tix are 35 buckaroos my friends...and its an early show with doors at 6PM.
Friday October 11 there's what promises to be an excellent show at The Midway with Hambone Skinny (Ex Coffin Lids etc) Midnight Creeps (who are always fantastic!!) Classic Ruins (always great too!) and MOTO...
Also on the 11th at The Plough and Stars there's Jay Allen and Archcriminals with special guests Assisted Living featuring Kevin Stevenson from The Shods in his new hardcore project
October 12th -is the Spit Reunion #2!!! At Bill's Bar on Landsowne St.....There'll be a punk fashion show...DJs will include Tony V, Paul V and Steven Strick and performing they have some pretty special guests Debora Iyall/Romeo Void doing a very special reunion. They have not played in Boston in over 30 years...and even though they say Never Say Never, they do say they will never do this again!! We hear people are coming from all over the country to see them do this rare appearance! To make even more special they also have Boston's own Adventure Set with Ken Scales (of Pastiche fame) and Mark Pother (of Ministry!) ...we met up with Mario Taddeo last night and he told us some wild stories about Spit and the old days ...those were some crazy days.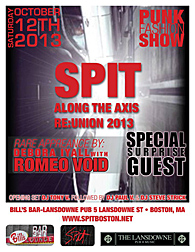 Also on October 12th is The Boston Boozehounds Reunion Show at the Middle East Up along with Reno Divorce and Loser's Circle
October 25th - Friday- Thalia Zedek 's band is at The Midway
And October goes out with a bang at O'Brien's!! Thursday Oct 31 they've got The Sprained Ankles, Squallie and The Chaotix , The Radicals and The Pity Whores
Then the next night Friday November 1st is Penis Flytrap, Kermit's Finger and Padded Hell
And speaking of the Satanics...they are playing at The Middle east up on, you guessed it Halloween night Oct 31st along with Aquanutz featuring Michele Paulhaus as they do 80's hard rock send ups and Slim Lizzy which is members of Slim Jim and The Mad Cows doing Thin Lizzy songs...
Sunday November 3rd The Dickies are at Middle East up wlong with Duck & Cover and Burning Streets. November 8th is Baker boys night at Radio down with The Kurt Baker Band and Tom Baker and The Snakes...
And...WHAT??? The Flaming Groovies are at Radio??? Yup- Thursday November 14th and note- since you do not want to miss anything that doors are at 7 and the show starts at 8PM sharp!! I'd say buy tix now for this one!! Andy Shernoff is also on the bill!
The Smithereens are playing at The Old Town Hall in Salem on November 23rd...along with Pop Gun and Gyro Lula.... now folks get yr tix for this its very limited seating...
And really far in advance we're letting you know about John Surette's punk opera Tomorrow The World will be performed live at the Middle East, Saturday Dec 14.
EMAIL US AT.......misslynbgn@yahoo.com
Past postings of this news page are in the BGN ARCHIVES