The BGN News Archive
September 30, 2019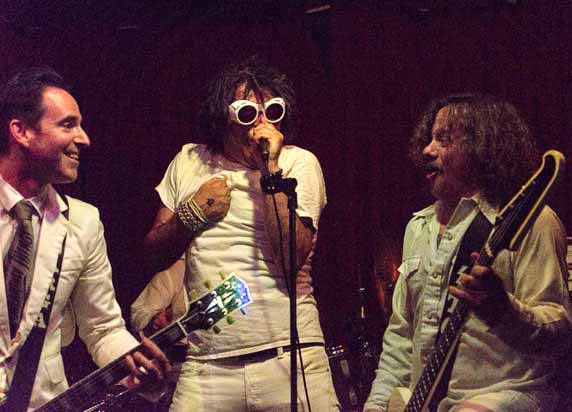 White Dynomite
Photo: John Keegan
---
There was a lot going on this last weekend. There was the Boston Local Music Festival on City Hall Plaza on Sat/Sun, there was a two day holdover for White Dynamite at O'Brien's on Fri/Sat and there was the all day Saturday Shake a Leg festival in Medford, all that was on top of the usual club action.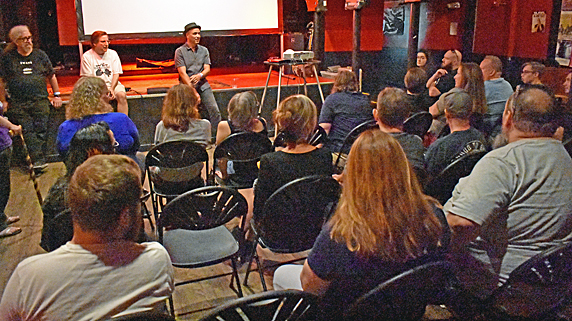 Punk the Capitol at the Middle East Up
Photo: Blowfish
We were interested in the punk documentary Punk the Capital - DC Punk being shown at the Middle East at 2:00pm. We've been following the development of this film because of the subject matter of the DC hardcore scene.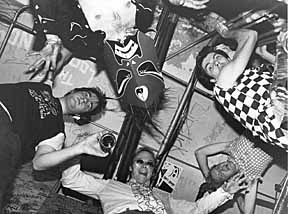 Slickees in Rat dressing room

It was at the Middle East UP. We were wondering how they would set things up. It was easy really; they just set up rows of folding chairs. The screen was big, the width of the stage, and the image quality was excellent. There were 30 people there. We thought the hardcore community would be interested and show up for this but that didn't happen, too bad, because this was a very good documentary. The DC scene gave us Bad Brains, Minor Threat and Henry Rollins.

At the very beginning though was The Slickee Boys. They gave them their full due which was nice to see. The Slickees came to Boston in those early days too. Like a lot of early Boston punk groups they were more aggressive rock than what would become a punk group after the Ramones. The song they characterized as their most punk was "Put A Bullet Through the Jukebox". After them was The White Boys, which was Mr. Ott and his son. They showed Mr. Ott in his white royal fur hat – a toilet seat cover. Then it all starts up with the Bad Brains followed by Minor Threat.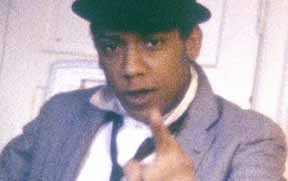 HR of the Bad Brains

We ate up all the footage of those two bands. They are both worth all the attention ever given to them. It's important to see how intense they were in those early days because so much was inspired by those performances. They were showing what could be done.

The film spotlights the few clubs that would play punk like Madams Organ and the Keg. When a club would shut down the scene would too. There wasn't a lot alternatives in that scene. The hardcore shows in Boston were often only at the Gallery East and the Media Workshop but then they hit the Channel. In a few of the interviews people talked about how things almost stopped entirely. You got to hear interviews with Ian and Alec MacKaye, HR from Bad Brains and Henry Rollins among others.


There's a lot more in the movie than what we are saying here. This is much worth seeing.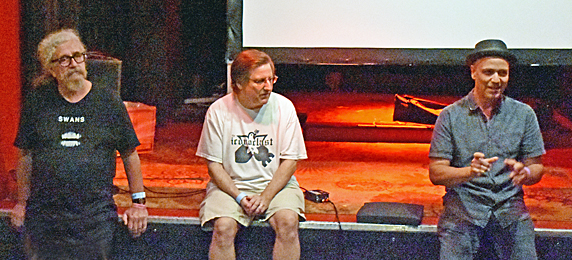 Paul Bishop, Al Quint and James June Schneider
Photo: Blowfish
The movie makers, Paul Bishow/James June Schneider and our own Al Quint did an interview after. The one big thing that stuck us anew was the archive that the DC punk community has in conjunction with The Washington DC Public Library. Here's a video on that The movie makers said they spent a long time there and much of the material in the movie came from there. Boston needs this sort of thing so bad. Everyone on the scene knows it but it's the institutions that are the stumbling block. None of them has stepped up. Even Arthur Freedman who has his videos in the Harvard Film Archive still has other material that needs a home. In the near future there is going to be a lot of original artifacts lost because the older punks have no place to house them.
A DVD of the movie with another whole disc of added material will be released int eh future. That's a must get for any hardcore fan.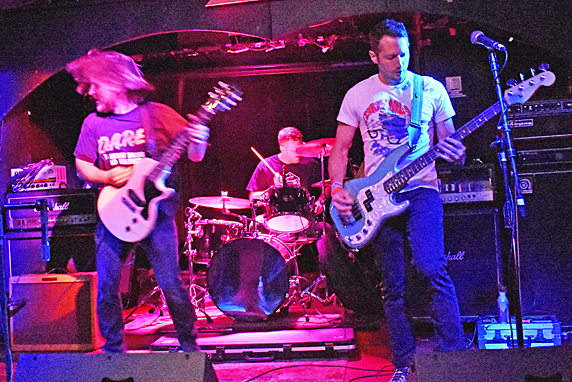 Graneros
Photo: Blowfish
We went back to the Middle East Up later to hear the Graneros play an early set at 6:45. You know, no matter how good a film is, you need the live loud rock.
We've heard the Graneros a few times. Here's the last time. Every time we see them we like them more. The songs are built on moving chord lines that have unusual twists in them. We always hear some Pixies in their overall sound. Some of that comes from singer Matt's way with the vocals. He has a full voice that he can control to give a strong melodic hit. That really comes into play on the choruses where they hook you. You can hear that at the 30 second mark on the song "Mexico" and at the one minute mark of "Red Rug".
But that's just one of their qualities. They have their own way of ramping up a song and hitting a grove to ride on. The guitar was nice and thick, the drum work was clean and busy and the bass sounded monumental in that ME Up sound sytem.
There weren't a lot of people there at that early hour. We think this band deserves bigger audiences. Check out their Bandcamp page.
The White Dynomite show on Saturday was sold out so you had to get tickets before hand. That's what John Keegan did. We have his review and photos of Whilte Dynomite and Justine and the Unclean below - just click the photo to go to the page.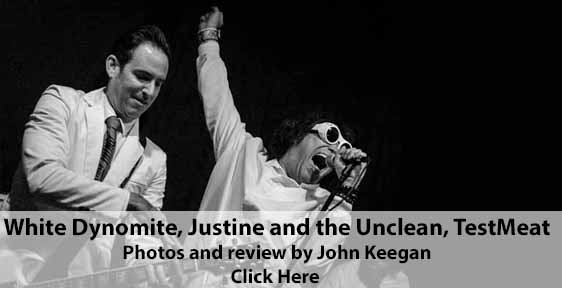 ---
And in other news.....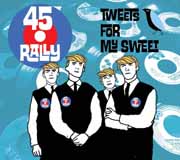 Tweets For My Sweet is a new album from 45 Rally via RumBar. It's a funny concept: Sweet bubblegum style pop with the whole package, group names and songs based on material from presidential tweets. They have one song streaming on Bandcamp called "Bigly". Check it out here.
Another Rum Barr release, this one os Gonna Have a Time by Jittery Jack with Amy Griffin. They can do no wrong by us. We've enjoyed their joyful rockabilly for years. Here ya go, Have a Time!!
Color Killer have a skateboard deck with the illustration from their "Pat On The Back" single. You can get it from Bandcamp for $45.00
We came across this movie called The Adventures of Johnny Tao. It's very odd; it's a kung fu, zombie and rockabilly mash up. Well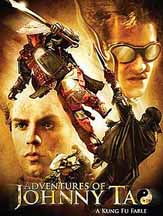 the thing is there are some songs by Chaz and the Motorbikes in it. That's one of Charlie Chesterman's groups. There are no less than 25 songs from Charlie in the movie. In the commentary the director reveals that he loved Scruffy the Cat and sought out Charlie. The movie came out in 2007. Charlie died in 2013. It was a WOW moment coming across this. Check out more info here.

We also happened to hear "Tinsel-Town Rebellion" by Frank Zappa. Some recognizable Devo riffs in the middle stopped us short. It seems cranky Franky looked down on punk and the like. Some of the lyrics are: "To get a record deal…/ They would have to be more punk/ Forget their chops and play real dumb/ Or else they would be sunk". This came out in 1981. It's the typical put downs we got from old rockers and the establishment for many years.

Zappa missed out on the whole culture shift that happened with punk. The philosophy of punk had, and continues to have, influence. "Punk and disorderly: The enduring impact of punk culture on brands today" is an article that talks about that by Stewart Hodgson on Medium.

Mark you calendar for:
---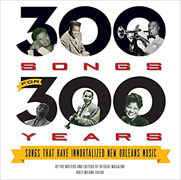 This Tuesday Oct 1- Bret Milano has a new book out...300 Songs for 300 Years, The book is a musical history of New Orleans, with the stories behind 300 songs that trace the city's musical motherlode-- from "When the Saints Go Marching In" and "Down by the Riverside" through Louis Armstrong and professor Longhair, the birth of rock & roll, the heyday of R&B and much more, up to the present day. The Book Release party is Oct 1 at the Harvard Coop. Clea Simon will moderate discussion, Brett will read a few entries, and there will be a live soundtrack by members of Boston's own New Orleans-themed band, Confederacy of Dumpsters! and free Zapp's Chips courtesy of the Coop! FB link below in gig litings
This Friday Oct 4- Grade 2, Brix n' Mortar and Barfight Champs at O'Brien's - we are huge fans of Brix n Mortar and loved Grade 2 when we saw them at Maggy's in Quincy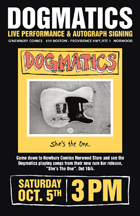 Saturday Oct 5 - The Dogmatics are having a live performance and record signing at the Newbury Comics Norwood store on Oct 5. They will have a cool LP on yellow vinyl. FB link below in gig litings
Friday NOV 8 at O'Brien's….CE Skidmore, City Mouse, Stubborn Hearts. (FB page) We saw City Mouse at O'Brien's back in Nov of 2015. They did up some cool pop punk. And we've seen Stubborn Hearts a couple of times. most recently at the opening of the Jungle. Jenn Lombardi is an amazing song writer and their sound is raw melodic punk inspired.
---
Here's some good shows coming up this week.....

September 30 (Monday) Threat Level Burgundy, Cuidado, Waxjaw, the Creepy Freaks at Charlie's Kitchen

October 1 (Tuesday) Bret Milano Book Release party for his new book 300 Songs for 300 Years, at The Harvard Coop 7-9PM FB page

October 1 (Tuesday) Agnostic Front w/Prong at Brighton Music Hall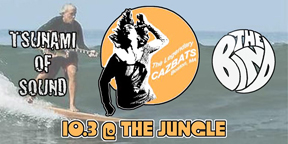 October 3 (Thursday) The Bind, The Legendary Cazbats, The Tsunami of Sound at The Jungle. 9-11:30 PM adv $6 door $10.
October 4 (Friday) Grade 2, Brix n' Mortar and Barfight Champs at O'Brien's
October 4 (Friday) Cold Expectations, M.O.T.O., Little Billy Lost at The Jungle
October 4 (Friday) Wormtown Ska Presents: An "Is This Ska?" Punk Party! Featuring: Cheap City! (Party Punk), Dirty Walter and the Smelltones! (Doo Wop Punk), Sgt. Scagnetti! (Ska Rock), Sonorous Rising! (Ska Punk), plus Art by the Creepy Doll lady -its happening at the Raven in Worcester. FP page Come out and party!
October 4 (Friday) Team Dresch, Shepherdess and Stubborn Hearts at ONCE
October 5 (Saturday) Dogmatics 'She's the one' release performance & signing at the Norwood Newbury Comics 3-5PM - FB page
October 5 (Saturday) Mudhoney, Pissed Jeans at Brighton Music Hall 6PM doors.
October 5 (Saturday) Elvis Room 20: The Queers are at AS Art Space in Portsmith, NH. FB page for info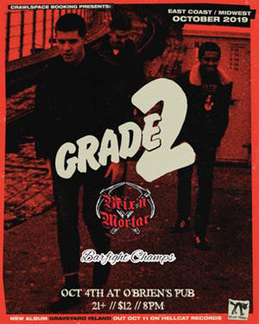 October 6 (Sunday) The Sinister Six, Martin / Morell / Fredette and TRiPLE THiCK - 3-7PM show at The Midway
October 6 (Sunday) Hardcore Stadium Presents: Restraining Order, Ancient Filth, Ugly, Vantage Point, Mangled at the Middle East Up
And further out there is.....
October 7 (Monday) Hambone Skinny, Indonesian Junk, Baabes at Charlie's Kitchen
October 7 (Monday) Rock'n'Roll Trivia with Erin & Bret at The City Winery 7.30-10.30
October 10 (Thursday) Kid Gulliver, State of the Union and The Chelsea Curve at The Jungle
October 10 (Thursday) Dick Pics, Guilloteenagers, Big Mermaid, Thee Fightin' Fish at Club Bohemia
October 11 (Friday) Sister Suzie (from the UK) Jittery Jack & Amy Griffin at O'Brien's
October 11 (Friday) Lucifer Christmas presents: Not Your Mama's Burlesque Show! plus new music from Steady Vex
October 12 (Saturday) Benefit Multimedia Concert to benefit the South Texas Human Rights Center & BORDERx Comix project with GHOST GRL, Crow Follow, Spectramotiv and Visual Multimedia: BORDERx Comix Artists. Admission $10 To help Asylum Seekers and Migrants caught up in the border crisis - All Proceeds will go to these two beneficiaries. at The Lily Pad Inman Square FB page for more info.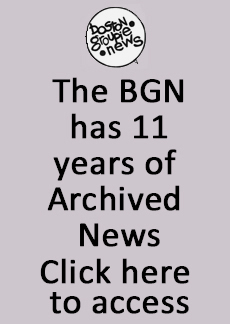 October 12 (Saturday) Wire Lines, Green Piece, Cujo [Boston Emissions Birthday+Benefit Show] at Sally O'Brien's
October 12 (Saturday) Lyres, Tiger Bomb, Glider at Sun Tiki Studios 375 Forest Avenue, Portland, Maine 04101 FB page
October 13 (Sunday) The Cranktones, with Sax Gordon and DJ Todd Purple at the Midway matinee 3-7Pm
October 13 (Sunday) The Legendary Cazbats Psychedelic 60's Dance Party at the Jungle 6-8:30 PM
October 16 (Wednesday) Randy Black & The Heathcroppers begin a Third Wednesday (of each month) residency at The Plough & Stars. 6-8PM
October 17 (Thursday) Robotic Hawks, Billy Connors Project, Spaces For Two at The Jungle
October 18 (Friday) Time and Place, The Knock Ups, Wolf Tape, Cook Bag at The Midway
October 18 (Friday) PowerSlut, Mint Green, The Only Humans, Baby Driver at The Worthen Attic Lowell.
October 18 (Friday) Marianne Toilet & The Runs, Corner Soul, Smitty E Smitty and the Feztones, The Melatonins are at Koto Salem.
October 19 (Saturday) A Crash Course for the Ravers has Richard Mirsky - 1-4PM WMFO 91.5 FM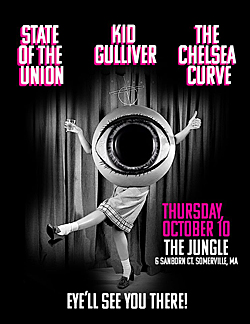 October 19 (Saturday) Watts, Kid Gulliver, State of the Union at The Square Root
October 19 (Saturday) Avenir (French punk rock) at the News Cafe in Provi RI - check out their bandcamp page ..and here's the FB page for the show & tix etc!!!
October 19 (Saturday) Cactus Attack, Black Leather Lagoon, Tarantula Bros, Nick the Barbarian at Opus in salem
October 20 (Sunday) Stiff Little Fingers, The Avengers at Brighton Music Hall doors 7PM
October 20 (Sunday) The Vivian Girls are at Once
October 21 (Monday) Cherry Brat, Street Milk, The Wild Allegations at The Jungle
October 23 (Wednesday) Flipper with David Yow (Jesus Lizard) "40th Anniversary Show" at The MIddle East Down
October 23 (Wednesday) 999, The Clap, Vixen 77 at The Fire Philly PA FB Page
October 25 (Friday) Road Soldier, The Manglers, New American Good Time Boys at The Midway (night show)
October 25 (Friday) The "Scare" Root Halloween Show! with Justine's Black Threads, The Chelsea Curve, Little Billy Lost at the Square Root
October 25 (Friday) Flamin' Groovies, Richard Lloyd Group, Tiger Bomb at ONCE
October 25 (Friday) 999, The Clap, the Parasitix, The Transmission Now at the Catasauqua American Legion 215 PA FB page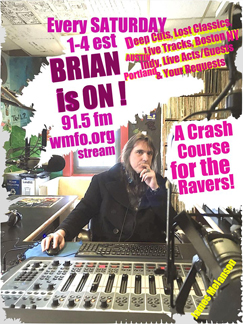 October 26 (Saturday) The Fleshtones, GLiDER, Muck & the Mires, Baabes at Once Ballroom

October 26 (Saturday) The Dogmatics Record Release Party! with Stop Calling Me Frank, The New Frustrations, Grommets at the New World Tavern Plymouth FB page

October 26 (Saturday) Pale Lips (MTL) with The Gala, Loretta, & Kathy Snax at O'Brien's

October 26 (Saturday) Stop Calling Me Frank, Dogmatics, New Frustrations, The Grommets at the New World TAvern Plymouth MA - FB page for info

October 26 (Saturday) 999, The Clap, The Bobby Lees, Blank Spots at Coney Island Baby in NYC FB page

October 27 (Sunday) 999, The Pajama Slave Dancers and The Clap at the Hawks & Reed Performing Arts Ctr in Greenfield, MA TIX HERE

October 28 (Monday) Cycling w/ The Melted Chapstixs at The Jungle 5-8PM

October 29 (Tuesday) 999 & The Clap at Randy Now's Man Cave 134 Farnsworth Ave, Bordentown, New Jersey 08505 FB page

October 30 (Wednesday) Devil's NIght at O'Brien's with Babes of Mutilation (as the Pixies), Fury Things (Dinosaur Jr. tribute), The Knock Ups as Hole, Queers of the Stoned Age, Corner Soul as The Stooges

November 1 (Friday) Change Today (Joe Wood era TSOL), Covered In Bees & Tiger Bomb at Gino's in Portland ME FB Page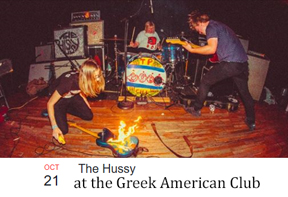 November 2 (Saturday) Shut Up (NJ), HIXX, The Guilloteenagers, A Bunch of Jerks at the Midway for a matinee show 3-7PM

November 2 (Saturday) Gene Dante & The Future Starlets, Cold Expectations (record release) and The Chelsea Curve! at Sally O'Brien's

November 2 (Saturday) Relapse, blindspot, Motel Black at the Middle east Up - 6PM show - all ages.

November 5 (Saturday) The Von Traps, Pretty Pleased (Chicago), Crunchtime at The Jungle- this is a FREE SHOW!!!

November 8 (Friday) CE Skidmore, City Mouse, Stubborn Hearts at O'Brien's

November 8 (Friday) Wolftape, Doug McDonald Band, Crunchtime, Thigh Scrapers at Pete's Grill Quincy FB page

November 8 (Friday) Muck & The Mires, The Gotham Rockets, Tiger Bomb, Gene Dante at Alchemy in Providence RI FB page.

November 9 (Saturday) Muck And The Mires, The Downbeat 5, and Gotham Rockets at Sally O'Brien's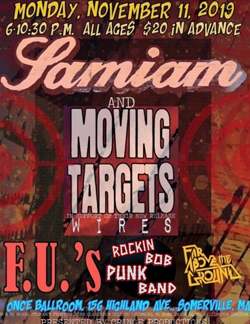 November 9 (Saturday) Black Helicopter, Baabes, blindspot, Jakals at Opus in Salem
November 9 (Saturday) Change Today: Joe Wood era TSOL at Ralph's Rock Diner Worcester.
November 11 (Monday) Samiam, Moving Targets, F.U.s, Rocking Bob, and Far Above the Ground at Once - All ages - starts at 6PM- 10:30PM!! FB page for tix etc.
November 14 (Thursday) Halshug (from Denmark), Corrode, Skinned Alive, Skrawl at the Dorchester Art Project
November 16 (Saturday) Brian Young's a Crash Course for the Ravers is featuring Greg Allen's Fringe Religion. 1-4PM WMFO 91.5 FM at http://www.wmfo.org/popout_player.php?bitrate=256
November 16 (Saturday) International Pop Overthrow at Union Tavern...check FB page for info as it comes.
November 21 (Thursday) Robert Gordon with special guest Chris Spedding and Diablogato at Once
November 23 (Saturday) A Crash Course For The Ravers featuring A Bunch Of Jerks 1-4PM WMFO 91.5
November 23 (Saturday) The Knock Ups, blindspot, Lonely Leesa & The Lost Cowboys at Sally O'Brien's
November 23 (Saturday) "Love The Bands" @ ONCE Featuring: Smitty E. Smitty & The Feztones, PowerSlut, Corner Soul, The Rupert Selection - Doors: 8:30PM, Music 9PM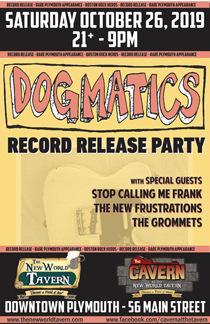 December 7 (Saturday) Triple B Records presents: American Hardcore Fest 2019 with Magnitude, Wild Side, One Step Closer, Restraining Order, Method of Doubt, Anxious, Big Mack, Field Agent- All Ages, $25Advance / $30Day of Show, *NOTE* 12:00PM Doors- this is an early show!! FB page.
December 14 (Saturday) Baabes, The Von Traps, The Hi-End, The Stigmatics at the Midway Matinee Show 3-7Pm
December 21 (Saturday) MOTO, The Thigh Scrapers, The Thirsty Pirates (NYC) , The Montgomerys at The Midway for a Matinee Show 3-7:30PM
December 21 (Saturday) Mother Iron Horse, Tied to a Baear, Von Traps, Skytigers at Opus in Sale
January 10 (Friday) The Mercy Case, Bystander, blindspot, Foxes at Koto Salem
January 18 (Saturay) Barrence Whitfield & The Savages, Muck and the Mires at The Middle East FB page and tickets
March 28 (Saturday) The Zulus at The Paradise
CONTACT US AT....misslynbgn@yahoo.com Send us your gig listings, your news and anything else ya got!! You want your CD reviewed?? Contact us for that too. .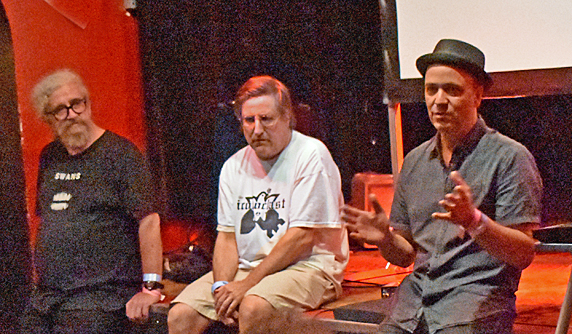 Paul Bishop, Al Quint and James June Schneider
Photo: Blowfish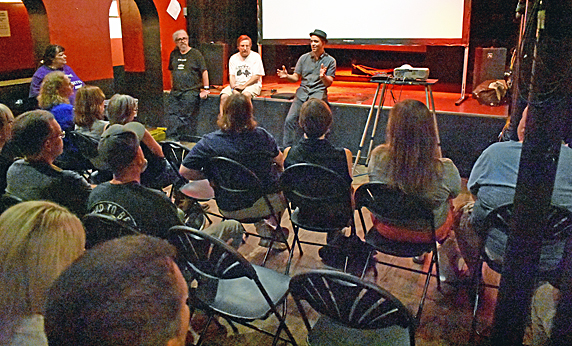 Punk the Capital
Photo: Blowfish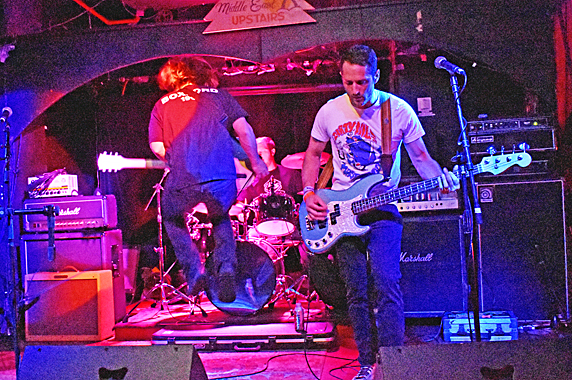 Graneros
Photo: Blowfish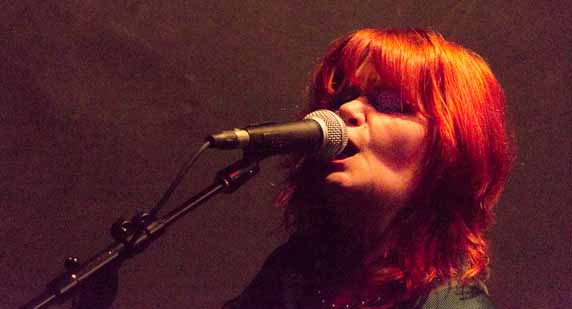 Justine and the Unclean
Photo: John Keegan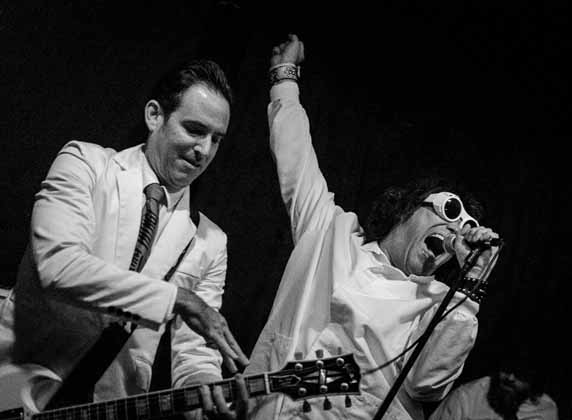 White Dynomite
Photo: John Keegan