The BGN News Archive
October 1, 2012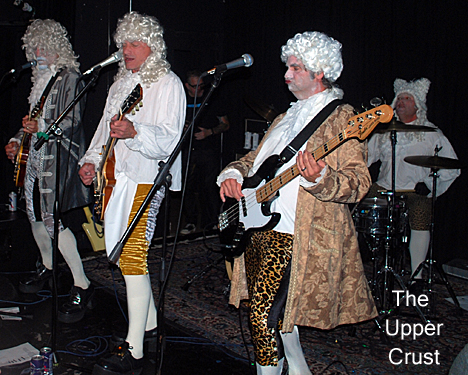 The Crash Safety Benefit had a quality line up it was for a good cause (MS) and was in a venue we had never hit before. It was down the street from the Rosebud in Davis, The Davis Square Theater. You go down a long stairway and see a swanky bar on your left and a handwritten sign that says "Music - Take the third door on the left", you walk down a hallway and end up in a moderate sized room set up as a theatre (It was the Jimmy Tingle Theatre.). This made for a comfortable night whereas you could sit or stand but this place is really for a sit down audience. But who can sit down all night with these bands?? Everyone ended up standing as with the previous night.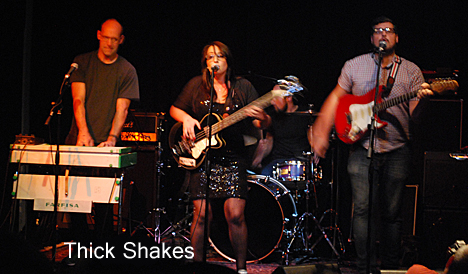 The Thick Shakes were the initial band. I liked all the elements; a Farfisa organ filling out the sound that had lots of surf and 60's elements but after a few songs nothing seemed to stick. The songs went by undistinguished. Nothing memorable.
Then comes our heroes - Triple Thick, always there when we need the punk fix, with no bull and nothing fancy, they deliver the goods. They joke during the set saying, "we have 10 minutes to go, here's 20 songs" and that's not far off. Each song has a nugget - a riff or lyric that they get over and then they get out - song over. They know their rock history and take a lot from many places. We've watched over time as Henry who we used to joke was a punk go-go dancer has long become essential to the group. He's gone from fan, to standing unmiked at the side of the stage to center stage and singing many songs. He's a unique character.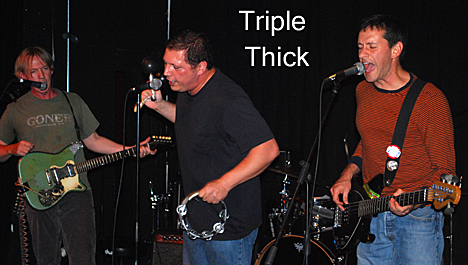 Going by undistinguished or unmemorable is never a problem with Sidewalk Driver whose attention grabbing theatrics and vivid songwriting leave a permanent impression every time. We've seen them a few times and every time they have been more accomplished and this was true tonight.
Their playing is super sharp with the lead guitarist controlling feedback and tone with minimum effort. The rhythm guitarist is always doing something interesting and with a wonderful Telecaster sound. The drummer and bass provided a rock foundation. The overall sound owes much to the Glam era that they obviously love. Lead singer Tad's voice is perfect for this kind of sound, it's powerful and dramatic, he can hit the high notes and sustain them too! His outfits get more interesting and better made each time we see them as well. His theatrics always seem to have a new addition as well with more glitter bombs and lights but tonight was the best yet with a little Casio attached to his arm for a few songs and an awesome prop in a lit up gold frame for punctuation in a couple tunes.
All through the set they vary the dynamics something other groups don't think about. They go from full group loud to just the singer softly delivering the lyric. This is how to hold interest. Half the songs were new to me and every one is a gem. Whoever is writing these things has a gift. The melodies are instantly loveable and the lyrics are rich in detail. One wonders with all this is their career doing alright? Do they have the gigs they want? Do they travel? It does seem like they should have more attention out there in the real world. I envision them on a very big stage!!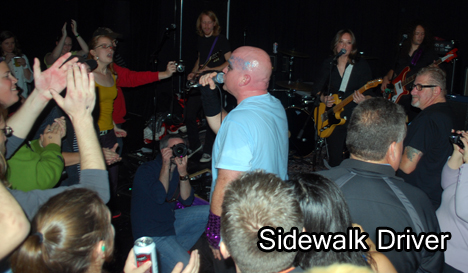 You would think that would be enough theatrics but no, on comes Upper Crust. Out they come in full fop gear with the wigs and powdered faces. You have to laugh. Nat Friedberg's sound hasn't changed a bit since the Flies and the Titanics but the lyrics and delivery has. Their show is patented and undeniably entertaining. Lord Bendover dishes out the droll remarks in pseudo bored patter, Count Bassie scowls as he looks at the lowly audience, Jackie Kickassis peaks out from the drum set with a double peaked wig and Duc d'Istortion gives high kicks that threaten to rip his tight satin pants. The lyrics are another layer of funny. Superb stuff.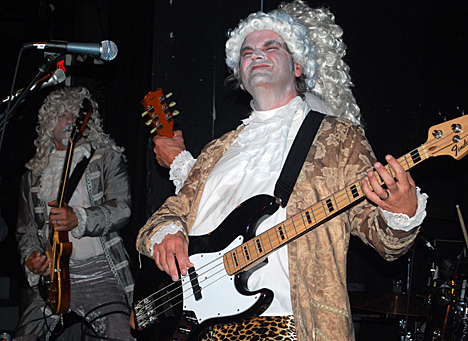 The Crash Safety people put on a successful night of music. There could have been more people there. They had a raffle with several prized. Mitch from Triple Thick won a bike tune up and Blowfish won bread for a year from Panera bread. So Upper Crust, take that, no eating of cake but fancy bread and for a whole year!!
Alright , so crap its October already….here's some stuff coming up:
Nicole Tamaro is having another book release party for yet another book - her third … this one's at Radio on Friday October 5th with Razors in the Night, Full Body Anchor and Jason Bennett & The Resistance - only $5 folks!!...
And on Friday, just to get you in the Halloween mood early there's J. Cannibal's Annual Feast of Flesh!! It's atthe Cooldige Corner Cinema and it will feature Black Cat Burlesque and Black Thai and a screening of HP Lovecraft's Re-Animator. Also gorey goodie bags and a costume contest...so get on over and ghoul out folks!!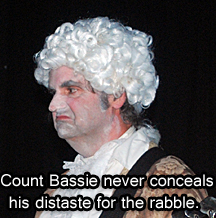 Also at Radio next weekend there's a lot happening to think about… Thursday and Friday Oct 11 & 12 there are benefits for Barbara Walsh …I don't know her personally but she had a stroke while at the LA Airport and is now headed toward the long haul of rehab...we wish you well Barbara and a speedy recovery!! - this could happen to ANY of us…go and show some support for a fellow rocker:
Thursday Radio UP has the benefit for Barbara with Rule, Jenny Dee & The Delinquents, The Decals, AM Stereo, The Modifiers - Radio Down has: The Charms, Dave Mirabella, Eric Salt & The Electric City.
Friday the 12th is Barbara Walsh benefit at Radio Down with The Dirty Truckers and others - Radio UP has The Dents, Devil On Horseback CD Release, Watts, Gymnasium, Spin Off
And if you can't make it and would like to donate a little dough to the cause go here: Benefit for Babs Donate
And you might as well come back the next night too cause Saturday Oct 13th is Radio's 1 Year Anniversary!!! More info later!
If you are out in the western part of the state there's a Happy Birthday Cheryl Crane/Crybabies Reunion show on Oct 13th at the awesome Hotel Vernon. Also on the bill is Carolla Deville and The Flipsides with Chris Horne from the Brood.
And of course at the end of October we have the various Halloween gigs so here's a good one to add to your calendar:
Friday October 26th we have the Rosebud BOO! Bash with Sticky Business opening up the night, our faves James Straight and The Wide Stance up next at 10 and then Cal Cali's New Experience for a walk down memory lane followed by My Own Worst Enemy closing out the night.
November 3rd The Neighborhoods and Robin Lane and The Chartbusters are at the Blue Ocean Music Hall at Salisbury Beach…they must be like huge rockstars or something coz tix are again overpriced at $25.
News from the Magic Room: Sunday, November 4th it The Halloween Hangover Show ! ANd Butch Patrick aka Eddie Munster, from the original 60s tv program The Munsters ,will be on hand for a "meet and greet " live at the Magic Room Gallery ! Also performing will be the legendary Muck and the Mires , and Tsunami of Sound . Also appearing, will be The King of Pop Culture himself !
And November 9th!!! Roky Erickson is going to be at the new Harvard Square club Sinclair, which will be at 52 Church Street - it would be awesome if it was in the Harvard Square Theater space…it would be like the old days kind of…when there were bands there. But anyway there you have it….Sinclair…Roky.
Finally All Ages- Boston Hardcore the film is available on DVD!!! You can check it out and purchase right here…. This DVD has 30 minutes of extra footage AND The Springa Chronicles…oh yeah!! GOTTA get it just for that…we can never have enough Springa, right?…..
EMAIL US AT…….misslynbgn@yahoo.com