The BGN News Archive
October 2, 2017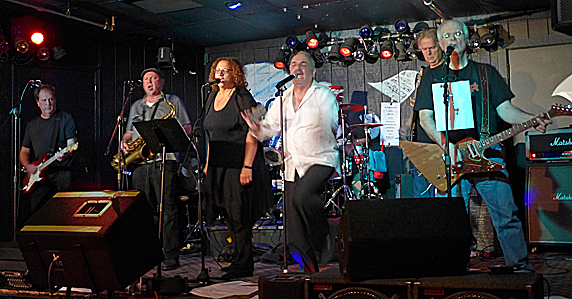 Love and Flame
Photo: Blowfish
We don't ask much of life. A good pop punk bill like they had at PA's on a Monday that's good for us. It was three locals and one NYC band called The Scutches. We were going anyway but when Eric Law sent this video of The Scutches the urge to go got stronger.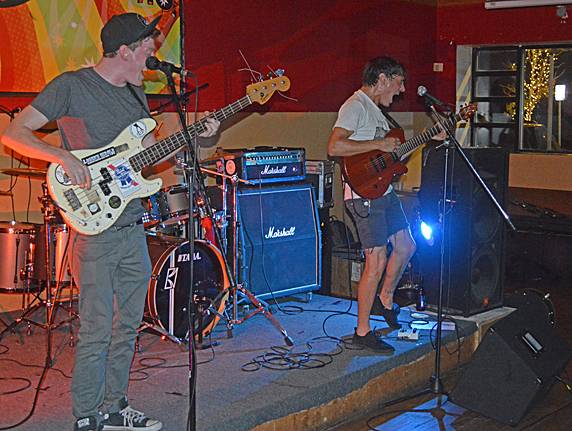 Blame It on Whitman
Photo: Blowfish
This was the third show for new group Blame it on Whitman. All three have been on bills with Loser's Circle. We were there for the other shows – First time ......Second time . This time we just saw the last song. Our recommendation is to check out this new band.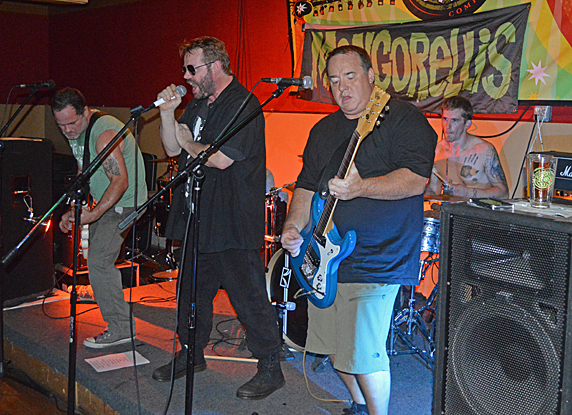 Mongorellis
Photo: Blowfish
Mongorellis is a scrappy punk band. There is no pretention there. They got up on stage and just dug in. They played some things fast but weren't afraid of slowing things up. What they had were songs that caught your ear.
Their early effort Politician Death Camp was always a fave. The lyrics push for getting rid of all the politicians. 70's Again was another song that stuck out and stuck in your mind too. The melody was poppier than the rest. They were clever with songs like Audio Roofie and their 'love song' Choke You. We loved looking at the mad dog attack by bass player Ed Lynch.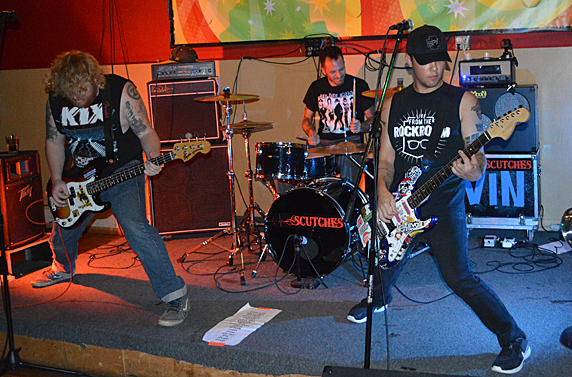 The Scutches
Photo: Blowfish
The Scutches were solid in the Ramones/Green Day style. We could listen to that all night, no problem. They were bright and tight. The best moments were when lead singer Vinny puts his tweaks on the melody. You can hear that in the first song in the link above. He has that nasal voice that fits the snotty lyrics.
It was like a Ramones set, which is to say short songs that sound alike. When you've got the sound down like this band did, it seems like everything goes down easy. Sheer punk pleasure for the whole set.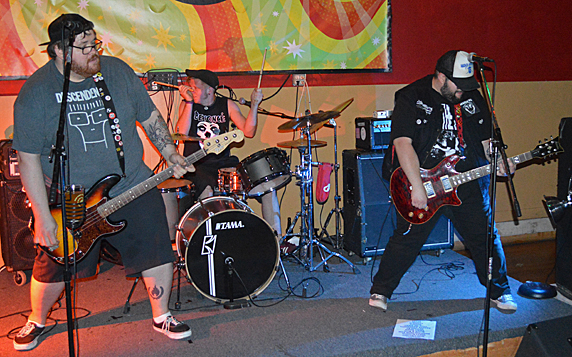 Loser's Circle
Photo: Blowfish
Wrapping things up was even more pop punk from Loser's Circle. For us they are the go to band for pop punk in Boston now. They claimed they were under-rehearsed, but the set was tight. Our suggestion is that you should pick up their CD to catch the songs and then see them live. The drummer is a multitasker. He writes some of the songs and sings while he plays busy and fast drums. You can feel the energy coming from him as they play.
We were thrilled to get a line up like that on a Monday and at PA's which doesn't have a lot of punk on their schedule.
Thursday had a lot of people torn; Patti Smith was giving a reading in town and Stiff Little Fingers where at Brighton Music Hall.
Miss Lyn was at Patti Smith.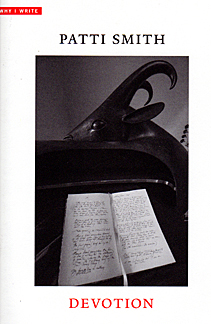 It was a sold out show and the line started early and went around the block! It's pretty incredible when one woman can sell out a number of 1100 capacity theaters to just stand around by herself and talk but Patti Smith is so charming she does it all the time. This appearance was to promote her new book Devotion which is about the creative process.
The plan was for her to read from the book but she had a migraine, "a 7 not a 10", but bad enough that she wore sunglasses on stage and couldn't read. So she called her daughter Jesse, who came up from NYC, to accompany her on piano and she talked and sang a few songs. She mentioned, "The good thing about singing is it can be healing" She mentioned the new film Mother! and it turns out she sings Don't They Know It's the End of the World over the closing credits. That was her first song of the night. Acapella I believe. She forgot the lyrics midway through but gained her composure and finshed it up.
She followed that with Because the Night and she asked us to help her sing it and we did. She mentioned before hand that there was a verse in the song about her late husband Fred Sonic Smith. That romance/marriage/bond is easily the most momentous thing in Patti's amazing life and the sadness of the loss of Fred still hovers over her. She also sang Dancing Barefoot, another love song about Fred. The lyrics took on newer deeper meaning for me.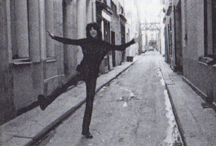 Between the songs she talked. She, of course, mentioned the book: "It's a little book, you could probably finish it in the bathroom!" She mentioned friend Sam Shepard another deep loss for Patti. She gave a plug for the show Jesse has put together: Pathways To Paris at Carnegie Hall in Novermber. After the singing part of her perfornance, which went by really fast, there was a Q&A session. Everyone prefaced their questions with how much Patti had made an impression on their lives.
It was getting late, there were a lot of people lined up and Patti got a little testy as the questions went on too long or were about something she's covered at length in the past. I honestly think she just wanted as many people as possible to get to ask their questions. But the cue to end things came before everyone got the chance.
She ended the evening with an acapella version of I Can't Help Falling in Love With You and dedicated it to the audience. The whole night was like being in a living room hanging out with a friend. Patti Smith is witty, humble, heartwarming, and talented and we just wanted to hang with her longer.
Death by Unga Bunga
Photo: Blowfish
Blowfish was at the Brighton Music Hall. Last February we were at Great Scott and saw Death by Unga Bunga. With only ten people watching they put on a creative show full of fun and excellent music. All that is relayed here….
This time around, opening for Stiff Little Fingers at BMH, they had a sold out crowd. They did a lot of what they did before. The lead singer is always going for the laugh. "You here to see Stiff Little Fingers?" Loud cheering ensues. " Too bad, we have a longgggg set." The singer jumped off the stage and was on the floor singing/yelling multiple times. One time he got to the alley at the entrance and was yelling at the people coming in who must have had no idea why it was happening.
The sound coming off the stage was bass heavy as each pluck of the bass guitar and each beat of the bass drums were sonic thuds to your head. That makes the band sound huge but kills any finesse in that area. This was true with Stiff Little Fingers too. In that way the Great Scott show was a better way to hear what Unga Bunga do musically.
They're a garage band basically, but add musical influences from any other genre as they like. Much of the time their go to thing is harmonized leads a la Thin Lizzy. And indeed on one song they played the lead to The Boys Are Back In Town with all four guitarists with their guitars behind their heads. See that in the video below. That was a crowd pleaser. A lot of their songs are composed of extended instrumental arrangements. The audience loved them. We hope they get a lot of attention from this tour. Their recorded music reveals much more of their overall strengths and musical variety. Joanie Lindstrom said they play them a lot on WMBR.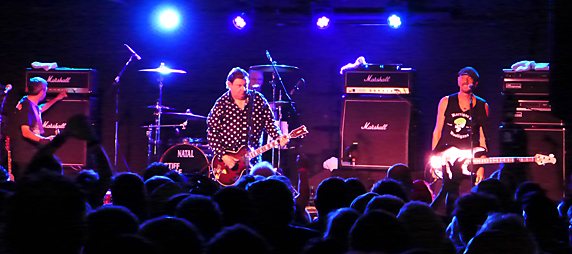 Stiff Little Fingers
Photo: Blowfish
I had never seen Stiff Little Fingers live. Most of the people I talked to had seen them many times. I played them a lot when I was on the Late Risers Club back in the day. Then they were on the rough side of the punk spectrum; now they sound positively tuneful. Perceptions change! They sucked me in with the first song Wasted Life and they had me right to the end which was Alternative Ulster. They did the songs you wanted to hear like Suspect Device, Gotta Gettaway and Roots, Radicals, Rockers and Reggae. Most things sounded even better than the recorded versions.
One of the good things with an older group is when they play a new song it's up to par too, and they did that. Their Irish influences come through subtly. No jigs or reels, but you could hear faint echoes in their bouncy beats. I loved the between song patter from the singer in a thick brogue. The BMH is not comfortable when it sells out like it did this night but the continuous roll out of quality punk made it all worthwhile. They are a classic punk band that is still on their game. The audience knew that. They stayed for every note. I didn't see anyone leave early.
At the end we talked to members of the New Frustrations and Stop Calling Me Frank. The singer of Stop Calling Me Frank said they are recording some songs. One is a Christmas song called Santa Baby, Buy Me a Beer. That's them all over.
Friday we went out to O'Briens for The Rockin Bob's Punk Band, Silver Screams and Von Traps but after 50 minutes without finding a parking space we gave up.
Saturday was another night of too many good shows. Miss Lyn saw the Blasters at Once and Blowfish did the South Shore thing with the Rat Beach Party at The C Note in Hull.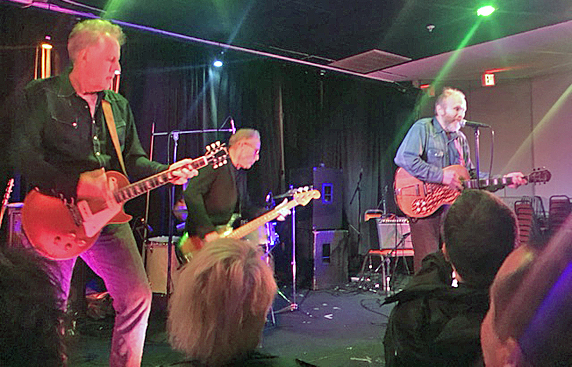 The Blasters
Photo: Miss Lyn
Once was packed right from the start for The Blasters, Flat Duo Jets show on Saturday. We missed the Flat Duo Jets but people were there to see them as much as they were for The Blasters and everyone thought they were great. The Blasters came out to a warm welcome by the crowd. These guys are some seasoned players! Well, they've been around since 1979 and it shows. Phil Alvin has the longest fingers I've ever seen!! Oh and yeah they played their mix of country/rockabilly/American Music. There were a LOT of guitar solos. What surprised me was that people weren't dancing. Everyone was right up against the stage though and it looked like some people did want to dance.
As we mentioned last week Count Viglione had lined up a band with ex-Third Rail members that was hard to resist for someone who saw them so many times back then. The sea was stormy as I pulled into the Nantasket Beach parking lot. It was beautiful to behold….well enough of that, it was into the clammy club as usual.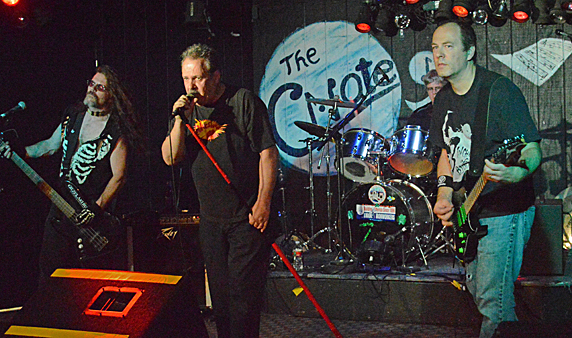 Dennis Most and the Instigators
Photo: Blowfish
I walked in on Dennis Most and the Instigators. They had a mix of garage and metal that worked wonders. The influence of 70's pre-punk rock was a commonality in all the groups for the night. One song had a chorus that sounded like they were singing "Shop till you drop" and they sang it like it was a curse with a metal riff behind it. Very funny.
They ended their set with I Wanna Be Your Dog with the lead singer rolling on the ground. That brought up memories of The Count doing the same thing on some of his Velvet Underground covers. I was distracted greeting people I knew and didn't get to give a close listen. That makes me want to catch a future set.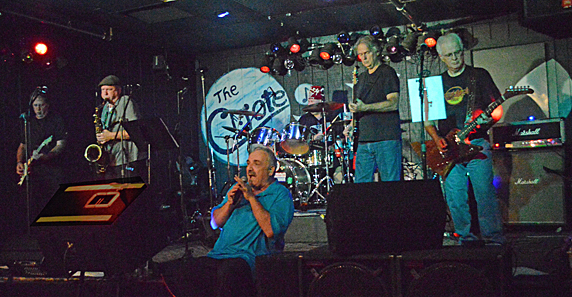 Love and Flame
Photo: Blowfish
The Count compiled a super group that seemed good in theory and indeed were super in reality. At the center was the trio of ex-Third Rail members: Gary Soprano, T.B. Player (bass) and Fred Pineau (also ex-Atlantics). For drums it was the Figure in a Fez Smitt E. Smitty (Figures On a Beach/Fireking). Then original Love and Flamers, The Count and Lady Caroline. To top it off there was our own John Keegan on Sax.
They did four Velvet Underground songs. Early Boston punk groups always covered Velvet songs. Jon Macey (Foxpass), Richard Nolan and the Count were deeply influenced by the Velvets and their interpretations always resonated. With the combined histories of the Third Rail members and The Count, songs like Sweet Jane and White Light/White Heat took off. Video of Sweet Jane is the third video below.
One of the best ideas was to play Rondy Rush. That is the first video above. Even Nolan didn't play that song from Live At The Rat for many years. Its S&M imagery has caused band members to back off playing it. The band attacked it full on like they did every other song. The Count was in his best voice ever. He claimed he has been sick and his voice was down to 6 notes. Well they must have been the right notes.
This was the first song where the classic riffs played by Pineau/Soprano came out. As you heard them your mind went back to those old shows and the original recorded versions in 1976. It was an amazing moment for any punk that was around at that time. They then played I'm A Star another song played on the Rat stage and was another vehicle for a guitar attack.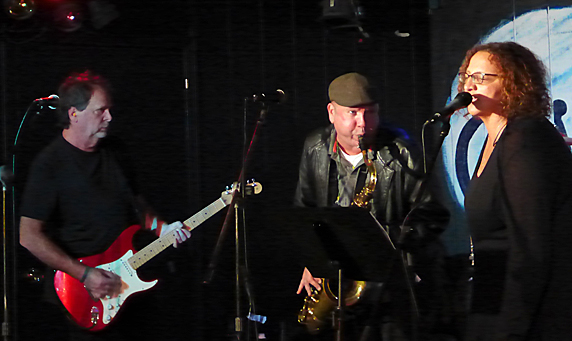 Love and Flame
Photo: Blowfish
Then it was another song released on a 45 in 1976 – Fury In Your Eyes by the Bonjour Aviators, Fred Pineau's early group. That is the second video above. Again the classic intro by Fred was a mind bender. The twist for this night was that Lady Carolyn sang the song. Her voice changed the emphasis of the lyrics. When she sang "like the fury in your eyes" it hit hard every time. It rejuvenated the song. Fred now has a new group with T.B. Player, Jim Melanson and Smitty and they will be playing that song. We hope it gets recorded with Lady Carolyn singing.
They played As Tears Go By making a connection between Nico/Faithful and that's something to think about. You can see and hear it here in Faithfull's cameo in Godard's Made in America. Keegan put in a moody smoldering lead as only a sax man can. It was a set that hit a lot of points and did indeed do what the Rat Beach Party is set up to do which is to celebrate that time and give musicians of that time a place to play again.
The Stigmatics
Photo: Blowfish
As a Boston music fan you learn to pay extra attention when Randall Gibson sits down at the drums like he did with The Stigmatics after Love and Flame's set. Most recently it was with the Real Kids. The Stigmatics have some similarities with the Real Kids in that their influences go way back. The Stigmatics have a wider spectrum of groups they take from however. There were a few songs that had an Exile on Main Street Stones feel. It was rock with some tasty C&W licks. Then it was a garage and blues combination. One song had a progression like I Don't Need No Doctor but later felt like the melody to Eve of Destruction but it had other things going on also. That was the way it went all during the set.
These guys have a a lot of music knowledge that bubbles up into the songs. New younger groups don't bring that history to the music. I also liked that they always kept the lyrics to the fore. This is a group that's going to take a few listens to get the full story on.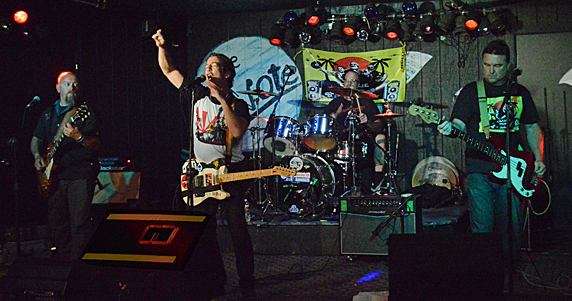 Charlie Don't Surf
Photo: Blowfish
I had seen Charlie Don't Surf the Clash tribute band a few years ago. They have played the Rat Beach Party before. They did their thing and it went down well. They got the most dancing going of all the bands. They have an easy groove to all the material. It seems to come from their confidence in the material and the impressive bass player. The bass player was at the fore on almost all the material. It was obvious on the dub material that the band plays the same way the Clash do, not trying to be too authentic in their appropriation. He also had the bass intro to London Calling down pat. They also did Radio Clash, Rocking the Casbah, Clampdown, I Fought the Law and Janie Jones. I'm not big on the whole idea of tribute bands but Charlie Don't Surf works for me.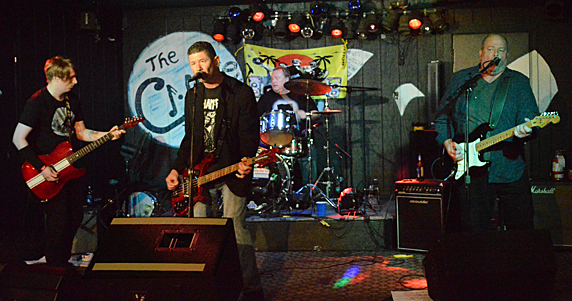 Pop Gun
Photo: Blowfish
Next up was the reunited Pop Gun. They've been defunct for about a year. Right off you could see they were playing full of spirit; it seemed like pent up energy being released. The bass player was jumping all over the stage and was in great voice. To add insult to injury they played three new songs. New songs!? That just didn't seem fair for several reasons. One of their best efforts yet was called Stop the World, and another, Soul Sucker, wasn't far behind. Melanson showed why he is the go to guitarist for many groups with his burning solos. They ended with the Chambers Brothers' Time Has Come Today.
I had to call it quits at that point.Michael Weddle the organizer of The Rat Beach Party got thanked many times from onstage and we also appreciate the shows he's brought to the South Shore.
---
Here's some good shows coming up .....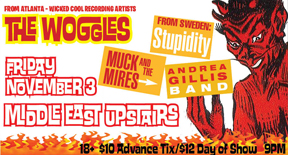 October 2 (Monday) Cryostasium, Rawstrum, Petridisch, Hannah Judson at PA's Lounge
October 5 (Thursday) Damnation, The Beat Seekers, Chanticlear, Blood Drive at OBrien's
October 6 (Friday) Gold Blood & The Associates, Diablogato and the Radiator Rattlers at Koto in Salem
October 7 (Saturday) A Boston Punk Rock Benefit for Rosie's Place featuring The Welch Boys, Jason Bennett & The Resistance, Pint Killers, and Guns of Brighton 9PM show at The Midway FB page
October 7 (Saturday) Teenender, Slow Caves, Deep Secret at OBrien's
October 8 (Sunday) Petty Morals are having a Ballroom Blitz at Once Ballroom with a Flea Market and Art Show -also on the bill Muck & The Mires, The Dazies and Lady Pill (set times and more are on the FB page) It's 2PM- 8PM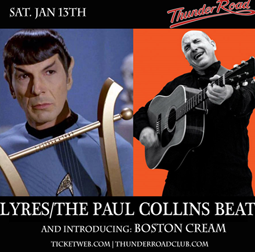 October 8 (Sunday) The Crank-Tones are at Atwoods. This is a 4PM show. Atwoods is a great place for dinner too!!
And further out we have...
October 9 (Monday) It's another fun night of Rock and Roll Trivia at ONCE Lounge by Rocker Zine....starts at 7!!
October 12 (Thursday) Bash & Pop with Tall Teenagers, Gymshorts at the Met in Pawtucket. FB page
October 12 (Thursday) Slim Jim and the Mad Cows, Gold Blood & Associates, Sugar Blood at O'Brien's
October 13 (Friday) Silver Screams, Idle Pilot, Black Cheers and Psychic Dog at Koto/Salem
October 14 (Saturday) Rumbar Records presents- The Dirty Truckers celebrate Jamie's Dirty 50th BDay! Also on the bill- Watts, Kris Rodgers and the Dirty Gems and AM Stereo at The Midway (9pm)
October 14 (Saturday) The Worried, Greg Allen's Fringe Religion, Classic Ruins are at The Parlor, Providence, RI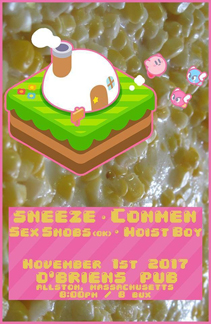 October 15 (Sunday) Refuse Resist 10th Anniversary Show! with special guests Disaster Strikes, All Torn Up, Neighborhood Shit, and Cry Havoc This is a 3PM start matinee show at The Midway.
October 15 (Sunday) Taco Monday Mess-Around at Once! This time around they have the usual messers Jay Allen, Justine Covault, Tom Baker, and will be joined by Mitch Murphy and Henry Marcucella III (Triple Thick, Shiny Beasts, Ten Dollar Mistake) and BOX featuring Kimi Hendrix (Killer Abs, The Unstables) and Jen W (Moonlight Orchestra)
October 18 (Wednesday) The Nekromantix and The Brains also with Diablogato and Dead Trains at The Middle East Down 7PM- Midnight show Tix etc here
October 20 (Friday) Hey Hey Record Party Par-Tay! - Andy California celebrates the release of his new 7 inch and don't forget to bring the money says Andy. He par-tays with Sticker Shock and Johnnie and the Foodmasters - 10PM @ The Jeanie Johnston Pub- Check out the Facebook page- worth it for the visuals alone.
October 20 (Friday) Boston Hassle presents Boston Underground Summit 10! Featuring Panicsville (Chicago), Diva Karr, S Nicaenum, Manes Prophet (VT), +DOG+, Service ....MORE TBA at the Massasoit Elks Lodge Bishop Allen Dr Central Sq Cambridge. FB page The 9 bands will set up round-robin-style in two rooms, 3 stages and take turns playing a song. When the cycle is complete, the loop repeats again...and again... and again. First cycle starts at 8:30.
October 20 (Friday) Highway Chapel and Cal Cali at Tavern At The End Of The World.
October 20 (Friday) Scissorfight, Roadsaw, Test Meat, Mantooth at Great Scott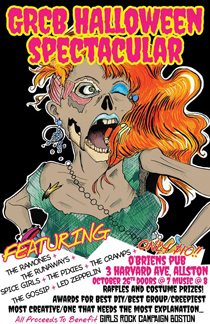 October 26 (Thursday) GRCB Halloween Fundraiser Cover Show! at O'Brien's - it's a load of Boston rockers doing covers as various bands...in the mix you've got Hilken Mancini, Samwise Faye, Liz Vom Teufel, Megan Sutton, Anjimile Yvonne, Jennifer Turpin, Liz Vom Teufel, Erin Genett Cat Verlicco, Jenny Bergman and Flight of Fire and a lot more people.... they'll be doing Cramps, The Pixies, Spice Girls and Led Zepplin. ....Stick around for costume prizes for Best DIY Costume! Best Group Costume! Scariest Costume! Most Creative Costume! Costume that needs the most explanation! ...it's gonna be a FUN night!! FB page Haunting your our earlobes this year: Beware the Dangers of a Ghost Scorpion!, Sinnet, and Boston Cream. It all starts at 10PM
October 28 (Saturday) Tube Fest,New England's all day instrumental celebration, is coming to the Midway Cafe - on the bill: The Fathoms, Tsunami of Sound, SPF4, Matt Heaton and The Electric Heaters, 9th Wave, The Derangers, The Spytones, The Beachcombovers
November 3 (Friday) Indonesian Junk, Justine and the Unclean & Gymnasium at Tavern at the End of the World.
November 3 (Friday) The Woggles, Muck and the Mires, Stupidity, Andrea Gillis Band at The Middle East Up
November 4 (Saturday) Fireking, The Billy Connors Project, Hummingbird Syndicate, Tracy Chevrolet doing a 4PM Matinee show at The Midway
November 4 (Saturday) Loser's Circle w/ Rebuilder, Dead Bars, and Settlers at OBriens
November 4 (Saturday) Human Sexual Response at HOB
November 9 (Thursday) The Proletariat at ONCE Ballroom w/ Siege and Black Beach
November 9 (Thursday) If you are in NYC or can get to NYC Celebrate Stranded in the Jungle: Jerry Nolan's Wild Ride the new book by Curt Weiss that covers 40 years of L.A.M.F. and is A Tale of Drugs, Fashion, the New York Dolls, and Punk Rock. Also there'll be music by with Greg Allen's Fringe Religion, and ...book reading, panels, Q&A, guests, book signing. It's at The Delancey in the Lower East Side 7-10PM FB Page for directions and more info He's at Out of the Blue/Cambridge on the 12! see below.
November 10 (Friday) CH3 (Channel 3), The FUs, Silver Screams, Fast Times Punk at The Middle East Up - 8-Midnight show tix here Read about CH3 here. there's links for tix etc too
November 10 (Friday) The Proletariat are at Narrows Center for the Arts w/ Black Beach in Fall River, MA (FB page for info)
November 11 (Saturday) Hasselfest #9 this year has Pere Ubu and a ton of other bands at Once- get the info on the FB page here.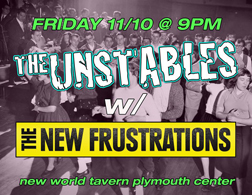 November 12 (Sunday) Curt Weiss covers 40 years of L.A.M.F. and is A Tale of Drugs, Fashion, the New York Dolls, and Punk Rock in his new book Stranded in the Jungle: Jerry Nolan's Wild Ride Also, rock and roll with the Thigh Scrapers, Tiger Bomb, Moto, Glider, and the Lyres starts at 2:15. Here's the FB page Also added to this show Greg Allen & The Fringe Religion who go on right after the reading.
November 19 (Sunday) OC45 w/ Diablogato, On the Cinder at Great Scott
December 2 (Saturday) DJ Easy Ed presents: The Cranktones plus Easy Ed's Record Hop! 4-8PM matinee at The Midway...followed by......
December 2 (Saturday) Watts (45 Release), Diablogato, Duck & Cover, A Bunch of Jerks at The Midway
December 8 (Friday) Rumbar records is throwing a HUGE record release party of the new Justine and the Unclean record Get Unclean....It's at Once and there will be bands in the ballroom and in the Lounge. Check out this list!: In the Ballroom- The Upper Crust, Hey Zeus, Tom Baker and the Snakes, Justine and the Unclean ....In the Lounge - Cold Expectations, Roy Sludge Trio, Pinecone Teeth and Jay Allen - doors at 7:30 show starts at 8:15.
CONTACT US AT....misslynbgn@yahoo.com -Send us your gig listings, your news and anything else ya got!! You want your CD reviewed?? Contact us for that too.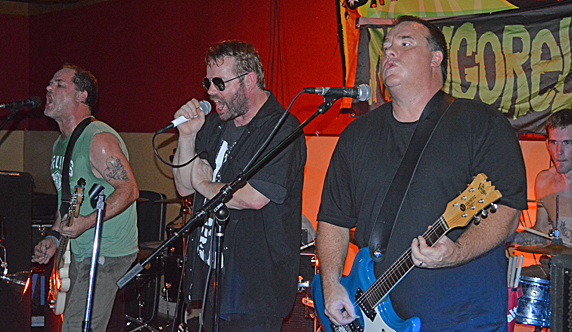 Mongorellis
Photo: Blowfish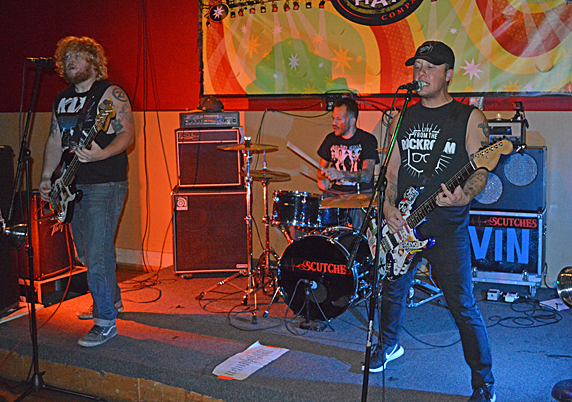 The Scutches
Photo: Blowfish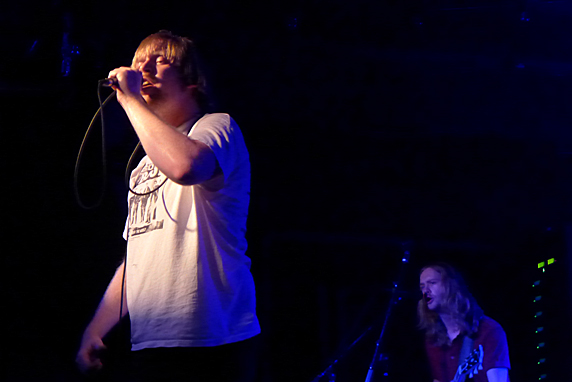 Death by Unga Bunga
Photo: Blowfish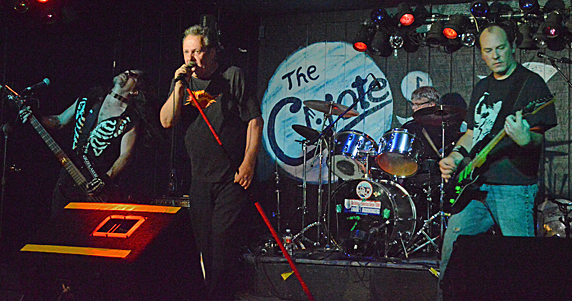 Dennis Most and the Instigators
Photo: Blowfish