The BGN News Archive
October 3, 2011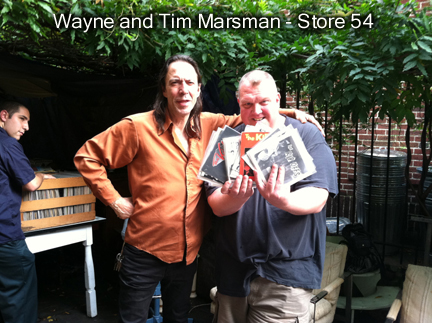 Made it over to Wayne Viens' Store 54 this past Saturday, loads of people getting great deals on all kinds of stuff but especially records....

So here we are in October already...ugh...but the music is good out there...
This Friday, October 7th there's a good show at The Midway with Sasquatch and The Sick-a-billies and The Wrong Guys

It's a busy day on Saturday October 8th there's a daytime 2-6PM punk show at Church....with By The Throat, Psycho , Mob Hit and The Bad Lieutenants opening up the show at 2PM....

Then in the evening The Port Charles Quintet is at The Rosebud with Sourpuss....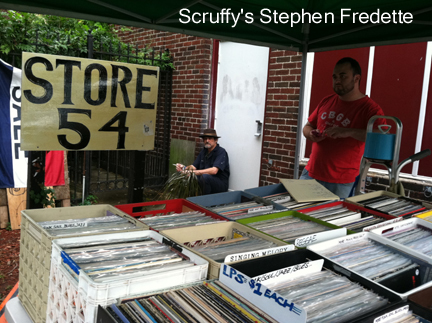 Also on the 8th in Quincy at The Beachcomber is Unnatural Axe!
And Radio, the new club in Somerville finally has a show I'd like to mention!! Brownboot, AM Stereo. Watts and The Dirty Truckers....excellent show at that!!
Jonathan Richman is at The Middle East up on Thursday October 13th ....and Friday the 14th...and the 15th
And don't forget the 35th Anniversary Damned show at The Middle East coming up Oct 20!!
And the Stretchers are having a record (cd) release party on Saturday Oct 22 at O'Brien's with The Welsh Boys!!...
And mark your calendars for Saturday November 5 when The Magic Room has James Straight and The Wide Stance along with Ken Scales and the new Adventure Set!!!
The adorable Reverend Joe Fagan says they'll be doing some one time only songs especially for the show!
The mark the next Saturday too! November 12th....cause there is a KILLER show at Church : The Neighborhoods, Unnatural Axe and The Sleazies....oh yeah!!
Then on Friday the 18th at TT's is Muck & The Mires and The Dents!!
Halloween is coming up....I'm not a BIG fan of the holiday like TMAX but it can be fun and one the things I am big on is Nosferatu. I like the Herzog version and especially the 1922 original. Lowbudget has had a newly done up version with very expressive music and subtitles so you don't have to wait for the title cards to go by. You can get that and Phantom of the Opera and The Cabinet Of Dr. Caligari at the Lowbudget site and now they have posted a shorter cut (but still 50 minutes) on line at NOSFERATU.
Email us with your latest news, opinions and all that kinda stuff....misslynbgn@yahoo.com