The BGN News Archive
October 5, 2009
Oh it was a busy weekend folks...first off our roving reporter Beatgirl went to Harper's Ferry to check out an evening of craziness with Hunx and His Punks, Box Elders, No Bunny and Jay Reatard...she says it was "It was "Attack of the 3-Piece Band Night". Primitive punk... a little surf-y, a little Ramones-y, a little 60's girl group-y and a whole mess of fun(ny)!" and the pics sure look it…enjoy!!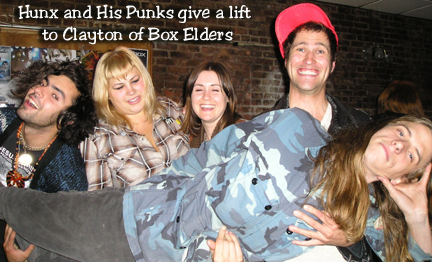 This Sunday the 4th was Mission of Burma day in Boston and we dutifully went over to MIT to check 'em out. Very good…of course…these guys KNOW what they are doing……and have a new CD out too, which I am sure you know already……Sunday was officially declared "Mission Of Burma Day" in Boston. It looks like it was suggested by Councillor John Tobin - guy must be a Burma fan.
| | |
| --- | --- |
| Mission of Burma... | ...at MIT. |
And we were interviewed for the latest Rat documentary Rat Tales By Andrew of True Age Media…we are hoping THIS doc sees the light of day unlike so many others we have been interviewed for!!! And really there NEEDS to be a Rat documentary out there so we hope this o ne happens…… OK now for music...we got some good stuff coming up: This weekend: Friday Oct 9th at the Middle East UP Is a great show with The Dirty Truckers and Muck & The Mires
and next night, on Saturday Oct 10, also at The Middle East UP it's The Glam vs. Punk Extravaganza : with Gene Dante & The Future Starlets, The New Alibis, MeandJoanCollins and The Acro-brats -cool!!
and then Sunday October 11th, The Bags in their only show in 2009!! At Church with The Wynotts
also you might wanna go to Stanton Park Records to buy their new LP " The Bags '89" "featuring the Bags' powerful churning sound that is one part Blue Cheer, one part Motorhead and one part Fear." Oh yeah!! Buy it!!!
Ok folks, that's it for this week, gotta cut it short,be back next week with more info...email me ....let me know what's happening..thanks!! click and write me!.... Lyn