The BGN News Archive
October 7, 2013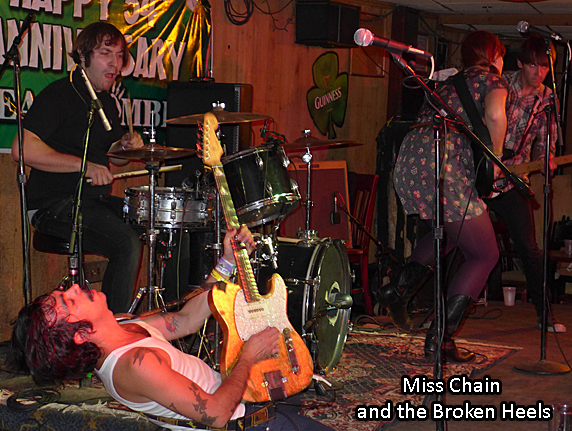 There's never a lot of good South Shore gigs but with the Presidents Club in Quincy doing a few shows the chances are getting better. This week we had Richie Parsons' gig at the Beachcomber. This was also an occasion to have Miss Chain and the Broken Heels from Italy play. Last time they were here was five years ago at Church.

Richie called his group The 10 Song Set and that's what they did - a ten song set. This was pointedly not an Unnatural Axe set or any songs by the Axe it was a new set of songs by Richie that were a giant step in a new direction, just how new might have been a big surprise if you weren't in the know. I had a preview just by a few days and was taken back. This was not a small sidestep from the Axe territory but a completely new pop direction. We're talking pop with hooks, bounce and ballads too.
A respectable amount of people showed up and they were open minded supporters so that was good and Richie surrounded himself with long timers Carl Biancucci , Tom Long , and Brother Cleve . Add to that a capable newcomer Doug on guitar and that's a great line up.
As time goes on I hope everyone will have the opportunity to hear these new originals. They are all short pop tunes about dancing and fixations on beautiful women. The one with the hardest edge was about making a mixtape for the girl you love. A few are ballads and the one cover he did was an old Glen Campbell song called Hey, Little One.
If you give that a listen you'll understand that the song requires a real singer and that's one of the important things Richie is bringing to the table - a very appealing voice. All the years with the Axe and it never was so apparent to me how he has a very distinctive voice. Once he sang a Blue Oyster Cult song at Midway for a Joe Coughlin Benefit and I noticed it then. This new material as a whole showcases the voice and the songwriting and it's a winner in both categories'. Some of these songs have been recorded some not. It will be a while before it all comes out but from this night you could imagine the solid CD this will become.
Meanwhile there are many other projects that are almost out there. Songs recorded with Miss Chain and other Parsons tunes (one from 1977 about Miss Lyn called Subway) being done by other groups. All those will be rocking. It's a Richie Parsons bonanza!!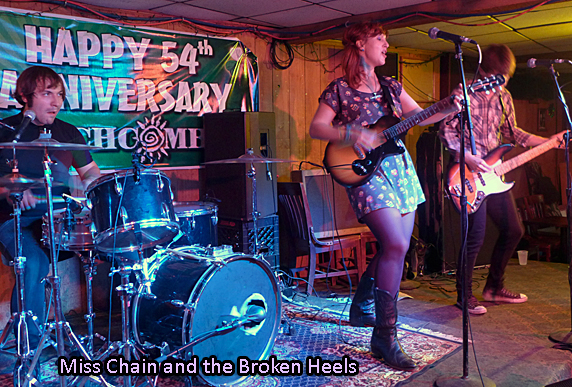 Now, zinging around the club the whole time was Miss Chain who is a whirlwind off the stage as well as on. Before they start playing she talked a bit about being in Boston and I gotta say I love that accent. I would like to just have her talk for an hour up there - that would be entertaining. Her bubbly personality filled the place and then the music did the same. It's very high energetic garage rock. No discernible influences from beyond say 1969. It was lotsa fun. More fun than is probably legal in Quincy on a Tuesday. More fun than I thought was possible in Quincy on a Tuesday. The guitarist eschews fast fancy leads and does melodic lines high on the neck on the lower strings to give them a rounded tone. It was a nice change and separates him from the legions out there thrashing away. The set seemed to go by in a flash.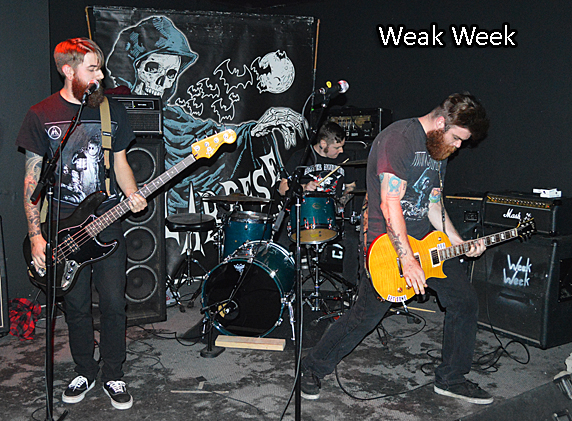 As we were lining up the weekend we were attracted to that Store 54 gig with the Classic Ruins and Titantics and then saw O'Briens across the street had what seemed like a rocking line up. A nice one two punch. O'Brien's was fairly crowded. Weak Week sounded promising on line at Bandcamp. Live they looked like they were taking in too much Duck Dynasty; not liking that look...way way too much facial hair. Besides the look, you couldn't hear the guitar at all, it was just buried from a bad mix and too much fuzz.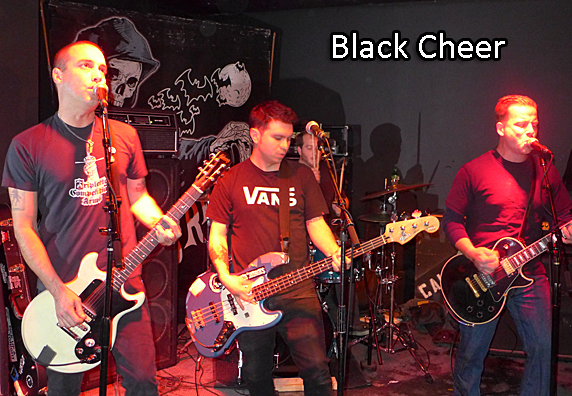 While outside we ran into Chris from The Acrobrats/Duck & Cover. Turns out he was in the next group The Black Cheers. Even though we didn't know he was in the group, their Bandcamp page was the main reason for wanting to go to the gig. The music, both recorded and live, was energetic and forceful. They began with a short instrumental which was unusual. They make sure every song has power and then add enough details to give them character. Their personel history is pretty impressive: Darkbuster, Razors in the Night, The AcroBrats & Plan 17, The Marvels, 007 Hundred Club. They have Danny O'Halloran on guitar. We really liked their set and were torn as we left to catch the Ruins at Store 54.
Store 54 was a welcome return of Wayne Viens' signature business from the Fenway back in the day. As you walk in off the street you walk through a patio decorated with baroque thrift regalia. On this night with perfect weather that area was very inviting, indeed lots of people were hanging out there. Inside, the store now has a mega LP selection because of the Loony Tunes relocation from its former haunts. All night people were listening to the band and looking through the LP's, thrift items and clothes and buying them. The stage is in a far corner. I thought that the gig might have that in-store-group appearance feel to it but it didn't. It really felt like a full blown gig that happened to be in this unique location.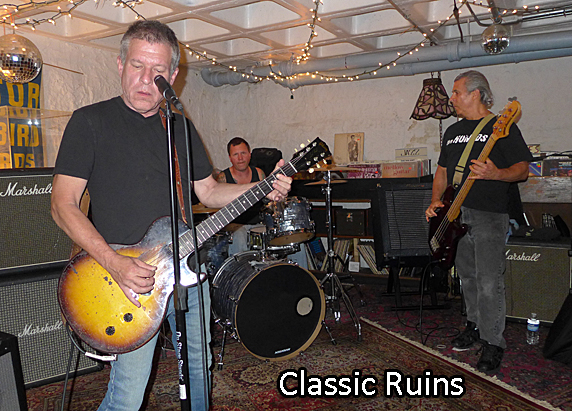 How many times have we seen the Ruins? I'm afraid to even think but we always love them. Tonight they put in the best set in years. I attribute some of it to the drummer Dave Kowalcek from the Time Beings of Worcester. Frank says he's the best in Worcester and I don't doubt it. His strong and focused drumming reflected the same in Frank and Carl. Frank's playing had a fire in it and his voice was in good form. You know the songs. All classics.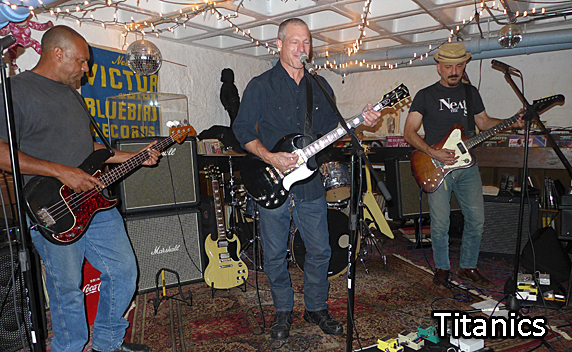 I haven't seen the Titanics in years but I think they have had the occasional reunion. Once the Upper Crust got traction all else fell by the wayside. With Nat's way of singing and their very memorable lyrics you get a set that brings forth what we have been missing which is most prominently the songs. There are plenty of gems in their repertoire. Nat has written and continues to write some fine material. This was a welcome reunion.
As the bands were playing you could see people walking around very comfortably talking and shopping. A really cool atmosphere! This not being a regular club and you have to be kind of in-the-know a bit to find the gig. Check the Store 54 on Facebook page for info. This could be our new favorite place.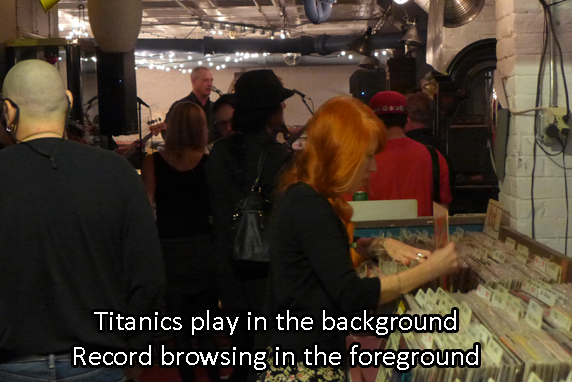 So stuff comin' up: Friday October 11 there's what promises to be an excellent show at The Midway with Hambone Skinny (Ex Coffin Lids etc) Midnight Creeps (who are always fantastic!!) Classic Ruins (always great too!) and MOTO...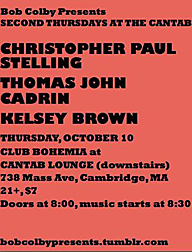 Also on the 11th at The Plough and Stars there's Jay Allen and Archcriminals with special guests Assisted Living featuring Kevin Stevenson from The Shods in his new hardcore project
October 12th -is the Spit Reunion #2!!! At Bill's Bar on Landsowne St.....There'll be a punk fashion show...DJs will include Tony V, Paul V and Steven Strick and performing they have some pretty special guests Debora Iyall/Romeo Void doing a very special reunion. They have not played in Boston in over 30 years...and even though they say Never Say Never, they do say they will never do this again!! We hear people are coming from all over the country to see them do this rare appearance! To make even more special they also have Boston's own Adventure Set with Ken Scales (of Pastiche fame) and Mark Pother (of Ministry!) ...we met up with Mario Taddeo last night and he told us some wild stories about Spit and the old days ...those were some crazy days.
Also on October 12th is The Boston Boozehounds Reunion Show at the Middle East Up along with Reno Divorce and Loser's Circle
on Sunday October 13th we got the TT's Spooktacular Fall Flea Markey & Bloody Mary Bash 11- 4 PM and you can find Vintage, Clothing & Knick Knacks; Tons of Vinyl, Collectables & Kitsch, Handcrafted Items, Jewelry, Rock and Roll memorabilia, Musical Items & they are even saying there may be vintage motorcyles or mopeds....plus there's hot dogs and the best bloody marys you can find...AND it s free to hget in!!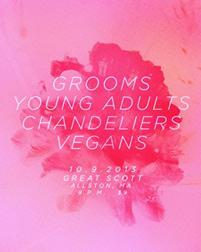 And after TT's you can head over to Radio Down where there'll be "A night of Soft and LOUD!!.. special guest, indie folk-rock musician, Thomas Hugh from Melbourne, Australia on early followed by an ALL-STAR AC/DC tribute featuring Tom Baker of the Dirty Truckers, Charles Hansen and Rodrigo Van Stoli of Gymnasium, Tony Kaczynski of Fireking, and legendary Boston rockers, Boby Bear and Greg Steinbaugh (ex-Two Saints)! This is all brought to you and MC'ed by Rockin' Ronnie of the Black Mosettes." Excellent!!
Well shiver me timbers and thank me lucky charms maties its the Irish Heritage Festival, also on Sunday October 13th...over in Dorchestah... and our pal Richie Parsons' band Noggin is playing a 7PM Set...Headlining the Outdoor Florian Hall Stage!
Richie has quite a line up with Jerry Lehane - Frank Dehler - Jack Clark and Brother Cleve joining him and they'll be playing hits of: Gremies, Dogmatics, Unnatural Axe, Undertones and more!!!!!!! Get out your shamrocks and green beer and get on over there!!
October 25th - Friday- Thalia Zedek 's band is at The Midway
And October goes out with a bang at O'Brien's!! Thursday Oct 31 they've got The Sprained Ankles, Squallie and The Chaotix , The Radicals and The Pity Whores
Then the next night Friday November 1st is Penis Flytrap, Kermit's Finger and Padded Hell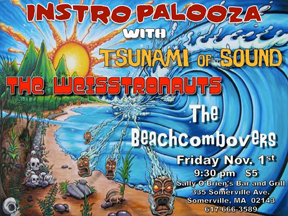 We have another Sooktacular!! This one is at The Middle east up on, you guessed it Halloween night Oct 31st its the Satanics...with Aquanutz featuring Michele Paulhaus as they do 80's hard rock send ups and Slim Lizzy which is members of Slim Jim and The Mad Cows doing Thin Lizzy songs...
Saturday November 2nd White Dynomite has their Record Release Party at Great Scott...with Hey Zues, The Andrea Gillis Band and Suicide Dolls (who we raved about previously) .
Sunday November 3rd The Dickies are at Middle East up wlong with Duck & Cover and Burning Streets. November 8th is Baker boys night at Radio down with The Kurt Baker Band and Tom Baker and The Snakes...
And...WHAT??? The Flaming Groovies are at Radio??? Yup- Thursday November 14th and note- since you do not want to miss anything that doors are at 7 and the show starts at 8PM sharp!! I'd say buy tix now for this one!! Andy Shernoff is also on the bill!
November 16th (the day before Miss Lyn's birthday) James Straight is having his birthday bash at Copperfield's...it should be a good party folks - on the bill is the always entertaining James Straight & The Wide Stance along with The Derangers, The Guns of Brighton and Nicole Alexander
The Smithereens are playing at The Old Town Hall in Salem on November 23rd...along with Pop Gun and Gyro Lula.... now folks get yr tix for this its very limited seating...
And really far in advance we're letting you know about John Surette's punk opera Tomorrow The World will be performed live at the Middle East, Saturday Dec 14.
EMAIL US AT......misslynbgn@yahoo.com
Past postings of this news page are in the BGN ARCHIVES