The BGN News Archive
October 8, 2018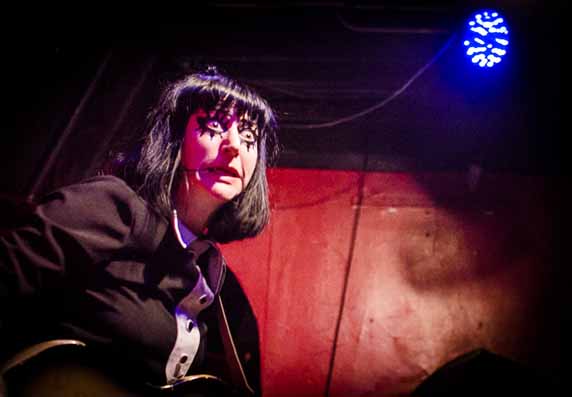 The Jackets
Photo: John Keegan
The Middle East Woogles, Muck and the Mires, Jackets, Maxims show was a big draw. We were at the Muck/Woggles show last November... and one in 2014 and one in 2009. It's a tradition. The other bands, The Jackets and The Maxims, drew people to the show also. John Keegan gives the story on the night on his page.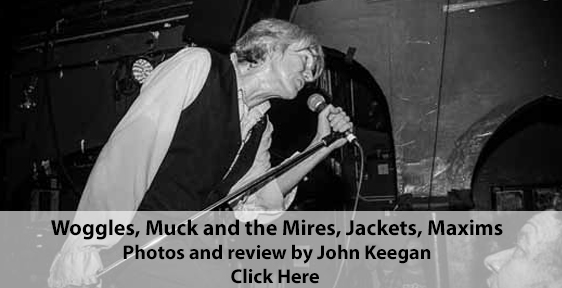 There was another C Note show that we wanted to hit just because it was a South Shore gig and we want to support that. It was a First Friday of the Month show that Michael Weddle has initiated. He puts some local high school bands opening and regular club acts following.
We got there to see Weddle outside and then the local band The Fringe came out full of energy from their show. We wish we had seen them and will try to in the future.
For now catch this video of an original song from the show.
The Fringe
Video by S. Curtin
Weddle introduced us and they talked about trying to get shows in the area. They love the C Note for what they do. They've played a Middle East show and also were the first band of note to play Pinz in the Kingston Mall where we saw Crimespree/Worm/Straight 8s a few weeks ago.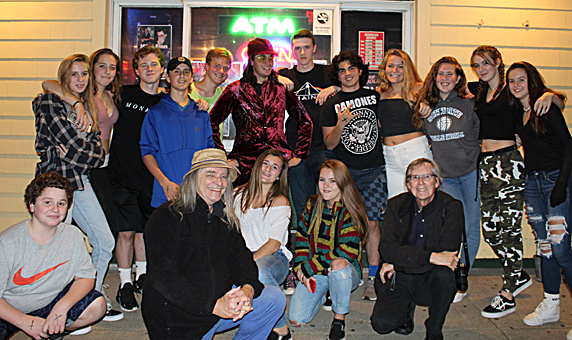 The Fringe with fans and Michae Weddle and Blowfish
Photo: Ryan Kielhorn
The conversation was continued later with Paul Armstrong and Michael. Everyone agrees that the C Note is a great club that has been welcoming. Everyone also wants some more clubs or venues to open things up. People are excited and talking about options. It was especially encouraging to hear how the new to the scene The Fringe understood the problem and were looking to kick start things.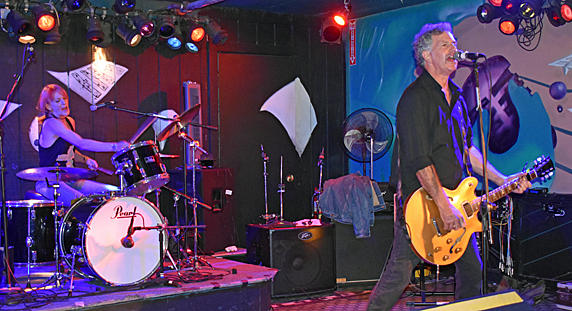 61 Ghosts
Photo: Blowfish
Inside 61 Ghosts started up. John Keegan has seen them a few times, once here at the Rat Beach Party. They're a duo. The guitarist is Joe Mazzari who was in Two Saints a group we had a band crush on before they split.
Joe plays in the blues vein but with a rock sensibility. He covered Howling Wolf but later "Ramblin' Rose" by MC5. The two person set up allows them to be quirky in their arrangements and they were just that in the "Hey Joe" cover. The song we liked the most was an original, we think. It was their only real ballad. It was a slow burn fueled by the sweet and dirty tone of a Fender Tweed in overdrive. A small riff repeated, rubbing in the fruitless feeling of being in love's wormhole. We have half the song in the video above.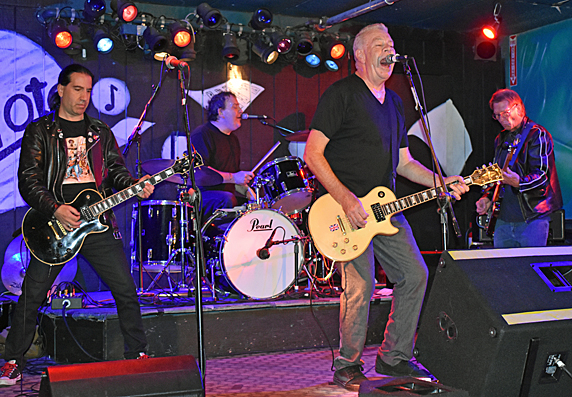 1.4.5.
Photo: Blowfish
1.4.5. was up next. Paul Armstrong has gone through a few incarnations. He was in the thick of the burgeoning punk scene with the very poppy Flashcubes. That catalog looks very impressive today. Their 2003 CD brilliant is so good that it alone would rank them as one of the best current pop groups. Their CD of all Roy Wood covers is nothing short of amazing. Sometime in the early 80s Paul started 1.4.5.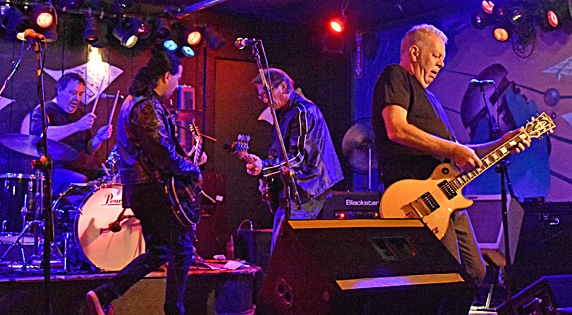 1.4.5.
Photo: Blowfish
He's revived the group and has played the International Pop Overthrow for years with them. (And here's some news: looks like there will be no IPO in Boston this year because David Bash couldn't find a club that would book it. That's according to Carl Biancucci.) 1.4.5. made sure they rocked rather than get too poppy. Paul ran up front to the edge of the stage as he doled out his thick toned riffs. There were some memorable songs. One was all about being in Boston and spending too much money to get into Fenway Park and then naming some things that are "wicked pissah" - funny stuff.
At the end of the 1.4.5. set Paul made Joe and a few people come up and fill the stage for the Johnny Thunders Orchestra. We were jealous that Keegan saw them at the Rat Beach Party and we didn't. Paul has the right voice for the Thunders material and one imagines he's had those riffs nailed down for years. They also had two bassists playing and that gave a bottom end like no other.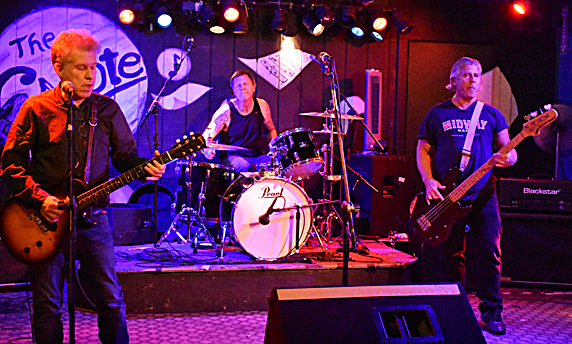 Classic Ruins
Photo: Blowfish
Two weeks ago at Bob Colby's going away show we heard just three songs by the Classic Ruins. That was just too short and that was another reason for coming to the C Note...we've missed them! It was like coming home to hear a whole set by our long time favorites. Frank was in great form and delivered the long familiar songs and riffs spot on.
The mix was clear and we could hear the all the varieties of bass variations that Carl constructs a song with. There is a book on bass playing there if he wants to write it. It now seems impossible to have the Ruins without Dave. He plays strong but clear and puts in all the recorded fills as you remember them. All the while we had the wry remarks by Frank. Is there anything more deeply Boston Punk than these guys?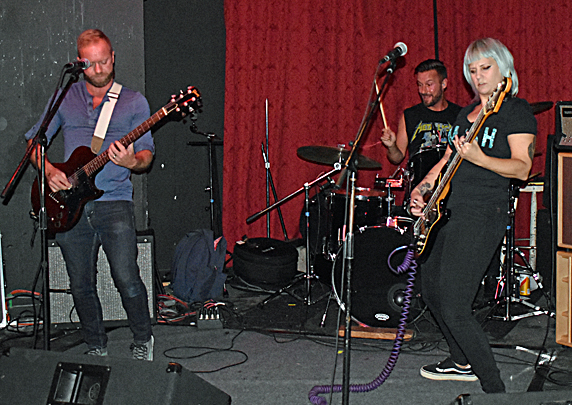 Blood Built Empire
Photo: Blowfish
Saturday was the all day Out of the Blue fundraiser and since it was right across the street from O'Brien's we slipped in there.
Blood Built Empire was going full throttle. The guitar and bass doubled up on the monster metalish riffs in the lower register that songs were built on and they hit those hard. The singer half talks and half sings the lyrics that often are rants on environmental problems. It was a very fast and satisfying dose of noise before what would turn out to be an intimate quiet affair across the street.
Out of the Blue is two flights up over what was Store 54, and now the current Looney Tunes in full on operation. We saw a sign that said the record store was open so we went on down. Even at 10pm there were people eagerly going through the bins. Pat McGrath was right up front. He said he's been building inventory and is ready to officially open the place up. We had to fight digging in ourselves right then.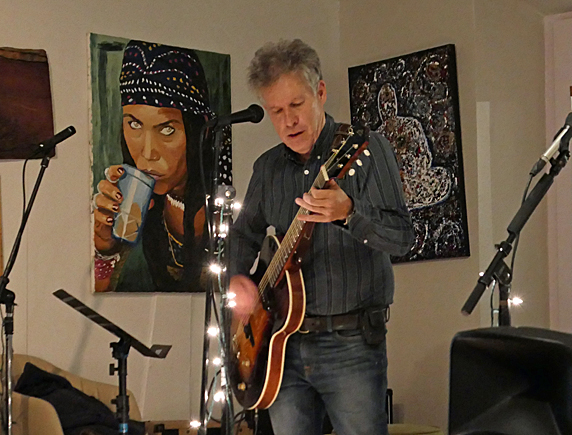 Frank Rowe
Photo: Blowfish
Upstairs the Out of the Blue space is much smaller than the old Central Square gallery but it had the same vibe with the art work all around. There were just a handful of people listening to Frank Rowe. He was at very low volume, hard to even hear the amp really. It was a revelation; he was playing so differently from when we heard him the night before at the C Note. Now, he was quietly fingerpicking and almost jazz chording songs that sounded nothing like Classic Ruins rock.
Frank has been playing acoustic sets at Tavern at the End of the World but we have missed those. You see someone play for 40 years, how can you not peg them, but Frank showed what else he can do.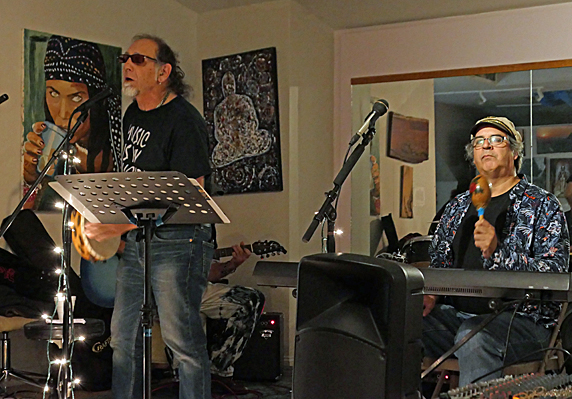 Beach Goons
Photo: Blowfish
Next, Cal Cali with two members of Glider, went through a few covers. On the Velvet Underground song "There She Goes Again" we heard more background harmonies than there were people on stage! It was Kenne Highland and Sara Billingsly (we think) in the audience joining in. That was unusual.
Cal does great covers and he benefited, as did everyone else, by not having to try to sing over a bank of amps. He covered the Ramones "I Want You Around", "I Want You" by Dylan and "Norwegian Wood".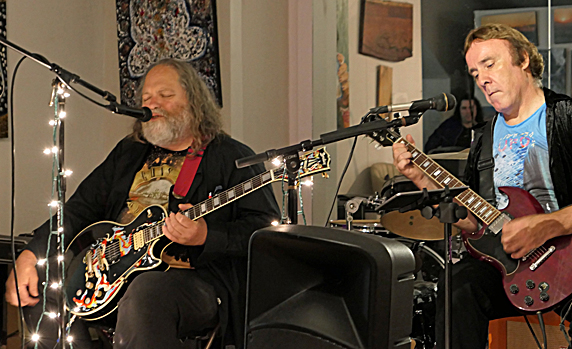 Kenne and Quirk
Photo: Blowfish
When Kenne and Quirk took the stage it was sounding like a singer/songwriter circle going on. Kenne has background stories to every song...and they are as entertaining as the songs. He did "Cry Like A Baby" by the Box Tops. He said he was going to do "Down In The Street" by Iggy like the way John Lee Hooker would do it. Sure enough he sounded like a delta blues man on a porch. That is the second video below. Not surprising really, he did "My Girl" by the Temptations via the Velvet Underground on a Vatican Sex Kittens CD.
Earlier in the night Sara Billingsly and Mike Quirk did some UFO covers. They called their instant band QFO.
Then we headed back to O'Brien's and caught Art Thieves. They sounded nice and punk online and they were sure enough punk live; they were channeling some rage both vocally and instrumentally. They're a trio. The guitarist played rough, there's no time for delicate fingering it seemed as he slashed out power chords and ragged leads.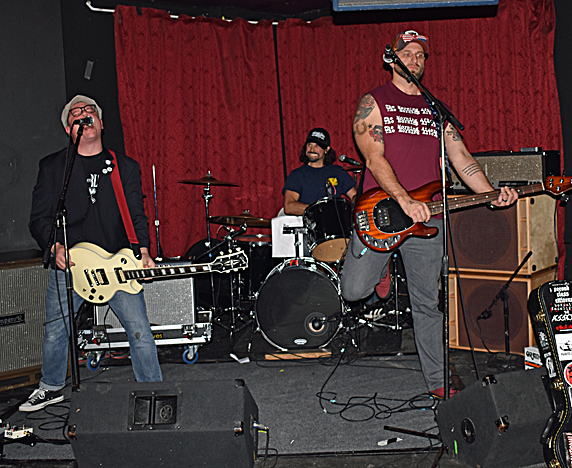 Art Thieves
Photo: Blowfish
The rhythm section was massive. Bass and drums together were enough in themselves to carry the group. Often things ramped down to just them as the guitarist backed off. At those times you could feel how strong they were. The songs were punk with some skipping ska rhythms that reminded us of the Clash.
It was a political week and Art Thieves are into that. Their songs already make politics the point. Between the message songs and the power punk we think this band rules! They put the politics aside for one song and that was for a slightly pop oriented song that we loved too. Video of that below.
We stayed for the whole set even though it was a mild night that made for a super sweaty interior at O'Brien's. You have to suffer for your punk sometimes.
Give a listen to their new CD
---
And in other news.....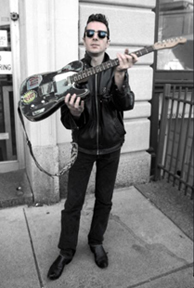 Remember the days when Blowfish was a DJ up in Lynn on WFNX?? Actually it was WLYN then, but you get the connection. Well, Julie Kramer was also a DJ there - best known for WFNX's "Leftover Lunch" radio show. She also got an MFA in photography. This Saturday she opens her photo show The Basement Archives: Vol I: The Ghosts of WFNX at The Factory in Lynn. "The exhibition will feature over three dozen color and black and white analog images including portraits of Elvis Costello, The Clash's Joe Strummer, The Red Hot Chili Peppers, Iggy Pop, Lou Reed, Social Distortion's Mike Ness, Sonic Youth's Thurston Moore, The Mighty Mighty Bosstones, The Boomtown Rats' Bob Geldolf, Bjork, and dozens more." It's up for two weeks only- The Opening reception is this Saturday 4-9PM Here's the FB page for more info
TMax post Noise music career continues with a new CD right up his Halloween loving alley. Transylvania Twist is songs by Frankenstein, Wolfman, et al.
---
Here's some good shows coming up this week.....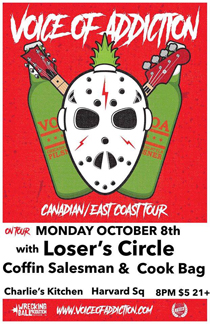 October 8 (Monday) Loser's Circle, Coffin Salesman, Voice of Addiction, Cook Bag at Charlie's Kitchen
October 8 (Monday) Amyl and the Sniffers and Black Leather Lagoon at The Middle East Up
October 11 (Thursday) Lindsey's ALL AGES SHOW at UnchARTed in Lowell with Dan Blakeslee, Jonee Earthquake Band, Feedbag, beware the dangers of a ghost scorpion, Skytigers
October 12 (Friday) Brix'n'Mortar, DNZL, Secret Spirit, The Kreutzer Sonata, Rooftops at O'Brien's
October 12 (Friday) Salem Horror Fest After Party with Diablogato, Gray Bouchard and the Dedications and Petty Morals at Opus in Salem
October 12 (Friday) The Gamma Goochies, The Gala, Tarantula Brothers at Geno's in Portland, ME
October 12 (Friday) GeetsRomo Presents: BostonGaragePunkNight at The Bayside Bowl with MOTO, PopGun, GLiDER.
October 12 (Friday) Jenn Lombari, My Mother, Michael Kane, Matt Charette, Rodney at Nick-A-Nee's in Providence RI
October 13 (Saturday) Julie Kramer's The Basement Archives: Vol I: The Ghosts of WFNX at The Factory in Lynn. 4-9PM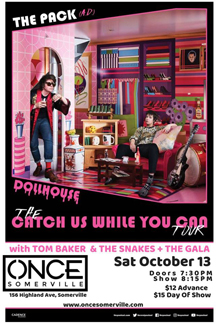 October 13 (Saturday) D-sagawa, Inconvenience Store, BRAINDËTH, The Ratz, Sewer Buddies at The Midway afternoon show 4-8PM
October 13 (Saturday) The Pack A.D., Tom Baker & The Snakes, The Gala at ONCE
October 13 (Saturday) Satan, The Humanoids, Hessian, Black Mass at Great Scott
October 14 (Sunday) Punkcake's Halloween Market with lots of cool vendors and music by The Evil Streaks, The Demon Seeds, Coffin Salesman at Ralph's Diner 12-5PM FB page for more info
October 14 (Sunday) Jagger Holly, MATB, The Prozacs, Mongorellis, Color Killer at Beatnik's in Worcester.
And further out we have......
October 15 (Monday) Jagger Holly, Mongorellis, The Prozacs, Jimmy Jacked, Color Killer at Opus Salem
October 15 (Monday)- October 18- Thursday Jonathan Richman at the Middle East Up.
October 17 (Wednesday) The Damned are back and at The Paradise.
October 18 (Thursday) The Proletariat, Savageheads, Silver Screams at Sonia -FB page
October 18 (Thursday) Boston Emissions TEN Party at Once.! 10 years of Boston Emissions with Anngelle Wood as host. There will be a Boston Emissions broadcast during the show. Also playing live will be Parlour Bells, Stars Like Ours, Exit 18 and there'll be Photobooth by DWJ Creative. Starts at 7:30PM
October 19 (Friday) Sidewalk Driver, Watts, Justine and the Unclean at Thunder Road
October 19 (Friday) Halloween Show with Kid Gulliver, The Knock-Ups, Ski Bunny, Sapling will include Special Halloween covers and a full cover set with The Knock-Ups doing Siouxsie and the Banshees. At Jeanie Johnston Pub in JP
October 19 (Friday) The FU's are out in western MA at 13th Floor Music Lounge, Florence, MA
October 20 (Saturday) Nervous Eaters, Indonesian Junk, Duck & Cover at the Middle East Up
October 20 (Saturday) Stop Calling Me Frank, Crunchtime, The Jiblantos and The Black Souls at The Midway for a 4PM matinee. Hey everyone this is a John Keegan BIRTHDAY BASH so come on down!!!
October 20 (Saturday) If We Go At All, Modern Day Idols, Double Star, Powerslut at The Midway night show
October 21 (Sunday) Boston Premiere of the Chet's Last Call Documentary at The Regent Theater Arlington with live performances byRandy Black and The Heathcroppers, The Dogmatics, Bim Skala Bim, TBA Allstars - starts at 7PM TIX etc
October 22 (Monday) OC45, Bad Larrys, BDSX, Von Traps at OPUS Salem

October 25 (Thursday) Damnation, Forbidden Dimension, Demon Seeds, Knock Ups at O'Briens'
October 26 (Friday) The Humanoids, Slim Jim and the Mad Cows, Maiden New England, Electric Street Queens at The Midway
October 26 (Friday) The Radiator Rattlers, Kermit's Finger, Black Hatch, The Grommets at O'Brien's
October 26 (Friday) Boston Garage Rock & Punk Extravaganza with Birdgangs, Thee Fightin' Fish, Friendly Psychic Strangers, Dots on Dice at the Worthen Attic in Lowell, MA
October 27 (Saturday) The Stigmatics on A Crash Course for the Ravers on WMFO 91.5- 1-4PM with Brain Young
October 27 (Saturday) Benefit for Mission 22/Dennis Donahue's Birthday Show! with Kind Crew, Neighborhood Shit, Sick Minds, Jerry's Got Jokes, and Whoopi Sticks at The Midway -Early Show 4-8PM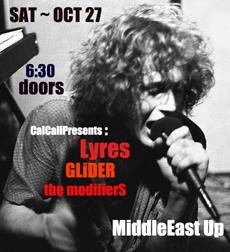 October 27 (Saturday) Lyres, GLiDER, the modifierS at The Middle East Up- Early show doors at 6:30PM
October 27 (Saturday) Tiger Bomb, The Gala, Space Camp at The Apohadion Theater, Portland, ME. FB page
October 27 (Saturday) The Descendents w/ Teenage Bottlerocket at The Palladium in Worcester FB page for tix etc
October 28 (Sunday) Black Market Flea by Boston Hassle & Ignore Rock n Roll Heroes - 12 PM – 6 PM at Cambridge Community Center- this is a GOOD one folks- check it out!! FB page
October 28 (Sunday) Roy Sludge at Sally O'Brien's
October 28 (Sunday) Zipper, The Instamatics, Larseny, Billy Squire at The Midway for a matinee 4-8 pm show
October 29 & 30 (Mon & Weds) Now here's how to do Halloween!! At Symphony Hall this Halloween season when Keith Lockhart and members of the Boston Pops visit The Bates Motel and perform the original score of the Alfred Hitchcock film, "Psycho", in sync with the film on the big screen. One of the greatest suspenseful thrillers of all time, this cinematic masterpiece comes alive with Bernard Herrmann's spine-tingling score performed live. The unforgettable and disturbing slashing chords played during the now famous shower scene are just as terrifying now as they were to first-time audiences in 1960.
October 31 (Wednesday) Halloween Clownfest - candy, psychic readings and balloons! and Robot Clean- a Misfits Tribute, Driven Sane, Lucreatia's Daggers at Once - starts at 7:15PM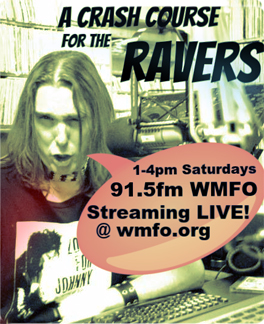 November 1 (Thursday) Kris Rodgers & The Dirty Gems - The Connection - Kurt Baker at The Dover Brickhouse in Dover NH FB page.
November 2 (Friday) Roky Erikson at Once. Tix here.
November 2 (Friday) Lily Black, Little Billy Lost, Hyber, Concrete Haze at KOTO - Salem
November 3 (Saturday) Coffin Salesmen, OC45, The Bundles, Burn Burn Burn at O'Brien's
November 3 (Saturday) Ey,Oh Let's Go!, White Light, Ball & Clash, PunksUp - A Night old school punk covers performed by GLiDER, Pop Gun, Club Linehan A Go Go, Drunken Uncle at The Greek Union Sq Somerville.
November 4 (Sunday) Book release party for Poetry for the Neon Apocalypse by local Punk Poet Jake Tringali with Mint Green, Ski Bunny, The Sewer Buddies, Jenn Lombari, Hyber at The Midway 4-8 PM. FB page
November 5 (Monday) Rea, Musical Mandalas, Binge Magick, Sternman at The Midway
November 5 (Monday) Parasites with Lucky United and The McGunks at The News Cafe in Pawtucket, RI
November 5 (Monday) The Only Things, Surprise Party, Knock-Ups, PNDB at The Worthen Attic in Lowell.
November 6 (Tuesday) Rock and Roll Trivia w/ Erin and Brett at Sinclair -starts at 8PM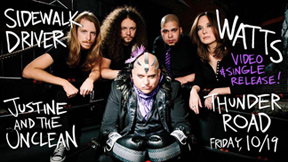 November 10 (Saturday) Rockin Bob Punk Band, Smartyr, Banshee, Raw Radar War at The Midway 4-8PM
November 10 (Saturday) Kurt Baker is coming to Boston!! One show only at Sally O'Brien's Nov 10. with Muck and the Mires, Stop Calling Me Frank and Kris Rodgers and the Dirty Gems
November 10 (Saturday) Keith Brooks Memorial Veterans Day Show #1: The Welch Boys, Pint Killers, Abductors, Step 13, Barfight Champs at The Midway
November 11 (Sunday) DNZL, Standard Issue, Psychic Weight, TBA - 4-8PM Early Show at The Midway
November 11 (Sunday) Keith Brooks Memorial Veterans Day Show #2: Colin of Arabia , Zero Hour, Cry Havoc, Neighborhood Shit, xForgiveness Deniedx, Foulfellows at The Midway 9PM
November 11 (Sunday) Save the date!! Brian Coleman who has published the much talked about Buy Me Boston book will be having a slideshow and panel discussion (including our very own Paul Blowfish Lovell and David Bieber) to promote the book. It's at The Brattle Theater - more info as it becomes available.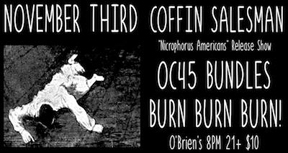 November 16 (Friday) Justine and the Unclean, Tad Overbaugh EP Release Party at Sally O'Brien's
November 16 (Friday) The Melatonins, Ringtail, Stars Like Ours, Five Foot Shakers at O'Brien's Pub
November 17 (Saturday) Brian Young's A Crash Course For The Ravers featuring The Gala!!! One of our favorite bands!!
November 17 (Saturday) It's HIXXGIVING!! The joyous return of the annual celebration of white trash culture and redneck vittles. This year they'll have newcomers - Alice Highland, New Jersey's Sex Zombies, Your hosts- HIXX and the formidable Screw Cart. This will, no doubt, be off the hook! The buffet will be provided by the bands. Hixx asks that you bring non perishable food items, as always, for a local woman's shelter. At The Midway
November 17 (Saturday) Post Punk 1977-87 Cover Night at Sally O'Brien's - 3 super groups will be covering songs from 1977-87. (punk, new wave, synth pop etc)
The groups are: Chuck Ferreira, Josh Pickering & friends, Duncan Wilder Johnson & friends, and Anthony Kaczynski & friends. FB event page
November 17 (Saturday) Jittery Jack, Miss Amy Griffin, Whiskey Kill & DJ Easy Ed at Sally O'Brien's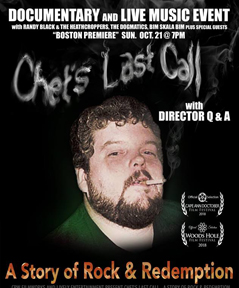 November 17 (Saturday) Scissorfight, Welch Boys, Taxi Driver, Watching It Burn, COB at Maggy's in Quincy FB page
November 24 (Saturday) Paraffin, Tiger Bomb, Fireking, Scotty Saints & True Believers at The Bayside Bowl in Portland, ME
December 1 (Saturday) the second and final Red Invasion show - with Funeral Cone and Brix N' Mortar and one more TBA. @ The Middle East Upstairs This is an early show- doors are at 6:30
December 1 (Saturday) The Feldons, Tiger Bomb, Justine & The Unclean, Thee Sonomatics at Ralph's Rock Diner in Worcester.
December 9 (Sunday) Trusty Sidekick, Stigmatics, Crunchtime. Dick Pics do a Matinee 4-8 show at The Midway
December 15 (Saturday) Duck & Cover, Stop Calling Me Frank (Album Release), State of The Union, The Angel Martins Early Show 4-8PM at The Midway
December 22 (Saturday) Greg Allen's Fringe Religion, Classic Ruins, 1.4.5, Fireking - Early Show 4-8 at The Midway
January 12 (Saturday) IL Mostro (CD release) w/ Cortez, Scuzzy Yeti & Wrought Iron Hex at O'Brien's
CONTACT US AT....misslynbgn@yahoo.com Send us your gig listings, your news and anything else ya got!! You want your CD reviewed?? Contact us for that too.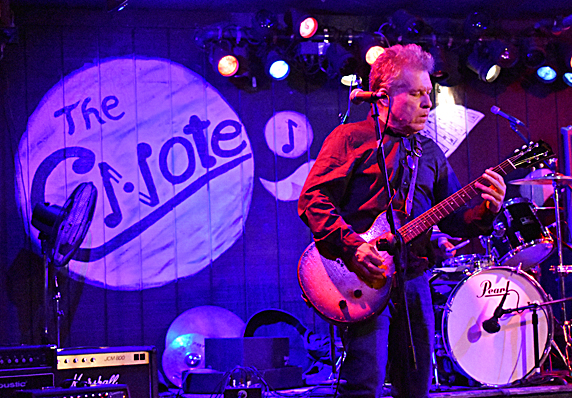 Frank Rowe
Photo: Blowfish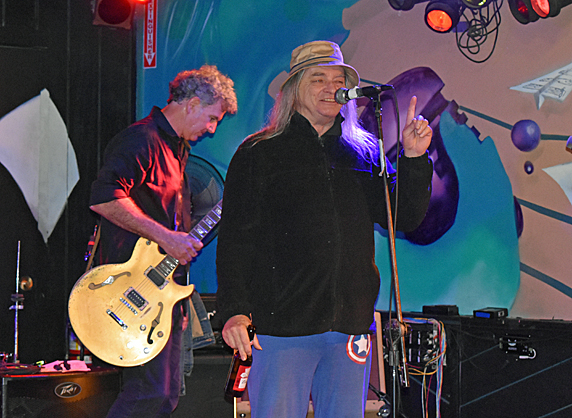 MC Michael Weddle at the C Note
Photo: Blowfish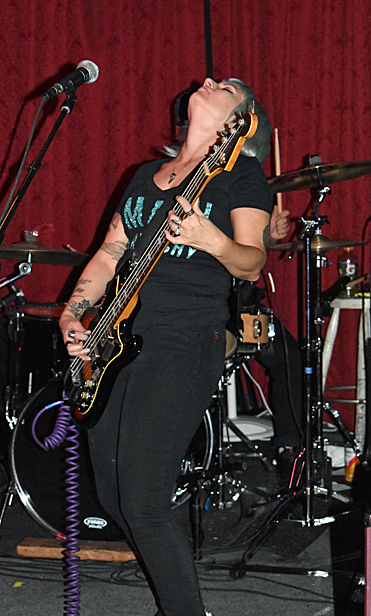 Blood Built Empire
Photo: Blowfish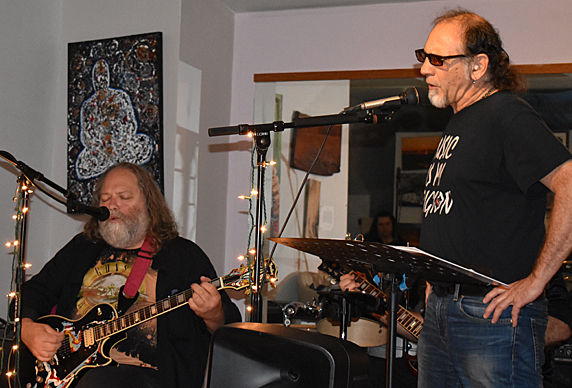 Kenne and Cali
Photo: Blowfish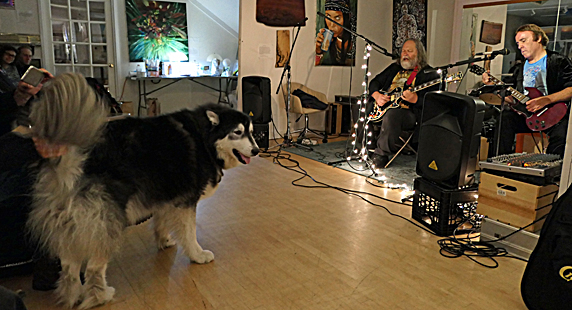 Out of the Blue dog and Kenne/Quirk
Photo: Blowfish