The BGN News Archive
October 9, 2017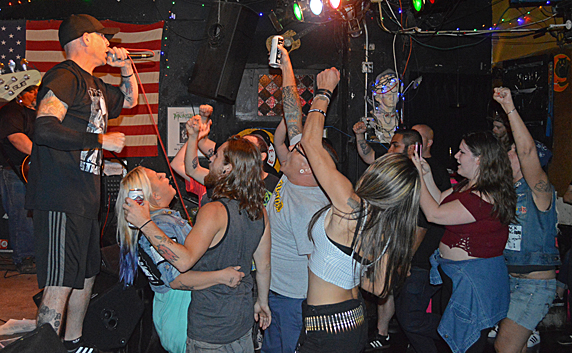 Pint Killers
Photo: Blowfish
Chanticlear is calling it quits after 18 years. Joey Riot says it was mostly issues that members had in their lives that didn't allow the band to go on. They had a final show in December but even that fell apart. The show at O'Briens on Thursday would be the final Chanticlear show.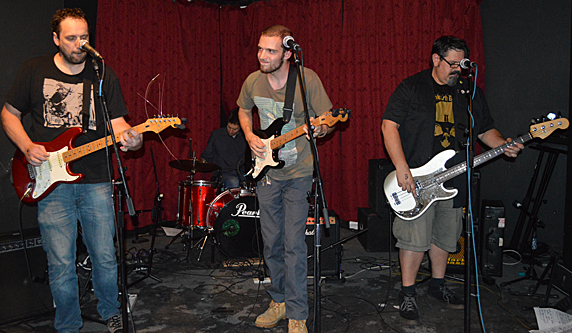 Blood Drive
Photo: Blowfish
Openers Blood Drive didn't have far to travel for the show. They come from Allston. They started out a bit loose and raw but that very first song, Radiation, had a chorus that stuck with us and can still be summoned up days later. Here it is on Bandcamp. They had good voices and the bass player had our attention most of the time. Several songs had the hook right there in the bass. They have lots of influences and it's hard to peg them which maybe is not a bad thing.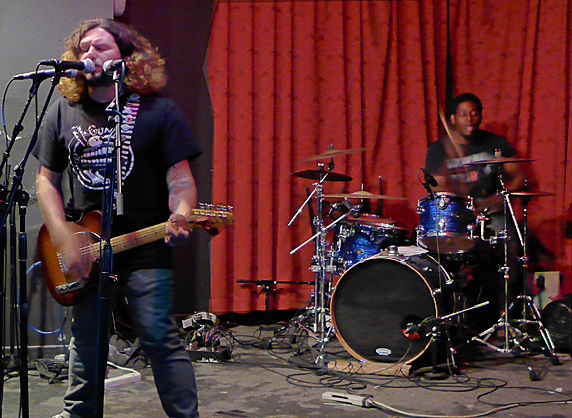 Chanticlear
Photo: Blowfish
There weren't many people there for Chanticlear's final show including band members. They were down to two:Joey Riot and Levaughn the drummer. No clearer indication that things were falling apart than that. Not to worry, we had seen Levaughn in action at the Midway last August and knew he was a one man show. Levaughn is also in a wild band called Alien Drag.
The set included our favorite songs: Hello, I'm a Bastard about trying to be better than your father who did a lousy job, Watching You Watching Me Die that being the words to the killer chorus, and The Worst Friend a song about drugs. The last song was an original called Last Train Home. Very suitable. From our end not hearing those unrecorded songs is the saddest thing. Joey says he will record them and make it a solo album eventually.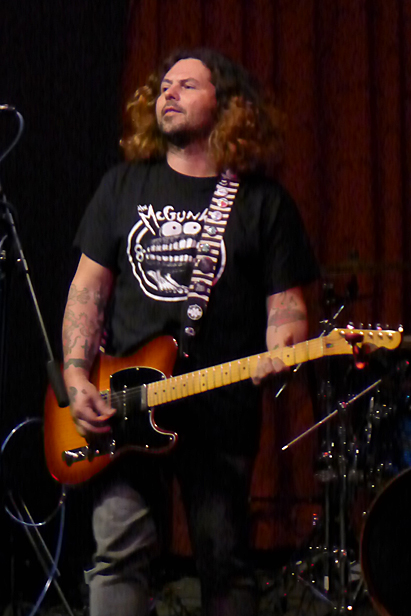 Joey Riot
Photo: Blowfish
Joey Riot is an interesting guy to talk to. He's been around for a lot of Boston Rock history and knows a lot of bands and band members around town. He graduated from Le Cordon Bleu College of Culinary Arts in Boston and also does art.
Some good news is that there is a new group called Brix'n Mortar already formed with Joey, Devon Hunt on drums and Troy (from Razors in the Night) on bass. They're trying to make it hard rock but not be chained to a genre. They have 5 new songs already. They have a gig on Nov 5 at Koto in Salem.
Joey was at the Stiff Little Fingers show we reviewed last week at the BMH. He said he loved one of their new songs where the lyrics resonated with him. We gave it a listen and it's a song with a message for all. The song is My Dark Places.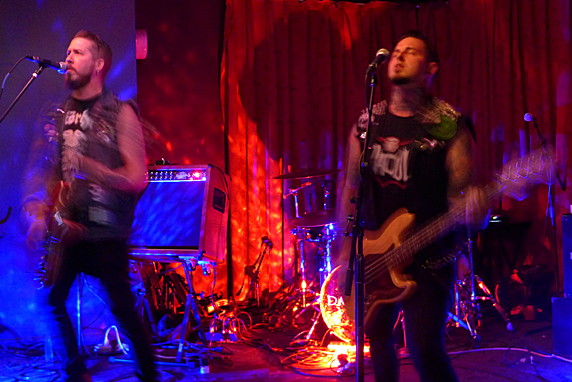 Damnation
Photo: Blowfish
Damnation from central MA is up front with their love of all things horror. They have The Misfits and Black Sabbath as music models. They transformed the stage with just a few simple lights - see the photo and video. It was effective. It put you in the right mood for the music. With Halloween coming up this is their month.
Saturday had a punk line up and a worthy cause. The cause was Rosie's Place. A short info blurb: "Rosie's Place was founded in 1974 as the first women's shelter in the United States. Our mission is to provide a safe and nurturing environment that helps poor and homeless women maintain their dignity, seek opportunity and find security in their lives."
Kudos go to the Welch Boys for lining this benefit up.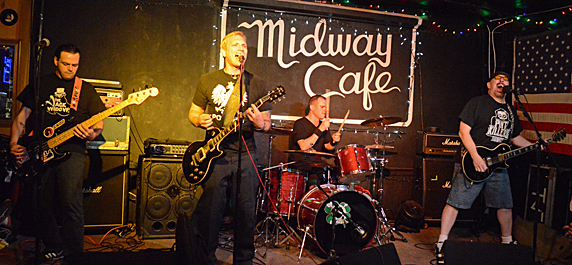 Guns of Brighton
Photo: Blowfish
The Guns of Brighton are punk/ska. They've been around for a while but we just saw them for the first time at this benefit. We didn't recognize any songs but we hear they do a lot of covers in the set. A song called Anxiety was a highlight. They have the punk sound down pat and everything goes down easy. At some points they had a Thin Lizzy sound with harmonized leads.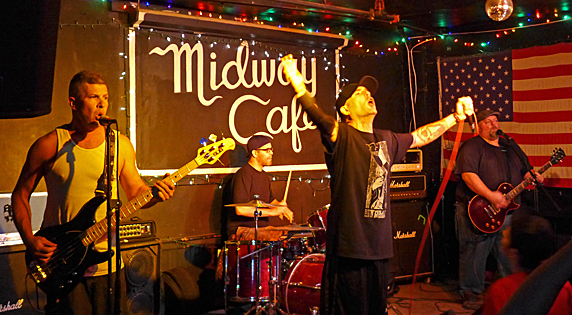 The Pint Killers
Photo: Blowfish
The Pint Killers was on our list of bands to check out. They have Mark Doherty as a lead singer. He was a formidable force in Dot Rats. We saw them a few times, here's one. Dot Rats had two singers; the other was rap. In The Pint Killers it's all punk and that's what we want. The band started to play and went on for about a minute before Mark jumped up from the floor and took command of the stage. It was dramatic and he had everyone's eyeballs. He is one riveting front man. He often would outstretch his arms as if he was issuing forth the punk spirit or soaking it in from the audience. The band was a solid punk backdrop. Their first song was maybe their best. The lyrics were saying, "we'll be together in the end."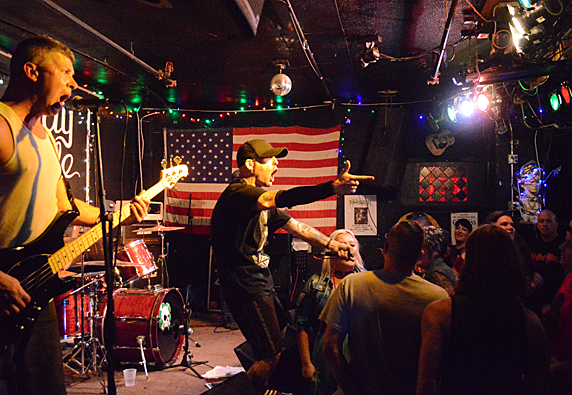 The Pint Killers
Photo: Blowfish
Mark still has his Dorchester defenses up. He asked how many Dorchester people were in the audience and then gave a jab at the gentrification going on relentlessly and sang a song about it. To us he's never better than when he's riled up like that. In the end all the songs delivered an emotional punch. The audience did some moshing and were all worked up. It was a powerful set and a group for everyone to check out.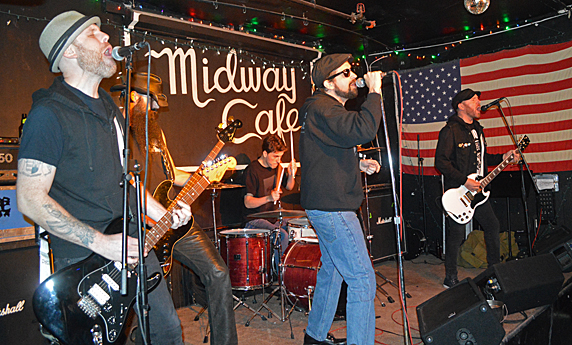 Warning Shots
Photo: Blowfish
The Warning Shots were a suitable follow up to the Pink Killers. There were only five of them but they seemed to crowd the stage. Lead singer Mark Lind was roaming back and forth as he sang. Attention was often diverted from him to the backup singers who were inventive and catchy. It's been a long time since we noticed so much going on in that sector. One of the singers would go up into a high register and wail. It was captivating. There was a whole show going on just there.
The thing was that there was so much going on everywhere. The drummer was a powerhouse. He was an unrelenting avalanche of drum beats that injected excitement into every song. The songs were all catchy and again showed the creativity that had gone into them. There were lots of details to take in. One song had the chorus to Ready Steady Go tucked seamlessly into it. In another they put in the first verse of Tom Petty's American Girl. When a band can do that you know they are going beyond the basics. They're not only playing the material but playing with it. This set was so strong but we were surprised the audience didn't get more enthusiastic than they did about them. It was a tremendous set from a top notch group. Bandcamp page .
We called it a night after that but there were more bands still, sorry we missed them.
John Keegan played sax with Love and Flame last week at the Rat Beach Party. Somehow he found time to take photos of the rest of the night also. He's put a lot of photos into a slide show. Also wrote up some reviews of the bands. To see all that click the link below.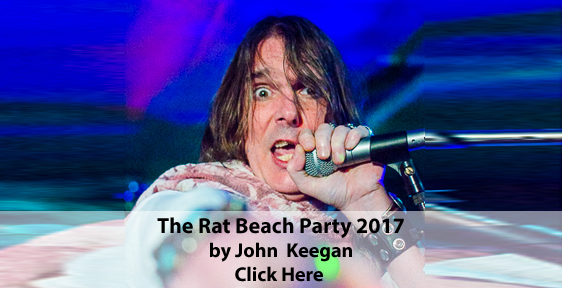 ---
And in other news...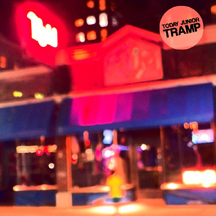 Today Junior took a year to record their new album. The first single will be released this Friday. The album is called Tramp. Here's their bandcamp page.
We put a load of Love and Flame photos from the Rat Beach Party on a page just for the band members to see. The page got passed around and ended up getting a lot of views. So here it is for anyone else that is interested. Love and Flame photos
The Tom Petty and the Hearbreakers LP came out in 1976 as punk was emerging. Tom's roots in British Invasion groups and older rock appealed to punkers. Along with Cheap Trick, he was played on punk radio shows like the Late Risers Club. He stayed true to his vision for his entire career. That rock spirit and songwriting talent made him appeal to a wide range of rockers like few others. R.I.P Tom Petty.
---
Here's some good shows coming up .....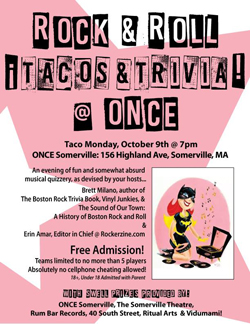 October 9 (Monday) It's another fun night of Rock and Roll Trivia at ONCE Lounge by Rocker Zine....starts at 7!!
October 12 (Thursday) Lydia Lunch is back in town - Brutal Measures (Lydia Lynch & Weasel Walter), Dame, Sisters of Shaddowwe at The Elks Club in Centrakl Sq Cambridge. FB page
October 12 (Thursday) Bash & Pop with Tall Teenagers, Gymshorts at the Met in Pawtucket. FB page
October 12 (Thursday) Slim Jim and the Mad Cows, Gold Blood & Associates, Sugar Blood at O'Brien's
October 12 (Thursday) The 7CS, Fur Purse, Four Point Restraints at Thunder Road Union Sq Somerville
October 13 (Friday) Silver Screams, Idle Pilot, Black Cheers and Psychic Dog at Koto/Salem
October 14 (Saturday) Rumbar Records presents- The Dirty Truckers celebrate Jamie's Dirty 50th BDay! Also on the bill- Watts, Kris Rodgers and the Dirty Gems and AM Stereo at The Midway (9pm)
October 14 (Saturday) Colbis The Creature, Today Junior, Twin Ponies, Little Lamb at O'Brien's
October 14 (Saturday) Big Giant, Cold Expectations, The Stacking Stones Band at Sally OBrien's Somerville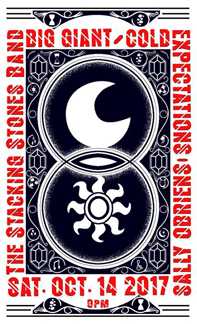 October 14 (Saturday) The Worried, Greg Allen's Fringe Religion, Classic Ruins are at The Parlor, Providence, RI
October 15 (Sunday) Refuse Resist 10th Anniversary Show! with special guests Disaster Strikes, All Torn Up, Neighborhood Shit, and Cry Havoc This is a 3PM start matinee show at The Midway.
And further out we have...
October 16 (Monday) Taco Monday Mess-Around at Once! This time around they have the usual messers Jay Allen, Justine Covault, Tom Baker, and will be joined by Mitch Murphy and Henry Marcucella III (Triple Thick, Shiny Beasts, Ten Dollar Mistake) and BOX featuring Kimi Hendrix (Killer Abs, The Unstables) and Jen W (Moonlight Orchestra)
October 18 (Wednesday) The Nekromantix and The Brains also with Diablogato and Dead Trains at The Middle East Down 7PM- Midnight show Tix etc here
October 19 (Thursday) Mr. Airplane Man are at The Parlour in Providence for a special single release show!!! Also on the bill: Andy California, The Hangovers and Night Thrills (eric & dan from atlantic thrills)- FB page
October 20 (Friday) Hey Hey Record Party Par-Tay! - Andy California celebrates the release of his new 7 inch and don't forget to bring the money says Andy. He par-tays with Sticker Shock and Johnnie and the Foodmasters - 10PM @ The Jeanie Johnston Pub- Check out the Facebook page- worth it for the visuals alone.
October 20 (Friday) Boston Hassle presents Boston Underground Summit 10! Featuring Panicsville (Chicago), Diva Karr, S Nicaenum, Manes Prophet (VT), +DOG+, Service .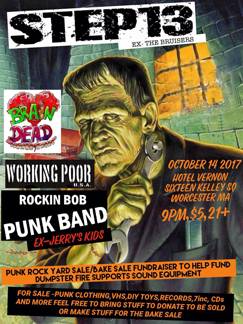 ...MORE TBA at the Massasoit Elks Lodge Bishop Allen Dr Central Sq Cambridge. FB page The 9 bands will set up round-robin-style in two rooms, 3 stages and take turns playing a song. When the cycle is complete, the loop repeats again...and again... and again. First cycle starts at 8:30.
October 20 (Friday) Highway Chapel and Cal Cali at Tavern At The End Of The World.
October 20 (Friday) Scissorfight, Roadsaw, Test Meat, Mantooth at Great Scott
October 21 (Saturday) Red House Iron's Tattoo presents Michael Kane & The Morning Afters' record release show at Hotel Vernon in Worcester
October 26 (Thursday) GRCB Halloween Fundraiser Cover Show! at O'Brien's - it's a load of Boston rockers doing covers as various bands...in the mix you've got Hilken Mancini, Samwise Faye, Liz Vom Teufel, Megan Sutton, Anjimile Yvonne, Jennifer Turpin, Liz Vom Teufel, Erin Genett Cat Verlicco, Jenny Bergman and Flight of Fire and a lot more people.... they'll be doing Cramps, The Pixies, Spice Girls and Led Zepplin. ....Stick around for costume prizes for Best DIY Costume! Best Group Costume! Scariest Costume! Most Creative Costume! Costume that needs the most explanation! ...it's gonna be a FUN night!! FB page
October 26 (Thursday) The Providence Garage Fest with The Viennagram, Atlantic Thrills, Beware the Dangers of a Ghost Scorpion, Super Natural II, Germ House and Minibeast October 28 (Saturday) Tube Fest,New England's all day instrumental celebration, is coming to the Midway Cafe - on the bill: The Fathoms, Tsunami of Sound, SPF4, Matt Heaton and The Electric Heaters, 9th Wave, The Derangers, The Spytones, The Beachcombovers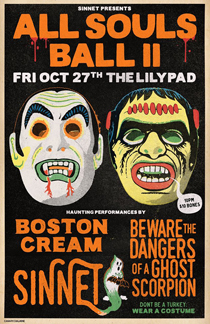 October 27 (Friday) The All Souls Ball at The Lily Pad - Haunting your earlobes this year: Beware the Dangers of a Ghost Scorpion!, Sinnet and Boston Cream

October 27 (Friday) Halloween Weekend Kick Off SHow at Koto with Monkey Knife Fight, Marianne Toilet and The Runs, Das Muerte and Damnation

October 28 (Saturday) Martin & Morell, Richie Parsons Rock Outfit and Thalia Zedek will be sinin' and strummin' at The Tavern at The End of teh World

November 1 (Wednesday) Sneeze, Conmen, Moist Boys, Sex Snobs at O'Brien's

November 3 (Friday) Indonesian Junk, Justine and the Unclean & Gymnasium at Tavern at the End of the World.

November 3 (Friday) The Woggles, Muck and the Mires, Stupidity, Andrea Gillis Band at The Middle East Up

November 3 (Friday) Human Sexual Response at HOB

November 4 (Saturday) Fireking, The Billy Connors Project, Hummingbird Syndicate, Tracy Chevrolet doing a 4PM Matineee show at The Midway

November 4 (Saturday) Loser's Circle w/ Rebuilder, Dead Bars, and Settlers at OBriens

November 4 (Saturday) Carissa Johnson, Michael Kane & The Morning Afters, Bundles, Coffin Salesman 9PM show at the Midway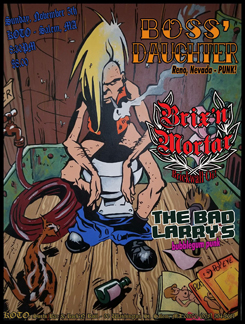 November 5 (Sunday) Boss Daughter, Brix'n Mortar, The Bad Larrys at Koto in Salem

November 9 (Thursday) The Proletariat at ONCE Ballroom w/ Siege and Black Beach

November 9 (Thursday) If you are in NYC or can get to NYC Celebrate Stranded in the Jungle: Jerry Nolan's Wild Ride the new book by Curt Weiss that covers 40 years of L.A.M.F. and is A Tale of Drugs, Fashion, the New York Dolls, and Punk Rock. Also there'll be music by with Greg Allen's Fringe Religion, and ...book reading, panels, Q&A, guests, book signing. It's at The Delancey in the Lower East Side 7-10PM FB Page for directions and more info He's at Out of the Blue/Cambridge on the 12! see below.

November 10 (Friday) CH3 (Channel 3), The FUs, Silver Screams, Fast Times Punk at The Middle East Up - 8-Midnight show tix here Read about CH3 here. there's links for tix etc too

November 10 (Friday) The Proletariat are at Narrows Center for the Arts w/ Black Beach in Fall River, MA (FB page for info)

November 11 (Saturday) Hasselfest #9 this year has Pere Ubu and a ton of other bands at Once- get the info on the FB page here.

November 12 (Sunday) Curt Weiss covers 40 years of L.A.M.F. and is A Tale of Drugs, Fashion, the New York Dolls, and Punk Rock in his new book Stranded in the Jungle: Jerry Nolan's Wild Ride Also, rock and roll with the Thigh Scrapers, Tiger Bomb, Moto, Glider, and the Lyres starts at 2:15. Here's the FB page Also added to this show Greg Allen & The Fringe Religion who go on right after the reading.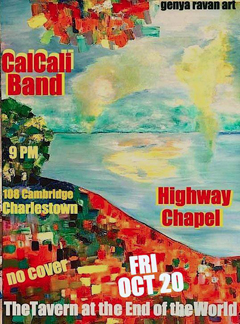 November 18 (Saturday) Cheech (EP Release), The McGunks, Steal Reserve (NY), Hopeless (mems of Reason To Fight) at The Midway

November 19 (Sunday) OC45 w/ Diablogato, On the Cinder at Great Scott

December 2 (Saturday) DJ Easy Ed presents: The Cranktones plus Easy Ed's Record Hop! 4-8PM matinee at The Midway...followed by......

December 2 (Saturday) Watts (45 Release), Diablogato, Duck & Cover, A Bunch of Jerks at The Midway

December 8 (Friday) Rumbar records is throwing a HUGE record release party of the new Justine and the Unclean record Get Unclean....It's at Once and there will be bands in the ballroom and in the Lounge. Check out this list!: In the Ballroom- The Upper Crust, Hey Zeus, Tom Baker and the Snakes, Justine and the Unclean ....In the Lounge - Cold Expectations, Roy Sludge Trio, Pinecone Teeth and Jay Allen - doors at 7:30 show starts at 8:15.

December 9 (Saturday) Radiator Rattlers, Brix'n Mortar,Lipstick Boys, The Grubs at The Chit Chat Lounge in Haverhill FB page

December 16 (Saturday) Bent Shapes with Beware the Dangers of a Ghost Scorpion @ Great Scott

CONTACT US AT....misslynbgn@yahoo.com -Send us your gig listings, your news and anything else ya got!! You want your CD reviewed?? Contact us for that too.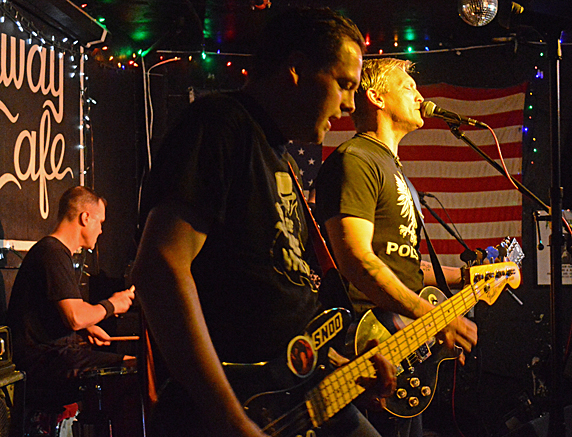 Guns of Brighton
Photo: Blowfish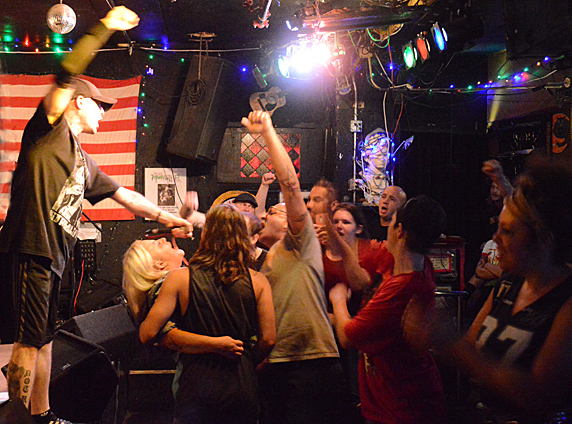 The Pint Killers
Photo: Blowfish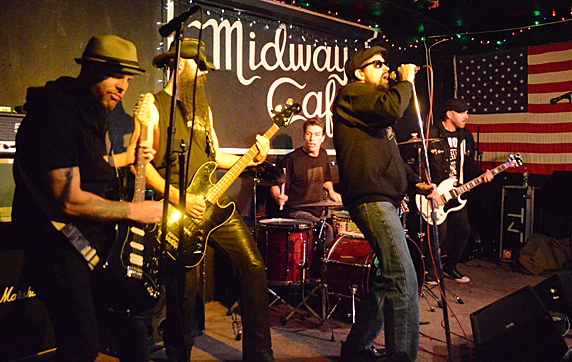 Warning Shots
Photo: Blowfish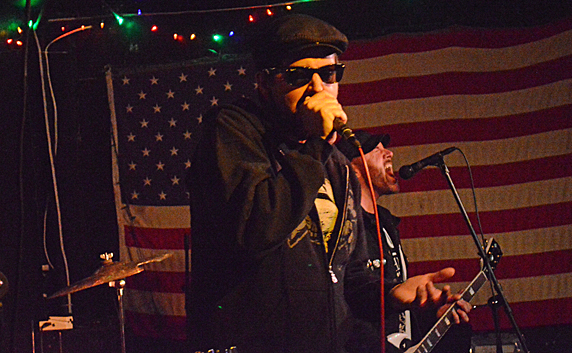 Warning Shots
Photo: Blowfish