The BGN News Archive
October 10, 2011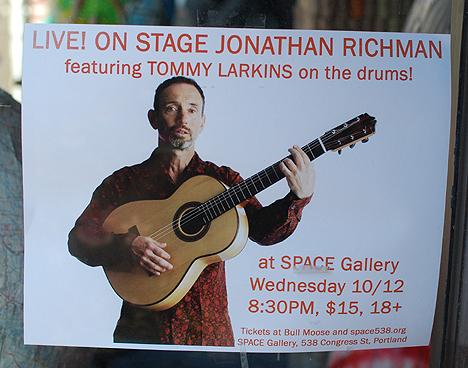 Jonathan Richman is here this week. This is a poster for the gig in Portland Maine (happened to be there). This was a cool small club/art space. Nice scene up there with three rock clubs on the main drag.
Jonathan Richman is at The Middle East up on Thursday October 13th ...and Friday the 14th...and the 15th
And don't forget the 35th Anniversary Damned show at The Middle East coming up Oct 20!!
And the Stretchers are having a record (cd) release party on Saturday Oct 22 at O'Brien's with The Welsh Boys!!...
And yes it is that time...All Hallows Eve is coming up...if you are into costumes this'll be especially fun...but besides the costumes there excellent bands playing: Friday 10/28-Nancy Neon's Halloween Costume Ball With prizes for (1) The Scariest, (2) The Sexiest, & (3) The Most Creative Costumes. Featured entertainment: The Happy Little Clouds ); The Port Charles Quintet , Sticky Business - A Bubblegum Tribute, Sourpuss, and, special added attraction, The Kenne Highland Clan opens the evening!
Then on Saturday 10/29 - the Rosebud has The Lyres, Jetset and Satin Kittens at the Rosebud and The Plough has The Coffin Lids.....
And mark your calendars for Saturday November 5 when The Magic Room has James Straight and The Wide Stance along with Ken Scales and the new Adventure Set!!!
The adorable Reverend Joe Fagan says they'll be doing some one time only songs especially for the show!
The mark the next Saturday too! November 12th....cause there is a KILLER show at Church : The Neighborhoods, Unnatural Axe and The Sleazies...oh yeah!!
Then on Friday the 18th at TT's is Muck & The Mires and The Dents!!
Email us with your latest news, opinions and all that kinda stuff....misslynbgn@yahoo.com