The BGN News Archive
October 10,2016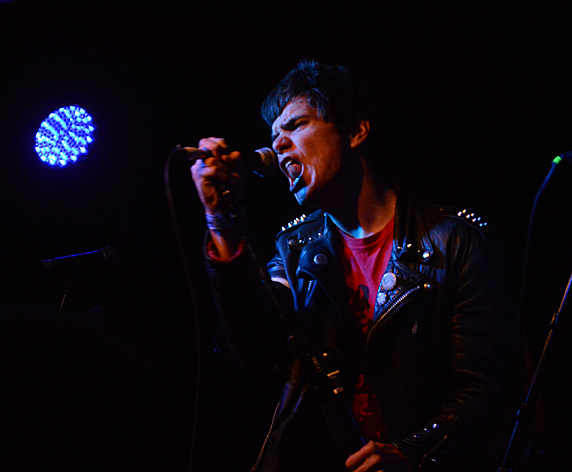 Cinderblock
Photo: Blowfish
The hardcore/punk show at the Middle East on Tuesday was put on by Hardcore Stadium. There were a lot of younger punks there with mohawks and studded jackets - they are probably regulars at the stadium too. We LUV seeing the young audience not just liking the punk but seemingly devoted to it!!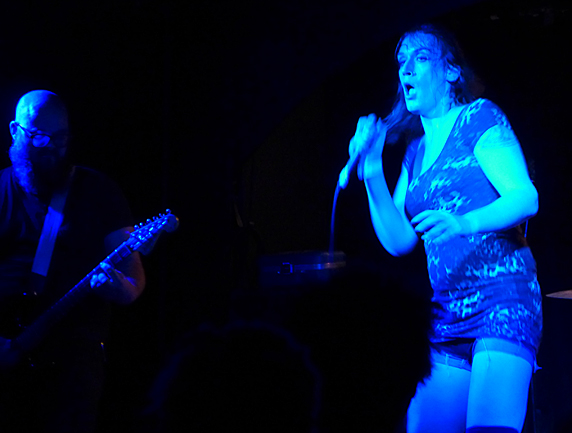 Piss Dogs
Photo: Blowfish
Piss Dogs were putting a lot of energy into their set especially the singer Dana. They got good applause but only sporadic crowd action. Definitely check them out on Bandcamp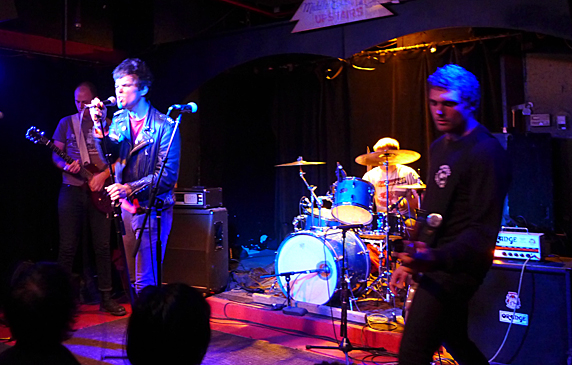 Cinderblock
Photo: Blowfish
When Cinderblock got on all resistance was lost and the moshing seriously commenced. It got frantic. There was constant pogoing too! (We luv that!) They did a good job, hitting it hard and keeping it going without let up for the set. These guys come from Florida so it was nice to see them get such a good response here in Boston. I left after Cinderblock because I felt like I had a good hit of punk and the club got uncomfortable with the crunch. I know I missed a lot of action with the two upcoming bands. With all the moshing etc picture taking was in second place so we're a bit light on the photos on this night. Cinderblock's Bandcamp page.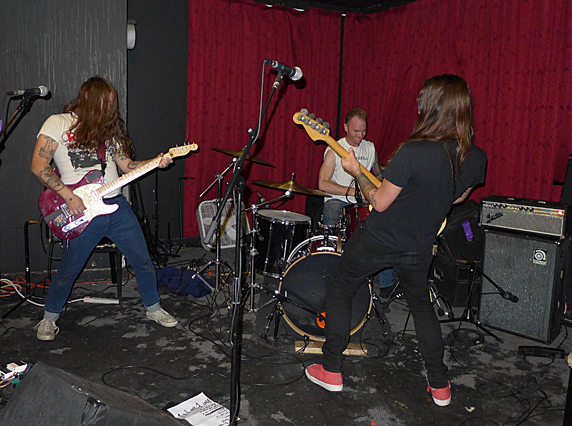 The Dazies
Photo: Blowfish
Saturday was more comfortable at O'Briens. I wanted to hear the Dazies, they have six cassettes out. That says they've been around a little while (four years) and that they're dedicated low fi lovers. I saw them about a year ago and liked them then. Musically they're playing garage rock and very loosely. They, along with Nice Guys and The Monsieurs, are close to the spirit of the Boston punk beginnings. These groups are raw and unapologetic.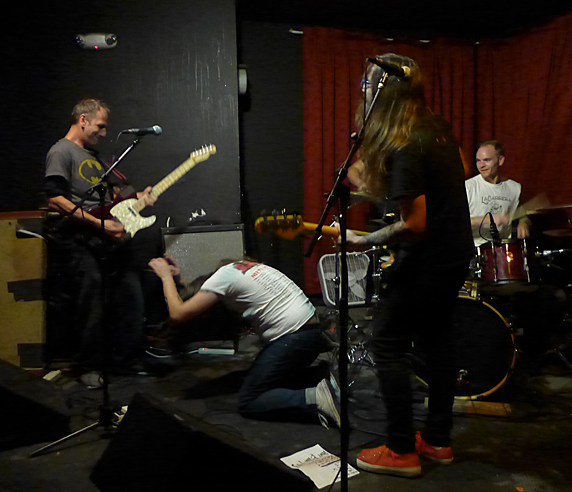 Winner of bad quitar solo contest
Photo: Blowfish
The set at O'Brien's was messy, fun and rocking. The songs manage to distinguish themselves from each other. One song had a simple riff you could imagine JJ Rassler playing for DMZ.
| | |
| --- | --- |
| The Dazies | Do The Snake |
At one point M. Holland the singer/guitarist decided to have a bad guitar solo contest. One contestant here. Three people came up and tried to play bad. Yeah, they succeeded! If was goofy and memorable.
Check out the Dazies on Bandcamp. They are releasing new material in a week.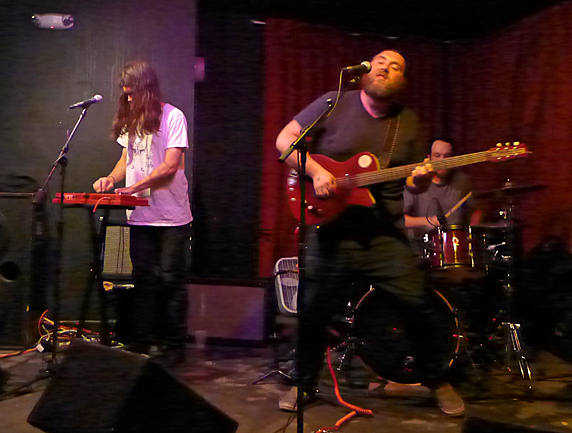 The Furniture
Photo: Blowfish
Opening was The Furniture were more indie and quirky than rocking but they impressed me with the oddball songs and clever lyrics. I was thinking that songwriting talent like that would have been scooped up by a label in the 80s. They reminded me of the Cake who had that hit The Distance. The Furniture fit in the indie scene that still thrives. Here's their website
My mind shot back to my two recent Royale shows where I felt lost in the huge hall with the group far away. I had so much more enjoyment and involvement at this gig.
In other news
Just a reminder that Sonny Vincent's family was in a horrific fire and were severely injured. If you are a rocker and love the music then please help these folks out. (Sonny covered by John Keegan here) Even a small ten dollar donation will help. Please see the GoFundMe page and help. THANKS!!!!
The Ramones get their own street in Queens!! "RAMONES WAY will be unveiled at the intersection of 67th Avenue and 110th Street in front of the main entrance of Forest Hills High School in the borough of Queens on October 23rd at 11:00am." See more on the Ramones website. Road trip anyone???
And here's an interesting turn for the Black Souls gig coming up this Friday: As an added benefit you will be able to see the Classic Ruins stepping in as the backup band for Kim and Cam Ackland!! Excellent!!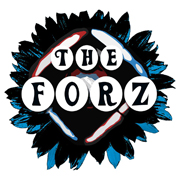 The FORZ, who we've written about before, just the released their cover of "Psychotic Reaction" the first of four cover song releases they are planning . Stream it here! Their most recent album; "Running From The Past" was just released on June 24th. Check out their website for info on their album!!
And one of our all time faves Randy Black & The Heathcroppers just released a new song Big Black Car. (Which you can hear here Its only 99 cents!!) There's more to come soon too!
Another Real Kids gig coming up at The Midway 11/5- see listings below.
There are a million punk songs, this is just one.
Just a short feedback before a wall of abrasive hardcore hits you along with the intense vocal. As I was listening to this song the mention of Dead Ramones in the chorus interested me. I wanted to know what the song was about.
Modern Life is War are from Iowa. They started in 2002. They broke up for a while and are now back together again. This song was on their album Witness from 2005 and was reissued in 2015.

Even the band's name is telling you what they are about. They are confronting life. They are not taking their lot lying down. The good news is that they can articulate their existential dread. It's a particular teenage dread but speaks to feelings all ages have.

The first half of the song is a 15 year old suffering in the classroom. The idea of death is mentioned just so you know what he thinks is at stake here. Soon after in the chorus it's Dead Ramones that are being identified with.
The second half is maybe the same person on the road with a band. A bleak life is depicted there but a life he has chosen. He is having a punk rock summer. It comes and goes. All he knows is that he is a Dead Ramone.

I like some of the lines:
We're not pretty and we're not rich.
We're gonna hafta fucking work for it.

Save me from ordinary.
Save me from myself.

It pays to dive into this intense song and give it time to sink in.
The Lyrics.

Modern Life is War
"D.E.A.D.R.A.M.O.N.E.S. "
Here's some good shows coming up .....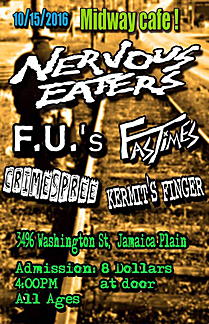 October 14 (Friday) at the Midway MOTO, The Time Beings, Black Souls, Shiny Beasts
October 15 (Saturday) The Stigmatics (Randall Gibson's new band) will be on the Crash Course for the Ravers with Brian Young on WMFO 91.5FM 1-4PM.
October 15 (Saturday) Nervous Eaters, Fast Times, The FUs, Crimespree, & Kermit's Finger 4PM show at The Midway
October 15 (Saturday) Panzerbastard, The Crosses (Dan Kubinski of Die Kreuzen), FUs, and The Pragmatics at PA's Lounge Here's the FB page Die Kreuzen front-man Dan Kubinski and The Crosses perform Die Kreuzen's 1st Touch & Go LP front to back, ferociously, along with a few Kreuzen extras and new material.
October 15 (Saturday) The Upper Crust, Hickoids, The Grannies & Devil On Horseback at Once
October 15 (Saturday) Grieve, Pink Mass (NJ), horrible earth, Psycho and Gorepedo at The Midway
October 15 (Saturday) Trophy Lungs, Choke Up, Bottlecaps , New Warden & Yo Ticonderoga at O'Brien's - This is Trophy Lungs LAST SHOW- Blowfish is sad about this!!
October 15 (Saturday) The Charms, Last Ones and The Flipsides at The Bayside Bowl in Portland, ME
October 16 (Sunday) Roy Sludge Trio at Sally OBrien's for a 4PM show!
October 16 (Sunday) Trusty Sidekick, Jiblantos (featuring the BGN's John Keegan!!), The First Supper and Last Exit To Palookaville - This is a matinee show 4.30-8.30PM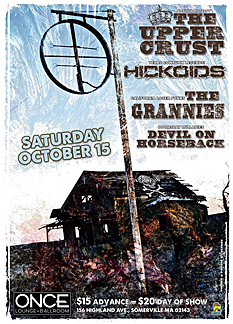 October 16 (Sunday) Cosmonauts, Magic Shoppe, Rye Pines and Future Spa at O'Brien's
And further out......
October 21, 22 & 23 (Fri., Sat & Sun) The Boston Rock Opera presents Hair at Once Ballroom.
October 21 (Friday) Fuzbrains Presents: The Time Beings, The Hopelessly Obscure, Glider and If We Go At All at Ralph's Rock Diner in Worcester!
October 22 (Saturday) Burnt Village, The Guilloteenagers, PowerSlut and The Dick Pics - Matinee 4-8PM show at the Midway
October 27 (Thursday) The Dickies, Muck & The Mires and now The Silver Screams are at The Middle East Up. (FB page)
October 27 (Thursday) Panzerbastard, Churchburn, Ritual Blade, and Upheaval @ O'Briens
October 28 (Friday) The Vooduo, (from CA), The Crimson Ghosts, The Skeleton Beats & The Outsiders are at Koto in Salem
October 28 (Friday) The Prozacs, BarRoom Heroes, Injury, The Pink Parts and Whoopi Sticks - 4-8PM Matinee Show at The Midway
October 29 (Saturday) Cheech 20th Anniversary Show also on the bill Taxi Driver, Reason to Fight, Words of Truth, & Barfight Champs at The Midway
October 29 (Saturday) Growing Up Spooky - Music and movies from the 60s-00's at The Plow and Stars. The Dazies as The Exploding Hearts, Dirty Bangs as Nirvana, Glass House as The Jesus and Mary Chain and Bruvs as The Beatles
October 29 (Saturday) Oh Framingham you are in for a treat: Screwcart, Rockin Bob, Gasco and Road Soldier at The Tavern in Framingham (here's the FB page for info)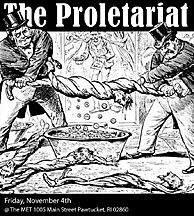 November 3 (Thursday) The Proletariat are at Once: "After a 33 year hiatus, legendary Boston punk rock band The Proletariat has decided to reunite for a few select shows . Original members Richard Brown, Peter Bevilacqua and Tom McKnight will be joined by guitarist Dan Sanders(from the Providence band Idle Rich) and will reunite for a series of shows in Fall 16. The reunion comes on the heels of the vinyl rerelease of the bands groundbreaking debut "Soma Holiday" on SS Records." Tickets!! (FB page)
November 3 (Thursday)Wolfman And The Brimstone Boys, The Evil Streaks, The Devil's Twins and Damnation are at Opus Underground in Salem
November 4 (Friday) The Upper Crust, Topheavy, Gene Dante & The Future Starlets and The Hi-End at The Midway
November 4 (Friday) The Proletariat are at The Met in Pawtucket RI (FB page)
November 5 (Saturday) The Real Kids, Classic Ruins, Andy California, Hambone Skinny at The Midway!!
November 9 (Wednesday) Illegally Blind and League Podcast Present: Shonen Knife, Shepherdess, and Birthing Hips at the Middle East Up
November 9 -12 is International Pop Overthrow at PA's Lounge
November 10 (Thursday) The Goddamn Gallows, Gallows Bound, Tigerman WOAH, Ten Foot Polecats - Middle East Up
November 10 (Thursday) The Sonics will be at Fete Music Hall 103 Dike St, Providence, Rhode Island 02909 - Here's the FB page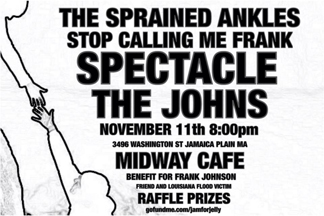 November 11 (Friday) The Sprained Ankles, Stop Calling Me Frank, Spectacle, The Johns at the Midway - This is a benefit for Frank Johnson (FB page for more info)
November 12 (Saturday) The Welch Boys, Penalty Kill, BarRoom Heroes, Zero Rights & Words of Truth a 4-8.30PM show at the Midway
November 12 (Saturday) Punk Rock Flea Market at Koto in Salem 1-5PM "Come down and buy some records, some band and sports tees, some homemade crafts and jewelry" There's be punk rock music after 8PM. FB page
November 12 (Saturday) Presented by State Line Records. This is the music after the Flea Market- The north shore's best punk bands will be playing their second show of the year together. Local favorites The Tenafly Vipers and Quiggs bring down the house. Boston visitors Duck & Cover and The Warning Shots warm you up for the local favorites. Let's have a good time. all at Koto.
November 13 (Sunday) The Spearmint Sea, Uranium Daughters and Cold Expectations are at O'Brien's - I believe this is Steve Prygoda's (My Own Worst Enemy) new band's (Cold Expectations') first gig!!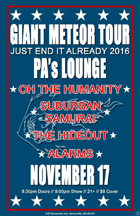 November 17 (Thursday) Oh The Humanity, Suburban Samurai, The Hideout, Alarms @ PA's Lounge Union Sq Somerville
November 23-26 (Weds- Sunday) 4 Nights! Jonathan Richman featuring Tommy Larkins on the drums at the Middle East Up. FB page It was an amazing night when we went in 2014. And for fun read our 1980 interview with Jonathan
December 1 (Thursday) Humanoids, Mam Ladilla (Spain), Covered in Bees (Maine), Intheshit & Black Friday - O'Brien's
December 3 (Saturday) Muck & The Mires will be on A Crash Course for the Ravers with Brian Young on WMFO 91.5 1-4PM
December 3 (Saturday) Studio Two , The Beatles Tribute w/ Muck and the Mires at The Middle East Up.
December 10 (Saturday) Thrash'n'Bang Christmas Party at the Midway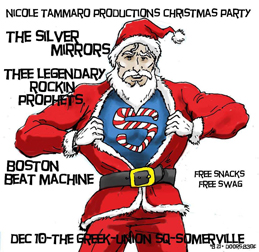 December 10 (Saturday) Nicole Tamaro Productions Christmas Party with The Silver Mirrors, Legendary Rockin Prophets and + free snacks & swag all at the Greek in Union Sq Somerville.
December 23 (Friday) Raging Teens 20th Anniversary Boston Reunion! at O'Brien's (FB page)
April 22 (Saturday) The Templars (NYC), Battle Ruins (Boston), Shipwrecked (Norway), Fit for Abuse (Boston), Boston Strangler (Boston) at the Middle East Down And it's ALREADY sold out in September 2016!
December 10 (Saturday) Psychic TV are at The Brighton Music Hall FB page
CONTACT US AT....misslynbgn@yahoo.com - Send us your gig listings, your news and anything else ya got!!

Cinderblock
Photo: Blowfish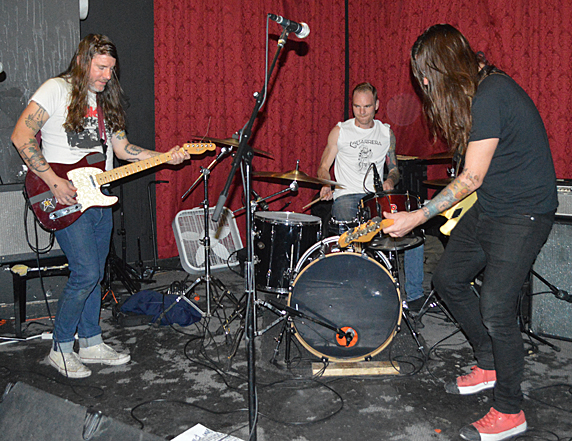 The Dazies
Photo: Blowfish