The BGN News Archive
October 12, 2009
Well this past weekend I ran the gamut of musical and artistic experiences.....Saturday started out with The Honk Fest in Davis square Somerville...lots of alt drum and bugle bands from all over the world dressed in crazy costumes and performing in various locations in Davis sq. Very entertaining! There was a local band; Emperor Norton's Stationary Marching Band who were great fun and the band that was most entertaining had to be The Pink Puffers from Rome, Italy...really great show!...
on from there we went to an Closing Soiree at the MKL Gallery in Somerville, 99 Beacon St, just outside of Inman Square where French artist Frederic Marsanne had his Religion painting series on display. Their next opening is October 22nd , looks like a really excellent show called Strata.......
from their we ran across town to the Old Lincoln High School in Brookline for Sleep No More, a play/performance/installation event in an abandoned school by a London Theater Group called PunchDrunk in cahoots with A.R.T. , based on Shakespeare's Macbeth. People this is AMAZING....an incredible experience...a dark abandoned school with roving actors and either industrial noise music or 1920's songs being played through out and it all begins and ends with a 1920's style speakeasy bar with fantastic singers and a three piece band. You GOTTA go to this!!!! The site does not do the experience any justice...it's a complete emersion into a dark, weird, creepy, maniacal world wherein you experience Macbeth via a Hitchcockian labyrinth of rooms that make you feel like you are in The Shining as well. This is NOT to be missed......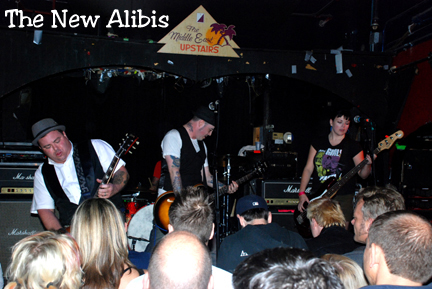 After this experience I ran over to the Middle East UP to catch The Glam vs Punk Show...Blowie was there and we got to see the most awesome New Alibis. I am very sorry to report this was their last gig!!! This band is SO good. All good musicians and very at ease and comfortable up there on stage and with their songs and their instruments. Jesse Meyer being drummer ya know it was good. ...then there was Gene Dante and the Future Starlets - this guy can SING...he's a great performer...very influenced by the excellent Bowie, let's say circa Diamond Dogs, Alladin Sane and even Hunky Dory. ...with a really good guitarist who reminds me SO much of Australian actor Noah Taylor it's just too strange!! Certainly not Taylor as Max but maybe in Down Rusty Down or the Nick Cave viddy 15 Feet of Pure White Snow.....anyway...if there was a "versus" this night both glam and punk won with these two bands as their representatives!!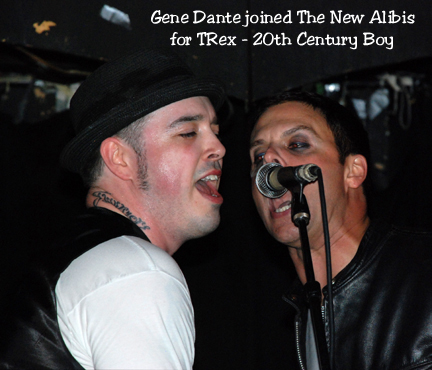 OK so coming up...
for punk we have This Friday, the 16th at the Middle East up with Televandals, Have Nots, Side Effects (feat. James Lynch of Dropkick Murphys), Blood Stained Brindle, Burning Streets...sounds excellent...
And then hard core punk this Saturday October 17th at Church with Cheech, Reason Enough, Bulldog Courage and Reason to Fight...well worth it for $10!!
But also on the 17th you can find Red Invasion, August Spies, The Ruperts, Brunt of It and Allston Pants at the Cambridge Elks Lodge..dats 55 Bishop Allen Drive in Central Square...
so I hear tell that Red Invasion have a new guitarist...that means super cutie Ryan is gone!!!!!!!.....and last time I saw him he looked so great with his clean shaven face..and I LIKE his guitar playing! Damn...well we'll see who's in his place I guess...more later on this one.....
Now to get you in the Halloween mood Friday October 23rd at TT's is Xmortis' Devil's Night ; DJ Chris Ewenspinning Goth & Industrial with some Horrorpunk, Psychobilly & Spook Rock mixed in! I believe this is one of those dress code nights so wear at least all black my friends!!! Sunday October 25th is a heavy duty show at Middle East down with Eyehategod , Goatwhore, A**l C**t, Strong Intention, Howl and Rampant Decay - sponsored by Ammonia Booking and Narragansett this will definitely be a night in living hell!!
Monday October 26th is Halloween at Charlie's Kitchen with The Coffin Lids, The Egos, and the Acrobrats...
Saturday October 31st is a Nancy Neon Nite at the Cantab downstairs with The Varmints, The Coffin Lids, Spittz as The Cramps and Girl on Top ......
And in case you still haven't had enough Halloween after the 31st there's Sunday Nov. 1 at the Middle East UP with Dark Sky Productions presenting: 6th Annual Mass Morgue featuring: Avariel, Lucretia's Daggers, The Milling Gowns, Mortuus Ortus and Sans Nomenclature......ghoulie...................
And we were interviewed for the latest Rat documentary Rat Tales By Andrew of True Age Mediaůso check him out and if you want to blabber on like us about your days at the Rat get in touch with Andrew about it!!!!

Ok folks, that's it for this week, gotta cut it short,be back next week with more info...email me ....let me know what's happening..thanks!! click and write me!.... Lyn