The BGN News Archive
October 12, 2020

RIP Eddie Van Halen. Van Halen broke in 1978 just as punk was raging. Even though punk branded the wanky guitar solo as verboten, it was impossible to deny Eddie Van Halen. His dazzling technique seemed otherworldly.
Also passing this week was Johnny Nash who did "I Can See Clearly Now". That was one of the few reggae songs that became popular before the reggae genre itself gained acceptance.
The Jungle released a statement about the seasonal change this week: "The Jungle will be closed for winter after our last concert on 10/17 and operating the outdoor patio one more time for a day of activism for democracy on 10/18. We will reopen in 2021 as soon as it is safe enough inside or warm enough outside."
It's good to know that they'll still be around at some point!
It seems like there's something on Great Scott almost every week. The latest is an article on the NPR website titled : City Scenes: Remembering Boston's Great Scott. It's a short oral history of the club with memories by Anngelle Wood, Joanie Lindstrom, Aaron Perrino (The Sheila Divine), Tim Philbin (General Manager, Great Scott), Michael Marotta (DJ, the pill), Ben Stas (photographer) and more. Read it here.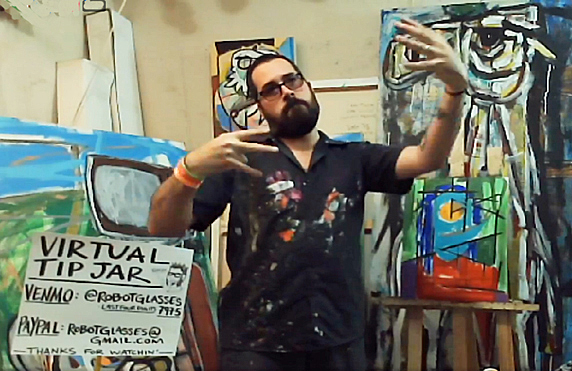 The Live Art Show with Dug MacCormack
Thursday night around 6 pm Dug MacCormack was doing his weekly art class/performance piece. We always love getting some art tips. Is it wrong to watch all this painting and not paint? We love it when Dug uses his shirt as a paint rag. After a while his shirt is a work of art!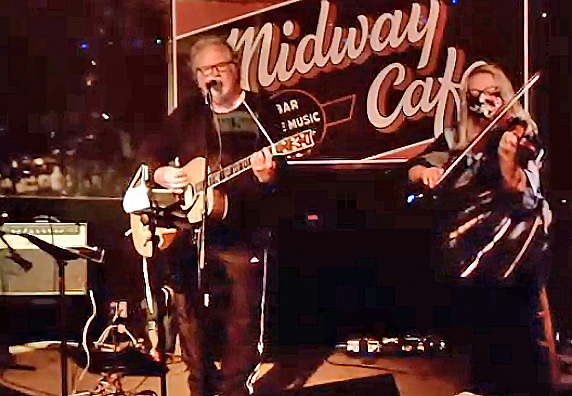 Ritchie Parsons
Around 7pm on Thursday The Midway started a live stream with Richie Parsons and Eric Martin. Richie did his set as a duo with just him and Elisa Birdseye on viola. He did mostly his own songs as usual. "When Fall Begins", "Rainy Day", "Blue Sands", 'Winter's Dream" and "When You're Dancing." He did cover Morrissey's "Everyday is like Sunday" which he made his own. Elisa adds so much to the songs and especially this one! He also covered Willie Loco's "Everybody Knows" as a closer.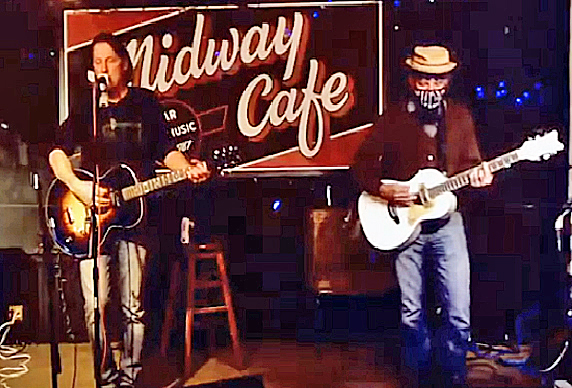 Eric Martin and David Fredette
Then Eric Martin and David Fredette did their set of deep covers. Eric has a baritone voice that dazzles on the sonic level but there is so much more to it than that. The voice also carries the meta level of the songs…the feelings and all the abstract ideas songwriters are trying to express.
Martin and Fredette obviously know this and that's why they go after songs with some emotional heft like "Early Morning Rain" by Gordon Lightfoot ( and later "If You Could Read My Mind").
When they took on Dylan's "Just Like a Woman" it was obvious how good they were. Eric was still able to give a performance that drew out all the song's depth after all this time and enumerable covers done before. They made it new again.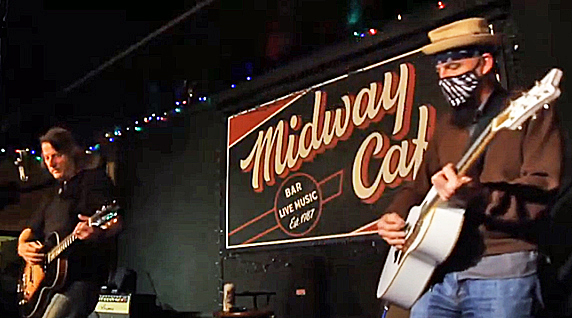 Eric Martin and David Fredette
It was something to see them do Gene Pitney's dramatic ballad "24 Hours from Tulsa". Then he even did a Scott Walker tune with Fredette getting symphonic sounds out of his set up. Wow!! They later did "Jackie" by Jaques Brell song (also done by Scott Walker). It seemed that Eric's commanding voice was able to attack any song. They ended with Bowie's "Life On Mars" with more Fredette pedal magic. You can watch it here.
Time Out magazine rated Allston as the 37 coolest neighborhoods in the world! Says Time Out: "Allston is full of youthful energy thanks to a heavy student and post-graduate population and is also infused with a new spirit due to recent waves of people moving in from out of city. The neighborhood is also full of cheap-eats featuring food from different cultures." Read the full Story here. Of course, we knew that for a long time, right?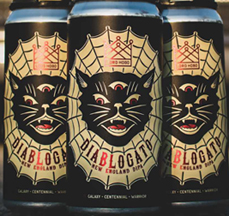 Diablogato now is a beer! Lord Hobo Brewing Co. has named a new New England IPA (8% ABV at that!) after the band. The can was designed by the Diablogato guitarist Chuck MacSteven. Congrats guys!! That's so cool! Vanyaland has the story. The can has a scanable that brings you to more info on the band too.

Boston Hassle has started a series on Jonathan Richman. The first is called The Jonathan Richman Files Vol. 1: At the Government Center. It's written by Ethan Weinstein who promises to go at the Richman legend one song at a time. The first installment talks about the Government Center and how Jonathan interpreted it in song. It's a bit Boston history lesson as well as analyzing JoJo's song. You can read it here. It of course talks about that ugly brutalist building that just will not go away.

CDs/Music.......

Field Day has been getting themselves out there and gaining some notice as a result. They just put out a single "Everything, Everyone"/"The Next Day".

They start with an indie sound and they build up from that. Their songs have more weight than a cursory listen will reveal. The playing is very tidy but not sterile. All the indications are that there is a lot more to come from this group. Give 'em a listen on Bandcamp.

The shutdown has slowed up recording and new releases. Maybe that's why rereleases are coming out like crazy. Here's just a few we saw this week.

The Replacements – Pleased to Meet Me (Deluxe Edition) A 5 CD set. It has the remastered album with demos, B sides and rarities, many rough mixes and a hard bound book. More here.

Lou Reed – New York (Deluxe Edition) This has the remastered album, whole live version of the album, a CD of demos and work versions, the album on two vinyl records, a DVD of the live concert album, the album in high resolution, and a 12" by 12" booklet. More here.

New Order – Power Corruption and Lies (Definitive Edition) –The album is remastered and comes in both vinyl and CD, a DVD has live material and a documentary and comes with a 48 page booklet. More here.

Ultravox – Vienna (Deluxe Version) On the CD version you get the analog master of the LP, plus a new mix, cassette rehearsals, a live version, many 12 inch remixes, and a DVD of album remixes. More here.

The Boys – On Safari. This is a 5 album collection with 71 tracks all told. Has 18 songs that have never been released. More here.

Paul Collins' The Beat – Another World, The Best of the Archives. The Beat material has been released so many times but they say on the CD version of this is 18 songs not released in any format before from Paul Collins' personal collection. More here.

Slaughter and the Dogs – Do It Dog Style (Deluxe Edition) This includes their live at the Roxy tracks, live material, singles, demos and a booklet. More here.

Make More Noise. Women in Independent Music UK 1977-1987 - This makes us very happy – a documentation of the contribution women made in the punk era. This 4 CD collection has 90 tracks and comes with a hard bound book that notates the songs. This is from the Cherry Red Label More here.

Videos.....Watch & Listen.....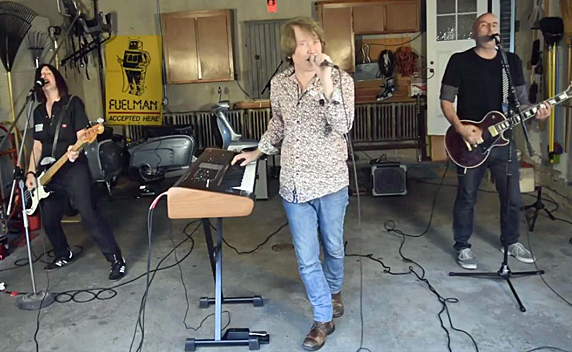 Linda Bean Pardee's Garagecast #5
Linda Bean Pardee logs in episode five in her Linda's Garagecast! The song is No Action by Elvis Costello. Linda is joined by Jimmy Lepler and Will Selton. This is the best one yet!! We are now looking forward to this weekly hit. One thing we know: Linda's got great taste in covers. Watch it here.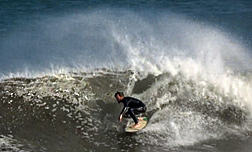 Ralph Fatello (Vinny Band) has been pumping out the surf videos from New Hampshire for years. It's always worth checking in to see and hear what he's doing. His latest video is about the surf from Hurricane Teddy (September 23, 23 2020). He's packed the soundtrack with some Nervous Eaters and Vinny songs. It's big wave surfing with the Nervous Eaters cranking. Perfect! Eaters' songs include: "Hot Steel and Acid". "On the Avenue", "The Tide", "Tomorrow and Today", "Last Chance", and ZULU ... Vinny's "Here's Where I Get Off" fits the bailing surfer shots. See it here.
The Brattle Theater will (virtually) show the film White Riot this Friday October 16th. It tells the story of the Rock Against Racism movement that included punk rockers like The Clash, Sham 69 and Tom Robinson. "WHITE RIOT is about a moment in time when music changed the world. When a generation challenged the status quo. It's Woodstock meets the March on Washington, punk-style." Go to Brattle Film.Org for info and tix.
On the radio......Podcasts...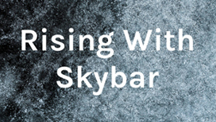 Finally Skybar got back on the WMFO airwaves with a prerecorded show. It seems like it's been a million years. Skybar started with Muck and the Mires doing "Six O'Clock Baby" and then hit a lot of his fave groups which you can imagine he was dying to get to play on the air. The Shang Hi Los got in there along with The Dents, The Hoods and Carissa Johnson.
Read.......
The first we heard of John Cooper Clarke was his cuts on the Live at the Electric Circus EP in 1978. From then on it was always a struggle to get information about him. You had to wait for the occasional recording to show up. Now 40 years later Dr. Clarke has his biography, I Wanna Be Yours, ready to be released this week (Oct 15th) and all of a sudden there is a landslide of articles on him.

First things first – you can get the book here: I Wanna Be Yours
Now let's look at some of the articles. England version of GQ gives the rundown on 8 JCC poems. They are all the major hits, so it gives a good idea of what JCC does. GQ Magazine: Best JCC Poems
A nice long article from 2015 is also in GQ magazine is here
The I Love Manchester website has a piece that tracks JCC's early influences. Read that here.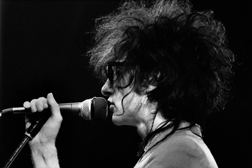 The Guardian gets a long line of questions from notable people to plumb the depths of JCC thinking: The Guardian and here The Guardian.
Huck Magazine gives a short insight into JCC's time in NYC in 1978. Huck Magazine
In Thin Air has a story about a poetry reading with John and some other poets. Sounds like one cool night. HERE.
This is a short but well written piece that talks about the book and then has a surprising story about Chet Baker. It's in the Gardian, here.
It's the Gardian again, this time they mine the mind of JJC to find out what culture he's taking in now. Read it here.
The NME goes over some of the subject matter of the book itself. NME article.
Not to forget The BGN did get to see John Cooper Clarke in 2015 with his one off show in Boston. If only he would come back!!! We review the night here.
You can order the book a couple ways...on Amazon...Kindle or Audio CD. and from The Guardian Bookshop. and here provides various outlets to order from.
Coming up.....
Virtual/ Streaming/Online Events.....

Dont forget to check out Linda Bean Pardee's Linda Garagecast every week. Link to Garagecast here.
Monday October 12, 7-9PM - The Thigh Scrapers and The Stigmatics the have had a gig at the Midway that has been rescheduled a few times. They finally are going to get on the Midway stage with a streaming live show on Monday October 12.
Tuesday October 13, 7-9PM - The Instamatics and The Jacklights will be streaming live from the Midway FB event page
Wednesday October 14, 7-9PM - Replay at the Midway - see who they show this week!!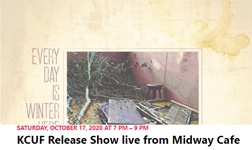 Thursday October 15, 7-9PM - Live from the MIdway - Patty K + SPLNTR
Friday October 16 - The Brattle Theater will (virtually) show the film White Riot. It tells the story of the Rock Against Racism movement that included punk rockers like The Clash, Sham 69 and Tom Robinson. "WHITE RIOT is about a moment in time when music changed the world. When a generation challenged the status quo. It's Woodstock meets the March on Washington, punk-style." Go to Brattle Film.Org for info and tix.
Saturday October 17, 7-9PM - KCUF album release live stream party at The Midway, looks like Michael Kane & the Morning Afters will be joining them too! FB event page.
Wednesday October 21, 7-9PM - Replay at the Midway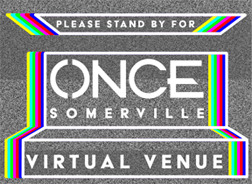 Saturday October 24 - The Town and The City Festival via Once Virtual Venue.... bringing more than a dozen acts together for the third year of the festival. The eclectic lineup will feature many past festival participants as well as new artists performing Americana, Folk, Rock, Blues, Poetry and Indie music including Chris Brockaw, Will Dailey, Walter Sickert. Tix and more info here.
Thursday October 29, 7:30-9PM - Walter Sickert & the Army of Broken Toys Halloween Happening at the Museum of Science ...special one-night-only virtual Halloween Happening! Kick off your spooky season with a digital edition of our annual evening of music, masquerade, and mayhem. FB event page
Saturday October 31, 9PM-1AM - The ManRay 15 Year Halloween Virtual Reunion on Twitch and Zoom... FB event page.
In Person shows.....
October 28 (Wednesday) Einstürzende Neubauten - The Year of the Rat Tour - The Wilbur Theater Facebook Page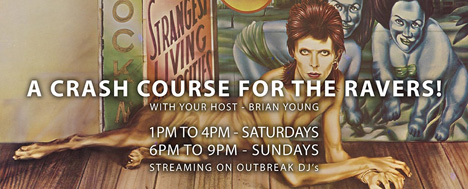 Thursday December 17 -7-9:30PM - Talkin' to Dracula and his Crew: Goth subculture and horror, a lecture - Miskatonic Institute of Horror Studies Brooklyn NY FB page
January 16, 2021 (Saturday) New Date - The Schizophonics, Muck and the Mires at ONCE Lounge Early Show: 5:30 PM – 8 PM
February 17, 2021 (Saturday) Rescheduled - Swans w/ Anna von Hausswolff at the Paradise
April 19, 2021 (Monday) Rescheduled - Dead Can Dance at The Wang Theater
April 29, 2021 (Thursday) Circle Jerks Plus Special Guests at the paradise (this is a rescheduled show) FB page
CONTACT US AT....misslynbgn@yahoo.com Send us your gig listings, your anything else ya got!! You want your CD reviewed?? Contact us for that too.
---