The BGN News Archive
October 13, 2008
OK, well we did go to that gig I was raving about…Harper's Ferry Horrorpops, Beat Union and 7 Shot Screamers......... it SEEMED to be so promising….
ah well, things aren't always what they seem…..especially nowadays….
The first thing I noticed was the crowd; young and done up to the hilt in rock-a-billy punk finery….almost too done up…and not a familiar face in the crowd…where are these shits when a good local band is playing at Abbey or Church?????......At home listening to a download or looking at their fave out-of-town-band on-line or in a magazine, I guess….
damn, the local scene could use some more bodies at gigs, but these kids were a different breed, I felt like they were dressed up for the night and would change back to whatever they are on a daily basis right after the gig…..
well as usual we go there too late for 7 Shot Screamers but they sure did look cool, still hanging around the club after their set.
Beat Union was going through an extended sound check when we arrived. At least the guitarist had an electric tuner! So they finally are ready to go…
oh my gawd, the bass player looked like he was transported right from 1977. He has that old fashioned Brit face (reminded me a lot of Rat Scabies only handsome), perfect punk hair and outfit...and looks like real trouble, incredible tatts, especially on his throat, oh man that's when I wish I was born in '84 instead of when I was…argh….anyway he looked so awesome and jumped around like crazy…hence the not so good bass playing AND the bass was turned up so loud it ruined the sound of the band for us.

Beat Union at Harpers' Ferry

| | |
| --- | --- |
| Dean Ashton | Ade Preston |

Beat Union was a mish-mash of Clash, Jam, Ska and the new millennium…..there was nothing really there….all I could hear was their influences, I was waiting for a song that would catch me, excite me; one that I could remember, one that stuck out from the crowd of songs in the set…never happened.
The other band members played well, the drummer was an incredible power-house on the skins but alas, he did not save the day. …but they sure were fun to look at……and I still have to say I am glad they are around because at least their hearts are in the right place and they have fantastic influences…they just need to distill their own sound from it all…which I have faith they will do down the road!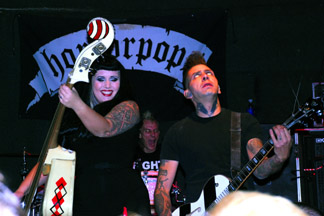 Next up were the Horrorpops, very, very disappointing. Right off the bat: gorgeous zaftig tatted up girl with a stand up bass and two guys….Pulp 45 was all I could think of and after the first song, or even during the first song, I was wishin' it WAS Pulp 45. Their song were blah to say the least, Pulp 45 vis high energy and FUN!
This band was all show, just like the audience (ah, it was all making more sense now) they were so surface, the singer was so fake, she kept smiling and rolling her eyes to look sexy and friendly but it was transparent as hell….AND to top it off she was …um, vocally challenged to say the least….she couldn't hit the notes…anyway for the first four songs I thought it was ONE song, they all sounded so much alike. Then they changed a little bit so I knew they were different songs, but not by much…the guitarist was a grizzled older guy but even he didn't do it for the band either ….we left mid-set.

The Horrorpops at Harpers' Ferry

| | |
| --- | --- |
| | |
So what's happening that will be BETTER?..... This Tuesday, October 21st, is a very interesting show at Johnny D's in Davis Sq: Ukelele Noir and on the bill is Bliss Blood, members of the Pain Teens..should be excellent…
also on Tuesday though..sort of over the river and through the woods…More garage and psych music at the Milky Way on Tues. Oct. 21 when Mark Francis and Joanie Lindstrom do their monthly Gemini night. In addition to the free entry and wonderful tunes, there's the "Sam Adams Beer Bowl" from 9-10PM and a bowling tournament. What more could you ask for? Not much, sounds damn good to me!!
This Wednesday 10/22 there's a good show at The Middle East UP: Jay Reatard , Cola Freaks, The Tampoffs, and Vancougar ……
And its finally here, my friends, this Thursday October 23rd at Church ; the much awaited ....DMZ Reunion !!!!!
and per Marsman Underground : This will be the Jeff Conolly-JJ Rassler-Peter Greenberg-Rick Coraccio-Paul Murphy line-up that has not played together since 1993. DON'T MISS THIS - this will be DMZ's ONLY Boston appearance! at with Red Invasion and The New Frustrations!!!!to finish the week off…
Saturday 10/25 at The Middle East DoWN is The Aggrolites , Everybody Out!, Roll The Tanks, The Swaggerin' Growlers along with DJ Fordy Buxworth - cool…
So there you have it…..send us your thoughts and gig news etc…….email me!!
….well ok my friends…until next time…and please do send along a little message to make my day…. ML