The BGN News Archive
October 13, 2014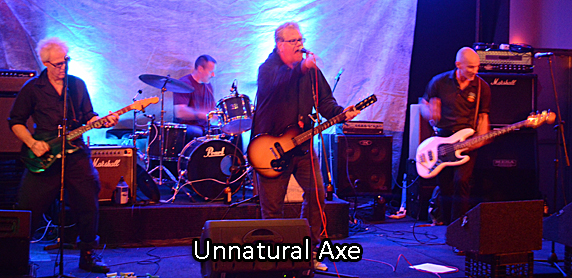 The Pipeline! juggernaut continues for a few more gigs when it will have seemingly exhausted every living and living dead band that ever graced the Boston rock arena. It has introduced us to Cuisine en Locale which is where we were on Friday. This night we learned that it has an upstairs that has tables and serves food. Downstairs we catch a set by the Unnatural Axe who hasn't played much at all this last year with the side projects going on. They put in an energetic set. There were lots of funny asides by Richie, Tommy's playing is better than ever and cleaner too with all his Beachcombover surf styling and Frank looks and plays lean and mean. Richie put a real hard and angry edge to Hitler's Brain. Man I Don't Wanna Be sounds bigger more than punkier. Richie jokes that their drummer for the gig who has played with hardcore groups (like Stranglehold) is making them play everything fast to the point that Three Chord Rock is down to two chords. It's the Axe fix I wanted. The crowd was on the thin side for that set that started at 7:20 pm but it bulked up for the next set and stayed that way for the rest of the night.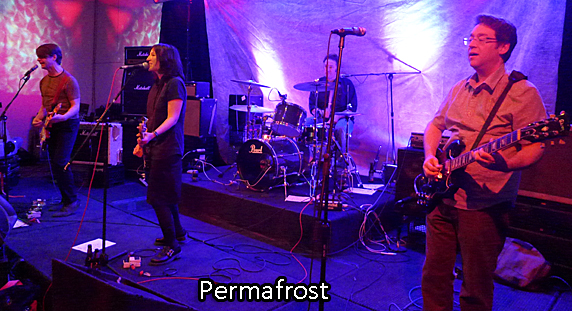 Permafrost (Miles Deathmuffin) played a lot in the day and had a good parcel of releases (a few they gave away free tonight) in their career. The crowd greeted it all with vocal appreciation. Permafrost for their part put in a generous set of their indy pop songs. The songs are well written and the performance was full of crafty nuance. They had smart lyrics sung with clear vocals and enhanced with notable guitar riffs and use of dynamics. They ended with the crowd cheering. These people know these gigs are a gift and are soaking up all the sets.
Hullabaloo plays metal with a loose and carefree swagger. The lead singer is a big hulk of a guy who garbles his vocals on purpose and sometimes just puts out a 30 second scream. The guitars are playing duel leads and intermittently go in a feedback loop; squealing like stuck pigs. They were having fun as was the audience. The group was wallowing in being on stage again. That's the feeling you get with a lot of the groups in these Pipeline! gigs. They love the chance to play just once without the baggage of personal and career problems that plagues a working band. It works for them and it works for us.
In an effort to see something new Blowfish went to O'Briens the next day. He saw the full set for Life Problems: That was all of 10 minutes. It might have been 15 minutes but I don't think so. Those ten minutes had ten songs. They play one minute noisy pounding yellfests. The singer never stopped screaming the lyrics for a second. I thought he would burst a hernia. The band pounded out a jerky, noisy backdrop. On their Bandcamp page the songs seem to flow a bit better than they did live but you get the idea. Life Problems on Bandcamp. I liked the energy they gave out and I would love to know the lyrics. What the hell was that guy yelling about anyway?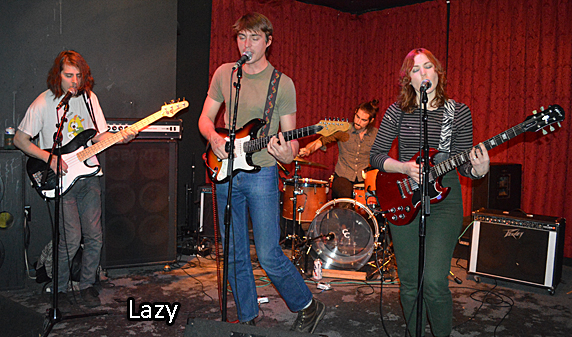 Next up was Lazy from Kansas City, MO. The first song was raw and unkempt but the second perked my interest. It was tighter, volume went up, the tune had quirky highlights and they were trading back and forth on the vocals. Unfortunately one guitarist broke a string and he continued to play being painfully out of tune. I mean it was bad. I stayed for the set and saw they had those elements that would have made for a good set but that out of tune guitar just killed it. Lazy on Bandcamp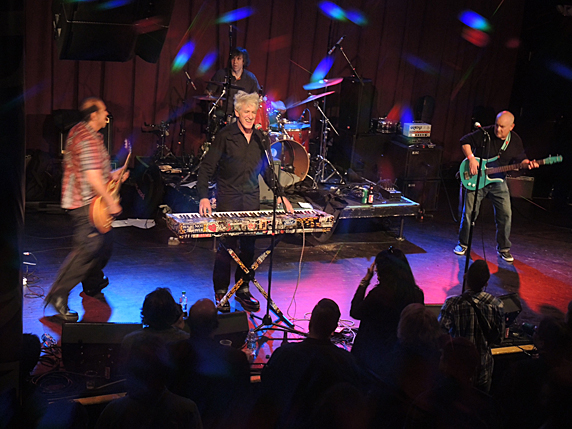 Arthur Freedman made it over to the Paradise for the Pipeline! Show with Willie Alexander and The Boom Boom Band and The Big City Rockers, who Artie said sounded exactly like the Atlantics even down to the vocals. See more pics below along with a couple of Robin Lane & The Chartbusters from yet another Pipeline! show.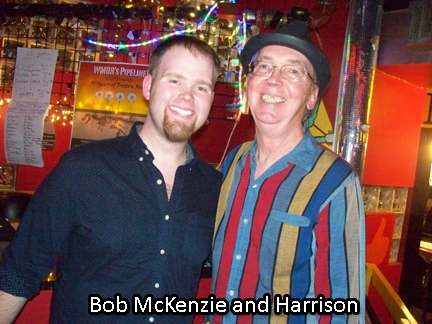 Sunday night Miss Lyn went to the Middle East down for the FINAL Pipeline! Show it was #13: Though I missed The Underachievers and Kenny Chambers you can read about them in Kenne Highland's column (here) . I did run into Bob MacKenzie and his son Harrison (with 'Cilla MacKenzie of the Underachievers).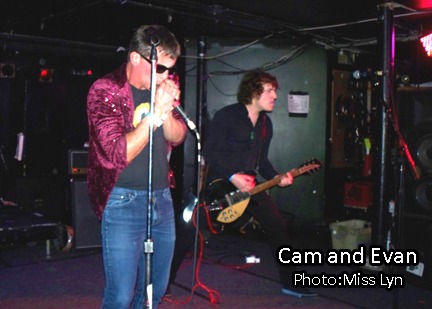 The Voodoo Dolls hit the stage running with super high energy action. Cam Ackland from Prime Movers/Port Charles Quintet, is such a great and seasoned front man and this night we get to see him share the stage with Evan Shore from Muck and The Mires and guitarist Dave Harrison who sure has been put in a lot of practice up there in Rochester, NY. He was showing us some searing Wayne Kramerish guitar work lookin' super cool in his shades and smirky smile the whole set. His son was up front taking pics and viddies the whole time too. The crowd was dancing and loving every second.
The Bags brought back together Jon Hardy, Jim Janota, and Crispin Wood. Like Blowfish states above you can tell these bands, who haven't played together in years are having a great time of it and The Bags showed us a great time too. Lots of screaming and yelling hard punk sound and Jim Janota bangin' on the drums like a caveman whew!!
Closing out the night were the Gizmos. Now, just like way back when, they have a stage full of Gizmos, not just three or four. There were the original Gizmos Ken Highland, Eddie Flowers and Ted Niemec joined by Mike Quirk (bass), Matt Burns (drums), Ken Kaiser (guitar), and John Keegan (on horn). The crowd thinned out by this time which was surprising coz these guys have been selling out shows in Memphis, Bloomington and Brooklyn, NY. But those that stayed were super enthusiastic! And of course they put on a great show and did all the hits everyone had a great time.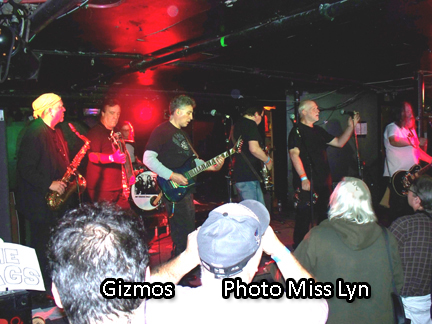 So thus ends the Pipeline! Anniversary shows, I am sure Bob Dubrow is relieved. It must have been a wild ride for the past month!!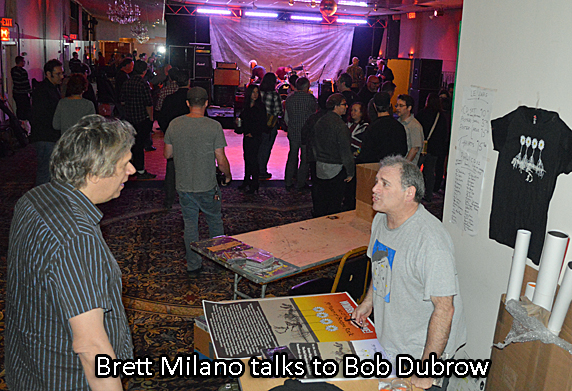 Here's some other stuff for ya:
We read in the Dig about the Pop Up Show Hear of The Rat. Though we really wanted to make it, it was too late for Lyn or Blowfish to attend. Arthur Freedman made it over there and came back with this report: There was a cool "Pop Up" on Boylston Street last Thursday put together by the good folks at Tres Gatos in JP where they played really cool stuff from bands that played The Rat including Human Sexual Response and many others... There were records and cds for sale and a really excellent slide show of JJ Gonsons photos (Cuisine en Locale) JJ was in the thick of some great shows and caught amazing images of bands and stage diving to the hilt. Kudos to JJ for some genuinely fine photography and excellent taste in music.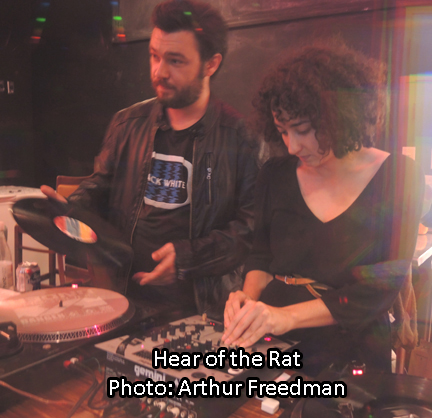 We somehow missed this until now but over at Club Bohemia at The Cantab through October 26th there's a musical play being show every Saturday and Sunday: J.A.S.O.N.....it's a "A comic adaptation of the Argonautica and Euripides' Medea, this bloody tale is told as a one-hit wonder. Myth, mayhem and murder spill out onto the stage as a punk rock band leaves destruction in its wake during a five-month tour. This production features performances from Boston performers Liz Adams as Medea, Daniel Boudreau as Peleus, Kim H. Carrell as Heracles, Rick Chason as Nestor, Tim Hoover as Orpheus, R. Benton Orzalli as Meleager and Emma Walker as Atalanta. It's all sex, drugs and rock 'n' roll channeled through a classic Greek myth. Sounds interesting to us!! Check out more on their FB page and their blog.
Here's some good gigs coming up: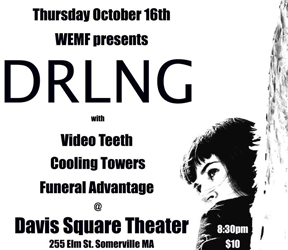 Plumerai has reformed as DRLNG...and they have a new EP called Icarus. They are celebrating with a EP Release Party this Thursday October 16th at The Davis Square Theater. Also on the bill are Video Teeth, Cooling Towers and Funeral Advantage. We are looking forward to seeing this new iteration!!
Friday October 17th is Night 3 of Crash Safely Benefit...this time its at the Middle East Up and wow, the line up again is killer with Township, White Dynomite, The Field Effect, Triple Thick and Animal Hospital!!
Also on Oct 17th at The Midway is Sasquatch and the Sick-A-Billys, Tigerman WOAH, Tail Light Rebellion, and The Radiator Rattlers Start out Saturday with a very interesting Crash Course for the Ravers show on WMFO 91.5 FM 1-4 OPM coz this Saturday the 18th they are featuring Real Kid's John Felice with Rick Harte!
Saturday October 18th there's a insane bill at The Cantab with Kilslug, Hirudinea, Witch King and David Carradine
Also on the 18th - out in JP at The Boston Wreck Center are the Hub City Stompers, Brunt of It, Beantown Boozehounds, Disaster Strikes and Neighborhood Shit. All info and map here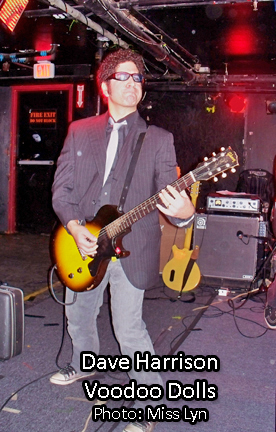 On Crash Course for the Ravers (WMFO 91.5FM) on Saturday Oct 25 they have some cool guests with The Pity Whores and The Skeleton Beats (who we really like) as well as the happy newly wed couple Andrea Gillis (Andrea Gillis Band & Gilly's Throwback Snacks at Brass Union) and Marc Pinanski (Township) ...should be some good conversations in those 3hours!!
October 25th we can see The Cranktones at The Midway again kids...it's WMFO's Easy Ed presents:- The Cranktones, Johnny Carlevale & The Rollin' Pins, plus Easy Ed's Record Hop!!! - great night!!! These are fun gigs with a friendly group prone to dancing….. And Easy Ed doing the DJ thing between sets….Here's a video we took last time they were there….check it out here!
Also on Saturday, October 25, at Copperfields there's compilation CD Release Party for Chris Atwood's radio show The Alternative on WATD featuring: James Straight and the Wide Stance, A Fifth Column, Ruby Rae, and The New Frustrations. That little radio show is getting bigger by the day. It's a gr3eat compilation disc and you can purchase it here. And check this out The New Frustrations song Biggest Lie got chosen as song of the week on the German Internet Radio show called NBT Music Radio! Congrats guys!
November 7th there's the Cal Cali Band-along with Tsunami of Sound, -The Last Ones-(Ric Corraccio back in Boston!) at Sally O'Briens, Union Sq. Somerville
Whoa this is so totally worth the trip to Beverly!!! Willie Loco Alexander/ Nervous Eaters/ Real Kids Saturday, November 8 at The Spotlight Tavern in Beverly, Massachusetts Here's the FB page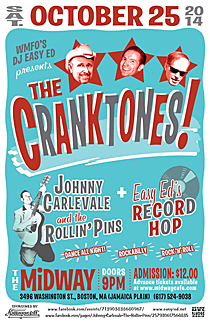 In November Bob Colby has his Store 54 show with When Particles Collide and Powerslut on Saturday November 8th
Roy Sludge is doing another Sunday 4-8:30 Pm show on November 9th at The Midway!

Cavestomp ! & King Yum Records Present: Lyres with Special Guests Wicked Cool Recording Artists Cocktail Slippers, The Connection, TRiPLE THiCK on Friday, Nov 14, 2014 at The Middle East - Up. (Tickets here) The Cocktail Slippers, great Norwegian female band: "The band's main musical influences are Blondie, The Shangri-Las, Joan Jett, Foo Fighters, The Ramones, and The Beachboys".
Also on Nov 14th over at The Midway you will find The Upper Crust The Weisstroauts, Tim Lee 3 and My Own Worst Enemy - that should be a great show!! And an interesting mix to say the least!
At The Midway - November 16th (Sunday - Day Show): The Humanoids, Mama Ladilla, The FUs, Chin Strap This is a matinee - it goes from 4- 8 PM and its all ages!! AND only $6 to get in!!! Facebook page for gig.
Mark yr calendars for this one!!: December 12th (Friday): The Real Kids , The Titanics, The Nectarines - at The Midway
CONTACT US AT.....misslynbgn @ yahoo.con Send us your gig listings, your news and anything else ya got!!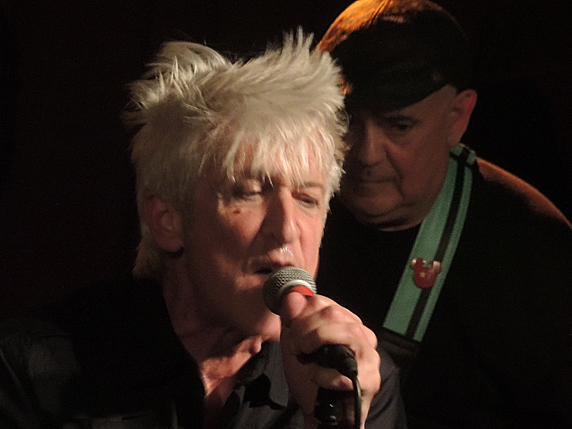 Willie Loco Alexander at the Pipeline! show at the Paradise.
Photo by Arthur Freedman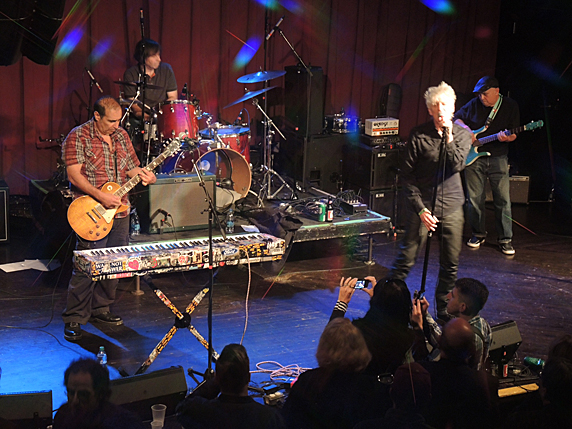 Willie Loco Alexander and the Boom Boom Band at the Pipeline! show at the Paradise.
Photo by Arthur Freedman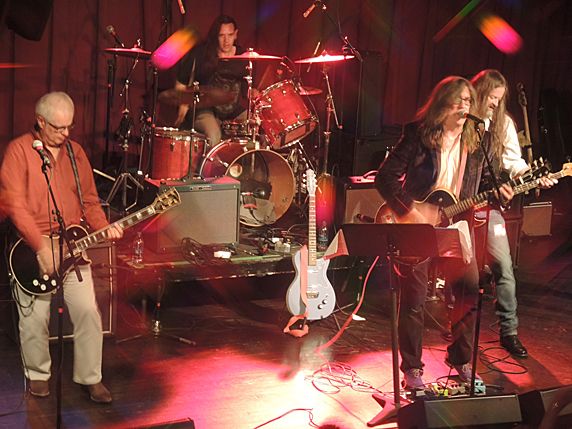 Big City Rock at the Pipeline! show at the Paradise.
Photo by Arthur Freedman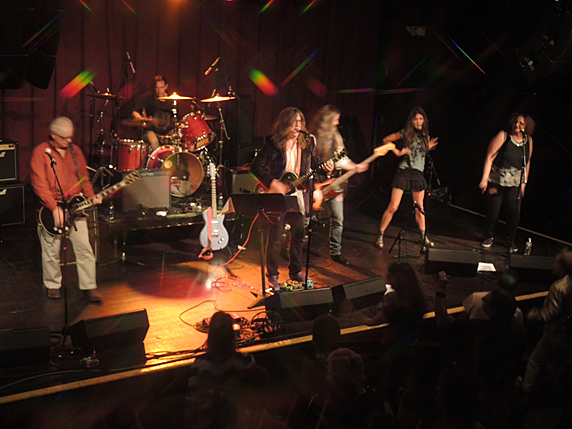 Big City Rock at the Pipeline! show at the Paradise.
Photo by Arthur Freedman

Big City Rock at the Pipeline! show at the Paradise.
Photo by Arthur Freedman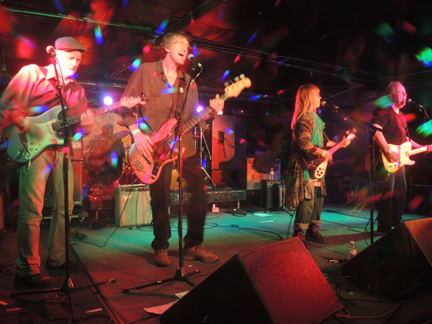 Robin Lane and the Chartbusters at the Pipeline! show at the Middle East on Oct.3.
Photo by Arthur Freedman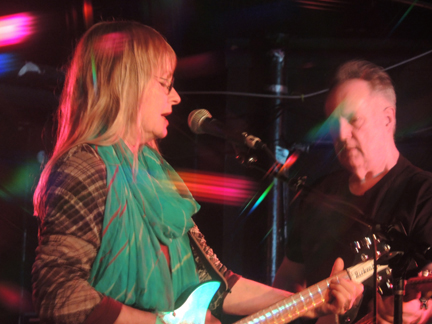 Robin Lane and the Chartbusters at the Pipeline! show at the Middle East on Oct.3.
Photo by Arthur Freedman