The BGN News Archive
October 13, 2018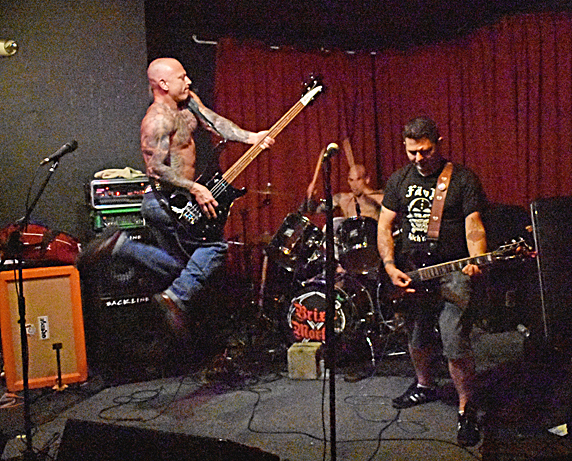 Brix'n Mortar
Photo: Blowfish
---
Tuesday's show at O'Brien's was mostly hardcore with a band from Singapore heading the bill. Crisis Actors from Boston were a trio doing everything with passion. The drummer was so into it that at the end of some songs he was on his feet like he couldn't contain himself sitting down anymore. His sticks were flying around so much it was like a cartoon picture of a drummer, but the sound wasn't cartoonish. Listen to the drums explode a few times in "Billy the Terrorist"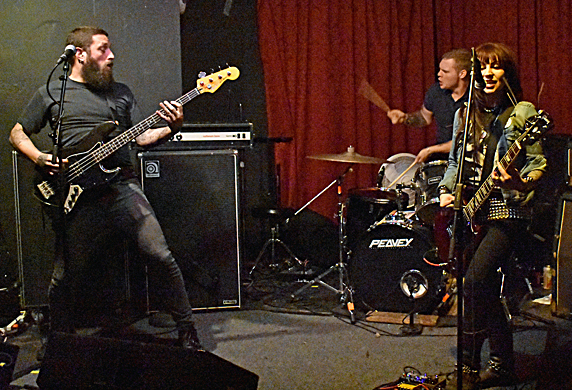 Crisis Actors
Photo: Blowfish
The guitarist was supplying a usual distorted back drop. The bassist however was doing things more interesting. Sometimes he was on the root digging in but more often he had some melodic runs not heard in music with such a hard attack. He was very fluid and effective. It lifted everything else and made everything click. Interesting set. Their Bandcamp site
We think their song "Everyone's Exhausted" captures the rat race world we hear people complaining about with lyrics like, "Is it day or is it night, Or is it 9-5 until I'm 95?"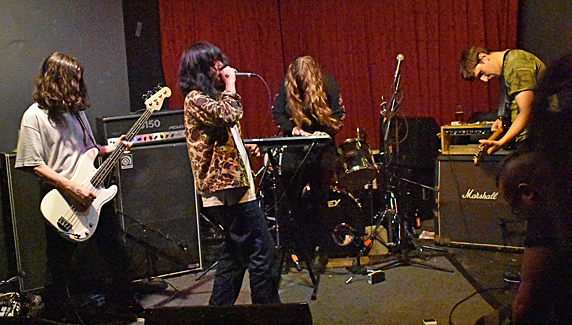 Orion
Photo: Blowfish
Orion is from Australia. They're in the electronic goth vein. The keyboard player had a Roland that was no more than a yard long but sounded huge, they had a drum machine for the beats. They made O'Brien's feel like a large dance hall. They sounded a lot like Bauhaus. If you were in that mood is was very good. Check their sound at their Bandcamp page.
Sial
Photo: Blowfish
Online Sial sounded like they would be crazy live and they were. They didn't say much and the set was short but they made their point real quick. They looked like they just walked in off the street; there was no pretense in their appearance or attitude. It was all a razor focus on ripping up the place for twenty minutes.
The lead singer was riveting. She was small in stature but had a presence that knew no bounds. We think you can see that in the photos. They say Sial sings in the language of Singapore's indigenous minority. It didn't matter what language the words were in the hardcore shred was easy to translate. Just imagine being there when this starts up… Bandcamp
Another sign that punk is healthy all over the world.
It was back to O'Brien's on Friday for a hardcore heavy night again. There was an acoustic opener called RoofTops and even he was hard hitting. We wish we had seen more. We're not big on the acoustic thing but this guy made a quick impression with some seriously sharp lyrics. Then it was four good bands to lose your hearing to.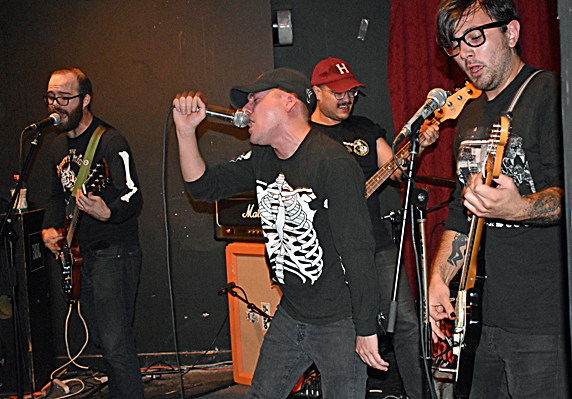 Secret Spirit
Photo: Blowfish
Secret Spirit came from Manchester, NH and you know there's no bullshit there with hardcore, you got to be good. A lot of hardcore hits you with a blunt hammer but Secret Spirit were at you with something sharper. You could hear the chord sequences and change ups clearly while they still slammed hard.
The lead singer was doing the screamo thing and it seemed as hard as things could get, but no, they switched the singer and guitar player and the second singer was even more in your face. At the beginning he was moshing as much as singing. After a few songs he seemed washed out. How could he not be? Then it was back to the original singer with a newly renewed energy. And this was the opening act? You could have seen them and gone home satisfied and deaf. They have a nice lullaby on Bandcamp called "Motherfucker".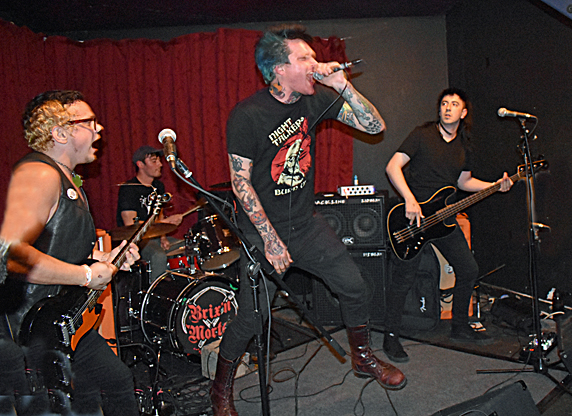 The Kreutzer Sonata
Photo: Blowfish
That was a hard act to follow but then there was The Kreutzer Sonata from Chicago. That is an odd name for a hardcore group. It's the name of a Beethoven piece or a Tolstoy novel. They say,"The work is an argument for the ideal of sexual abstinence." If you say so!?
It didn't seem like Kreutzer were trying to play music; it was more like they were trying to contain some supernatural beast that was on the verge of bursting into our dimension. It was barely controlled chaos. Exciting? Oh ya! You had to gird yourself as each song kicked in.
One guitar crapped out during the set and the other one was smashed against a pole during the last song. So, good luck to that one too. The songs were blistering hardcore but the details are a blur to us. Next time we will be up on the songs before we see them. What a wild set.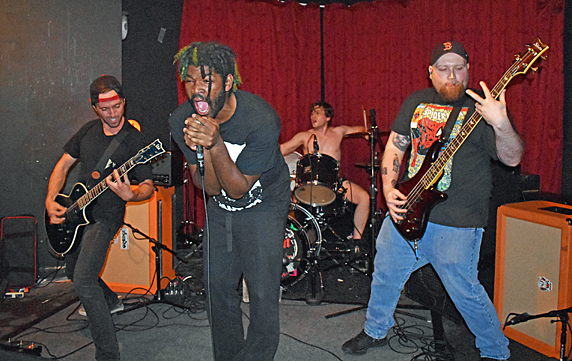 DNZL
Photo: Blowfish
Again we are thinking – enough music, time to go home, but DNZL are next and we love DNZL. DNZL also do hardcore but add some twists. Mel, the lead singer, engages the audience between songs. He tells you what the song is about and sets you up for what to sing when he comes for you and he will. One time he said the chorus would be "King Kong, King Kong ain't got shit on me." That was from their song "Training Day" which is also the name of a Denzel Washington movie. As a matter of fact all the songs on their first release were named after Denzel's movies – that's why they call themselves DNZL. See their Bandcamp
Half of Mel's time was off the stage and into the depths of the club. He was singing on people's shoulders and kneeling on the floor. Your eyeballs wanted to keep on him but the band was cool too. We've talked about the drummer before and he was even sharper than last time. And a note here – ALL the drummers on this show were fantastic. They were all driving these bands with power and intensity.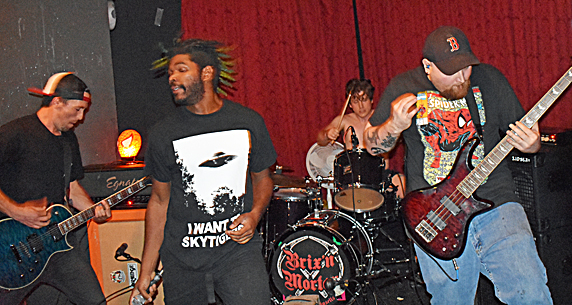 DNZL
Photo: Blowfish
The guitarist and bass often would double up on a short, fast riff and play it without variation for as long as a minute while the drummer was playing a busy rhythm. It's one of their 'things' and it was very effective. DNZL are getting better and better.
We talked to Mel between sets and he said he lived in a house with members of the OC45 and Aria from the Coffin Salesman. What a musical vortex that must have been.
Even after all that music the main reason we went on Friday hadn't happened yet. That was Brix'n Mortar; the new band started by Joey Riot of Chanticlear and Troy from Razors In The Night. They scooped up a tremendous drummer in Devon Hunt. We missed their first shows and we were dying to see them.
Brix'n Mortar
Photo: Blowfish
It turns out there is a real collaboration that created a new hybrid. Troy is more Oi and Joey has a melodic edge and they have found a way to combine both and that's pretty great. A common thing they do is have a verse in the Oi vein and the chorus switch to a melodic line. It works big time.
Now both of these guys could and have led a group, so together they have a lot of dynamics on stage. Joey sometimes pogos around the stage as it seems his pent up excitement is boiling over and Troy jumps (as you can see in the photo on top of the page) and poses as he digs into his bass. There was sharp guitar work from Joey Riot all night.
They did a cool cover of "New Age" by Blitz (video above). But both Troy and Joey know how to write outstanding songs so we are waiting on an album. Right now they have a two song demo on their Bandcamp page.
Well, ya know, it was finally time to call it a night. What a tremendous hardcore show in little O'Brien's.
More band photos after the show listings.
John Keegan was up to Salem on Friday at Opus with Diablogato and Petty Morals. He tells the story and show the photos on his page. Hit the photo below to go to Keegan's page.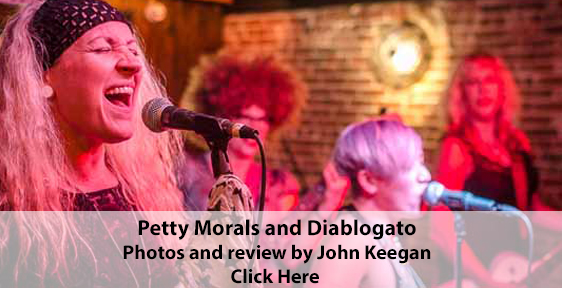 Amyl and the Sniffers are an Australian band that has some buzz. They played at the Middle East and Mark Davis was there and has a few photos. He said it was a rocking show.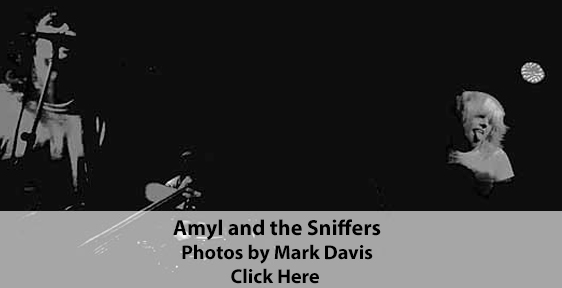 ---
And in other news.....
Tim Warren of Crypt Records has released two more albums worth of early material from the Real Kids. There is Crude 1976 Rehearsals + Live 1976/77 and Live 1977/78. They come with plenty of material to read and look at. One has an essay by Bill Tupper! Wild!! Add the original huge package of The Real Kids; The Kids 1974 demos/ The Real Kids 1977/78 demos/live and think about how much material has been added to The Real Kids discography. That gives a fuller picture of them in those early years. We're going to go over all those albums closer and report back after we digest the material.
Brad Marino of The Connection has his own solo thing going, as it seems every member of that group has. He just released a single that is a upbeat popping rocker. We have it on our Top Ten Songs
Here's a first peek at the forthcoming Pop Gun EP: "Stop the World" single.
Watts have a new video out of their song "Queens". There are some familiar faces in there.
The Harvard Archives have moved another step forward with Arthur Freedman's Archives. They posted an update. There is so much material between the audio and visual recordings – thousands of hours!! The big step is the first release of a Bound and Gagged show from 1981. Look at the list of shows and bands on the left side of the link. It's a mind boggling array of Boston greats and favorites.

Esquire magazine had an article on the "10 Least Punk Things Ever". Right at the top was the Sex Pistols Virgin Credit card and then the Sex Pistols diaper bag. HA!!!!
---
Here's some good shows coming up this week.....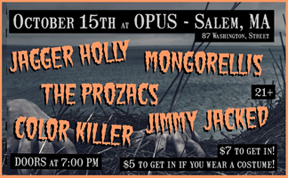 October 15 (Monday) Jagger Holly, Mongorellis, The Prozacs, Jimmy Jacked, Color Killer at Opus Salem
October 15 (Monday)- October 18- Thursday Jonathan Richman at the Middle East Up.
October 17 (Wednesday) The Damned are back and at The Paradise.
October 18 (Thursday) The Proletariat, Savageheads, Silver Screams at Sonia -FB page
October 18 (Thursday) Boston Emissions TEN Party at Once.! 10 years of Boston Emissions with Anngelle Wood as host. There will be a Boston Emissions broadcast during the show. Also playing live will be Parlour Bells, Stars Like Ours, Exit 18 and there'll be Photobooth by DWJ Creative. Starts at 7:30PM
October 19 (Friday) Sidewalk Driver, Watts, Justine and the Unclean at Thunder Road
October 19 (Friday) Halloween Show with Kid Gulliver, The Knock-Ups, Ski Bunny, Sapling will include Special Halloween covers and a full cover set with The Knock-Ups doing Siouxsie and the Banshees. At jeanie Johnston Pub in JP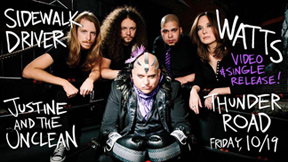 October 19 (Friday) The FU's are out in western MA at 13th Floor Music Lounge, Florence, MA
October 19 (Friday) The Legendary Cazbats, Club Linehan A Go Go at The Lakeside Inn Wakefield. FB page
October 20 (Saturday) Nervous Eaters, Indonesian Junk, Duck & Cover at the Middle East Up
October 20 (Saturday) Stop Calling Me Frank, Crunchtime, The Jiblantos and The Black Souls at The Midway for a 4PM matinee. Hey everyone this is a John Keegan BIRTHDAY BASH so come on down!!!
October 20 (Saturday) If We Go At All, Modern Day Idols, Double Star, Powerslut at The Midway night show
October 20 (Saturday) Kid Widow, State of the Union, Little Billy Lost, Together on Two at Thirsty First Lowell, MA
October 21 (Sunday) A Mess Around at The Plough with Tom Baker, Justine Covault, Jay Allen and special guests Linda Bean Pardee with a stripped down version her new project, The Chelsea Curve with partner Tim Gillis and Steve Prygoda of Cold Expectations. 4-6PM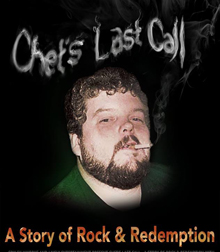 October 21 (Sunday) Boston Premiere of the Chet's Last Call Documentary at The Regent Theater Arlington with live performances byRandy Black and The Heathcroppers, The Dogmatics, Bim Skala Bim, TBA Allstars - starts at 7PM TIX etc
And further out we have......
October 22 (Monday) OC45, Bad Larrys, BDSX, Von Traps at OPUS Salem
October 25 (Thursday) Damnation, Forbidden Dimension, Demon Seeds, Knock Ups at O'Briens'
October 26 (Friday) The Humanoids, Slim Jim and the Mad Cows, Maiden New England, Electric Street Queens at The Midway
October 26 (Friday) The Radiator Rattlers, Kermit's Finger, Black Hatch, The Grommets at O'Brien's
October 26 (Friday) Charlie Don't Surf are at The C Note Hull
October 26 (Friday) Boston Garage Rock & Punk Extravaganza with Birdgangs, Thee Fightin' Fish, Friendly Psychic Strangers, Dots on Dice at the Worthen Attic in Lowell, MA
October 27 (Saturday) The Stigmatics on A Crash Course for the Ravers on WMFO 91.5- 1-4PM with Brain Young

October 27 (Saturday) Benefit for Mission 22/Dennis Donahue's Birthday Show! with Kind Crew, Neighborhood Shit, Sick Minds, Jerry's Got Jokes, and Whoopi Sticks at The Midway -Early Show 4-8PM
October 27 (Saturday) Lyres, GLiDER, the modifierS at The Middle East Up- Early show doors at 6:30PM
October 27 (Saturday) Tiger Bomb, The Gala, Space Camp at The Apohadion Theater, Portland, ME. FB page
October 27 (Saturday) The Descendents w/ Teenage Bottlerocket at The Palladium in Worcester FB page for tix etc
October 28 (Sunday) Black Market Flea by Boston Hassle & Ignore Rock n Roll Heroes - 12 PM – 6 PM at Cambridge Community Center- this is a GOOD one folks- check it out!! FB page
October 28 (Sunday) Roy Sludge at Sally O'Brien's
October 28 (Sunday) Zipper, The Instamatics, Larseny, Billy Squire at The Midway for a matinee 4-8 pm show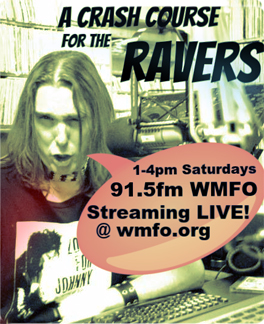 October 29 & 30 (Mon & Weds) Now here's how to do Halloween!! At Symphony Hall this Halloween season when Keith Lockhart and members of the Boston Pops visit The Bates Motel and perform the original score of the Alfred Hitchcock film, "Psycho", in sync with the film on the big screen. One of the greatest suspenseful thrillers of all time, this cinematic masterpiece comes alive with Bernard Herrmann's spine-tingling score performed live. The unforgettable and disturbing slashing chords played during the now famous shower scene are just as terrifying now as they were to first-time audiences in 1960.
October 31 (Wednesday) Halloween Clownfest - candy, psychic readings and balloons! and Robot Clean- a Misfits Tribute, Driven Sane, Lucreatia's Daggers at Once - starts at 7:15PM
November 1 (Thursday) Kris Rodgers & The Dirty Gems - The Connection - Kurt Baker at The Dover Brickhouse in Dover NH FB page.
November 2 (Friday) Roky Erikson at Once. Tix here.
November 2 (Friday) Lily Black, Little Billy Lost, Hyber, Concrete Haze at KOTO - Salem
November 3 (Saturday) Coffin Salesmen, OC45, The Bundles, Burn Burn Burn at O'Brien's
November 3 (Saturday) Ey,Oh Let's Go!, White Light, Ball & Clash, PunksUp - A Night old school punk covers performed by GLiDER, Pop Gun, Club Linehan A Go Go, Drunken Uncle at The Greek Union Sq Somerville.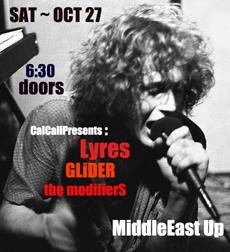 November 4 (Sunday) Book release party for Poetry for the Neon Apocalypse by local Punk Poet Jake Tringali with Mint Green, Ski Bunny, The Sewer Buddies, Jenn Lombari, Hyber at The Midway 4-8 PM. FB page
November 5 (Monday) Rea, Musical Mandalas, Binge Magick, Sternman at The Midway
November 5 (Monday) Parasites with Lucky United and The McGunks at The News Cafe in Pawtucket, RI
November 5 (Monday) The Only Things, Surprise Party, Knock-Ups, PNDB at The Worthen Attic in Lowell.
November 6 (Tuesday) Rock and Roll Trivia w/ Erin and Brett at Sinclair -starts at 8PM
November 9 (Friday) The Only Things, Surprise Party, Knock-Ups, PNDB at The Worthen Attic in Lowell, MA
November 10 (Saturday) Rockin Bob Punk Band, Smartyr, Banshee, Raw Radar War at The Midway 4-8PM
November 10 (Saturday) Kurt Baker is coming to Boston!! One show only at Sally O'Brien's Nov 10. with Muck and the Mires, Stop Calling Me Frank and Kris Rodgers and the Dirty Gems
November 10 (Saturday) Keith Brooks Memorial Veterans Day Show #1: The Welch Boys, Pint Killers, Abductors, Step 13, Barfight Champs at The Midway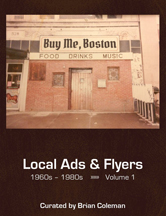 November 11 (Sunday) DNZL, Standard Issue, Psychic Weight, TBA - 4-8PM Early Show at The Midway
November 11 (Sunday) Keith Brooks Memorial Veterans Day Show #2: Colin of Arabia , Zero Hour, Cry Havoc, Neighborhood Shit, xForgiveness Deniedx, Foulfellows at The Midway 9PM
November 11 (Sunday) Save the date!! Brian Coleman who has published the much talked about Buy Me Boston book will be having a slideshow and panel discussion (including our very own Paul Blowfish Lovell and David Bieber) to promote the book. It's at The Brattle Theater - more info as it becomes available.
November 16 (Friday) Justine and the Unclean, Tad Overbaugh EP Release Party at Sally O'Brien's
November 16 (Friday) The Melatonins, Ringtail, Stars Like Ours, Five Foot Shakers at O'Brien's Pub
November 17 (Saturday) Brian Young's A Crash Course For The Ravers featuring The Gala!!! One of our favorite bands!!
November 17 (Saturday) It's HIXXGIVING!! The joyous return of the annual celebration of white trash culture and redneck vittles. This year they'll have newcomers - Alice Highland, New Jersey's Sex Zombies, Your hosts- HIXX and the formidable Screw Cart. This will, no doubt, be off the hook! The buffet will be provided by the bands. Hixx asks that you bring non perishable food items, as always, for a local woman's shelter. At The Midway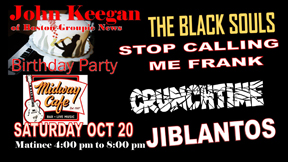 November 17 (Saturday) Post Punk 1977-87 Cover Night at Sally O'Brien's - 3 super groups will be covering songs from 1977-87. (punk, new wave, synth pop etc)
The groups are: Chuck Ferreira, Josh Pickering & friends, Duncan Wilder Johnson & friends, and Anthony Kaczynski & friends. FB event page
November 17 (Saturday) Jittery Jack, Miss Amy Griffin, Whiskey Kill & DJ Easy Ed at Sally O'Brien's
November 17 (Saturday) Scissorfight, Welch Boys, Taxi Driver, Watching It Burn, COB at Maggy's in Quincy FB page
November 21 (Wednesday) Far Above the Ground, Thee Midnight Society, The New Frustration, Lightnin' Lyford and the Procrastinators at PINZ in Kingston, MA FB page
November 24 (Saturday) Paraffin, Tiger Bomb, Fireking, Scotty Saints & True Believers at The Bayside Bowl in Portland, ME
December 1 (Saturday) A Crash Course For The Ravers 1pm to 4pm at http://www.wmfo.org/popout_player.php?bitrate=256 and transmits on 91.5FM Medford. This week Brian Young hosts have Charlie Don't Surf!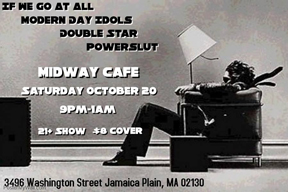 December 1 (Saturday) the second and final Red Invasion show - with Funeral Cone and Brix N' Mortar and one more TBA. @ The Middle East Upstairs This is an early show- doors are at 6:30
December 1 (Saturday) The Feldons, Tiger Bomb, Justine & The Unclean, Thee Sonomatics at Ralph's Rock Diner in Worcester.
December 9 (Sunday) Trusty Sidekick, Stigmatics, Crunchtime. Dick Pics do a Matinee 4-8 show at The Midway
December 15 (Saturday) Duck & Cover, Stop Calling Me Frank (Album Release), State of The Union, The Angel Martins Early Show 4-8PM at The Midway
December 22 (Saturday) Greg Allen's Fringe Religion, Classic Ruins, 1.4.5, Fireking - Early Show 4-8 at The Midway
January 12 (Saturday) IL Mostro (CD release) w/ Cortez, Scuzzy Yeti & Wrought Iron Hex at O'Brien's
CONTACT US AT....misslynbgn@yahoo.com Send us your gig listings, your news and anything else ya got!! You want your CD reviewed?? Contact us for that too.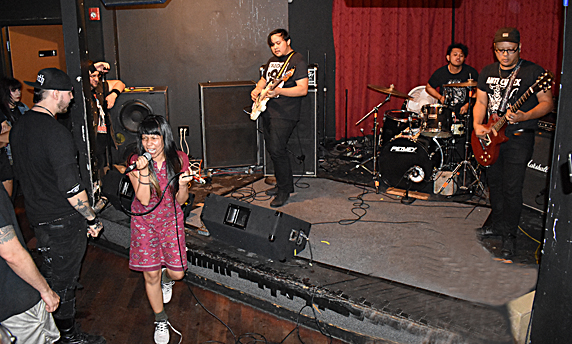 Sial
Photo: Blowfish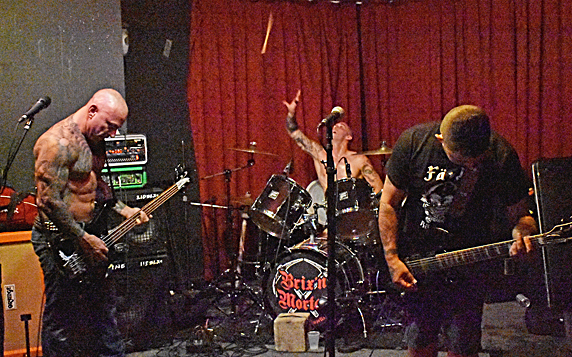 Brix'n Mortar
Photo: Blowfish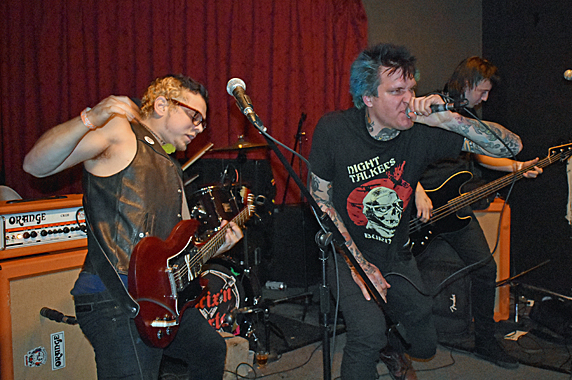 THe Kreutzer Sonata
Photo: Blowfish
Secret Spirit
Photo: Blowfish