The BGN News Archive
October 16, 2017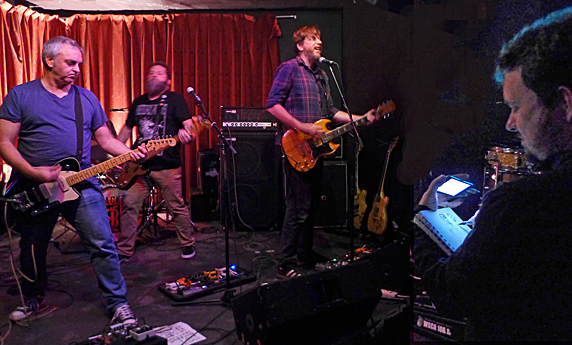 Drawing Black Helicopter during the set
Photo: Blowfish
Black Helicopter got us to O'Brien's on Friday.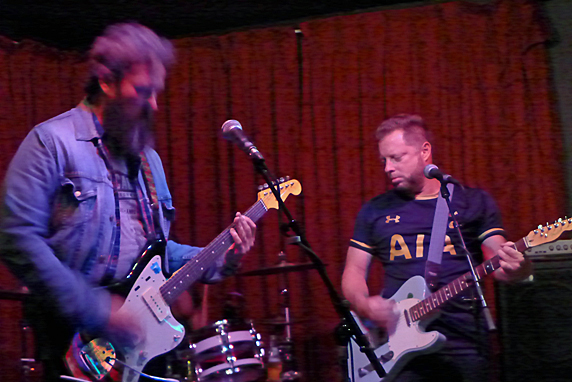 Ringtail
Photo: Blowfish
The bill started with Ringtail. We couldn't find a lot of info on this band; no music online before the show but did find one song called Birdwatcher after. It didn't take long to hear that they could deliver the goods. The songs were strong and varied. Some songs were based on the moving chord progressions.
Other songs were psych tinged jams like the first video above. Then they had some pop efforts like the song Birdwatcher and the second video above. Everything was done well.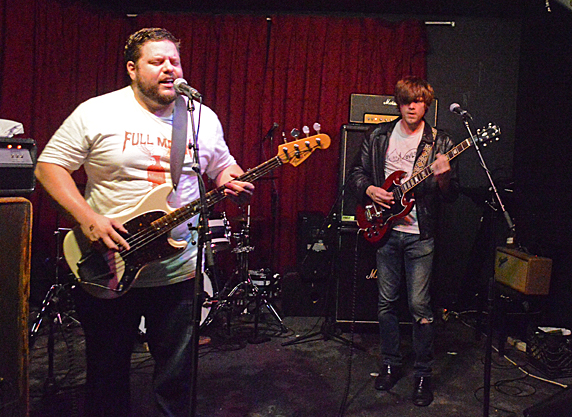 Death Pesos
Photo: Blowfish
The next group Death Pesos was another new group for us. On Bandcamp they sounded raw and rocking. Live they were even better. Just a trio they play a sort of garage metal. They throw stoner rock into the description. Most songs were a riff that went for a few bars and then just got repeated. In the repetition they were in a groove and that got you going. Larry Frisoli on bass was a big plus in the vocal category too. He had a clear full voice with a middle high register available that was distinctive. A lot of times a singer in this format would do lots of yelling, not Larry. You could hear every word and that separates this group from many others. Pete Schluter lists his instruments as guitar and Echoplex and sure enough there was mucho echo going on at some points.
They had some funny lyrics. The first song was about the president. That guy is a songwriters dream. Later it was a song about Sean Spicer (it's the video above). "He was a very unsexy secretary," was the chorus. When they went from verse to chorus they traded off the vocals. They also did a song about The Edge a movie with Alex Baldwin where he fights a bear. Not a lot of songs about love with this band. Death Pesos is also a Boston band so we hope to catch them at some other show.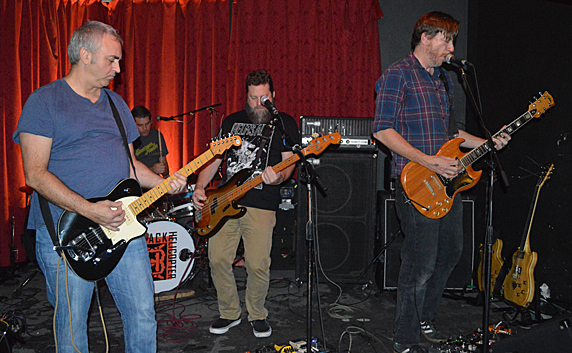 Black Helicopter
Photo: Blowfish
Black Helicopter have been around for a while now. They continue to do quality albums and always sound impressive live. They have different things they do. In that way they compare to Ringtail who started the show. Helicopter had a hard edge, even a MOB attack at times. At other times the songs seemed to get almost traditional with tuneful melodies and conventional chords and fills. It's sort of your job to follow them and it's not hard to do.
At this point O'Briens was getting hot. No AC on this warmer than usual October day. So we took a sweaty retreat.
The weekend had shows a plenty. Blowfish went to The Feelies and Miss Lyn to the Psychedelic Furs.
Feelies
Photo: Blowfish
The Feelies are the original nerd rockers. Their influence is basic to all indie rock. The show at Sinclair wasn't sold out but looked close to it. At the beginning they were playing like they were guilty of breaking the silence. On many songs the audience applause was louder than the band and seemed harsh in the contrast. Even with two drummers they never got rambunctious. They often played a simple rhythmic chord progression and added a bouncy bass line and with that combo much gentle swaying and head bobbing commenced. That's the lesson with the Feelies; keep it at human level where you can relate.
In the year 2017 they sound the same as they did in 1980. The fans were intense and responded to all the subtleties. It's a rewarding thing for a group to have fans like that.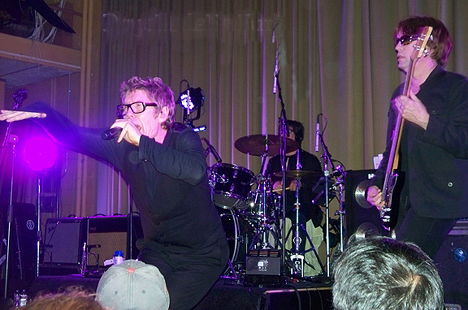 The Psychedelic Furs Salem 2012
Photo: Blowfish
At The Paradise The Psychedelic Furs show sold out a long time ago. This was their "Singles" Tour. There were a lot of songs somewhat unfamiliar to us since they came out once The Furs were introduced to a different crowd after the film Pretty In Pink. The make up of the audience reflected that too...there were only four people we knew in the packed house!! And yeah it was packed and it was hot and sweaty. We got there at 8 when they show was supposed to start. We had a hard time finding info on an opening act but one site showed that a band called Cherry Glazerr was supposed to open...but they canceled. So there was nothing 'til 9 when the Furs came on.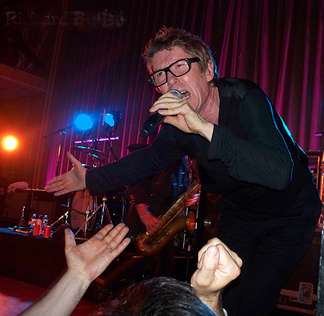 Richard Butler Salem 2012
Photo: Blowfish

Richard Butler was in top form, excited and happy, jumping around. His voice is such a notable part of the sound...it has that velvety rasp you gotta love! And his hand movements and twirls are all still intact. The band sounded great, the mix was even...except for an effect on the drums which made them sound like you were in an Imax theater or something- kinda tacky, but I don't fault the band for that. The other notable was the horn player. Horns were introduced after their first album I believe. The original version of Pretty In Pink didn't even have horns...those were added for the later film version. But tonight the horn player moved with ease all around the stage, weaving in between Butlers twirls and everyone else up there. He made for a happy feel throughout the set with his toots and his moves. Unfortunately, it was so crowded it was impossible to get a good view...I pushed in between two people behind the sound board and I never saw the feet of any of the band members, just their heads.

The first half hour was great as they did songs from their first three albums ...We Love You, Pretty In Pink and Love My Way among others. But...I was highly disappointed in Love My Way!! Where were those iconic simple keyboard notes that run throughout that song??? Gone, left out....what was wrong with that keyboard player to leave those out!?

It was not long after that first half hour I decided it was time to sit down. Luckily I had some great conversation with friends to an awesome sound track of the Furs live. Up again near the end to wring my neck and catch the band as they did Sister Europe and India. We were out of there at that point...just too hot sweaty and impossible to see much. Despite all my complaints it was a great show. Nothing will ever match the magical night in Salem in 2012 when the Furs played at The Catholic Center...it was a not even half full church hall and it was easy to be right up front...but this show did the trick.

Friday night Arthur Freedman was at the Club Bohemia for a Burlesque show. These shows are getting more and more popular. They have been a regular thing at the Midway for a long while now. Arthur said that S the Supplicant, from NYC, was very intense.
Club Bohemia 10/13/17

| | |
| --- | --- |
| S the Supplicant | S the Supplicant |
| S the Supplicant | Lulu Monroe |
| Spectramotive | Spectramotive |
On Friday 10/6 John Keegan was at the House of Blues for Paul Weller. He got better photos on his cell phone than you could expect. He also filmed two videos. They are of Town Called Malice and Start!.
Hit the link below for photos, video and review.
---
And in other news...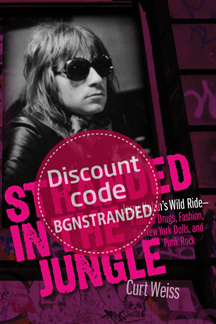 SPECIAL DEAL FOR BGN READERS: We've mentioned Curt Weiss's book about Jerry Nolan of the New York Dolls entitled Stranded in The Jungle and we've mentioned the readings coming up in NYC, Provi and Boston- well you lucky BGN readers can get a SPECIAL BGN DISCOUNT on the book!! Regular price is $24.99 BGN Price is only $14.99!! Just visit The BackWing Store and enter code BGNSTRANDED at checkout to get your copy for just $14.99!

Stevie Van Zandt mentions Kurt Baker, Kris Rodgers and The Connection in a Forbes Magazine article. He's had their songs on his show many times. Read it here: Stevie Van Zandt Interview: Bruce Springsteen, New Album, Hope for Music Industry, Bands To Watch

Second Annual Salem Punk Rock Flea Market Nov 11 & 12 - see below for more info!

What's this, a new song by Jane County? Looks like it. It sounds like the Jane County we love!! It's called Leave My Pussy Alone by Jane and Jimi LaLumia....check it out on You Tube

TMAX is doing it. Now Johnny Angel is too....busking at Farmer's Markets.
Video on YouTube here.

Ted Myers, who was in The Lost with Willie Alexander, has a book called Making It: Music, Sex, & Drugs in the Golden Age of Rock. He talks about those days (around 1965) and playing the Rat. At that time Gene Brezniak was the owner. They played "Louie Louie" and ducked a few flying beer mugs. You get inside stories on the Lost, Chameleon Church and Ultimate Spinach. After that he ended up in LA and drugs and sex became his life for twenty years. It's as low as $4.99 in the Kindle version so really, go read it!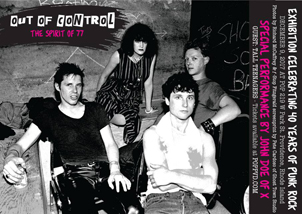 That POP store in Provy is having a huge photo show in December. It's so big they're having two opening receptions! It's "Out of Control" The Spirit of 77 - Exhibition Celebrating 40 years of Punk Rock Photographs by Richard McCaffrey and f-Stop Fitzgerald. Screen prints by Pete Cardoso of Ghost Town Studio
Part I: Saturday, Dec. 9, 2017 Special Performance by John Doe of X with guests Tall Teenagers and DJ Hula Bomb. 7pm Buy tix here.
Part II: Saturday, Dec. 16 Special Performance by HR (of Bad Brains) & Human Rights Get tix here
December 1st is the release date for the book FACE TO FACE: 25 Years of SOCAL Punk - The Visual History...its SO/CAL but the Mighty Mighty Bosstones are in there. It's not cheap at $55...but it's visually very cool! check it out here. " Face to Face: 25 Years of SoCal Punk is a fully authorized visual history of the band that follows them from their early days in Victorville, CA to the reunion and beyond. This limited-run coffee table book tells the story of Face to Face from the viewpoint of their fans and contemporaries. It features exclusive stories from Tim McIlrath (Rise Against), Chris Carrabba (Dashboard Confessional), Max Bemis (Say Anything), Roger Lima (Less Than Jake), and more, as well as never-before-seen photos, artwork, and other memorabilia."
---
Here's some good shows coming up .....
October 16 (Monday) Taco Monday Mess-Around at Once! This time around they have the usual messers Jay Allen, Justine Covault, Tom Baker, and will be joined by Mitch Murphy and Henry Marcucella III (Triple Thick, Shiny Beasts, Ten Dollar Mistake) and BOX featuring Kimi Hendrix (Killer Abs, The Unstables) and Jen W (Moonlight Orchestra)
October 16 (Monday) Psychic Dog, I Wish I Could Skateboard, Playoff Beard, Kato Kaelin are at Charlie's Kitchen
October 18 (Wednesday) The Nekromantix and The Brains also with Diablogato and Dead Trains at The Middle East Down 7PM- Midnight show Tix etc here
October 19 (Thursday) Mr. Airplane Man are at The Parlour in Providence for a special single release show!!! Also on the bill: Andy California, The Hangovers and Night Thrills (eric & dan from atlantic thrills)- FB page
October 20 (Friday) Hey Hey Record Party Par-Tay! - Andy California celebrates the release of his new 7 inch and don't forget to bring the money says Andy. He par-tays with Sticker Shock and Johnnie and the Foodmasters - 10PM @ The Jeanie Johnston Pub- Check out the Facebook page- worth it for the visuals alone.
October 20 (Friday) Boston Hassle presents Boston Underground Summit 10! Featuring Panicsville (Chicago), Diva Karr, S Nicaenum, Manes Prophet (VT), +DOG+, Service ....MORE TBA at the Massasoit Elks Lodge Bishop Allen Dr Central Sq Cambridge. FB page The 9 bands will set up round-robin-style in two rooms, 3 stages and take turns playing a song. When the cycle is complete, the loop repeats again...and again... and again. First cycle starts at 8:30.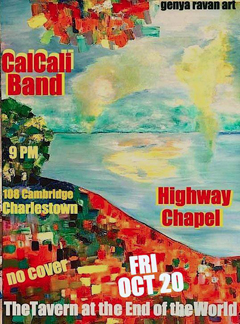 October 20 (Friday) Highway Chapel and Cal Cali at Tavern At The End Of The World.
October 20 (Friday) Scissorfight, Roadsaw, Test Meat, Mantooth at Great Scott
October 21 (Saturday) Red House Iron's Tattoo presents Michael Kane & The Morning Afters' record release show at Hotel Vernon in Worcester
And further out we have...
October 26 (Thursday) GRCB Halloween Fundraiser Cover Show! at O'Brien's - it's a load of Boston rockers doing covers as various bands...in the mix you've got Hilken Mancini, Samwise Faye, Liz Vom Teufel, Megan Sutton, Anjimile Yvonne, Jennifer Turpin, Liz Vom Teufel, Erin Genett Cat Verlicco, Jenny Bergman and Flight of Fire and a lot more people.... they'll be doing Cramps, The Pixies, Spice Girls and Led Zepplin. ....Stick around for costume prizes for Best DIY Costume! Best Group Costume! Scariest Costume! Most Creative Costume! Costume that needs the most explanation! ...it's gonna be a FUN night!! FB page
October 26 (Thursday) The Providence Garage Fest with The Viennagram, Atlantic Thrills, Beware the Dangers of a Ghost Scorpion, Super Natural II, Germ House and Minibeast October 28 (Saturday) Tube Fest,New England's all day instrumental celebration, is coming to the Midway Cafe - on the bill: The Fathoms, Tsunami of Sound, SPF4, Matt Heaton and The Electric Heaters, 9th Wave, The Derangers, The Spytones, The Beachcombovers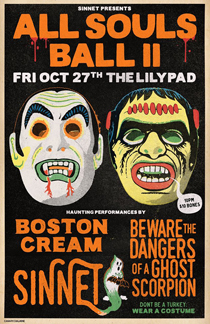 October 27 (Friday) Horror Punk Night At Haunted Somerville - the biggest Halloween show in town! Taking place at the Somerville Art Farm this year, it will feature mazes, music, and monsters to bring a fright to your Halloween! Horror Punk Night has 3 punk bands scaring your pants off and blowing your eardrums out - Loser's Circle, Garbage Point and Coffin Salesman...check it all out on the FB page 7-11PM

October 27 (Friday) The All Souls Ball at The Lily Pad - Haunting your earlobes this year: Beware the Dangers of a Ghost Scorpion!, Sinnet and Boston Cream

October 27 (Friday) Halloween Weekend Kick Off SHow at Koto with Monkey Knife Fight, Marianne Toilet and The Runs, Das Muerte and Damnation

October 28 (Saturday) Martin & Morell, Richie Parsons Rock Outfit and Thalia Zedek will be sinin' and strummin' at The Tavern at The End of the World

October 29 (Sunday) Boston Stands With The ACLU: @GUITARMY! at ONCE Somerville An afternoon of mostly instrumental guitar-centric music in celebration of the electric guitar (and your civil rights) to benefit the ACLU Massachusetts: Club d"UKE featuring Duke Levine and Club d'Elf Matthew Stubbs & The Antiguas Guitarzan (Russell Chudnofsky) Axemunkee (Catherine Capozzi) OFFICE-R (featuring Rodrigo Van Stoli) The Savtones (Tony Savarino) Amy Griffin & Kevin Patey (The Raging Teens / Jittery Jack) Doors at 2 PM Show ends at 7 PM ADV - $20.00 DOS $25.00 FB Page

November 1 (Wednesday) Sneeze, Conmen, Moist Boys, Sex Snobs at O'Brien's
November 3 (Friday) Indonesian Junk, Justine and the Unclean & Gymnasium at Tavern at the End of the World.

November 3 (Friday) The Woggles, Muck and the Mires, Stupidity, Andrea Gillis Band at The Middle East Up

b>November 3 (Friday) The Guilloteenagers, Psychic Dog, Sapling, Graneros at Club Bohemia at The Cantab

November 3 (Friday) Human Sexual Response and Unnatural Axe at HOB

November 4 (Saturday) Fireking, The Billy Connors Project, Hummingbird Syndicate, Tracy Chevrolet doing a 4PM Matineee show at The Midway

November 4 (Saturday) Loser's Circle w/ Rebuilder, Dead Bars, and Settlers at OBriens Allston

November 4 (Saturday) The Dents with Abbie Barrett Band, City Rivals, The Melatonins at Sally O'Brien's Somerville

November 4 (Saturday) Carissa Johnson, Michael Kane & The Morning Afters, Bundles, Coffin Salesman 9PM show at the Midway

November 5 (Sunday) Boss Daughter, Brix'n Mortar, The Bad Larrys at Koto in Salem

November 9 (Thursday) The Proletariat at ONCE Ballroom w/ Siege and Black Beach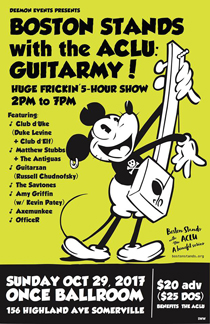 November 9 (Thursday) If you are in NYC or can get to NYC Celebrate Stranded in the Jungle: Jerry Nolan's Wild Ride the new book by Curt Weiss that covers 40 years of L.A.M.F. and is A Tale of Drugs, Fashion, the New York Dolls, and Punk Rock. Also there'll be music by with Greg Allen's Fringe Religion, and ...book reading, panels, Q&A, guests, book signing. It's at The Delancey in the Lower East Side 7-10PM FB Page for directions and more info He's at Out of the Blue/Cambridge on the 12! see below.

November 10 (Friday) CH3 (Channel 3), The FUs, Silver Screams, Fast Times Punk at The Middle East Up - 8-Midnight show tix here Read about CH3 here. there's links for tix etc too

November 10 (Friday) The Proletariat are at Narrows Center for the Arts w/ Black Beach in Fall River, MA (FB page for info)

November 11 & 12 (Sat/Sun) 2nd Annual Salem Punk Rock Flea Market at Notch Brewing (283R Derby St, Salem, Massachusetts 01970) 11AM- 5PM This year it's moved to Notch Brewing for a bigger location. There will be indoor and outdoor vendors. No admission charge. check out the FB page

November 11 (Saturday) A Matinee Show - Keith Brooks started the tradition of doing a benefit every year to help out his fellow vets. We are going to keep it going and donate in his name to operation delta dog--an organization that trains service dogs for vets. Come hoist one for a good cause in memory of our buddy. on the bill: The Welch Boys, The Damaged, Held Hostage, Out.Live.Death, Working Poor USA< at The Midway 4-8PM show

November 11 (Saturday) Hasselfest #9 this year has Pere Ubu and a ton of other bands at Once- get the info on the FB page here.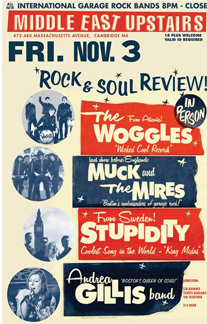 November 12 (Sunday) Curt Weiss covers 40 years of L.A.M.F. and is A Tale of Drugs, Fashion, the New York Dolls, and Punk Rock in his new book Stranded in the Jungle: Jerry Nolan's Wild Ride Also, rock and roll with the Thigh Scrapers, Tiger Bomb, Moto, Glider, and the Lyres starts at 2:15. Here's the FB page Also added to this show Greg Allen & The Fringe Religion who go on right after the reading.

November 18 (Saturday) Cheech (EP Release), The McGunks, Steal Reserve (NY), Hopeless (mems of Reason To Fight) at The Midway

November 19 (Sunday) OC45 w/ Diablogato, On the Cinder at Great Scott

December 1 (Friday) The Dream Syndicate, The Richard Lloyd Group and DJ Carbo

December 2 (Saturday) DJ Easy Ed presents: The Cranktones plus Easy Ed's Record Hop! 4-8PM matinee at The Midway...followed by......

December 2 (Saturday) Watts (45 Release), Diablogato, Duck & Cover, A Bunch of Jerks at The Midway

December 8 (Friday) Rumbar records is throwing a HUGE record release party of the new Justine and the Unclean record Get Unclean....It's at Once and there will be bands in the ballroom and in the Lounge. Check out this list!: In the Ballroom- The Upper Crust, Hey Zeus, Tom Baker and the Snakes, Justine and the Unclean ....In the Lounge - Cold Expectations, Roy Sludge Trio, Pinecone Teeth and Jay Allen - doors at 7:30 show starts at 8:15.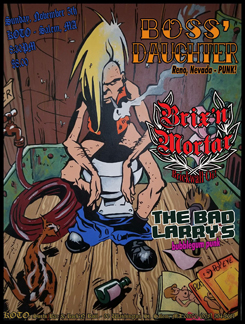 December 9 (Saturday) The Raging Teens are turning 21 this year.. and that's "Drinkin' Age!" There's releasing a 45 called "Drinkin' Age" on Swelltune Records to celebrate their 21 years as a band! AND that means The Raging Teens Holiday Shindig Record Release! With The Raging Teens, Nate Gibson, Bloodshot Bill, Sean Mencher at Great Scott. FB page

December 9 (Saturday) Radiator Rattlers, Brix'n Mortar,Lipstick Boys, The Grubs at The Chit Chat Lounge in Haverhill FB page

December 10 (Sunday) Horton's Holiday Hayride featuring Reverend Horton Heat & Junior Brown with special guests The Blasters & Big Sandy at The Sincalir (7-11PM show)

December 14-16 (Thurs-Sat) Bowery Boston presents Street Dogs Wreck the Halls Thursday 12/15- with special guests The New Darkbuster & Taxi Driver at The Sinclair - Proceeds benefit Massachusetts Fallen Heroes

December 15 (Friday) Street Dogs Wreck the Halls with special guests The Pinkerton Thugs & The Abductors at The Sinclair

December 15 (Friday) Street Dogs Wreck the Halls with special guests A Wilhelm Scream & Michael Kane & the Morning Afters at The Sinclair

December 16 (Saturday) Bent Shapes with Beware the Dangers of a Ghost Scorpion @ Great Scott

CONTACT US AT....misslynbgn@yahoo.com -Send us your gig listings, your news and anything else ya got!! You want your CD reviewed?? Contact us for that too.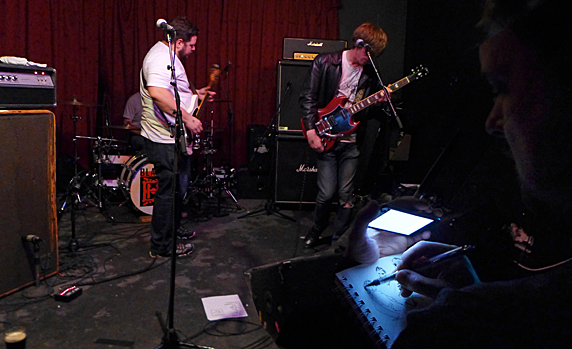 Drawing Death Pesos
Photo: Blowfish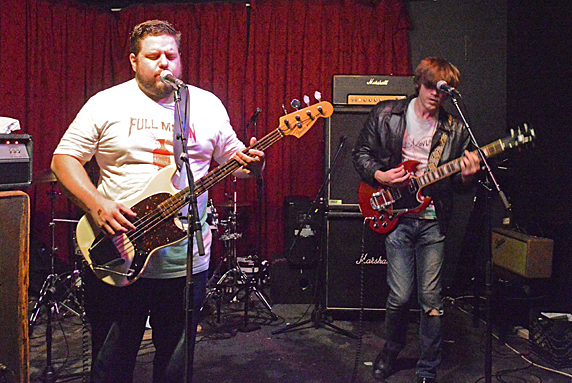 Death Pesos
Photo: Blowfish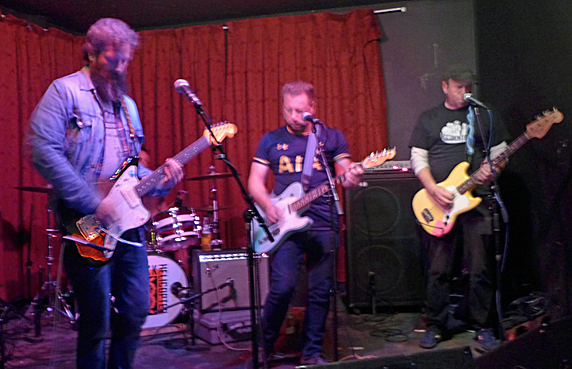 Ringtail
Photo: Blowfish